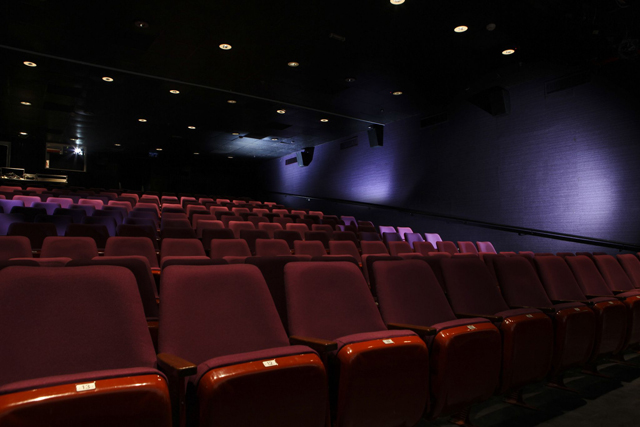 A very different world we live in over the course of just a few short weeks. At the beginning of this month, I wrote out a review of Pixar's new film Onward (2020) as I would normally do. Little did I know that over the course of the next couple weeks, not only would that film be pulled from movie theaters after the briefest of runs, but that the theaters themselves would also close it's doors indefinitely. The ongoing COVID-19 pandemic has caused one of the biggest upheavals in recent human history, both financially and culturally. To help stem the rapid spread of the disease, local, state and federal governments issued an unprecedented "stay at home" order, causing businesses across the country to cease operation. Among those hardest hit by this order were movie theaters. I already wrote about the long term effects this may have on Hollywood itself right here, but today I want to focus specifically on how this current situation may end up damaging the theatrical experience, possibly forever. Movie theaters are one of those institutions that we often take for granted. We've been going to them our entire lives, and for some of us, watching a movie in a theater is oftentimes a part of our weekly routine. Not all experiences in a movie theater are positive ones, but I bet many of you can recall your own favorite theatrical experiences at one point, often tied to a personal favorite movie most likely. Already leading up to this year, movie theaters were engaged in an uphill battle against television and more recently streaming. So with this pandemic closing the doors to theaters for an uncertain amount of time is making people wonder, is this the death stroke to movie theaters as we know it? It is a dire time for the industry, and also a time where we need to remind ourselves just how important and worth saving movie theaters are.
The most stressing thing right now is the fact that no one, not the experts nor the people in charge of the theater chains know what's going to happen in the next few months. As of now, the largest theater chains in America have all committed to a closure of up to 9-12 weeks in accordance with the recommendations of health officials. That is an extremely long time for any business to close it's doors, let alone movie theaters, and it also means a staggering loss of revenue from ticket and concessions sales. The worst part of this is the labor cuts that are going to have to be made in order to keep the companies afloat. AMC, the largest chain in America, had to furlough their entire corporate office in addition to making difficult staff layoffs. Even their CEO is putting himself on furlough, just to keep some solvency in the company's expenses. It's a sad reality for a once profitable company, but they were left with no other choice. The government mandate could not be ignored, and you certainly don't want your business to be responsible for the spreading of a potentially deadly virus. Also, with the movie studios all pulling their movies off of the calendar for the remainder of the Spring season, there was going to be nothing worth showing regardless. It's bad for one company alone, but as we are seeing, it's happening across the entire industry. I especially feel for the theater staff, since I was one of them back in my college days. You enter the month of March fairly secure in your position, only to find a few short weeks later that you have no job and the place you worked at may not even come back from this. Movie theaters were one of those reliable open 365 days a year kind of places. Even shopping malls that had fallen on hard times could always rely upon the movie theaters as an anchor that could bring in people daily. Now, that has all come to a grinding halt, and it has many people, film goers and theater workers alike, worried that this might be the end.
The reason why people are believing this is because of the fact that streaming has developed into the fiercest competition yet in the field of distribution. The rise of Netflix and it's ilk has shown Hollywood a different model for exhibiting movies that allows for a wider variety of movies that normally wouldn't survive long in the theatrical market to get more broad recognition. So, a lot of movies that otherwise would have been buried in theaters end up gaining traction on streaming and perform better as a result. With the "stay at home" order given out during this pandemic, streaming has now gone from an alternative option to presenting a new film, to being the only option at the moment. The Kumail Nanjiani and Issa Rae comedy, The Lovebirds (2020), which was slated for theaters in April, suddenly made the move to premiering on Netflix instead, where to be honest it probably would have had a better shot to begin with. Disney+ is also making moves as well, bumping up it's premiere of Frozen II (2019) on the platform, and taking the extreme measure of premiering Onward on there as well in the first week of April, a mere month after it's short lived theatrical debut. The move is a necessary one for Disney, as they need to rely more heavily upon their still fairly new streaming platform for some cash inflow, considering that they not only have no movies playing in theaters, but their theme parks are also closed as well. All this is making the streaming business more lucrative, while the theatrical market is stuck in the mud. And that is worrying to the theatrical side of the business, because the last thing they needed was for people who could choose between one or the other to have no other option. For Hollywood, it's a shift, but not one that will stall their production; at least until it's okay to restart filming again. What the theater chains worry about in thus regard is that with people becoming more comfortable with watching their movies from home as opposed to going to a theater, it's going to keep those audiences forever in that mode, and Hollywood will likewise move on to where the audience is.
Now, that's not to say that when the theaters are eventually allowed to reopen that they'll all be too far gone to ever reopen. These chains have hundreds of locations nationwide, and if they had to downsize, it would take them several years to do so, and not every single one will be gone. There is a passionate base of fans of the theatrical experience that will always return to the multiplexes no matter what; of which I consider myself one. The only problem is, there aren't enough of us to go around to support every single movie theater. What I especially worry about are the independently run movie theaters that you find scattered throughout the country. These often "mom and pop" run businesses are hurting very much right now, because they don't have the deep pockets to maintain operations that the big chains have. Sure, they have dedicated clienteles that will gladly return once they are allowed, but sadly, depending on how long this pandemic continues, those theaters may be too far in the red to ever return again. It would be a major loss to see these kinds of theaters go under, because they are often the only ones presenting art house entertainment to communities that otherwise wouldn't be able to have access to them. But, the sad reality is that once the crest of this pandemic has thankfully passed us by, there will be far less movie theaters available for us to go to. These independent movie theaters are sadly in survival mode right now, and in a "damned if they do, damned if they don't" situation, where they have to stay closed to keep people safe to the peril of their bottom line. With the recently passed stimulus bill, one hopes that those small business loans may include some much needed cash to help them weather through, but that remains to be seen.
More than likely, the road to recovery will take many years for the theatrical industry, and it will also be dependent on what Hollywood does as well. For the film studios, moving their movies off the schedule was no easy move either, as it meant a lot of wasted marketing spent over that last few months plus it's going to shake-up their long-term release strategy. But, it was an easier move than say what the theaters have had to go through. If anything, the outlook for movie theaters would be far more dire if Hollywood was coming out and stating that they were abandoning theaters altogether. Thankfully, there have been commitments made by some of the studios to release their movies theatrically once the doors are reopened. Warner Brothers publicly announced that Wonder Woman '84 (2020) their big summer tent-pole, would still see a theatrical run, albeit much later in the summer than planned. It stands to think that the other studios will likely also release their big tent-pole films into theaters when they are able to, mainly due to the already existing agreements that they've had with the theaters in the short term. It's the long term outlook that remains uncertain. Once the theaters reopen, are they going to draw in the same crowds as before? Will "social distancing" just become the new normal, and movie theaters will no longer be able to generate the same ticket sales in order to justify the enormous costs of the movies they are showing? There are some filmmakers who will insist that their films be shown theatrically, like Christopher Nolan and Quentin Tarantino, but in the end, they won't have the final say. For both the theaters and the studios, there needs to be a profit on the other end, and it won't matter how necessary the theatrical experience is in the end; the theaters will need those audiences back in a big way in order to be seen as economically viable for the future of cinema.
So, what are they going to have to do? For a short time, movie theaters may have to reduce their ticket prices in order to entice audiences to return to their venues again after such a long absence. They were already moving in a direction where they were taking the now defunct MoviePass model and adopting it into their own business plan by offering a monthly subscription to regular patrons of their theater. The subscription plan worked very well for the two biggest chains, AMC and Regal, and hopefully, they return that plan once the theaters reopen for those of us who used it. That will certainly bring back a certain segment of their patronage, but how do you bring back the casual movie-goer? Those lower ticket prices may be one option, but you've also got to convince the patron that their experience there will be wildly different than what they'll get in their living room. We may find ourselves in a bold, experimental time for the theater industry, which can either lead to a boom in business (like what Widescreen did) or lead to embarrassing failure (Smell-o-vision, anyone?) It may also change the kind of movies that get screened in the theater as well. For one thing, depending on how much contraction in ticket sales that might come about in the coming years, Hollywood may end up making movies on more modest budgets than we've seen in the past decade. It's happened once before, as the extravagant epics of the 1960's like Lawrence of Arabia (1962) and Cleopatra (1963) gave way to smaller, grittier dramas in the 1970's like The Godfather (1972) and Taxi Driver (1976). And eventually, the blockbuster era arose out of this fallow season in the movie business, with Star Wars (1977) leading the way. Periods of transition are turbulent, but not uncommon for the movie industry, and we've seen movie theaters rise and fall before. It's just that this time, the fall is coming hard and fast and in a moment when theaters were already suffering a blow. It may take some ingenuity to get themselves out of this rut, but with so much uncertain, it's anyone's guess what might happen.
I have always been a strong proponent of the in theater experience and I feel that it is something worth preserving. We all tend to focus on the pet peeves of watching a movie in a theater, all of which seem to be magnified in a time when the term "social distancing" has become a part of our daily lives. Sure the people talking during a movie, or playing on their phones, or failing to manage their out of control kinds are annoying and they no longer become a part of your experience when you watch a movie from home. Nor do you have to deal with the less than clean conditions of your theater after the ushers make the quickest of cleaning transitions before the theater can be ready for the next show. Trust me, having cleaned a few theaters myself back in the day, we would be lucky to have more than a ten minute window available in order to get everything clean. But, despite all this, I would gladly trade in a theatrical experience for a sit at home one any day. And that's because there are some movies that just never feel the same on a small screen as they do on a big one. And seeing a truly rousing movie in a nearly full theater is one of those true delights that I cherish in life. Just last year, I had one of the best theatrical experiences in my life watching Avengers: Engame (2019) on an IMAX screen on opening night. Feeling the rush of the crowd reacting to what they were watching was just as entertaining as what I was watching on the screen, and that's something that I never would've gotten at home. I know that this won't happen with every movie, but it is something worth preserving. We are distancing ourselves on purpose right now for our own safety, but in doing so, we may end up losing the thing that most effectively brought us all together.
I heard Quentin Tarantino put it very well in a 2015 interview with the Hollywood Reporter where he said that, "movies are the art-form for the masses." In that statement, he means to say that movies were the one form of entertainment that spread across class, race, gender, no matter who the person was. It wasn't an expensive art-form of the elite like opera, Broadway, or professional sports. Movies were available to most everyone for a reasonable ticket price, and that's what made movie theaters such an integral part of our lives. Now we are in a time when they'll need all the help they can get just to survive the next few months. Strangely, help has come from an unlikely place like Netflix, which has helped set up a fund to support furloughed workers within the industry. Netflix's creative head, Ted Sarandos has also stated publicly that his intention is not to have Netflix supplant the theatrical experience, but to work alongside it. Hopefully, this experience may loosen the theater chain's objections to Netflix's model of distribution and we may end up seeing more of the streamer's movies released into theaters in a wider distribution. But, what's most important in the weeks ahead is that we don't forget the importance of the theatrical experience itself as a part of our connection with the movies. Nothing can replace that, not even the most high tech of home theater set-ups. The big screen is where most movies are meant to be seen, and the theaters are going to need us if they are going to survive. We especially need to give our support to those small, independent theaters that provide their own one of a kind experience that can never be replaced. Communities that otherwise don't have much access to alternative kinds of media and film are dependent on these movie theaters' survival, and it is very important that they continue to remain open after this crisis is over. Movie theaters may not go away completely, but this pandemic crisis is certainly going to be a crushing blow that may take years to recover from. But, my hope is that I can convince enough people out there to remember the value of our movie theaters and all the good they have brought into our lives. Not everything about the movie theater business has been perfect, but I certainly don't want to live in a world where I can never walk into a movie theater again. So, once we are able to, please buy those tickets, order those buckets of popcorn and drinks, and please enjoy the show.