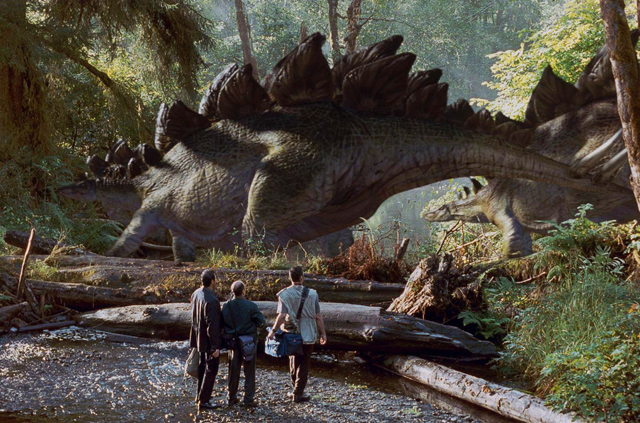 When Hollywood finds a blockbuster that exceeds their wildest expectations, they often try to find ways to extend it's popularity way beyond it's intended life span.  This often involves sequelizing the movie, whether it lends itself to a sequel or not, and usually involves a great deal promotional exposure in order to make sure that it continues to stay in the public consciousness.  Sometimes Hollywood does stumble on something that not only lives beyond one film, but can remarkably sustain continued new installments towards a series that lasts for decades.  You look at how Star Wars has evolved from a single film, to a trilogy, to a collection of trilogies, to an entire cinematic universe to see just how well an experiment in franchising can work if the movie in question opens itself up to such a thing.  An even more remarkable example can be found with the Planet of the Apes films, which based off the original 1968 film you would never even think would have had legs strong enough to expand into the new millennium.  Yet, here we have a new set of Apes films in recent years that are not only critically acclaimed, but are also breaking new ground in terms of visual effects, not to mention sharing the original film's sharp social and political allegories within it's narrative.  But, the same cannot be true for all franchises, and sometimes it becomes disheartening when you see a beloved film be followed up with a sequel that squanders the potential that the first movie so perfectly laid out for it.  Recent examples of this include Kingsmen: The Golden Circle (2017) and Pacific Rim: Uprising (2018), which were both pale imitations of their predecessors.  But, if you are looking for a movie that perfectly personifies the idea of wasting something good in the rush to capitalize on a sequel, then you can look no further than the sequel to Jurassic Park (1993): the horribly mismanaged The Lost World: Jurassic Park (1997).  It's not only a terrible sequel to a beloved classic, but in my own opinion, it's also one of the worst movies ever made.
That may seem like harsh words for what is essentially a harmless sequel to a blockbuster movie, but for me personally, it was one of the worst cinematic experiences that I have ever had.  Personal influences certainly shape my perception of the movie, I will be honest, but they do point out an element of the movie that I really detest.  And that element is, that it is a movie without a soul.  Now, you're probably wondering how can a movie have a soul?  It's a product and not a being.  Of course, when I say something has a soul, what I really mean is that it has a sense of character and identity to it; that it reflects back a sense of life that makes the 2 hours we witness watching it unfold worth the time.  Most good films have this about them.  Even most bad movies have a soul, because there are many cases where bad films stand out because of all their faults.  But The Lost World has nothing.  It's just pieces of a movie awkwardly stitched together to give the impression of a film, but where nothing feels authentic.  When a film lacks a soul, then it stops being a movie and just becomes a product; something that was made out of obligation and not through genuine love.  I guess you can say that about most bad sequels, but it stun a lot more because this was how Hollywood tried to answer something magical like Jurassic Park.  Even more disheartening was the fact that it involved many of the same people, including writer Michael Crichton and director Steven Spielberg; two enormously creative people who should've taken the opportunity to build upon their past achievements to make something even more amazing.  If they didn't have their heart in it, then why should they have even bothered trying.
One has to understand the absolute importance that Jurassic Park has as a part of cinematic history.  While mostly a typical Hollywood action thriller, the movie was still ground-breaking in it's use of CGI technology to bring dinosaurs to life on the big screen.  Those early computer models remarkably hold up 25 years later, but that's not the thing that makes the movie as beloved as it still is today.  Jurassic Park is also a perfect example of a movie with a definitive soul to it.  We remember the characters, the moments, the sense of thrill that we had watching it for the first time.  We quote the movie constantly, from Jeff Goldblum's Ian Malcolm delivering sly quips, to Wayne Knight's Nedry's sarcastic put downs.  It's a movie where even minor characters stand out and are remembered with fondness, like Samuel L. Jackson's briefly seen technician, Arnold.  But, what really defines the soul of the movie is the way that it pulls us in as a viewer.  For instance, how does Steven Spielberg encapsulate the sheer magnificence of viewing a living dinosaur on screen.  He plays it off of the reactions of his actors first, then does a sweeping upward shot to capture the scale of the dinosaur that the characters are looking at.  Then, with an assist from John Williams' brilliant musical score, we have a perfect introduction of the core concept of the film; dinosaurs live among us.  That is how a movie finds it's soul; with cinematic language driving the glory of the moment, without words or character motives driving the scene.  From that moment on, the audience is on board for every plot point from then on, and are even intrigued by the philosophical discussions that this moment inspires thereafter. Jurassic Park plays by the Hollywood rules of plot and character for typical blockbusters, but Spielberg knew that all of this had to mean something as well, so he made his best effort to not only make the movie look good, but to have it resonate as well.  And thus, with his keen sense of cinematic story-telling, we get a blockbuster that is more than just a product; it also has a beating heart.
So, where did that all go when The Lost World came around?  Obviously not into the sequel.  When looking at what's wrong with The Lost World, you have to take into consideration that Hollywood likes to break down each film it makes and tries to perform an autopsy on each to see what individually made it work or made it fail.  From this, they create what they essentially see as a blueprint on how to make a good movie.  If this particular moment worked so well in this movie, then we should do even more of it in this new movie, and so on.  So, essentially, you have a film that is assembled to mimic everything that was good about the original movie in order to repeat it's success.  There's only one problem; it almost never works out that way.  The Lost World feels so lifeless for one main reason; it's too polished.  One has to remember, Jurassic Park is not a flawless movie.  It can be a tad cheesy at times, it falls prey to a lot of plot conveniences, and there are plot holes wide enough to drive a truck through (how exactly did the T-Rex get into the building without anybody noticing, or hearing?)  But, the movie almost embraces those things as a part of the whole experience, whether intentional or not, and it's become part of the whole mystique of the movie itself years later.  By analyzing the flaws of the movie and trying to remove those imperfections, the filmmakers made something that was more refined, but lacked all character.  Maybe when Spielberg was developing this sequel, he thought that it was going to be easier now that he knew what he was doing this second time around, but as this movie shows, maybe it's better when he doesn't work with a strong sense of confidence.  One particular example I would point out is the way it uses familiar call backs to the first film.  Like the first Jurassic Park, there's your epic introduction to the dinosaurs peacefully existing, as well as another scene involving a vehicle dangling off a ledge after an encounter with a Tyrannosaurus.  The Lost World seems to think that each moment needs to one up the original, so one scene involves a pack of Stegosauruses crossing a stream, while the other involves an even bigger truck attacked by not one but two T-Rex's.  In each case, they both pale in comparison to the original, because they lack the intimacy and the novelty of what came before.  In other words, the less is more approach of Jurassic Park was more effective.
One of the most glaring things to note about what makes The Lost World so much worse as a movie sequel, is the fact that it completely tosses aside the logic that the original film established for itself.  Like any other science fiction, Jurassic Park is given some leeway to bend reality for the sake of narrative purposes.  But, for the most part, it is a scientifically grounded film, mainly due to the long history of writer Michael Crichton's own work in the field of science.  Sure, science hasn't been able to create dinosaurs out of genetic cloning yet, but the movie does a fine enough job laying out the real science behind the research in order to make it feel at least plausible.  And one thing that it does get right most of the time is how the dinosaurs would've actually behaved.  You have characters like Sam Neill's Dr. Grant, Bob Peck's Muldoon, and young Joseph Mazzello's Tim to tell you all the real facts about dinosaurs you need along the way so that when we actually see it happen in the movie, it makes perfect logical sense.  The tidbit about how fast a Tyrannosaurus can run makes the scene where it chases down a Jeep at night all the more intense.  But, The Lost World seems more concerned about dramatic tension than giving us context, and changing the rules just to make a scene look better does not do the movie any favors.  For example, there is a point in the movie where a campsite is attacked suddenly by a T-Rex and the campers flee and somehow most of them make it out alive running on foot.  It's like Spielberg completely forgot that this same creature was able to keep up with a Jeep driving at full speed, and now is barely able to catch up to the foot-speed of human beings.  If there was an explanation that the dinosaur was hobbled then maybe this discrepancy would have made sense, but there isn't.  The movie just flips the logic for convenience.  And this is only one example.  The first film at least tried to make sense; this one just doesn't care.  And that lack of care is what plagues the experience of watching it.
The distinct lack of personality this time around is also something baffling about the movie.  I know that it's a bit unfair to use the original constantly as a reference point, but considering the fact that this movie is trying way to hard to copy it in every way makes it almost unavoidable.  And the one thing you'll notice as a fault with the sequel is that every character doesn't work at all in this story.  Like I said before, there original movie had top to bottom memorable characters.  They may not have been original or even always likable, but they stood out.  Here, everyone feels generic, even if they are returning from the first movie.  Jeff Goldblum's Dr. Ian Malcolm is a prime example.  In the first movie, he was the wild card character who often was hilariously callous and a little nutty.  He was comic relief in an otherwise ensemble cast that also included dinosaurs as featured characters.  Here, he's the primary protagonist, which is a role this type of character does not work well in.  And you'll notice very quickly that the character is way out of his element and nowhere near as entertaining this time around.  The boredom on Goldblum's face throughout the movie is noticeable.  In addition, the movie makes little effort to create new characters with any personality and instead just tries to fill each role with a generic archetype that's a retread of what was there before.  Julianne Moore is wasted as Goldblum's scientifically driven girlfriend, who basically serves that function and nothing more.  Vince Vaughn is your stereotypical hotshot soldier for hire.  And the movie gives Dr. Malcolm a mixed race daughter who is clearly just there to fill some diversity quota that the movie feels it needs to accomplish.  Diversity is admirable, but only when the character has a personality and a purpose in the story, which this character does not.  And she stops a Raptor attack in the most ridiculous way possible; through her training in gymnastics (What!?).  I imagine either Spielberg or some other producer had a child also going through gymnastics at the time and felt compelled to include it in the movie, even if it makes no sense.  Only the late Pete Postlewaithe's character, the hard-edged dino hunter, feels anything close to original for this film.  The film's lack of any character development, good or bad, only solidifies just how much it lacks in general.
But, there's something else that makes me despise the movie more than most sequels and other bad movies.  It comes back to that lacking of a soul excuse that I mentioned earlier.  And it makes more sense when you consider how this movie stacks up against the other films that came after it.  Sure, it's worse than the original, but how can it be worse than Jurassic Park III (2001), or Jurassic World (2015), or the recently released Jurassic World: Fallen Kingdom (2018).  It's because some bad movies manage to stand out better than others by becoming so memorably bad.  That's how some bad movies can have a soul too.  I see that especially after having seen the newest film Fallen Kingdom.  Believe me, sparing you a lengthy review, this new film is bad, and yet I still think The Lost World is worse.  And that's because it's so stupid at times that I almost found it's stupidity entertaining.  Almost.  The two films are remarkably similar; they both involve extracting dinosaurs that remain in the island based parks and bringing them to the mainland, and two opposing ideals about what to do with them when they get there which inevitably leads to dinosaurs breaking loose and running a rampage in the open world.  In The Lost World it involved a Tyrannosaurus rampaging through San Diego; in Fallen Kingdom, it's dinosaurs wrecking havoc in a mansion before inevitably branching out across the world.  But, Fallen Kingdom is significantly cheesier and aggressively more stupid, which kind of prevents it from being boring in the process.  The Lost World is bland the whole way through on top of being boring and stupid, and that is why it is so much harder to sit through.  The fault comes in the assumption on the filmmakers part that they were making something more profound with The Lost World, which a Jurassic Park movie should never be.  It can have profound moments, but it works best when it embraces a more cartoonish sensibility.  Fallen Kingdom, despite being so mind-numbingly stupid at times, at least remembers that.  The Lost World was made in between Schindler's List (1993) and Amistad (1997), which probably didn't put Spielberg in the right mindset to direct a movie like this, and it painfully clear in the movie's severe lack of fun all around.  And that's saying something for a movie that has a Raptor taken out with a gymnastic kick.
The Lost World: Jurassic Park is not the worst made sequel, nor is it the worst made movie in this franchise.  But it is the most insulting sequel that I've ever seen made in response to a classic movie.  For the longest time, this stood right up there with Space Jam (1996) as one of my least favorite movies ever, and it still is high up there even today as other bad movies have joined them.  And the reason for the scorn that I hold for this movie is because it's the most blatant example of a movie that just doesn't even try to be a movie.  It is a manufactured beast, devoid of any love put into it by people who are among the greatest artists of all time.  This is far and away the worst movie that Spielberg has made in my opinion, and that's because it even lacks the things that made Spielberg's other failures at least memorable; it doesn't have the nonsensical absurdity of Indiana Jones and the Kingdom of the Crystal Skull (2008), the dullness of Always (1989), nor the awkward tonal shifts of Hook (1991).  Art, even bad art, by the greatest of masters can illicit some emotional response from it's audience.  The Lost World: Jurassic Park is a blank canvas of bland whiteness being passed off as artwork.  Every decision made with the movie is there to repeat something that worked before, and it accomplishes absolutely nothing.  Maybe it was a rushed job, and like I pointed out before, maybe Spielberg's heart wasn't in it because he had already moved on to more serious, worthwhile projects.  It's just a shame that he had to burn through something as purely entertaining as Jurassic Park in order to get there.  The worst that a movie can be is to show the inner workings of it's creation bare in front of us and reveal it to be nothing more than an empty vessel made solely to fill another's place for one shallow reason; to make more money, and nothing else.  The Lost World is that kind of movie, and that's why it hurt so much after seeing Jurassic Park.  You can't make the same film twice, as this movie so painfully shows.  And Lost World holds a special plays of scorn for me, because it's the movie that first opened my eyes to the fact that film-making could sometimes turn into a soulless venture, where greed can sometimes trump art.  It broke my once pure ideal of how Hollywood works, and showed that sometimes even the best of filmmakers can create something that lacks a soul.