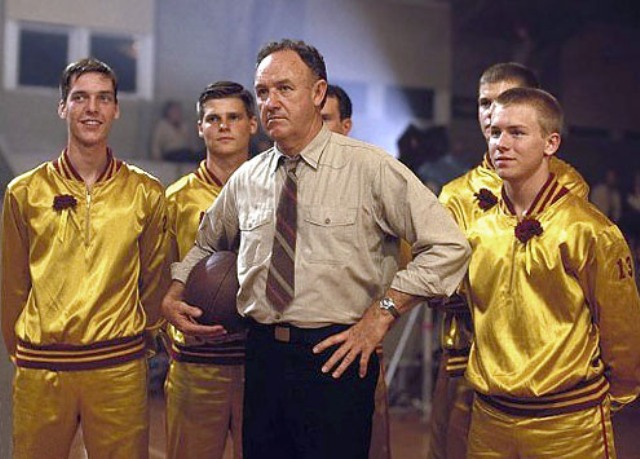 Festivities of the Thanksgiving weekend usually start off with a hearty dinner with family followed by socializing at either the movie theaters, or getting oneself damn near killed at the local shopping mall for Black Friday deals.  But, there's also a long standing tradition that continues to be strong over the extended holiday weekend, and that's the special holiday sports match-ups.  While no means crucial games in the long run, certain professional teams schedule these games for the sole purpose of exposure.  While most TV shows go on hiatus for the Thanksgiving weekend, sports programming fills that void with their special broadcasts and are able to be watched by not just their faithful fans, but also by anyone tuning in with the rest of their family.  Whatever is planned in everyone's own Thanksgiving celebration, it's highly likely that a good many households in America have managed to makes sports entertainment at least some part of the holiday.  And if it's not a live event that becomes a part of the season, audiences can still get their sports fix from the world of cinema as well.  Indeed, Sports movies have become a beloved genre of film on it's own, and many of them are released and/or watched more often this time of year than any other.  But, sports movies are in fact surprisingly varied the more you look at them as a whole, and have become beloved entertainment no matter the time of year.
Sports themes and subjects can be found in a whole variety of genre pictures.  It's a sub-genre that isn't as restrictively defined as others and you can easily lump a film from a whole bunch of different genres that would fit within this category.  There are sports movies that  can fall under the banner of historical films, or counter-cultural films, or even romantic comedy.  Hell, there are even sci-fi movies themed around sports.  It's such a loose definition that some even wonder if the Sports flick should even be considered a genre at all, due to this broadness.  There is one thing for sure, however, and that there are some movies that can be described as nothing other than a sports flick, and that's because they follow the sports movie "formula."  That formula often involves a band of underdogs coming together, united by a common goal, and overcoming the odds in order to achieve greatness.  Sometimes, this formula is even whittled down to achievements by one gifted athlete who's the hero of the story.  And while many sports movies do attempt to stand out from the rest, few actually do stray from the formula.  But, with a formula as common as this one, it also leads to a lot more repetitiveness.  One of the things that does plague the Sports movie genre a lot is the lack of genre-defining standouts, instead letting the formula itself be the most recognizable factor.  There are some all-time classics in the genre, but there are a lot more imitators that don't quite rise up to the challenge and instead bleed into the background while trying to play it safe.  This is what often separates the good from the bad in the Sports genre, and given how the scales have tilted more in the favor of the negative mostly, it only makes the good ones stand out more.
First of all, let's look at what makes a good Sports movie work.  Just like any other genre of film, it ultimately comes down to the strength of the characters and the story.  If those elements aren't there, then the formula won't work, and all you will be left with is a story that's just going through the paces.  This unfortunately happens to many Sports movies, many of which don't put the focus into the right  places.  A common problem is that many sports movies put the mechanics of the sport first, and then consider the story second, thinking that audiences won't notice and get swept up in the in-game action.  This has been true with running through the paces movies like The Replacements (2000) or The Sixth Man (1997).  It won't matter how gimmicky you make the situation; unless audiences care about the characters and what's going on, it won't matter how well the sports action is shot.  Formula is a crutch for some inexperienced filmmakers and it's often why many of them turn to sports movies as a way to make their films look more impressive than they really are.  Sports events are filled with a lot of pageantry and drama, but that doesn't always translate into a good story.
Human drama and competitive drama are two different things, and if you can manage to make both work together effectively at the same time, then you've achieved something.  Unfortunately for most sports movies, there is always that disconnect.  Even attempts to make compelling human drama can go haywire if it feels insincere.  Let's compare this in two movies about high school football; Varsity Blues (1999) and Friday Night Lights (2004).  Varsity Blues is the lesser of the two because of the in-authenticity of it's emotions.  It's heavy-handed in it's human drama and flashy in it's depiction of it's on-field action.  Friday Night Lights on the other hand treats it's subject with a lot more restraint.  It still has the human drama throughout, but it's better integrated with the action on the field, making both feel just as integral to the overall story.  It's that balance that ultimately makes the sports movie formula work.  Had Varsity Blues not tried too hard to make their story emotional, then it might have felt more authentic.  Instead, the movie appealed more to the teenage soap opera crowd (which makes sense considering who made up the movie's cast) and felt less like a film about the heart and soul of Football, which Friday Night Lights captures much more perfectly.  In that film, you get a better sense of how the different characters lives are intertwined and motivated by the sports they play, and how much winning means to them.  You see this in their struggles at home, sometimes showing kids dealing with abuse, and also in how the head coach (played by Billy Bob Thornton) can unite a team around all this turmoil and make his players believe they are winners.  That helps us the audience feel more involved once the players take the field and snap the ball.  It's that balance between story and action that ultimately helps to make the good sports movie stand out.
If there is a Sports genre that has had a better track record than the rest, it is the Sports biopic.  Athletes are often the great legendary heroes of our modern age, and what better way to celebrate their accomplishments than with a film based on their life.  While these movies also fall into formula many times, they can still manage to overcome them if the true-to-life story is compelling enough.  And the history of Sports is not short of interesting subjects.  But, again, it's all in how you go about depicting these people and what they've done that makes the movies work.  Case in point, a good sports movie would be the 1994 biopic Cobb, which featured Tommy Lee Jones as the notoriously brutish, and psychotic baseball player Ty Cobb.  That movie is fascinating to watch because it shows the life and career of a very flawed man whose actions feel so out of line by today's standards that it helps us to learn more about how the sport of Baseball has evolved.  Contrast this with 1948's The Babe Ruth Story, which white-washed the true story of a very flawed person who ended up becoming one of the world's greatest athlete, and it inadvertently makes his life story feel dull in the process.  The more fascinating the individual, the more introspective the movie must be, and even if it's showing the less flattering elements of a person's life, all the better because it at least humanizes the person and makes them feel more relatable.  Sometimes using creative license even helps.  The recent Jackie Robinson flick 42 plays around with the events of the groundbreaking baseball player's life, like the extent of the relationship he had with the team's owner, as well as making up whole chapters of his life and career.  But, after seeing the final result, that matters very little, because what 42 gets right is the sense of Jackie Robinson the character, and the struggle with which he had to overcome.  Creative license may be a cheat, but it's a cheat that can deliver a better impact.
This is a formula that has been very true not just for biopics, but for depictions of great sports events as well.  Sometimes, the best thing that a sports movie can do is to shed light on a great moment that happened in any particular sport, and how that left an impact on history.  These kinds of movies usually fall under the banner of the underdog story.  One of the best examples of this would be the 1986 Basketball film, Hoosiers.  Hoosiers is interesting because it doesn't depict the story of some great professional team, or even one of the most earth-shattering upsets in sports history either.  It instead focuses on a more universal story of a small Indiana town whose High School team beat the big city school and won the state championship out of nowhere.  Doesn't sound all that unusual, right?  Well, when you see the movie, you find that it is less about the game itself and more about the people who made it happen, which includes a coach with a shady past (a brilliant Gene Hackman), his troublesome alcoholic assistant (Dennis Hopper), and a group of working class kids who've been told they'll never amount to anything.  The movie makes the final game feel much more important because of all the negative factors that have worked against these characters and it stresses how they've persevered against it.  It makes us root for the underdog probably better than any other sports movie ever, and it's all because it plays upon our desires to see winners deserve their victory and challenge the established order of things.  Other underdog Sports movies do a good job of playing up the underdog formula, like Rudy (1993) and Miracle (2004), but few have made something so small feel so grandiose as Hoosiers did.
True stories seem to be the bulk of what we would describe as a sports movie, but like I stated before, sports work their way into all kinds of genres, some better than others.  Really, even at a young age, we are shown sports as an everyday element of our lives.  There are tons of family films geared to younger audiences that have a sports theme to them; although, for every charming Little Giants (1994) and Rookie of the Year (1993) that we get so often, there are about a dozen or so stupid Air Bud (1997) movies.  A great example from my childhood would be the brilliant The Sandlot (1993), which centered around baseball, but proved to be about so much more.  Sports comedies are also a noteworthy sub-genre.  Some take the sport they depict seriously, like Bull Durham (1988) and Major League (1989), becoming comedic purely through the eccentric personalities of their players.  And then there are the sports movies that savagely ridicule their selective sports, and yet still manage to be beloved by the sports' same die hard fans.  Caddyshack (1980) mocks every conceivable convention of the sport of Golf, and yet I bet you won't find a movie that is more commonly quoted on a golf course than it. Formula can also work as a negative sometimes with these kinds of films, which is double troublesome when the formulas of two different genres are in play.  This is particularly true with romantic movies centered around sports.  In my opinion, I see making a sports movie with a romantic plot as being the same kind of pandering towards a male demographic as shoehorning a love story into an action movie panders to a female demographic.  It feels inauthentic and cheap both ways.  This has often led to awful hybrids like Fever Pitch (2005) and Summer Catch (2001).  Though female athletes aren't without their own classic sports film.  A League of their Own (1992) managed to appeal to audiences of all genders and did so by following all the same rules that make up any good sports movie.  Not to mention, it's a movie geared towards woman that also features one of the greatest and oft quoted tough guy lines ever in a sports: "THERE'S NO CRYING IN BASEBALL."
So, why do some sports movies have such a lasting resonance while others don't?  I think it's because of the fact that you're trying to work two forms of entertainment together and make them feel like they're the same thing.  We watch both to feel entertained, but experiencing the ups and downs of a movie is quite different than those of a live sporting event.  Drama in sports comes from a lot of factors.  It's sometimes not what's going on the field that matters to us, but rather the implications that the game means in the larger picture that we find so intriguing.  The lives of the athletes outside the sport and the baggage they carry with them can often impact our outlook on the game.  Sometimes it's our hometown pride, or our wanting to see the smaller team undo the lofty expectations of the bigger team, in order to shake things up and make them more interesting that we enjoy.  In any case, these are things that are hard to translate into film.  Usually the success of a sports movie rests on the effectiveness of capturing that aura around the big games.  That, or they effectively use sports as backdrop for the interesting character dramas.  Overall, there are many films that fall short, but it only highlights the ones that are destined to become classics.  Though not particularly bound to the Thanksgiving season, these movies nevertheless have a customary presence around this time of year, especially when they play such a memorable role in the way it makes you value the role of sports in the larger cultural narrative.  They even serve as good counter-programming when the live games themselves become boring.  The Sports movie genre may seem formulaic to many, and continues to follow stringent genre rules more than some, but it's also one of the most varied, and engaging of all cinematic genres.  And when done right, it can even make a happy ending feel all the more worth it.  And that's certainly worth cheering for.