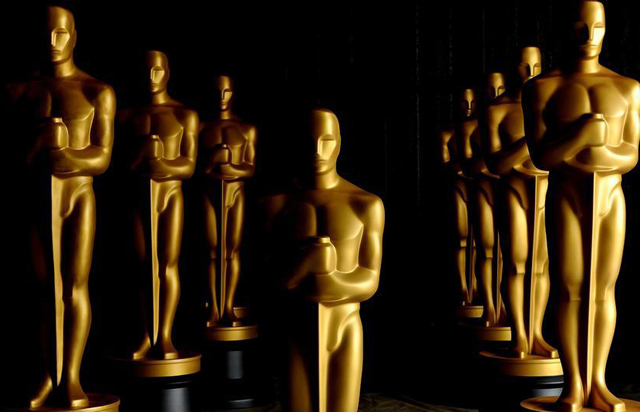 With the contentious year of 2016 behind us now, we finally come to this final week of Awards season, with the Academy Awards handed out on Sunday; putting a final statement on the year that was, cinematically speaking.  There was some good things to come out of this awards season.  After two years of controversy surrounding the lack of diversity in the artists and films nominated for the top awards, this year's Oscars ended up being one of the most diverse in recent memory.  Four of the nine Best Picture nominees centers on characters of color, and each of the acting categories features at least one non-white actor among the nominees; three alone in the supporting actress category.  There was also the interesting inclusion of Mel Gibson, recognized in the Best Director category for his film Hacksaw Ridge, after years of being shunned by the rest of the Hollywood community for his previous toxic behavior.  But, if there has been a dominant story throughout this whole Awards season, it would be everything La La Land.  The Damien Chazelle directed musical has steamrolled through this season, seemingly untouchable in it's front-runner status from the moment it first premiered.  When the nominations were announced in January, La La Land made history by tying All About Eve (1950) and Titanic (1997) for the most nominations ever at 14 total.  Depending on how the ceremony goes in a couple days, the movie could have a viable shot at breaking the record for most wins as well, although that could be a tall order for such an independent film.  Like previous years, I will share my picks and thoughts over the top categories of screenwriting, acting, directing, and Best Picture, and tell you who I believe will win, and who I think should win.  So, let's shine up those Golden Boys and look at this year's nominees.
BEST ORIGINAL SCREENPLAY
Nominees: Taylor Sheridan (Hell or High Water); Damien Chazelle (La La Land); Yorgos Lanthimos, Efthymis Filippou (The Lobster); Kenneth Lonergan (Manchester by the Sea); Mike Mills (20th Century Women)
I should point out that one of my picks for the worst films of 2016 is represented here (The Lobster) and thankfully it has no shot in winning, so we can quickly dismiss that one.  This category basically comes down to three top choices.  Taylor Sheridan is currently one of screenwriting's rising stars, with his nominated script for Hell or High Water coming hot off the heels of his celebrated work on last year's Sicario (2015).  His screenplay for High Water is a beautifully restrained portrait of the underbelly of the modern American frontier, and features some of the year's most memorable characters as well.  But, Sheridan's script is overshadowed this year by the more favored films that are also vying for dominance in the Best Picture category.  If this category is any indicator for how the night will go, Damien Chazelle's screenplay for La La Land could ride the sweeping wave and add to that movie's stellar awards total.  But, that's only if La La Land has the momentum on it's side, and that could be dying down after too much hype from the last month or so.  If La La Land doesn't win this category, then the most likely winner would be Kenneth Lonergan for his tone perfect screenplay for Manchester by the Sea.  Lonergan is a highly regarded screenwriter, but he's never won up to now, so this might be his long anticipated victory year.  And it would be a deserving win, because I don't think any other script this year was as precisely tuned and full of sweet surprises.  If anything stands in La La Land's way, it will be this veteran's long overdue triumph.
Who Will Win: Kenneth Lonergan, Manchester by the Sea
Who Should Win: Kenneth Lonergan, Manchester by the Sea
BEST ADAPTED SCREENPLAY
Nominees: Eric Heisserer (Arrival); August Wilson (Fences); Allison Schroeder and Theodore Melfi (Hidden Figures); Luke Davies (Lion); Barry Jenkins and Tarrell Alvin McCraney (Moonlight)
This is an interesting category this year, because every screenplay here ended up becoming a nominee for Best Picture.  And with La La Land and Manchester by the Sea dominating in the Original category, this one is far less predictable.  August Wilson took the unenviable task of re-imagining his stage play for the big screen with Fences, but the end result proved to be surprisingly effective.  Eric Heisserer's Arrival is the most cerebral of the nominees here, but it's also the one that is perhaps too restrained for it's own good.  Luke Davies' Lion is emotional, but inconsistent.  And the Hidden Figures screenplay is an engaging, if perhaps too conventional for this category.  Which leaves the screenplay for Moonlight, which very much looks like the front-runner here.  The only thing that might stand in it's way is the often unconventional structure of it, and the fact that it leaves a few things unresolved by the end.  But, judging it against the others, it's those imperfections that make it the far more exciting script in this category.  No other screenplay here or in the other category is as daring as Moonlight.  It's subject matter is unique and relevant, and it features some of the most elegant character development we've seen all year.  The fact that it doesn't restrict itself to conventional screenwriting standards helps it to stand out from the bunch, and that's why it is deserving of the award.  The story behind the script also helps to elevate it's status, as it was a passion project for many years for director Barry Jenkins, who poured years into the writing of this screenplay.  It's the little indie movie that could, and the kind of success story that Hollywood loves to award.
Who will Win: Barry Jenkins and Tarell Alvin McCraney, Moonlight
Who Should Win: Barry Jenkins and Tarell Alvin McCraney, Moonlight
BEST SUPPORTING ACTRESS
Nominees: Viola Davis (Fences); Naomie Harris (Moonlight); Nicole Kidman (Lion); Octavia Spencer (Hidden Figures); Michelle Williams (Manchester by the Sea)
Of all the acting categories this year, this is the one that is pretty much a lock.  Viola Davis, a much beloved actress of film, theater and television is almost certain to win this award on Oscar night, and it will be an award that's very well deserved.  Her performance is heartbreaking and powerful in the film Fences; more than holding her own against Denzel Washington and then some.  But, her front runner status here has become somewhat controversial because many people view her role in Fences as more of a lead role rather than a supporting one, making it seem unfair to relegate her to the supporting category.  It's a complaint that I see a lot of validity to, because not only is putting her performance in the supporting column here minimizing a performance that honestly could hold it's own in the Best Actress category and give Ms. Davis an even higher honor for the year, but putting her in this category makes it unfair for the other nominees, whose performances are more traditionally of the supporting kind, and likewise feel much smaller to hers by comparison.  But, that's Oscar politics for you.  The studio submitted Viola for the supporting actress category because they believe it will give her an easier road to victory, and it looks very much like that will be the case.  Of all the remaining nominees, the one performance that could spoil Davis' night could be Michelle Williams for her short but sweet performance in Manchester by the Sea.  The always reliable Williams has one scene in particular that is particularly emotionally raw and captivating, and any other year it would have assured her an Oscar win.  But, if Viola Davis doesn't win this year, it will be the night's biggest upset.
Who Will Win: Viola Davis, Fences
Who Should Win: Viola Davis, Fences
BEST SUPPORTING ACTOR
Nominees: Mahershala Ali (Moonlight); Jeff Bridges (Hell or High Water); Lucas Hedges (Manchester by the Sea); Dev Patel (Lion); Michael Shannon (Nocturnal Animals)
This category is also facing the same complaints as the supporting actress category.  Dev Patel's nomination for the film Lion seems oddly placed in the Supporting category, especially since he is the lead in that particular film.  However, unlike Viola Davis in the Supporting Actress category, Patel is not a favorite in his own field, despite giving a deserving performance.  The category as a whole is actually a pretty competitive one.  Jeff Bridges may be the least likely to win, mainly because he's the only past winner, and the performance is more or less a parody of himself (albeit a great one).  I'm really happy to see one of my favorite character actors, Michael Shannon, nominated this year, as he is often criminally under-appreciated in Hollywood.  And Lucas Hedges delivered a solid, star-making role in Manchester by the Sea, though a win for the first timer is highly unlikely.  No, the winner this year is looking more and more likely to be Mahershala Ali for his standout performance in Moonlight.  Ali, who has had a solid year overall with starring roles on critically acclaimed TV shows like House of Cards and Luke Cage, and supporting appearances in movies like Hidden Figures, has the momentum based on a body of work to back up his performance in the movie.  The acting in Moonlight is solid from top to bottom, but it's Mahershala who stands out as the drug dealer turned surrogate father for the film's main character.  Even though it is brief, his presence is felt throughout the film, even when he's not there anymore.  Hollywood loves these kinds of powerful performances, and it's enough to make Ali stand out from the field.
Who Will Win: Mahershala Ali, Moonlight
Who Should Win: Mahershala Ali, Moonlight
BEST ACTRESS
Nominees: Isabelle Huppert (Elle); Ruth Negga (Loving); Natalie Portman (Jackie); Emma Stone (La La Land); Meryl Streep (Florence Foster Jenkins)
The odds makers are looking at Emma Stone as the favorite in this category.  Her singing and dancing performance certainly shows her versatility as a performer, and it's that kind of varied role that the Academy responds very strongly to.  At the same time, in between the singing and dancing, Emma doesn't really do any more stretching as an actor.  The character is more or less close to her own persona, or at least the kind of character she usually plays in most movies.  I thought she showed more passion in her nominated performance from Birdman (2014) a couple of years ago.  Not to say she is terrible in La La Land, nor undeserving.  I'm just not so certain about her front-runner status.  Certainly, it's better than Meryl Streep's nominated performance.  Sometimes the Academy honors Mrs. Streep for some especially stellar work, and then other years, it seems like she's shoehorned in just so they can throw more glory her way.  The latter seems to be true this year, especially considering other actresses like Amy Adams were left out.  But, even despite my gripes, Emma Stone looks to benefit from the momentum that La La Land is enjoying this awards season.  Of the nominees here, I think the strongest performance actually came from the most reserved nominee, Ruth Negga, whose tender performance in Loving is one that sadly has gone unheralded.  Another thing I would like to see is veteran actress Isabelle Huppert receive an award, given her very challenging role in the French thriller Elle.  Tough call, but my wish is to see underdog Negga come away a champion here, even though it looks like a near lock for Stone.
Who Will Win: Emma Stone, La La Land
Who Should Win: Ruth Negga, Loving
BEST ACTOR
Nominees: Casey Affleck (Manchester by the Sea); Andrew Garfield (Hacksaw Ridge); Ryan Gosling (La La Land); Viggo Mortensen (Captain Fantastic); Denzel Washington (Fences)
At the start of the race, Casey Affleck looked like a clear favorite in this category for his pained and emotional performance in Manchester by the Sea.  And it's a front-runner status that I completely agree with.  Of all the nominees, Affleck gave the best performance of the year.  It's rich, heartfelt, and feels 100 percent authentic, which is a hard trick to pull off even for the best actors out there.  Unfortunately, Casey's personal life has gotten him into trouble recently, and it's the kind of controversy that casts a dark cloud over the fine acting that he does.  With accusations of abuse leveled on him only weeks before the awards, it has led many to believe that the Academy might shun his nomination and vote for another nominee in order to avoid any blow-back their way.  But, if they do so, I think it would be the wrong move.  Affleck's work should stand on it's own, and if it is indeed the best performance of these nominees, then it should be recognized as such.  It wouldn't be the first time someone with a questionable personal life has been honored by the academy (Roman Polanski, Woody Allen).  But, it appears that the once sure thing for Affleck is now fading away, and one of the other nominees now has a better shot at winning.  My guess is that veteran Denzel Washington has the best opportunity to come away a winner here; picking up his third career Oscar, and sharing one alongside Viola Davis in the same film.  Ryan Gosling could also sneak in, if La La Land's night goes better than expected.  But, one of two things is more likely; either Casey manages to win despite the controversy, or he loses to a beloved Hollywood icon like Denzel.
Who Will Win: Denzel Washington, Fences
Who Should Win: Casey Affleck, Manchester by the Sea
BEST DIRECTOR
Nominees: Damien Chazelle (La La Land); Mel Gibson (Hacksaw Ridge); Barry Jenkins (Moonlight); Kenneth Lonergan (Manchester by the Sea); Denis Villeneuve (Arrival)
Like many years before, this category usually lines up with the winner of the Best Picture category, and with La La Land favored so heavily, it also seems reasonable to think that it's director, Damien Chazelle, is favored here as well.  If he wins, he would be, at age 32, the youngest Best Director winner in Oscar history, beating out Norman Taurog (Skippy) by a couple months.  That's quite an achievement no matter what way you look at it.  His direction on La La Land is also the most audacious of the bunch; combining nostalgic old Hollywood musical numbers with a very small scale love story.  Those musical numbers alone show his great talent as a filmmaker and his willingness to take chances.  However, his direction is also the most inconsistent of the ones nominated.  While some of his direction choices are bold, there are just as many others in that film that could have been better, and it keeps La La Land from truly soaring like it should.  Of the other nominees, the other top contenders who could reasonably unseat Chazelle are either Lonergan or Jenkins.  Gibson, whose troubled personal life has kept him at a distance from Hollywood, should take this nomination alone as a positive sign of his recovery.  Lonergan's direction on Manchester is beautiful in it's straight-forwardness, but he's more likely to be honored for his screenplay, which better represents his genius.  Jenkins on the other hand displayed beautiful, lyrical direction with his Moonlight, and it represented some of the best film-making of the year.  Audacious, but without the pitfalls that plagued La La Land.  Still, it's unlikely Damien the boy wonder is going to come away empty handed here, and in turn, he will make history.
Who Will Win: Damien Chazelle, La La Land
Who Should Win: Barry Jenkins, Moonlight
BEST PICTURE
Nominees: Arrival, Fences, Hacksaw Ridge, Hell or High Water, Hidden Figures, La La Land, Lion, Manchester by the Sea, and Moonlight
At this point, with momentum that has carried it all the way through the awards season without dissipating, it's no longer a question of can La La Land can win the top award, but rather how big of a win is it going to have.  It already tied the most nominations in history.  My prediction is that it will fall short of the record number of 11 Oscars (held by Ben-Hur, Titanic, and The Lord of the Rings: The Return of the King), but will still win close to 9 or 10 total, which is still a staggering number in any year.  Of course, it will fall under the complaint of being an ego stroking film about Hollywood that the Oscars always seem to fawn over, but that's the Oscars choice to make.  At least for the Academy, La La Land has proven to be a success with all audiences, so they have that cover.  But when compared with the rest of the nominees, does it really stand that much taller.  I have to say, the Oscars fared pretty well this year with their nominations.  There's not a single film in this category that shouldn't be there, and four of the nine nominees were on my best of the year list (Manchester, Moonlight, Hell or High Water, and La La Land).  But, La La Land is not my favorite of the bunch, and if I were to choose from these nominees, I would give the award to Manchester by the Sea.  It was my third favorite film of last year, and since my #1 and 2 are not in this category, Manchester gets it by default.  It's also the most consistently strong of the nominees, but it's strongest chance of succeeding will be in the screenplay field.  Of the remaining nominees, the very beloved Moonlight probably has the closest chance of sneaking past the La La Land onslaught and pulling the upset; but it's chances are minimal.  Plan on seeing La La Land walking away the big winner in this Oscar ceremony.  It's really only a matter now of knowing if the Academy decides to spread the wealth a little more during the ceremony, or just heap all the praise onto this musical hit, giving it a more prestigious place in movie history.
Who Will Win: La La Land
Who Should Win: Manchester by the Sea
So, there you have my picks for the top awards of this years Oscars, as well as my predictions based on how the odds look at this moment.  Like years before, I also have my rundown of all the remaining categories on the Oscar ballot:
Best Animated Feature: Zootopia; Best Cinematography: La La Land; Best Film Editing: La La Land; Best Production Design: Fantastic Beasts and Where to Find Them; Best Make-up and Hairstyling: Star Trek Beyond; Best Visual Effects: The Jungle Book; Best Sound Mixing: La La Land; Best Sound Editing: Hacksaw Ridge; Best Costume Design: La La Land; Best Original Score: La La Land; Bes Original Song: "Audition" (The Fools Who Dream) from La La Land; Best Foreign Language Film: The Salesman; Best Documentary Feature: 13th; Best Documentary Short: 4.1 Miles; Best Live Action Short: Timecode; Best Animated Short: Pear Cider and Cigarettes
So, there you have my predictions and thoughts on this year's Academy Awards.  In general, I am pleased with the nominees this year.  Some of my favorite films like A Monster Calls and Deadpool were left out, but it's understandable given those two films more genre based roots.  While La La Land's pack-leading momentum is not at all surprising, the sheer force of it has been kind of odd.  How did this independently made, small scale, sugary sweet musical with only two lead roles filled with actors not known for their singing and dancing get this close to being a record shattering Oscar favorite.  Some of the explanation may come from the Academy's sometime ridiculous infatuation with it's own industry, which also led The Artist  and Argo  to victory.  But, I would also argue that the current political climate in America today is also a motivating factor in La La Land's success.  With a city and industry reeling from a disappointing result in last year's election, and an uncertain future lying ahead for everyone, La La Land became a pick-me-up movie that both Hollywood and the country at large needed.  It is movie as medicine, and though the film itself is bittersweet in it's tale of underdog artists struggling to balance life with their dreams, it nevertheless filled that gap that people everywhere wanted to fill after the struggles of 2016.  So, it will remain to be seen how much La La Land will take away from this year's ceremony; and if the Academy will be generous to leave some for the rest.  In any case, it really won't matter in the end, because if it wins 10, or 14, or no Oscars, La La Land as well as all the other winners at this year's Awards will always be around and hopefully audiences in the future will view both winners and losers as worthwhile entertainment and see that, cinematically speaking, 2016 wasn't such a bad year.