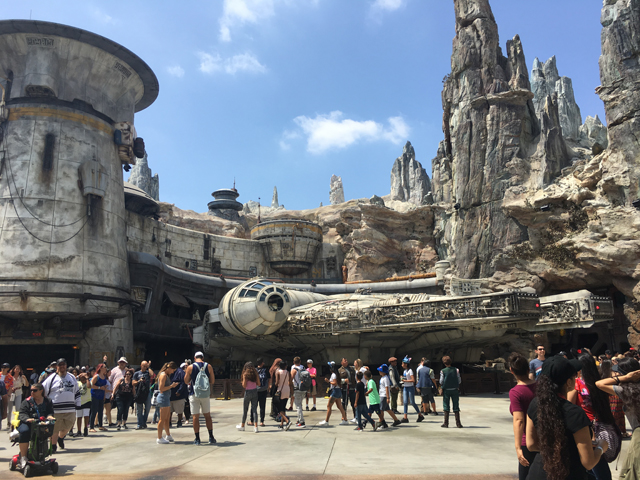 When movies have blockbuster openings, it's no big deal, because that's always been a part of the business.  But, when the opening of a new attraction at an amusement park starts to take on the same characteristics, that's when people begin to take notice.  And those moments usually coincide with something movie related as well.  Of course, the ones who really brought the worlds of theme parks and cinema closer together to begin with was the Walt Disney Company, with their groundbreaking Disneyland.  Though not all of the attractions in their parks have a correlating film that inspired it, there is a fair amount of their rides and attractions that do; and in a couple cases the rides inspired their own movies.  For the most part, Disney has used their own properties as the basis for theme park attractions at Disneyland, but in the mid-80's, they brought an outside source into the park for the first time.  Looking to replace their aging Tomorrowland attraction Adventures Thru Inner Space with something more technologically advanced (in this case, based on flight simulator technology), they struck upon the idea of basing the new ride around the blockbuster Star Wars trilogy.  However, Star Wars was not a Disney property (at the time) and they needed to convince the series creator, George Lucas, that Disneyland was the best possible home for an attraction based on his franchise.  Luckily, Lucas agreed, choosing Disneyland over other movie based amusement parks like Universal Studios, and the landmark deal would lead to the creation of the popular ride known as Star Tours.  Star Tours opened in 1987, and has continued to occupy it's place in Tomorrowland successfully for over 30 years.  It's success even convinced Lucas to bring his other major creation, Indiana Jones, to Disneyland with an even more advanced park attraction placed in Adventureland.  But, with the $4 billion sale of George Lucas' properties to the Disney company in 2012, Disney felt that just one ride wasn't enough to make effective use of Star Wars in their parks.  So, at the D23 Expo in 2015, Disney CEO Bob Iger made the huge announcement that Disneyland was not only getting more Star Wars in the park, but that it would be getting a whole land to itself.
Thus began a four year long construction project that literally reshaped the map of Disneyland.  The Rivers of America, a central body of water that encompassed a quarter of the park's footprint and has existed unchanged since Disneyland first opened, was shortened by nearly half in order to fit the new land in the back corner of the Disney property.  The Disneyland Railroad that encircles the entire park had to be rerouted for the first time in 60 years, and was out of commission for a year and a half as the first leg of construction commenced.    The new boundaries were completed in the summer of 2017, but even still, a whole 2 more year were still needed to complete what lied beyond it.  One of the impressive feats of engineering from Disney's Imagineering team is that not a single glimpse of the Star Wars Land construction could be seen from any vantage point beyond the boundary; not even from the elevated Railroad line.  The only glimpses inside could be found from the top of the second lift hill on the Big Thunder Mountain Railroad roller-coaster, and even then you had only seconds to make out any details.  Disney kept the details of their mega-expansion a closely guarded secret, hoping to build up the hype as opening day loomed ahead.  The lead up to opening day almost felt like the marketing for a new film in the Star Wars franchise, and indeed the hype proved to be almost exactly the same.  Closer to opening day, it was revealed that the first month of operation at Star Wars Land was only going to be open to those who set a reservation ahead of time.  The reservations sold out in only a short 3 hours, much like how advanced movie or concert tickets disappear in a blink and you'll miss them amount of time.  Luckily, I was one of those lucky enough to land a reservation (albeit in the last available window), and with it I was able to get a stunning first impression that I'm going to share with you now in my first theme park report ever on this blog.  Usually I reserve these reports for film related exhibitions, but when it's a new theme park land based around a single film franchise, and opens up with the same amount of hype that's usually reserved for a cinematic experience, I feel that it should get the same attention here, so here is my first look at Star Wars: Galaxy's Edge.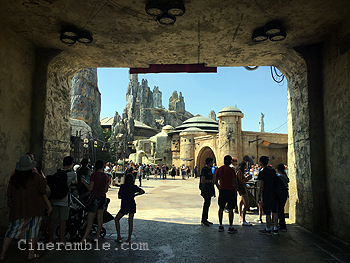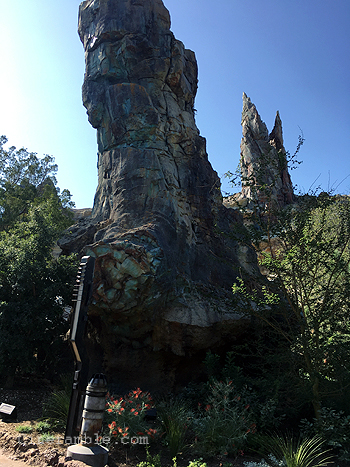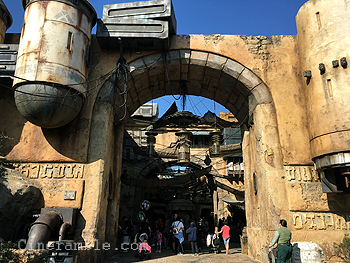 Thankfully, being a Los Angeles based local with an Annual Pass to Disneyland, there was not much difficulty in getting to the park itself.  All I needed was the reservation, which itself was free on a first come first serve basis.  Everyone who registered in time was given the choice of a four hour block on any day between opening day on May 31 and the last day of reservations, June 23.  I got my time frame on the second to last day, June 22, in the middle of the afternoon.  Sadly it wasn't sooner, but it did afford me a time frame during the peak sunlight hours, which was better for photography.  Once at the park, everyone with a reservation needed to check-in at the Star Wars Launch Bay, located in the old Carousel of Progress building in Tomorrowland, where they would receive their wrist band for entry.  After getting mine, I was told to arrive at the Critter Country entrance to the new land, which is one of three entries scattered throughout.  They had us enter through this way because it was the least crowded due to the fact that the westernmost section of Galaxy's Edge is mostly vacant.  This is where the future ride called Rise of the Resistance is going to be located, but it is opening at a later date.   For now, it's just filled with landscaping and a few full size recreations of Star Wars space ships.  It makes sense to hold the crowds of people waiting for their reservation blocks to start here before they're all taken into the real heart of the land.  Once it became time to proceed into the land proper, we were welcomed to some truly spectacular sights.  Even before entering the land itself, I just found myself being wowed by the immense scale of what I was seeing.  Star Wars: Galaxy's Edge truly immerses you into this world.  It's 360 degrees of Star Wars all around you, and that's even before you enter the heart of the land.  One thing that should be noted is that this isn't a Star Wars experience that is specifically drawn from the movies; there are few if any movie references at all in the park, apart from the ones that need to be there.  Instead, it's all meant to be a world that exists within the Star Wars universe, but is it's own world with it's own story to tell.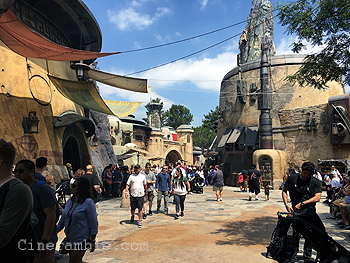 The setting for Galaxy's Edge is supposed to be the planet Batuu, a far flung world on the edge of the galaxy that has become a favorite outpost for interstellar travel in the Star Wars universe.  It's a planet with climate not unlike Earth (how convenient), and it's primary geological feature is what are known as the Black Spires.  The spires are large stone monoliths that jut up from the ground pretty much everywhere you look, and range in size from the trunk of a tree to colossal mountains in the distance.  These spires have given this particular location it's name, which is Black Spire Outpost, which is a collection of shops and eateries all catered to serve travelers from across the galaxy.  It's a simple, but effective backstory to explain the existence of this place in the Star Wars mythos, but even more impressive is the commitment that Disney put into making everything within part of the Star Wars world as well.  Everything, from the merchandise, to the food, to even the cast members who serve you inside the land are in character.  The Cast Members speak to you as if they exist in this world, calling guests things like "weary travelers," and whenever you make a purchase, they ask for credits as opposed to dollars (it's all the same by the way).  The merchandise even is made to be in-world, like something that was handcrafted by people in this universe, as opposed to manufactured for retail in stores everywhere else.  And the food of course has it's own Star Wars characteristics, which I will talk about more later.  Overall, it's a level of immersion that is unlike anything we've ever seen before in a theme park setting, especially to to this degree, and this more than anything is what is going to put Galaxy's Edge into the history books when it comes to theme park entertainment.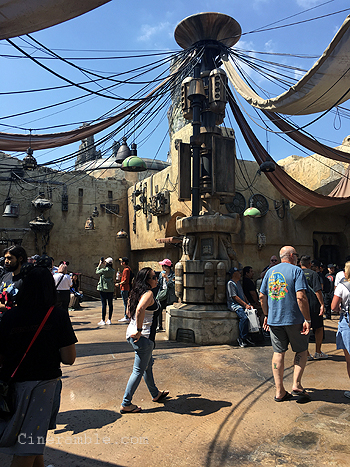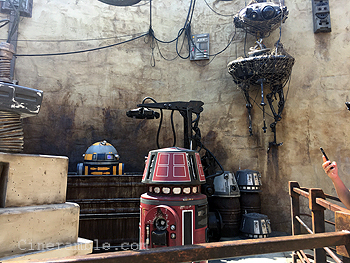 But let me start to talk about the park itself in more detail.  From the moment you begin to reach the heart of the new land, you can see where the maximum effort of the Imagineering went.  The world evokes Star Wars, while at the same time introducing you to something new, and it all feels authentic.  One of the things that I have always admired about Disneyland is their ability to make something brand new feel like it has always belonged there.  This has to do with the great amount of detail that the park puts into making their structures look weathered and old, like they have stood in this spot for hundreds of years, despite the fact that they were only just built.  The Indiana Jones ride, for example, represents this, and that ride is only 25 years old, but it feels ancient.  Galaxy's Edge does this too.  It's all brand new, and yet you feel the history of this place with all the weathering and stains applied to the walls and all the props strung throughout.  The landspeeder props that I saw looked especially worn out, and that really helped to play into the immersion.  It makes sense that the land would have parts with a bit of a grungy look, because that was a characteristic of the original films that made them stand out.  It's not a pristine, clean science fiction world; it's a world littered with all sorts of clutter, which adds character and history to the world.  Not that this is an unsanitary environment (quite the contrary).  Every corner has a new story, from the power converters littered throughout the land, to the graffiti on all the walls, to the droids that are found up and down the avenues that sometimes interact with guests.  There honestly was no place around that didn't serve well as a photo opportunity.  Immersion was the Imagineers goal, and they succeeded immensely.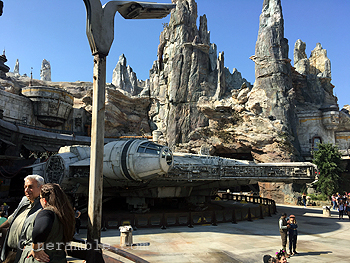 But, of course, the big draw of any new land is the rides.  Surprisingly, given the big build-up to the opening of Galaxy's Edge, the entirety of the land only has two rides to speak of, and one of them is still not ready to open.  So, Disney is banking heavily on the appeal of their one and only opening day ride at the park.  That ride goes by the name Millennium Falcon: Smuggler's Run, and is naturally centered around the titular star ship.  Marking the only notable element from the movies to make it into the park, apart from the walk-around characters, the ride's entrance is spotlighted with a full size recreation of the iconic ship.  This marks the first ever time that the Millennium Falcon has been fully and completely realized in true life, albeit as an environmental element and not as a real space ship.  The Falcon has only been presented on screen before as a scale model, or as a partial set.  But this Falcon is not smoke and mirrors; it is a fully built, true to scale model that you can walk all the way around and appreciate in all it's detail.  Naturally, this was a popular photo spot for many, and I took my opportunity as well.  In addition to seeing the Falcon, the courtyard that surrounds it is also impressive in scale.  The facade of the ride behind the Falcon is huge (the tallest part of the land actually at over 100 ft. in height, and it's here that you really appreciate the scale of this whole land.  The facade looms high and is easily the most impressive structural part of the entire land.  But this is only where the journey begins.  To the left of the Falcon is the ride's entrance, which separates into three different queues for standby, Fastpass, and Single Riders.  The standby line takes guests into a garage area where it gradually ramps the line to an upper level.  In the center, you see a land speeder being worked on, and occasionally the voices of unseen mechanics are heard.  They discuss the different tests they are putting the speeder through, and the speeder prop will come to life during each test, helping to give people waiting in line something to look at during their wait.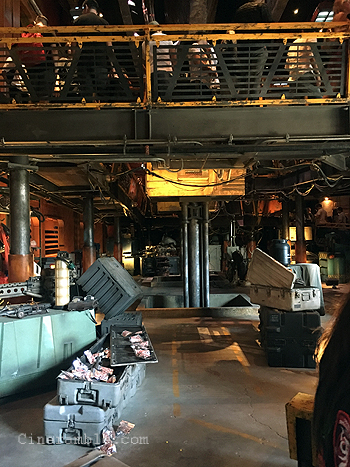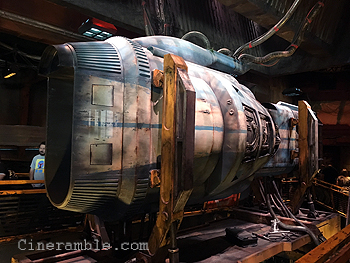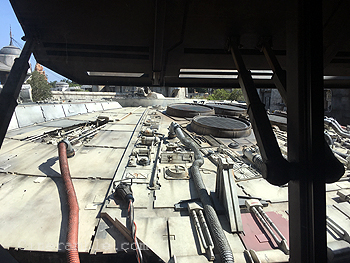 At the second level, the line passes by large windows that look out at the Millennium Falcon.  From here, you can see all the rich detail put onto the roof of the Falcon prop below.  Past the windows is the first end point of the queue, where guests are split up into two groups and ushered into a large room.  On the upper part of the room, there is a very impressive animatronic character called Hondo Ohnaka.  Hondo is actually an established character in the Star Wars universe, appearing in the popular animated shows Star Wars: Clone Wars and Star Wars Rebels, and this marks his debut in a non-animated form; though his original voice actor, Jim Cummings, has still been carried over.  The animatronic is one of the most advanced to date, getting pretty close to life-like, and it's very nice to see the attraction utilizing this tried and true theme park feature here.  He details the premise of the upcoming ride, that we've been selected as the crew for the Millennium Falcon, which has been loaned to us by Chewbacca himself for a special mission to smuggle a rare element out of the possession of the evil First Order.  After the intro, the two groups are taken down a corridor and are further split up into groups of six, each with their own color coded tickets.  Every guest is given a special task, to be either a pilot, a gunner, or an engineer.  Because I was riding by myself, I got engineer every time.  Past this point, the corridor opens up into a place that will be very special to Star Wars fans, a full recreation of the interior of the Millennium Falcon.  In this space, which looks very much like it was pulled right from the set of the movie, guests can lounge around until their color is called up by cast member.  Once that happens, they are taken to another corridor, which then opens into a recreation of the Falcon's cockpit.  In the cockpit is where the actual attraction takes place, and it will feel familiar to fans of the Star Tours attraction as it utilizes pretty much the same kind of flight simulator technology.  The only difference is, everything you see in front of you is influenced by your actions within the cockpit.  There are buttons and levers all around the cockpit seats, and each one has a corresponding effect on what happens in the projected ride movie.  It's essentially a life size video game, where you are in control of how well the mission goes.  The outcome and most of the twists and turns are pre-determined, but depending on how well you play along with all the buttons and levers, you can prevent things like crashing into the walls or how many TIE fighters you're able to shoot down.  While not a particular game-changer, it's still an enormously fun ride, and more than anything, it gives you the experience of flying the Millennium Falcon, which will be a dream come true for most Star Wars fans.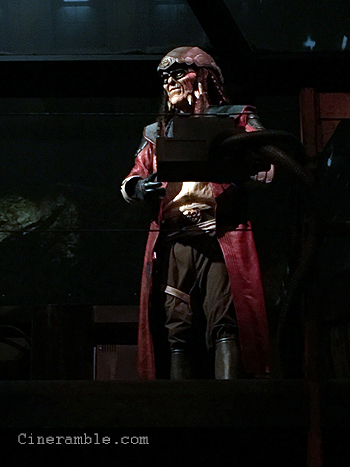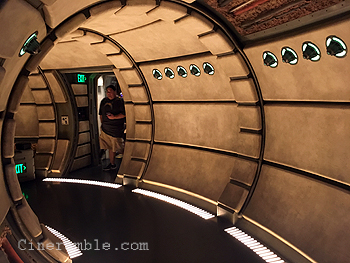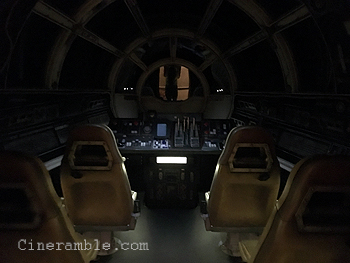 Because of the single rider option, I got in four rides total during my four hour block, which helped me get a good sense of all the random variations that can play out during the ride, as different groups present different levels of experience.  Thankfully, it also allowed me plenty more time to check out the rest of the land without worrying too much about getting through the centerpiece ride.  One of the other noteworthy things I checked out on my visit were the interiors of the different shops in the park.  The marketplace, just off to the side from the Falcon ride, was one of the most picturesque spots to be sure.  Looking like a Middle Eastern open-air bazaar, each little shop was unique in it's own way, with merchandise only found in this area of Disneyland.  Because everything had to be "in-World," all the merchandise has to fit that theme as well, and in place of all the plastic action figures found in Tomorrowland, here we had cloth dolls and wooden figures of all the famous Star Wars characters, like they were hand-crafted by someone familiar with the legends that have spread across the galaxy regarding these characters.  In the same spot, you could also find a place to buy your own Jedi robes, or a plus version of some of the famed Star Wars creatures.  Separate from the Marketplace is a bigger store called Dok-Ondar's Den of Antiquities.  Here you can find some neat looking Star Wars memorabilia, like carved busts of the famous characters, as well as other odds and ends like a replica of Yoda's walking stick.  But the neatest feature is an animatronic figure of Dok-Ondar himself behind the cash registers, as he manages the store within his office.  All on the walls are other neat ornamentation like the head busts of some fearsome looking creatures.  Next door is an attraction that I'm sure will be a hit for many called Savi's Workshop.  In their is a "Build Your Own Lightsaber" experience, where guests can piece together a high quality lightsaber piece by piece.  And when I say high quality, I mean $200 per person.  Since this was out of my price range, I decided to skip it.  I did get a glimpse of the Droid Depot experience nearby, where guests can build their own droids in a more affordable experience.  I didn't participate in this either, but I saw what it looked like, and it took place in this neat little assembly line layout.  If anything, it's neat to see Disney giving guests the opportunity to craft their specialty merchandise in addition to having them buy it.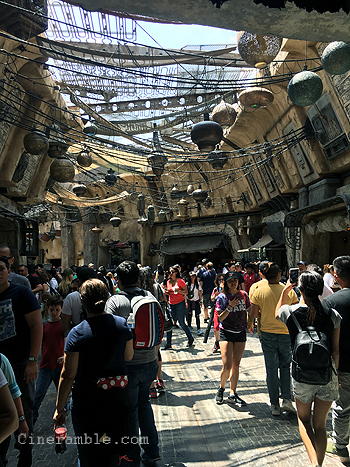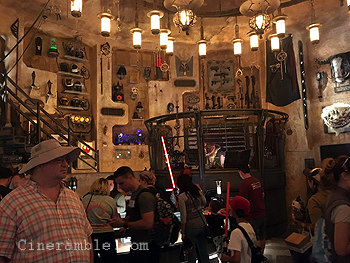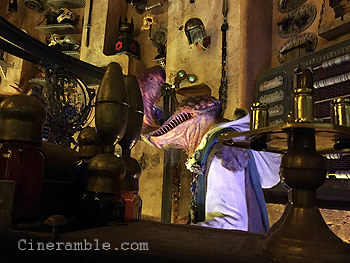 Of course, in addition to shopping, every theme park land needs a good place to stop for refreshments, and Galaxy's Edge has plenty of those as well.  There are the typical popcorn and bottled soda stands available, but even these are given the Star Wars twist.  The popcorn is specially colored and flavored, while the Coca-Cola product sodas are specially bottled in these Star Wars themed bottles that can be found only in this land.  The Coke bottle I bought had this ball grenade shape as opposed to the typical curved bottles found elsewhere.  It shows just how far they went with the theming to where even Coca-Cola had to redesign their products just to fit in.  The main restaurants are both located near the Falcon ride, the largest being Docking Bay 7 Food and Cargo.  Docking Bay 7 is a counter service restaurant with neat interior design that makes your dining experience feel very in world.  Here, you find the interesting answer to something that I'm sure the Imagineers of Disney thought long and hard about; what would the food of Star Wars look and taste like.  In this restaurant for example, they serve up familiar dishes like barbecue ribs and chicken, but they are presented on the plate with this alien, Star Wars-y aesthetic.  I'm sure a lot of planning went into the design of each dish, making them look like they belong to this world, and though the aesthetic may be strange, the food is actually quite delicious.  Nearby, another restaurant called Ronto Roasters offers up a Star Wars spin on an old theme park standard; the hot dog.  Only here, the dogs are actually pork sausages wrapped in a pita bread.  Again, it looks alien, but is actually just a clever redressing of a familiar meal.  And the decor of Ronto Roasters is impressive as well, with a huge spit-roast barbecue pit as the centerpiece.  Something that might actually remind a lot of guests of the worlds of Star Wars is the famed milk seen in many of the movies.  You'll find it available here as well at a Milk Stand within the First Order section of the land.  The stand serves up milk in a small plastic cup in two different colors, blue or green, and thankfully it's processed there and not milked straight from the sea cow like Luke Skywalker did in The Last Jedi (2017).  The milk tasted fine (a slushy mixture of cream and lemonade), but it was a tad overpriced at $9 a cup.  Still, for those who wanted to know what the Star Wars characters had for their own sustenance, Galaxy's Edge presents a very good idea of what it may be like.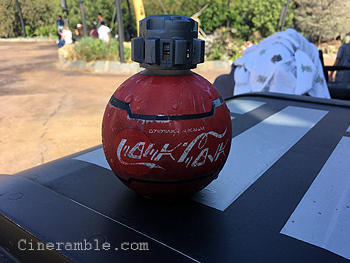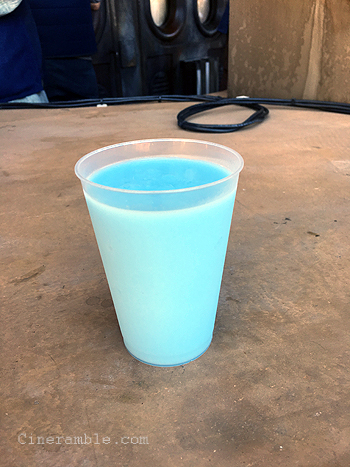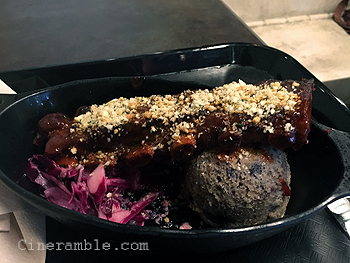 Though I did get to see a lot, there was one big thing that I sadly missed out on.  It was the final eating establishment in the park called Oga's Cantina.  In this place, from what I've observed from other accounts, is a bar like setting reminiscent of the Mos Eisley Cantina from the original movie.  Because of the limited capacity within the establishment, and the high demand from guests wanting to see it, they had to cut off return times for people waiting in line, and sadly I was one of those who unfortunately came too late.  I have seen some of the pictures of the interior, and it does indeed take heavy inspiration from the movie's famous cantina scene, but doesn't replicate it entirely.  The most notable difference inside is that in place of the cantina band, there is a DJ droid providing the music for the venue.  And not just any droid, but one re-purposed from Star Tours.  Before Star Tours had it's refurbishment in 2011 to update it with a new randomized experience, each cabin that park guests would ride in would have a droid pilot guiding them through called R-3X, or Rex.  Voiced by Pee Wee Herman himself, Paul Reubens, Rex was a fixture of the ride until the update, when he was replaced with the more well-known C-3PO.  Though a couple Rex droids were placed as decoration in the new Star Tours queue, label with a defective sticker, it was still a loss to many long time fans of the ride who had grown attached to the one-of-a-kind character.  Thankfully, Imagineers found a way to bring the character back to life in Galaxy's Edge by granting him a new job as the Catina's DJ.  I don't know if it's one of the actual original droids from the ride, or if Paul Reubens reprised his role as the voice, since I didn't get a close up look to tell if that was the case, but even still, I applaud Disney Imagineering for re-purposing something beloved from the old Star Wars attraction and paying homage to the franchise's past as a part of the park's overall history.  Hopefully it won't be too long before I get a better look inside for myself.  Though I don't drink alcohol myself, there are other options to indulge in there, including a larger portion of the milk served outside.  This also breaks a long standing rule set by Walt Disney himself to never have alcoholic drinks served in Disneyland itself, which is an interesting precedent to break.  All in all, at least now I'll have something to look forward to for my next visit.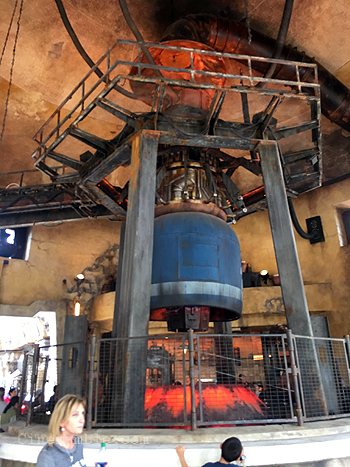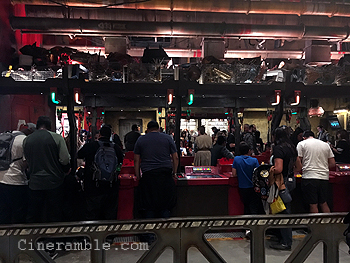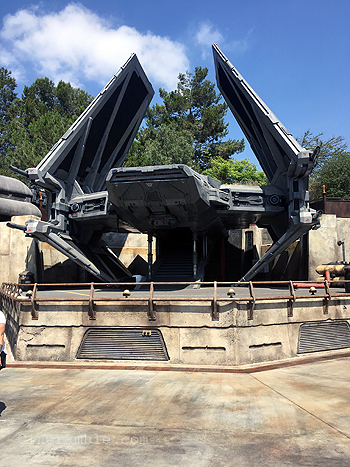 To sum it all up, the many years of waiting for this place to open were well worth it.  I was blown away by the absolute quality of craftsmanship put on here.  I think it makes sense to cover this as a part of my coverage of movies, because more than any other case I have found in theme parks I've visited, this is the best example of movies brought fully to life that I've seen.  The Wizarding World of Harry Potter in Universal Studios is another impressive example, and I wish I had thought to cover that when it opened a couple years back here in Hollywood, but even still, the space used to create the world of Harry Potter doesn't come close to being as big as what Disney used for Star Wars.  Galaxy's Edge encompasses a staggering 14 acres, bigger than any land that has ever been added to any Disney park anywhere.  Even the impressive Cars Land across the way in Disney's California Adventure park only filled out 12 total acres.  This is a mind-blowing accomplishment in theme park engineering, and we haven't even seen it fully utilized yet.  I can't imagine what there is left to see when Rise of the Resistance opens later this summer.  For now, I believe everyone will be content with what they'll find on the other side of the walls separating Galaxy's Edge from the rest of Disneyland.  What interests me now is what will happen to Star Tours now that Galaxy's Edge is open.  The ride still exists, but seems a bit obsolete now that Star Wars has it's own land on the other side of the park, and even a ride that shares a similar experience.  It may be only a matter of time before it is phased out and replaced, much like the ride it took over for.  It will be sad to see such a ground-breaking attraction see it's final days, but it's understandable at the same time.  Star Wars has a bigger piece of the park devoted to it now, and that means it's place in Tomorrowland will ultimately be redundant.  Walt Disney always intended for Disneyland to be this ever-changing and evolving place, Galaxy's Edge taking the place of Star Tours is another step in that evolution.  It'll be interesting to see the ripple effect that comes from Galaxy's Edge's opening, not just for Disney but for theme parks in general.  Disney has again set the bar high, and this new land will be a benchmark in both theme park and cinema history for many generations to come.  So plan your visit soon and may the force be with you all.