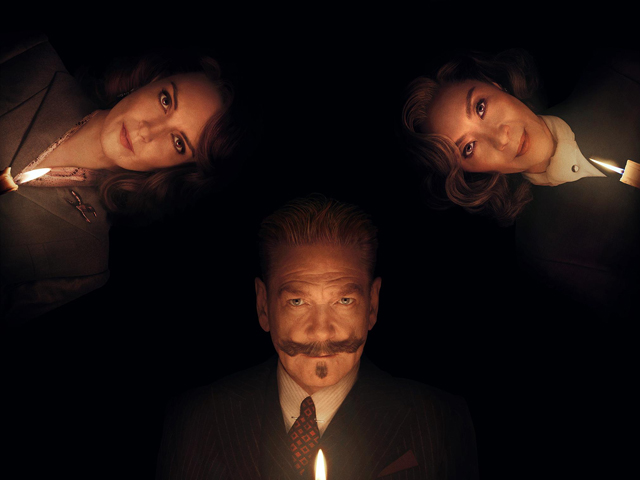 There's something about a good murder mystery that fits in well with this time of year.  The whodunit mystery is a tried and true narrative that plays well off of spooky elements like murderers lurking in the shadows, paranoia, and grisly death.  Not all mysteries though are dark in nature.  The Queen of the whodunit mystery, Agatha Christie, was never one to create a spooky mood in her many novels, but rather she roped in her readers with the procedural elements of solving a murder and entertained them with the clever way that the clues come together to reveal the truth.  For atmosphere, she left that up more to the people who adapted her work to figure out.  The globe-trotting nature of her Hercule Poirot mysteries have often led to film adaptations of those novels to have an exotic adventure element to them.  In those novels, such as Murder on the Orient Express and Death on the Nile, the setting has just as much to do with the tone of the mystery as the actual crimes themselves.  But, Agatha Christie would still indulge a darker side to her stories to help create a more spooky tone to the mysteries she wrote.  One of her stories in fact uses the Halloween holiday as a backdrop to a murder that Poirot must then investigate.  The appropriately named "Hallowe'en Party" does not take the world famous detective to some distant local, but instead finds him at a stately English manor house where someone ends up dead during the Halloween festivities.  It's not a spooky story per say, but the added element of Halloween does fit in well with the whodunit mystery at it's center.  Of all the Poirot novels that Agatha Christie wrote, "Hallowe'en Party" is seen as one of the lesser one in the series, and it's largely been the reason why it has not been so quickly adapted into a feature film or any other adaptation.  But, surprisingly, a film director who has been lately interested in the works of Ms. Christie has decided to take on the challenge, and even more surprisingly, he's also giving it a spooky makeover that fulfills the promise of what the original premise of the story calls out for.
Kenneth Branagh has been very active recently in creating a modern take on the Poirot novels; hoping to make the character franchise worthy over multiple films.  Thus far, he has now managed to get three of these movies to the silver screen, which is quite the achievement, though it's been somewhat of a rough road.  Branagh launched this franchise off with the most well-known of the Poirot mysteries, Murder on the Orient Express (2017), which was received with modest success.  Like many other adaptations from the past, Branagh was keen on having an all-star cast for his adaptation, and he managed to get an impressive cast on board including Johnny Depp, Willem Dafoe, Daisy Ridley, Penelope Cruz, Michelle Pfeiffer, Josh Gad, Judi Dench, and Leslie Odom, Jr; with of course himself in the role of Poirot.  He tried to repeat the success of that film with a follow-up based on the novel Death on the Nile (2022).  Unfortunately, Nile would turn out to be a problematic film for a whole variety of reasons.  The film went massively over-budget, crossing into the nine figure range, and it unfortunately was pushed back many times due to both the merger of it's production company 20th Century Fox with Disney and also the Covid-19 pandemic.  On top of those delays, one of the films stars (Armie Hammer) was exposed in a career-ending scandal that further cast a cloud on the picture.  It eventually limped into theaters in February of 2022 with almost no fanfare and was received with lackluster reviews and audience indifference.  Shockingly, after the Nile debacle, Disney greenlit a third film for the series, with Branagh looking to continue the series with a much darker reboot adapting "Hallowe'en Party" into the newly titled A Haunting in Venice.  It probably helped that while Death on the Nile failed to launch, Branagh was also flying high with his Oscar-winning Belfast (2021), which gave Disney confidence that he could salvage this franchise.  The only question is does A Haunting in Venice inject new life into this little franchise that could, or is it as lifeless as the bodies at that heart of it's mystery.
A Haunting in Venice finds Hercule Poirot living in a self-imposed exile in the city of Venice.  He no longer accepts clients seeking his expertise to help solve their mysteries, and instead chooses to live in peace and quiet in his villa, guarded by a local bodyguard named Vitale Portfoglio (Riccardo Scamarcio).  Poirot's solitude is broken by the arrival of an old acquaintance, Ariadne Oliver (Tina Fey), an American crime novelist who has based many of her books off of Poirot's exploits.  She entices Poirot with a challenge; seeking his help in exposing what she believes to be a fraudulent medium named Mrs. Reynolds (Michelle Yeoh) who's performing a séance for a Halloween night party at the villa of a local socialite named Rowena Drake (Kelly Reilly).  Poirot reluctantly accepts, knowing full well that he'll expose the fraud with little effort, and in the meantime will get to enjoy some of the food and wine available at the party.  In attendance at the séance are Poirot, Ariadne, Ms. Drake, as well as Drake's close friend Dr. Leslie Ferrier (Jamie Dornan) and his son Leopold (Jude Hill), Drake's housemaid Olga (Camille Cottin), and Mrs. Reynolds' assistant Desdemona (Emma Laird).  The purpose of the séance is to gain contact with Rowena's recently deceased daughter Alicia.  Before they begin, an unexpected visitor arrives; Maxime Gerard (Kyle Allen), Alicia's fiancé who has returned to expose more of the truth on his own about her death, since he doesn't buy into the idea that she committed suicide.    Poirot effortlessly exposes Mrs. Reynolds' façade, but Rowena is still convinced that contact was made with her daughter's spirit.  Soon after, an attempt is made on Poirot's life, nearly drowning him in a bobbing for apples bucket, and a moment after that, one of the party guests is found dead.  Now that things have turned personal, Poirot has his man Vitale lock all the doors in the creaky old villa so that he can get to the bottom of this mystery and find out who at this party was the one who committed the murder.  But as he soon finds out, the villa may have a few ghosts lurking about getting in his way.
So far the Poirot films from Kenneth Branagh have been a mixed bag.  Murder on the Orient Express is a well-crafted if a tad dull exercise, which rides high on the talented cast assembled for the film.  Death on the Nile, by all accounts, is just a mess.  All of the problems of Murder on the Orient Express are magnified tenfold in Nile, and despite Branagh's best efforts, he's unable to reign in the film to make it a workable adaptation.  What became Nile's biggest problem is that it feels bloated and artificial.  It's like Branagh was being forced to up the ante to justify the film's production to the studio.  The movie is brought down by excessive visual effects, an all star cast that lacks any cohesion (never mind all the scandals) and just a general sense that Branagh couldn't reign in this out of control film.  While nowhere near his worst film, it nevertheless was a huge disappointment.  Which makes one wonder why he would try again so soon.  He clearly likes playing Poirot, and there is an enthusiasm behind his direction that tells you that he is definitely putting his personal touch into this and is not a hired hand for the studio.  A Haunting in Venice definitely feels like a re-set for this franchise, with Branagh rethinking his approach.  It's much smaller in scale, centralized in one location for most of the movie and featuring a smaller cast, though still with a couple of noteworthy names.  On top of that, he is completely changing the tone of the series, getting away from the adventurous tone of the first two movies and instead adapting this story in the style of a horror movie.  It's a bold choice, but surprisingly, it does work.  A Haunting in Venice is not just a well-executed reboot for this series of Poirot mysteries on the big screen, it is by far the best one yet.  Branagh has stripped the Agatha Christie whodunit down to it's most essential parts and added a strong sense of spooky atmosphere and it makes for a perfect mix of the best elements of each to make this an excellent addition to the series.
What I was especially impressed with was how well the horror movie elements actually worked in this series.  Branagh has work in a whole variety of genres over the years, but horror hasn't been one that has been his strong suit.  His only attempt before was the clumsy re-make of Frankenstein (1994), which in no way was scary at all.  Since then, it's clear that he did his homework and learned a lot about horror filmmaking and how to make it work on screen.  In the movie, he makes good use of extreme angles, moody lighting, unsettling close-ups, and especially sound to generate a spooky tone throughout.  All the while, he still remains faithful to the Christie formula, with the talent of deductive sleuthing being central to the entertainment of the movie.  Like his successors in different media afterwards, from Columbo to Benoit Blanc, the fun is watching the master detective find the clues and piece them together and then reveal his findings in a climatic final report at the end, exposing the killer red-handed.  While it's not exactly the most shocking turn out by the end, Branagh still builds the films expertly to the point where not every clue is obvious in plain sight, and some of the reveals do end up being surprising.  But the horror film elements also don't feel out of place.  There are jump scares and grisly violent occurrences, but Branagh knows well enough to not overdue them, and make them work towards maximum impact when they are needed.  That being said, anybody expecting something along the lines of a Stephen King horror movie might be a bit underwhelmed, because the film doe rightly stick closer to it's Agatha Christie roots.  But it is nice to see Kenneth Branagh bring in a different kind of flavor with nods to horror to give new life to this kind of murder mystery that we have seen too many times before.
One of the movie's best elements to be sure is the cast.  Of all the Poirot movies from Kenneth Branagh so far, this is the first time the whole cast has felt universally well cast for the parts they are playing.  The past films has had one or two cast members who just felt well out of place for this kind of movie, and only seemed to be a part of the films because they came with a built in recognizable name.  Here, while there are a handful of famous faces, there are also a fair amount of unfamiliar talent in this film, which helps out the film a lot.  The lesser known actors help to make it less distracting seeing them in the film so that we can better concentrate on the performance and be reminded of their off-screen baggage.  Two of the more well known faces, Tina Fey and Michelle Yeoh, are both well cast for their individual parts.  Fey, while a little out of character for her usual contemporary characteristics as a performer, fells right for the role of the brash, ahead of her time novelist Ariadne Oliver.  She also provides the movie with some much needed levity without it feeling too out of it's time period.  Michelle Yeoh, fresh off of her historic Oscar win for Everything Everywhere All at Once (2022), perfectly portrays the mysterious Mrs. Reynolds, expertly delving into a somewhat sinister side in her performance.  Of course, Kenneth Branagh himself shines as Hercule Poirot himself, and it feels like his grasp on the character is improving with every film.  It's definitely his best work yet in front of the camera as the character.  He also clearly had a good experience working on the film Belfast, as he has brought along two of that film's stars, Jamie Dornan and Jude Hill, once again playing a father and son pair, only the dynamic is flipped around a bit in this movie, and the two actors play their roles perfectly.  A particular standout in the cast is French actress Camille Cottin as the housekeeper Olga.   Cottin plays her character so effectively that you really can't tell if she's truly innocent or guilty, much more so than the other actors.  There is a lot of subtlety in the way she performs her moments where you really get a sense of the pain that her character has experienced over the years.  What really helps out the movie a lot is that there aren't a whole lot of characters present for us to keep track of, so most of them don't get lost in the shuffle and it allows the whole cast to shine as a result.
The film also has another strong asset and that's the setting as well.  The city of Venice, and in particular the creaky old villa where most of the movie takes place, are characters in their own right.  One of the things that clearly is an improvement for this film over it's predecessors is that it's the first one that actually was made on location in the place within it's title.  Both Murder on the Orient Express and Death on the Nile were for the most part filmed on blue screen sets with visual effects added later to create the exotic environments.  This was a much bigger problem with the film Death on the Nile, because it made the whole movie feel artificial, with shoddy CGI never once making it feel like the actors were really on the actual Nile River.  But, it is very clear in this movie that the film did indeed shoot on location in Venice, Italy.  The centerpiece villa's interiors may have been recreated on a soundstage, but when we are out on the streets and canals of Venice in the daylight, it is clear we are looking at the real deal.  Branagh even includes some beautiful aerial shots to show off the city as well.  The villa itself is a wonderfully constructed location as well.  The whole location just retains this unsettling, decayed atmosphere which really lends to the spooky tone.  The way the scenes are lit also give this sickly feel to the location, perfectly underscoring the unsettling nature of the mystery.  It's an impressive job done by the production design team, managing to bring so much detail and character into the location, without it feeling too unnatural and out of place.   I was also impressed with the cinematography for the film, done by Branagh's regular DP Haris Zambarloukos (who also shot the other two Poirot films).  Instead of using the usual 70mm format that Branagh has preferred for his other Poirot film, this one was shot in the more claustrophobic 1.85:1 aspect ratio, which fits the unsettling atmosphere needed for this story.  He even makes good use of extreme wide angle lenses to give the shots an even more off kilter look.  Needless to say, this is a gorgeous looking movie, and one that thankfully shows Branagh returning to a more naturalistic feel for his movies rather than the over-produced artificiality of his other Poirot films.
A Haunting in Venice is not a perfect movie by any means.  There are times when Branagh's grasp on the horror elements get a little out of hand, and become more clunky than scary.  But, it is a far better effort than what we've seen him do before.  I feel like the movie Belfast was a great refresher for him as a filmmaker.  The semi-autobiographical Belfast had him working with a more personal story and with a stripped down style of filmmaking that had him working without special effects and more with what he could do in camera.  Belfast may have come out before the muddled Death on the Nile, but it was the film that he had completed most recently, so A Haunting in Venice is really the truest beneficiary of his re-focused talents as a filmmaker.  This is the kind of approach that he should have been giving these Poirot movies from the very beginning; don't try to make them spectacle, make them interesting and realistic.  A Haunting in Venice, even with the added horror style, feels much closer to the spirit of Agatha Christie's work than what we've seen before, and it's nice to see Branagh finally find the right tone to make these movies work.  With a smaller cast filled with a mix of familiar faces and a few unknowns, we are better able to buy into the story and not be distracted by the celebrity status of who's playing who.  The movie as a whole feels a lot less distracted, with Branagh feeling less pressured than before to build a franchise around the character of Hercule Poirot.  It's a smart move to pivot to a horror movie style for this kind of story, given that horror tropes can often accomplish a lot more on a smaller budget.  It remains to be seen if Kenneth Branagh continues on with these Poirot films in the future.  He clearly got the formula right this time around, so I would hope that they can keep these movies going in the future.  It probably will depend on the box office performance of this film, which thankfully is a smaller financial risk that the past two films.  It may also depend if Branagh wants to keep going with it too, or if he wants to focus more on smaller films in the vein of Belfast.  As a continuation of this series of Agatha Christie adaptations, A Haunting in Venice is by far the best we've seen so far in this series, and it's a smart, spooky whodunit murder mystery that makes for a engaging Halloween time entry that hopefully will do well this season.
Rating: 8.5/10