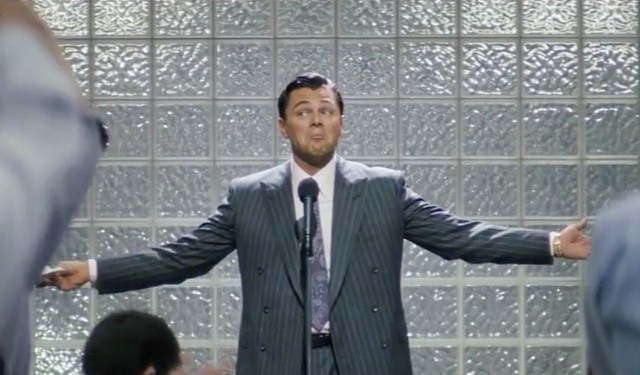 Martin Scorsese has rightfully positioned himself as one of the definitive film directors of this or any era, and it's not hard to see why.  Movies like Taxi Driver (1976), Raging Bull (1980), and Goodfellas (1990) are considered masterpieces to audiences and critics alike.  But what I like about Scorsese the most is his enthusiasm for the art of film-making as a whole.  Over the years, he has strongly supported the efforts of film preservation and has shepherded the careers of rising stars in the cinematic community, as well as being a strong defender of creative freedom for all filmmakers.  And while he has done a lot for the film community at large, I still am happy to see him take chances with his own projects.  Scorsese may have branded himself early by making gritty crime thrillers like Goodfellas, but his filmography shows that he's capable of making a mark in other genres as well; such as biblical epics like The Last Temptation of Christ (1986), or historical biopics like The Aviator (2004), or even a family friendly film like 2011's Hugo.  That's why I respect Scorsese so much as a director, because he refuses to rest on his laurels and churn out the same kind of movie over and over again.  At the same time, while his films may be diverse, you can still see a distinctive style that's trademark Scorsese in each one of them, and that's something that you will find in abundance in his newest film, The Wolf of Wall Street.
Wolf of Wall Street arrives in theaters this week with a whopping 179 minute run-time, the longest film in Scorsese's career.  That may be off-putting for some people who dislike watching anything over 2 hours long in a movie theater, but believe me, this is not some overblown, contemplative epic yarn.  This may very well be the nuttiest and most demented three hour experience I have ever had watching a movie in a theater, and I got to say, I kind of loved it because of that.  The film is adapted from the memoir of Jordan Belfort, a Wall Street hot shot who ultimately went to jail for illegal trading, and the movie doesn't shy away from every deprave moment of this man's life.  To give you a good idea of what I'm talking about, no more than five minutes into the movie, you will see star Leonardo DiCaprio snorting cocaine out of the butt hole of a stripper.  That's the kind of movie that you are in for and it just gets crazier from there.  I for one loved just how ridiculous this movie gets and I'm sure that's what Scorsese intended for this movie as well.  We're supposed to infer a lesson from this film, which is seeing the culture of Wall Street and what kind of sick and twisted people we've had in charge of our economy over the last 20-30 years. The best thing that Scorsese does is to not turn this film into a moralistic cautionary tale.  Here he's mocking those who should be mocked and he treats this whole series of events like the circus that it is.
The story begins in the mid-80's where a fresh out of college Jordan Belfort (Leonardo DiCaprio) starts a career as a stock broker in a bustling Wall Street brokerage firm.  While there, he learns the true shady nature of the business from the head broker, played by Matthew McConaughey in a hilarious cameo.  When Jordan loses his job after the crash of Black Monday, he starts anew, trading penny stocks in an accounting office which he soon turns into his own brokerage firm in no time.  Soon he adds another shady salesman to his team named Donnie Azoff (Jonah Hill), who also introduces Jordan to the world of heavy drugs.  With the combined tenacity of Jordan and his team, they soon create the firm of Stratton Oakmont Inc., which has no meaning other than they needed a name that sounded professional.  For the remainder of the film, we see what lies behind the professional exterior of Wall Street and, as portrayed by Scorsese here, it is a place where a fight or an orgy could break out at any minute.  We also see the depths that people go to when they have unlimited wealth, which seems to be only limited to the imagination of the people perpetrating them.  There's soon shown a constant stream of hookers, booze, drugs, and even dwarf tossing.  And the most outrageous thing is that not a single character in the movie is ashamed of any of this.  The only character that has any moral center in the movie is a federal agent played by Kyle Chandler, whose dogged investigation leads to the eventual denouement that these characters are ultimately headed towards.
Scorsese doesn't shy away from any of the more twisted moments in these people's lives and I do give him credit for not taking the easy narrative angles that could have been taken in the film's adaptation.  With the help of screenwriter Terrence Winter (Boardwalk Empire), The Wolf of Wall Street gets it's point across without implanting any obvious moral subtext underneath.  The movie is less about who these people are and more about what they are doing, which is what the filmmakers wants us to focus on.  Given the rough state of our economy, many of us wonder where it all went wrong and this movie gives us one possible answer.  It's not any one person that brought ruin to the economy, but rather a culture built around doing whatever it takes to become rich, even if it's illegal.  What Scorsese wanted to do with this movie was to strip back the facade of professionalism and class that Wall Street tries to present itself as, and show us that in reality it's all just one big frat party.  And to Scorsese's credit, he manages to make this showcase entertaining without ever making it feel like it's exploitation.  I'm surprised that of all things that this film would end up being, it ended up a comedy, but upon reflection, how could it be anything else.  The only other time Scorsese made a black comedy, it was the very underrated The King of Comedy (1983), and Wolf of Wall Street is very much in that same vein.
One thing that really helps to shape the tone of this film is the performances of the actors, and in particular, Leonardo DiCaprio.  This is probably the loosest performance that I have seen from Leo in his entire career, and that helps to make him so memorable in this film.  He's cocky, in-your-face (literally, since the film often has him break the fourth wall and speak directly to the audience) and is constantly reveling in his bad behavior, all of which DiCaprio delivers perfectly.  Honestly, it's hard to believe that this is the same guy who headlined Titanic (1997), because the performances couldn't be more different.  This is one of the most unashamedly, morally depraved characters I have seen at the center of a movie, and it just looks like Leo is having a blast playing him.  This is DiCaprio's fifth collaboration with Scorsese, and I think that it's been a partnership that has really enriched the careers of both men.  Apart from a sleep-inducing performance by DiCaprio in Gangs of New York (2002), he has gotten better through each role in Scorsese's movies and this is the best one he's done to date.  I love the fact that Leo is willing to take on an un-glamourous role like this which really challenges him as an actor.  This is especially helpful when you have to play a character that's both charming and hate-able at the same time.
The rest of the cast also helps to make the film worthwhile.  Jonah Hill manages to create a character that just feels like he was always meant to be in this kind of shady business.  His performance could have easily turned into ugly caricature if done wrong, but Jonah finds just that right balance between funny and sleazy, which helps to put him in the same league as DiCaprio.  In fact, many of the best scenes in the film are the ones where the two actors are working off of each other.  One in particular is an extended fight scene between the two characters after they are both incapacitated from excessive consumption of quaaludes, which leads to some hilarious back and forth exchanges.  The remainder of the cast is full of many recognizable faces, all of whom add flavor to the film as a whole.  Rob Reiner delivers a nice fiery performance as Jordan's accountant father, as does Jon Favreau as his legal consultant.  The aforementioned McConaughey delivers some great moments in his early scenes.  Australian newcomer Margot Robbie is also a standout as Jordan's disgruntled second wife Naomi, and she manages to leave an impression among all these other heavy hitters.  It's an all around solid supporting cast which Scorsese is famous for assembling in many of his movies.
One thing that you'll also find apparent in the film is the distinctive Scorsese style.  This, probably more than any movie that he's made since 1995's Casino, feels like a Scorsese film.  Whether it's the first person narration, the use of period details and music, or the unflinching excess of violence and debauchery on screen, these are things that have come to define the look and feel of a Scorsese movie.  The Wolf of Wall Street has all of that and feels very close in tone and style to something like Casino or Goodfellas.  Only this time, instead of the mafia, he's depicting a whole different set of criminals.  I'm really impressed with how Scorsese is still able to make movies with this kind of energy and style after so many years.  You would swear that a movie like this was made by some fresh maverick director and not a seasoned veteran, but that's a testament to how daring a filmmaker he is.  And the fact that he has made this a three hour long comedy is another sign of how confident he is in his abilities to make a film.  For any one who likes the Scorsese style, this movie will surely be a welcome treat.
One thing that I especially like in Scorsese's movies is the different ways that he plays around with the formats of his film.  Apart for the aforementioned breaking of the fourth wall narration in the movie, Scorsese also plays around with cinematic styles.  The film actually breaks away from the narrative at points and showcases things like a commercial break for the Stratton Oakmont company that's depicted in the movie, or showing us a full-length infomercial for Jordan Belfort's seminar, which ends hilariously with his arrest by the feds while the video camera is still rolling.  It's clever little injections like these that help to make Scorsese's movies feel alive and visually interesting.  I especially like how the commercials themselves just reek of eighties nostalgia.  It reminded me of when the movie Casino suddenly introduces the "Aces High" TV show, mainly as a part of the narrative but also to parody shows of that time period in a tongue in cheek way.  Also, Scorsese also has a lot of fun with slow motion photography and extended hand-held shots in the movie.  It's a clear sign of someone using all the tricks in the filmmakers handbooks to make their film feel alive through every single moment.  This has been a trademark of all of Scorsese's movies and here he makes the most out of everything he's learned as a filmmaker.
One thing I will say is that while I enjoyed the film immensely, it certainly is not for everyone.  I know many people will be turned off by the 3 hour run-time, but a good many more people will believe that the film is too indulgent as well.  Scorsese does run the risk of having this film look like an endorsement for this kind of lifestyle, but that's only because it's being told from the first person account of someone who is unashamed of what he has done.  I don't believe that Scorsese's intent was to ever exploit the excesses of these people's lives for our entertainment.  In the end, he's asking us to actually look deeper, behind the facade, and see these people for who they really are and not what they say they are.  In that regard, I believe that The Wolf of Wall Street is a brilliantly crafted film.  It's visually exciting, brilliantly acted, and it feels right at home with all of Scorsese's other movies.  This film may generally gets a mixed reaction from audiences, and truthfully I don't blame some of them if they say that they found the whole thing disgusting.  It's a challenging movie to sit through, but in the end, I found it incredibly rewarding.  Mostly, I just admire the fact that the film goes to places that you would never expect a 3 hour film to go, and it does it fearlessly and with a great amount of confidence.  Of course, what else would you expect from a master filmmaker like Martin Scorsese.
Rating: 9/10