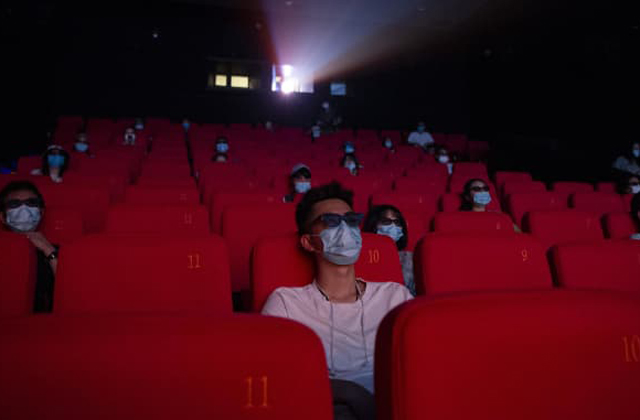 One year and one week ago, the unthinkable happened.  Like every other part of life, and like so many other nations around the world, American cinema ground to a screeching halt due to the imminent threat of the Coronavirus pandemic.  Movie productions halted.  Studios sent their employees to work from home, or even worse laid them off entirely.  And even more wider reaching for the industry, the entire theatrical market shut down.  It was unlike anything we had ever seen in the history of cinema, and even more worrisome, we didn't know exactly when it would end either.  As we were adapting quickly to realities of living in a pandemic, it became clear that this would be more than just a temporary pause; this was going to be a long lasting disruption that would leave an immediate impact on society.  I know that the problems it gave the movie industry are trivial in the grand scheme of things, but it is nevertheless interesting to see how cinema culture was forced to evolve quickly under these unprecedented circumstances.  It's nothing that the movies has ever faced before, since the last pandemic of this size occurred over 100 years ago in 1918.  Cinema was still in it's infancy then; there was no Hollywood, no multiplexes.  There was no standardization back in 1918 and movies were nothing more than a roadshow attraction like the circus or vaudeville.  But once COVID-19 arrived in 2020, Hollywood and cinema had reached a point where it had become a multi-billion dollar a year industry that was dependent on drawing the biggest crowds possible.  And when you have a catastrophic pandemic that is dependent on large crowds to spread more quickly, well you can see where the movie industry ran into a bit of a crisis.  Thus, we witnessed a full shut down of an entire industry that up until now, for generations, we just took for granted, and it seriously made us wonder if there would indeed be a future for the movie industry going forward.
Being the cinephile that I am, I was certainly devastated when I learned that all movie theaters across the country would be shutting down for an indefinite amount of time.  The first signs came when some of the studios began to move their tentpole features off of their original release dates and pushed them further back into the year.  Once the shut down began, then the worry became whether or not the theaters themselves could survive being closed for a lengthy amount of time.  For a while, the desire to reopen led to a level of cooperation that many hoped would help speed up the process.  Masks, hand sanitizers, cleaning supplies, though scarce in the beginning, became essential tools in the fight, and people began to take their personal health more seriously in response to the virus.  But, almost predictably, people grew tired of following the guidelines and were demanding a return to normal, despite the fact that nothing was normal just yet.  Misinformation began to spread and it prolonged the pandemic beyond what would've normally been a downward trend had everyone banded together.  And this continued to plague the movie industry further.  Though movie productions found a way to safely restart filming under health guidelines, movie theaters remained perilously close to the edge of oblivion throughout the rest of the year.  The movie theater chains had to take on a exorbitant amount of debt just to pay the rent while their doors remained closed.  Had they not managed to adapt and even get lucky with their finances (like AMC did with an unexpected stock boost thanks to Reddit), the industry itself was likely to have died.  Movie theaters did slowly reopen throughout the country wherever they could, but the largest markets of New York, Los Angeles, and San Francisco remained closed for nearly an entire year, and this made the recovery of the business almost impossible to predict.  Only now are theaters almost all back up in operation, with necessary social distancing measures in place, but there is still a sense that normal is still far out of reach and possibly even unobtainable.
Cinema's woes due to the pandemic could not have come at a worse time for the industry, as streaming began to come into it's own throughout 2020.  Leading off from Disney+'s meteoric launch in late 2019, the following year saw enormous growth in the streaming market as audiences were forced to stay home and watch nothing else.  Disney+ benefitted from the head start, as well as their catalog of exclusive content, but Peacock, Apple TV, HBO Max, and the rebranded Paramount+ all managed to gain a strong foothold thanks to the attention that the pandemic driven market brought to their platforms.  Even established players like Netflix, Amazon and Hulu saw an increase in activity through this time.  And these platforms were also the beneficiaries of the need by the studios to unload their increasing backlog of movies that they couldn't show in theaters.  In a year that many of these platforms would've been lacking in original content they now suddenly had exclusive rights to the most sought after movies coming down the pipe from the film industry.  In many ways, 2020 has forced us to reconsider what makes up a blockbuster, because the dynamics that we judged movies on were suddenly changing.  With movies like Soul (2020) an Wonder Woman 1984 (2020) premiering on streaming as opposed to a wide release in theaters, do they still count as a blockbuster success.  The streaming revenue is not measured in the same way that box office receipts are, so how do we judge the success of a film with these metrics now?  Sometimes, these movies will be behind a pay wall like Disney+ offered with their premiere access, but for the ones that are no additional cost like Soul, you would have to believe that Disney is pointing to the increase in membership as their metric of success.  Soul certainly did find an audience, as evidenced by their Oscar nominated status, but considering that it's predecessors in the Pixar canon have been billion dollar grossing films in the past, is it safe to call it a blockbuster success  in the same breath as those films.  This is true of all the movies released to streaming in the pandemic era.  Given that there was no other choice but to release movies this way, do all of them need to be judged as successes by different measures now?
The fact that we didn't have a blockbuster in the traditional sense this last year really does have an impact on many different aspects of cinema, apart from exhibition.  It's pretty striking that the highest grossing film of 2020 in the domestic North American market was a film released all the way back in January; the movie sequel Bad Boys for Life (2020).  And that movie's $200 million box office gross pails in comparison to past years.  Only the year prior did we see Marvel's Avengers: Endgame climb to the top of all time global box office.  With movie theaters closed through most of the year, and almost the entire year in the biggest markets, we witnessed another significant shift within the industry as a result, which is the changing paradigm of the global market.  While North America was languishing in a prolonged pandemic response, other nations around the world reopened much faster and as a result were able to get their theatrical markets to reopen sooner.  And for the first time in the history of cinema, the United States was eclipsed as the world leader in box office sales.  Ironically, the nation that most successfully was able to recover it's theatrical industry post pandemic was China, where the outbreak first began.  Through some very draconian methods of population control, China managed to limit the effects of the virus on their economy and as a result, they were able to keep industries like movie theaters alive once they were allowed to reopen.  And not only have they recovered, but they are thriving right now in China.  Domestic Chinese cinema is now seeing box office numbers the likes of which you normally would see happen to a Marvel or Star Wars film here in America.  This is also garnering the attention of Hollywood and is mainly the reason why you are seeing so many movies move to streaming at this moment.  The movie studios want to capitalize on this robust market right now happening in China, and to avoid bootlegging that could also affect their business here in America, they are simultaneously releasing their movies globally.  So while the Chinese are enjoying entertainment on a big screen, we here in America have to make due with seeing the same kinds of blockbusters on a smaller screen.  What was thought unthinkable nearly a decade ago now seems to have become a reality thanks to the effects of the pandemic:  that North America is no longer the dominant market in the global box office.
And this worries a lot of creatives within the industry.  By appealing more to the Chinese market, Hollywood is also compromising values that it otherwise would stand up for.  Contrary to the attitudes of the modernized people of China, the Chinese Communist government still holds an iron grip on the cultural values of the nation, and as a result they are meticulous about what movies are allowed to play in their cinemas.  Anything with pro-democratic stances or messages of tolerance for different races or sexual orientations are strictly prohibited, as they run contrary to the totalitarian platforms of the ruling Chinese government.  And given that China is an enormous market for all industries, we are seeing a troubling amount of Western corporations compromising their own values in order to appeal to the Chinese, including rolling the rights of women, people of color, and queer individuals backwards.  Representation in media particularly is a troublesome point with regards to how studios are shifting their focus to the Chinese market.  Big budget movies are making it easier to remove a gay character from their movie, while still having it both ways by touting their blink and you'll miss it queer representation here in America with an easily trimmable clip.  This issue already existed pre-pandemic, but it was certainly exacerbated by COVID, and made more troublesome by the fact that America has lost it's box office dominance.  For decades, American cinema was a powerful force for changing cultural attitudes around the world, but when the box office paradigm has shifted to favor a country with a shaky record on human rights, the worry becomes whether or not Hollywood is going to turn it's back on the marginalized that it long has given a voice to.  If the North American box office can recover to pre-pandemic levels (and that's a big if), maybe the Chinese government's influence on creative decisions in Hollywood can be neutralized, but if not, we may be seeing a troubling impact that this pandemic will have on cinema for year and possibly decades to come.
On the bright side, there are silver linings that the pandemic year of 2020 has left on Hollywood, and that's a much improved presence of diversity in this year's awards season.  In a year without blockbusters taking up all the attention at the box office, smaller indie films were able to flourish.  And in particular, we saw a significant increase in movies made for and by people of color garner attention in ways that wouldn't have happened in previous years.  This year's Oscars, which had to extend much further out than usual into the following year, especially has benefitted from this.  Only a couple years after the Oscars So White controversy, we now have the most diverse field of nominees ever in the Academy Awards.  This includes the first time ever that more than one woman is nominated for Directing (including one who is the likely front runner in the overall race).  And the nominees run the whole gamut: white, black, Hispanic, Asian, and Middle Eastern.  It's also a largely international assemblage, and one with a fair amount of first time nominees.  Had a more competitive, studio driven race occurred like any normal year, things might have been different, as more established movie stars may have been at the forefront.  It's unfortunate that it had to take a pandemic to change the playing field to make things more diverse in the Awards race, but even still, it's a change long overdue.  Sure, there are likely contenders in there as well, like David Fincher's Mank (2020) and Aaron Sorkin's The Trial of the Chicago 7 (2020), and even those movies represent a change in the industry as they were Netflix productions.  This streaming focused year put a spotlight on movies that otherwise would not have been able to thrive in a more competitive race, and that makes this year's awards seem like such a turning point because not only does it represent a huge change with the movies that are getting recognized, and how we are able to access them, but also with the people involved in making them gaining attention in ways that they never have been able to before.
A more diverse field of nominees also means a lot more attention is being devoted to the stories they are telling in this very much changed industry.   The nominees of this year's Oscars have largely one thing in common; they are telling stories that speak to their own experiences.  Unlike past years when movies like Green Book tackled racial injustice from a very white Hollywood perspective, this year we have movies about race and gender equality with uncompromised, personal perspectives that feel more truthful and less desaturated.  Shaka King's Judas and the Black Messiah (2021) for instance tells the shocking story behind the betrayal that led to Black Panther Party leader Fred Hampton's assassination, and it doesn't hold any punches with regards to how institutional racism played it's part in leading to Mr. Hampton's fate.  It's a black American story told by a black American  filmmaker with the intent of sharing the truth about what happened, unvarnished to make it more acceptable to "mainstream" audiences.  The same holds true for more uplifting movies like Minari (2020), where director Lee Isaac Chung drew inspiration from his own childhood to create a movie about the Korean immigrant experience in rural America.  The pleasing thing about Minari is that Chung avoids the typical Hollywood clichés that you would often see in a movie of this type as it tries to be Oscar bait, and instead he creates a more honest portrait that trusts it's audience.  The thing that I hope happens with this year's Oscar race is that Hollywood begins to respect these kinds of perspectives more, and chooses to invest in voices that otherwise would've gone unnoticed.  The pandemic, as disruptive as it is,  did bring a wall down that enabled more interesting voices to be heard, and hopefully it grants more diversity in the future to projects that otherwise would have tapped people from Hollywood's usually insular and homogenized community.
So, one year later and the movie industry is in a far different position than it was a year prior.  A mere 12 months ago, I was looking forward to a new James Bond movie, and a summer full of new blockbusters from the likes of Marvel, DC, Pixar and the like.  Since then, most of my consumption of movies has not been on the big screen but rather the small one in my living room, and nearly 80% of all those eagerly anticipated 2020 movies that I was hoping to see have still not been released.  It's an era that I hope doesn't repeat again, with the culture suddenly having to slam on the brakes in order to prevent an even more catastrophic result.  There have been some interesting things that have resulted from the last year that I do see as a silver lining.  Before 2020, I had never attended a Drive-In movie theater before, and now I have many times over, including earlier this month.  In addition, the already discussed breaking down of barriers in Hollywood due to the increased representation at this year's Oscars is another positive sign.  But, it is also crucial that the film industry must bounce back in order to make that progress a long term effect post pandemic as a result.  Movie theaters are in dire need of being saved, and hopefully we can see them steadily recover over the course of this year, because it's important that Hollywood needs to still see the more progressive North American audience as being the more worthwhile market to cater to, instead of falling into becoming a propaganda wing for a totalitarian regime like China.  Cinema has always been one of the world's most valuable cultural exports, and it's important that the power structure within the film industry that it is in the world's best interest to increase representation and not suppress it.  The Covid-19 pandemic was a learning experience for all, and for Hollywood, it became a turning point the likes of which it has never seen before on nearly all fronts.  Normal may not look the same as it did before the storm happened, but we are beginning to see the clouds finally thin out.  Movie theaters are once again re-opened, and it's up to us to decide whether or not we want it to be a part of the future of cinema.  I'll be supporting my local theaters, and I encourage everyone else to do as well; safely of course.  Cinema is what we decide to make it, and in a post pandemic world, let's make the movies better than they were before, with an eye to a hopeful and harmonious future.