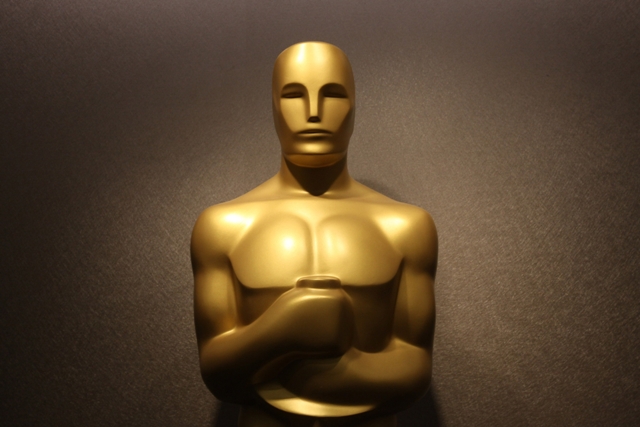 It is upon us once again.  The Super Bowl for film nerds.  The final Shoot Out for all industry insiders.  We have finally reached the end of another Awards season, with the Academy Awards now only a week away.  Sure, the Hollywood community has been handing out acclaims and numerous statuettes for a month or so, but for some, the only thing that matters in the end is getting that little golden man named Oscar.  It's amazing how this one award, out of all the others, has become the pinnacle prize for all things cinema.  I think that it's mostly due to the legacy behind it.  The history of the Academy Awards is just as fascinating as anything else that has come from Hollywood.  All the careers that have been given a boost; all the backstabbing that happens behind the scenes in order to beat out the competition; and also all the "what were they thinking" winners that we've seen throughout the years.  2013's Oscar nominees are interesting, because of how varied they are.  It's been a while since I've seen a year where the race for the top award has been this wide open, which is a good thing, because the more suspenseful the race, the more interesting it becomes.  For this article, I thought I would go through all the nominees in the top categories and share with you who I think will win, and who I think should win, and also share some of my general thoughts overall on these races.
BEST ORIGINAL SCREENPLAY
Nominees: Eric Warren Singer & David O. Russell (American Hustle), Woody Allen (Blue Jasmine), Craig Borten & Melisa Wallack (Dallas Buyers Club), Spike Jonze (Her) and Bob Nelson (Nebraska)
Being a writer, this and the following category are the ones that I take particular interest in, as well give a particular scrutiny towards.  What I find very weird with this year is that the choices for this and the other writing category highlight the strange standards that the Oscars use for considering a screenplay original or adapted.  In this category, we have two films that are based off of true life events (American Hustle and Dallas Buyers Club), and yet they're considered original enough to be included in this category.  That may make the creators of the other movies upset, because their films come from completely original ideas.  I do, however, like the line-up here, and one of those questionable inclusions is indeed my own personal pick.  Bob Nelson's Nebraska script is clever and witty, but maybe a little too low key compared to the rest.  Woody Allen already has won several times, so I think his Blue Jasmine script will also not be honored.  Dallas Buyers Club is a movie more notable for it's performances than it's writing, so I think the Academy will pass on it too.  Now, between American Hustle and Her, I definitely choose the one that I got more entertainment value out of, which would be American Hustle.  That being said, I believe the Academy will actually honor originality this year, so that means Spike Jonze will win.
WHO WILL WIN: Spike Jonze for Her
WHO SHOULD WIN: David O. Russell and Eric Warren Singer for American Hustle
BEST ADAPTED SCREENPLAY
Nominees: Richard Linklater, Julie Delpy and Ethan Hawke (Before Midnight), Billy Ray (Captain Phillips), Steve Coogan & Jeff Pope (Philomena), John Ridley (12 Years a Slave), and Terrence Winter (The Wolf of Wall Street)
This category also has the same questionable standards that it's sister category has.  Before Midnight is considered an adapted screenplay, even though it's not based off any source material and is merely a sequel to two other movies.  The Wolf of Wall Street also is very loosely translated from the memoir of it's main subject, Jordan Belfort, so you could make the argument that it's more of an original piece of work than an adapted one.  But, despite the standards that the Academy used to make their selections, we do have a set of some very interesting choices in this category.  First of all, Before Midnight is merely nominated as an acknowledgement to a critically acclaimed movie, so it has no chance of winning.  Captain Phillips is more of a directorial achievement than a writing one, and I actually found the script to that movie as it's weakest element.  Comedian Steve Coogan showed he had a talent for writing drama with Philomena, but it's also out of the running.  So it comes down to Wolf and 12 Years.  My own choice would be Wolf of Wall Street, again just because of the entertainment value.  But, I think the Academy was more impressed with the gritty realism of 12 Years a Slave, and I wouldn't blame them for choosing that one either.  Some people complain about scripts that go for the heart rather than the mind, but 12 Years managed to do both perfectly.
WHO WILL WIN: John Ridley for 12 Years a Slave
WHO SHOULD WIN: Terrence Winter for The Wolf of Wall Street
BEST SUPPORTING ACTOR
Nominees: Barkhad Abdi (Captain Phillips), Bradley Cooper (American Hustle), Michael Fassbender (12 Years a Slave) Jonah Hill (The Wolf of Wall Street) and Jared Leto (Dallas Buyers Club)
The supporting actors category is probably the one that turned the most heads this year with some of it's selections.  This years nominees includes a first time actor (Barkhad Abdi) two actors known more for their comedic work receiving nods for the second time (Bradley Cooper and Jonah Hill), as well as an actor who hasn't made a movie in over six years (Jared Leto).  Also, I feel that some even better performances got shut out of this category for reasons unknown (Daniel Bruhl for Rush and Colin Farrell for Saving Mr. Banks).  But, even still, everyone nominated still did fine work here.  Looking them over, you would think that the more traditional choice of Michael Fassbender for 12 Years a Slave would be the favorite.  But ever since the nominations were announced, it has been Jared Leto who has emerged as the clear favorite.  And it's a position that I can't argue with.  Leto clearly put the most effort into his role, loosing a ton of weight in order to play the AIDS-stricken, transgender hustler Rayon in Dallas Buyers Club.  But the reason why it's the standout among the others is because Leto also gave the character personality and charisma, which helps to back up the physical transformation that he made for the character.  That's why he is the undisputed favorite in this category, and probably the safest bet at this year's Oscars.
WHO WILL WIN: Jared Leto for Dallas Buyers Club
WHO SHOULD WIN: Jared Leto for Dallas Buyers Club
BEST SUPPORTING ACTRESS
Nominees: Sally Hawkins (Blue Jasmine), Jennifer Lawrence (American Hustle), Lupita Nyong'o (12 Years a Slave), Julia Roberts (August: Osage County), and June Squibb (Nebraska)
Let me get this out of the way first: NOT JENNIFER LAWRENCE.  Don't get wrong, I enjoyed her work in American Hustle.  I even thought it was better than her Oscar-winning performance in Silver Linings Playbook.  But, when compared to the other performances in this category, I think it's really unfair to call her the odds-on favorite to win.  Jennifer Lawrence is definitely the girl of the moment, but I don't think celebrity power alone should guarantee you an award.  Thankfully, it seems like that sentiment has taken hold in the last few weeks, and Jennifer Lawrence's "sure thing" is now looking like a much tighter race than before.  Lupita Nyong'o's heartbreaking performance in 12 Years a Slave is gaining a lot of traction, and she has a SAG award win to back that up.  Hopefully it's enough to put her over the edge on Oscar night.  And although a win for Nyong'o would make me happy, I do have to say that I'm pulling for an upset for Nebraska's June Squibb.  84-year old June Squibb gave one of my favorite performances of the year, and was definitely the highlight of Alexander Payne's film.  The Academy likes to honor old-timers from time to time, and while I think it's a long shot, I would love it if they honored Ms. Squibb for her delightful work in that film.
WHO WILL WIN: Lupita Nyong'o for 12 Years a Slave
WHO SHOULD WIN: June Squibb for Nebraska
BEST ACTOR
Nominees: Christian Bale (American Hustle), Bruce Dern (Nebraska), Leonardo DiCaprio (The Wolf of Wall Street), Chiwetel Ejiofor (12 Years a Slave) and Matthew McConaughey (Dallas Buyers Club)
This is one of the year's most competitive races.  In any other year, each one of these performances who be a clear favorite, so the fact they all have to compete with one another shows just how hard a choice this category will be for most voters.  One thing that they all can take pride in is that they beat out Tom Hanks for a nomination, in one of Mr. Hanks' better years.  One thing the nominees I'm sure are also pleased with is that they have legendary actor Bruce Dern within their midst.  Dern's performance is touching and note-perfect in Nebraska, but unfortunately, I don't think this will be a year where the academy honors someone for their whole body of work on top of their performance in a particular film (i.e. Henry Fonda in 1981's On Golden Pond).  No, this year it comes down to three standout performances from Matthew McConaughey, Leonardo DiCaprio, and Chiwetel Ejiofor.  Ejiofor is unforgettable in 12 Years a Slave, and would be deserving of the award, but I think he lacks the star power to put himself over the top.  McConaughey and DiCaprio have much more goodwill built up in their favor, and I think McConaughey has the edge, considering the career-changing year he's had.  My personal pick however would have to go to DiCaprio for Wolf Of Wall Street.  His performance in that movie was easily my favorite of the year, and the one that I think showed the most range out of everyone in this category.  It's a clear choice for me, but a difficult one to predict this year.  And hey, if McConaughey doesn't win Best Actor for Dallas Buyers Club, he's pretty much guaranteed an Emmy for his work on HBO's True Detective this fall.
WHO WILL WIN: Matthew McConaughey for Dallas Buyers Club
WHO SHOULD WIN: Leonardo DiCaprio for The Wolf of Wall Street
BEST ACTRESS
Nominees: Amy Adams (American Hustle), Cate Blanchett (Blue Jasmine), Sandra Bullock (Gravity), Judi Dench (Philomena) and Meryl Streep (August: Osage County)
Very much the opposite of the Best Actor race, this category has a definite front runner.  Cate Blanchett has enjoyed a considerable lead in the last few months, having won every award up to this point.  And indeed, I don't see her coming away a loser in this category at all.  But, did she indeed give the best performance out of all those nominated in this category.  While I have to say that I did enjoy her work in the film, I wouldn't consider Cate Blanchett to be my own choice for Best Actress.  In truth, I actually like two other performances more than hers.  One was the incredibly dynamic performance put in by Amy Adams in American Hustle, who managed to shine the brightest in a movie full of Oscar-nominated performers.  The other is the very underrated work by Sandra Bullock in Gravity; you have to respect an actress who can carry a movie all on her own like she did, especially when it's as complex as Gravity was.  If I were to pick one over the other, I would choose Amy Adams.  She's one of the best and most versatile actors working today, and I think it is only fitting that she should be honored for her most dynamic role to date.  However, despite my hopes for an upset, it seems like nothing will stand in Cate Blanchett's way towards a Best Actress win; not to say that she's undeserving.  On a side note, I like Meryl Streep, but really Academy?  Do you have to nominate her for everything, even when the movie isn't good?  I would rather see Emma Thompson sitting in her place right now at this year's Oscars.
WHO WILL WIN: Cate Blanchett for Blue Jasmine
WHO SHOULD WIN: Amy Adams for American Hustle
BEST DIRECTOR
Nominees: David O. Russell (American Hustle), Alfonso Cuaron (Gravity), Alexander Payne (Nebraska), Steve McQueen (12 Years a Slave) and Martin Scorsese (The Wolf of Wall Street)
The directing categories often coincide with which ever movie wins Best Picture, but not always.  Last year's winner, Ang Lee, won for Life of Pi out of luck due to the fact that his toughest competition was not even given a nomination (Ben Affleck for Argo).  This year, there were no obvious snubs, so it makes the race a far more competitive category this time around.  Alexander Payne is the least likely to win due to his film being the most low-key, and Scorsese has already claimed this prize once before.  Russell has been on a roll lately with Hustle, as well as nods for Silver Linings Playbook (2012) and The Fighter (2010), but I think he still hasn't found the traction needed to put himself over the top yet.  Instead, the two front-runners are directors who both would make history with a win.  If Alfonso Cuaron wins for Gravity, it'll make him the first Latino director to win the Award.  If Steve McQueen succeeds for 12 Years a Slave, he would be the first Black director to win.  Both men are very deserving of the honor, but if I were to guess a winner, it would be Cuaron.  12 Years a Slave is an impressive piece of work, but it also is very traditionally made as well.  Gravity on the other hand pushes the limits of film-making in all sorts of ways, and clearly shows the more impressive directorial effort.  Steve McQueen showed an impressive effort with only the third film he has ever directed, and hopefully someday he will win the award outright, but this year you just can't ignore Alfonso Cuaron's more groundbreaking work.
WHO WILL WIN: Alfonso Cuaron for Gravity
WHO SHOULD WIN: Alfonso Cuaron for Gravity
BEST PICTURE
Nominees: American Hustle, Captain Phillips, Dallas Buyers Club, Gravity, Her, Nebraska, Philomena, 12 Years a Slave, and The Wolf of Wall Street
Finally we come to the big award of the night; the one that the studios waste big money on every year.  Having seen all 9 nominees, I am happy to see that six of them were on my end of the year Top Ten.  While many of them are very deserving of the nomination, it is clear that some of them have a better chance than others.  As I see it now, it has become a race between two heavy hitters, with maybe one or two underdogs that could potentially upset.  The leading candidates are Gravity and 12 Years a Slave right now, and honestly at this point, I have no idea who will win.  This is made even more complicated by the fact that one of the bell-weather awards this season, the Producers Guild Awards, ended in a tie for the first time in it's history.  This has led some to believe that the Oscar race could very well end up in a tie as well, which is a strong possibility.  If I had to make a choice, I would have to go with Gravity.  It was my favorite movie of 2013, and the last time my top movie for the year won Best Picture was in 2006, with Socrsese's The Departed.  It wouldn't bother me if 12 Years a Slave won the award, and an upset made by American Hustle or Wolf of Wall Street would be welcome as well.  But, I think Gravity is the movie of the year and should be honored as such.  Still, a little part of me does want to see that tie happen.  It may throw off a lot of office Oscar polls, but it would be historic nonetheless.
WHO WILL WIN: Gravity
WHO SHOULD WIN: Gravity
So, these are my choices for the winners of the 2014 Academy Awards.  I know I probably won't be 100% right, since this is one of the more unpredictable races in recent memory.  But, I will say that for most of the nominees this year, the honors have been well deserved.  Thankfully, I managed to catch most of the top nominated movies this year, so that I'm able to make educated assessments of each award.  Some of the other categories like Best Documentary Best Animated Film were ones I couldn't make predictions on because I haven't seen all the nominees just yet.  I did manage to watch the Short films nominated for this year (my picks are Feral for Animated and Just Before Losing Everything for Live Action, in case you're wondering).  Overall, regardless of whoever wins, what I do enjoy most about these awards is the legacy that it leaves behind year after year.  Every year, we see new names added to the ranks of Oscar winners, and it's an exclusive club that anyone in the film industry would do anything to be a part of; and have.  Likewise, an Oscar-winning film carries that distinction far beyond the Awards themselves, and seeing them all together we more clearly understand the sometimes turbulent but nevertheless fascinating history of cinema.  In any case, my hope is that the March 2nd ceremony proves to be an enjoyable one overall.