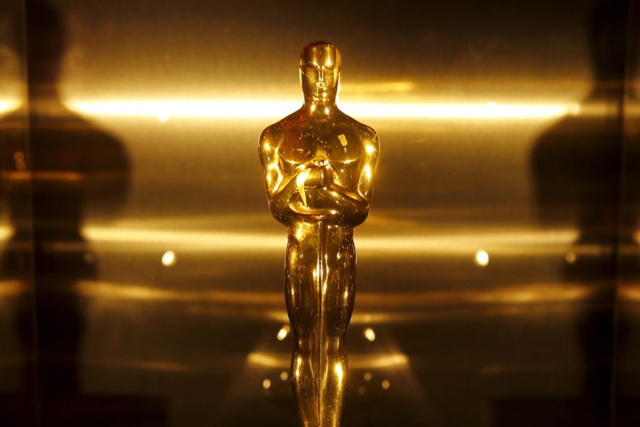 A most unusual year for movies deserves a most unusual awards season as well.  Like everything else we have done to help us weather the COVID-19 pandemic, the lead up to this year's Oscars have been conducted remotely in an unprecedented combination of livestreams and health conscious ceremonies.  Thanks to online meeting apps like Zoom, most of the acceptance speeches of all the awards so far have been given from the respective winners' living room rather than on a stage in front of peers.  Not ideal for anyone, but it's allowed the awards this year to be delivered in a safe manner that helps protect all involved and helps to stem the spread of the deadly disease that we are still battling.  However, it does appear that the Oscars is still opting for an in person event rather than the Zoom enabled presentations that we've seen from the likes of the Emmys and the Golden Globes.  The way they are doing it, while still staying within the California state health guidelines is that they are conducting this year's Academy Awards from two separate venues, allowing for enough social distance for the attendees.  One such place will be the traditional Dolby Theater which is the Oscars' permanent home, and the other will be the historic Union Station in Downtown LA (a first for that location as an Oscar host).  Needless to say, this will be a very different Oscars than the one we are used to.  This is reflected in the nominated movies as well.  Because of the closure of movie theater for the majority of 2020, the field of nominated movies represents a more select group of indie and streaming titles.  One particularly positive result of this is that this is one of the most diverse group of nominees that the Oscars have ever seen, representing many underrepresented groups that otherwise are overlooked in more competitive years.
What follows is my usual picks and thoughts for each of the top categories at the Academy Awards.  In addition to breaking down each category, I also will include my choices for who I think will win, and who I think should win, because oftentimes my choices differ from the likely outcome.  These are for the leading categories of Best Picture, Director, Actor, Actress, Supporting Actor, Supporting Actress and Screenplay (Adapted and Original).  Keep in mind, these are just my own opinions, and I could end up being way off in my picks come Oscar night (it happened last year).  So, let's take a look at this exciting, and quite out of the ordinary group of nominees at this year's Oscars.
BEST ADAPTED SCREENPLAY
Nominees: Sacha Baron Cohen, Anthony Hines, Dan Swimer, Peter Baynham, Erica Rivinoja, Dan Mazer, Jena Friedman, Lee Kern, & Nina Pedrad, Borat Subsequent Moviefilm; Christopher Hampton & Florian Zeller, The Father; Chloe Zhao, Nomadland; Kemp Powers, One Night in Miami; Ramin Bahrani, The White Tiger
One thing that stands out is how Borat Subsequent Moviefilm, a film that is largely improvised, managed to sneak into an adapted screenplay nomination.  I'm not complaining, I just find it very interesting, and yes, appropriately funny.  Sacha Baron Cohen managed to pull of a miracle last year by not only making a sequel to his iconic breakout movie, but managing to make it just as big of a success, including more nominations than it's predecessor.  And all the while shooting the film during a pandemic.  His near catastrophic stunts in the film are enough to earn this movie a special place in originality, but given that it's a comedy and mostly improvised, it's chances here are slim.  I haven't seen White Tiger, and given the small amount of buzz around the film, a nomination seems to be it's ultimate reward and nothing more.  What this category comes down to are two screenplays adapted from plays by their original scribes, and one literary adaptation by the director of the year's biggest frontrunner.  Both One Night in Miami and The Father were late comers to this Oscar race, released at the tail end of the extended February deadline.  While Kemp Powers is getting deserved acclaim for his adaptation of his own play, his likely win as a co-director of the movie Soul in the animation category probably minimizes his chances here.  If Chloe Zhao has a big night with her likley front-runner status with Nomadland in multiple categories, it could give her momentum here.  But, I feel like the intricately plotted and experimental The Father is going to win here, as Florian Zeller deftly took his play off the stage and onto the screen with a flair that actually elevates the material for cinema.  Out of all these, my own personal favorite is the unconventional Borat Subsequent Moviefilm, because I feel like it's the one whose best lines I'll be remembering for many years to come, but for the sake of tradition, expect The Father to come away the likely winner her, unless Nomadland takes it in a sweep.
WHO WILL WIN:   Christopher Hampton & Florian Zeller, The Father
WHO SHOULD WIN: Sacha Baron Cohen, Anthony Hines, Dan Swimer, Peter Baynham, Erica Rivinoja, Dan Mazer, Jena Friedman, Lee Kern, & Nina Pedrad, Borat Subsequent Moviefilm
BEST ORIGINAL SCREENPLAY
Nominees: Shaka King, Will Berson, and Kenny & Keith Lucas, Judas and the Black Messiah; Lee Isaac Chung, Minari, Emerald Fennell, Promisng Young Woman; Darius Marder, Abraham Marder, and Derek Cianfrance, Sound of Metal; Aaron Sorkin, The Trial of the Chicago 7
This category really shows just how strong of a year this was for screenwriting.  In particular, all these movies touched upon some very relevant issues in their stories that no doubt resonated with Academy voters, whether it's immigration, sexual assault, living with a disability, or just the fight against injustice.  I respect every one of the nominees here, but one stands out more than the rest.  It's hard to cast aside the first time nominees in order to heap more praise on someone who has won an Oscar before, but this is about the screenplay itself and not the one who wrote it.  And my favorite screenplay for the entire year was The Trial of the Chicago 7 by Aaron Sorkin.  Yes, he already has one of the most stacked resumes in the business and already has won before (Adapted Screenplay for The Social Network in 2010).  But that Chicago 7 script just sings like no other I experienced last year.  The man just knows how to make captivating arguments flow off the page, and given how long he had this one gestating in development for over a decade, it's probably his most polished script yet, and that's saying a lot.  If the rest of the Academy doesn't feel that way, I can see Emerald Fennell's very provocative Promising Young Woman coming away with a win here.  It helps that she is also a directing nominee (one of two in this category, along with Lee Isaac Chung) and she already has a WGA win to back her up.  What could also work against Sorkin here is that Judas and the Black Messiah touches some of the same ground as it's story does, with the trial being a backdrop element in it's own story.  Whether or not Messiah splits some of the vote remains to be seen in relation to Chicago 7's chances.  I still see Aaron Sorkin collecting a second Oscar here for his labor of love, but it's a category that could end up favoring a new voice like the one Promising Young Woman offers and see an upset play out, depending on how the night goes.
WHO WILL WIN: Aaron Sorkin, The Trial of the Chicago 7
WHO SHOULD WIN: Aaron Sorkin, The Trial of the Chicago 7
BEST SUPPORTING ACTOR
Nominees: Sacha Baron Cohen, The Trial of the Chicago 7; Daniel Kaluuya, Judas and the Black Messiah; Leslie Odom, Jr, One Night in Miami; Paul Raci, Sound of Metal; Lakeith Stanfield, Judas and the Black Messiah
Sacha Baron Cohen hitched his wagon onto Chicago 7 all the way back when it was going to be a Spielberg film over a decade ago, always with the intent of playing notorious radical Abbie Hoffman.  The long wait paid off and he's been recognized for his efforts here in this category.  However, a clear front-runner has emerged in this category and it's Daniel Kaluuya for his stellar turn as Black Panther leader Fred Hampton in Judas and the Black Messiah.  Kaluuya, fresh off his star-making turn in Get Out (2017), has dominated the Awards season so far, picking up a Golden Globe, SAG Award, and a BAFTA in the last month, all Oscar precursors.  All this would lead you to believe that he has this in the bag, but the Oscars threw a wild card into this category.  Kaluuya's co-star, Lakeith Stanfield, was also nominated here (and only here), despite the fact that he had campaigned for a leading role Oscar.  Though Stanfield's work is also nomination worthy, it's strange that he got recognized here, despite playing the lead in the movie.  This has led many to worry that he may split votes away from what could have been an assured victory for Kaluuya.  But, with the other big wins he's collected, Daniel Kaluuya seems to have momentum on his side, and it is certainly well earned.  Of all the performances, his is definitely the stand-out, and I can't think of another performance from this year that was this commanding on screen.  Not to take away from what Lakeith and Sacha delivered, as well as the great work from first timers like Paul Raci and Leslie Odom Jr., who could possibly win in the Best Song category.  Kaluuya's electrifying performance as Fred Hampton is the kind of performance that the Oscars are made for; one that is both big and intimate, showcasing the incredible range that the actor is capable of.  And I don't see anything slowing his momentum down on Oscar night; not even the wild card that is his co-star.
WHO WILL WIN: Daniel Kaluuya, Judas and the Black Messiah
WHO SHOULD WIN: Daniel Kaluuya, Judas and the Black Messiah
BEST SUPPORTING ACTRESS
Nominees: Maria Bakalova, Borat Subsequent Moviefilm; Glenn Close, Hillbilly Elegy; Olivia Colman, The Father; Amanda Seyfried, Mank; Yuh-Jung Youn, Minari
I love Glenn Close and I do want her to finally win an Oscar someday, but a win for her performance in Hillbiilly Elegy (one of 2020's worst movies) would be an insult to her legacy as an actress.  She deserves recognition for something better that reflects just how great an actress she is, and not that pandering Oscar bait trash.  Thankfully, she is far from the favorite here.  The remaining nominees all come from much better films that are deserving of recognition.  Amanda Seyfried's acclaimed turn as Marion Davies in Mank would be the kind of front-runner role in any other year where the Academy favors a nostalgic throwback to it's own history, but she has surprisingly not built much momentum this year, much like the rest of the film.  Olivia Colman's previous Oscar win for The Favourite (2018) probably dilutes her chances this year, though her role in the father showcases more of her dramatic talents than before.  The one who has surprisingly built a bit of momentum late has been veteran Korean actress Yuh-Jung Youn for her standout performance in Minari.  Playing the oftentimes naughty grandmother in the movie about Korean immigrants starting a farm in rural America, Youn is delightful to watch in the film, and is responsible for some of the movie's most memorable moments.  A win for her would be deserved, and a wonderful recognition of her long standing career on the big screen that goes back decades.  However, if I were to pick a favorite her, I'd have to say the one who impressed me the most was Maria Bakalova in Borat Subsequent Moviefilm.  Not only does she hold her own opposite a heavyweight comedian like Sacha Baron Cohen, oftentimes delivering just as many laughs playing Borat's continually mistreated daughter, but she showed so much fearlessness taking on some of the more elaborate pranks in the film.  Her now notorious scene with the unsuspecting Rudy Giuliani in a hotel room deserves an accolade of it's own.  So, Minari's Youn will likely win here, but Bakalova impressed me the most, and a surprise win for her would be a well-deserved honor.
WHO WILL WIN:  Yuh-Jung Youn, Minari
WHO SHOULD WIN: Maria Bakalova, Borat Subsequent Moviefilm
BEST ACTOR
Nominees: Riz Ahmed, Sound of Metal; Chadwick Boseman, Ma Rainey's Black Bottom; Anthony Hopkins, The Father; Gary Oldman, Mank; Steven Yeun, Minari
It may be a little callous to say, but posthumous honors are a hard thing to vote against.  That's the case with Chadwick Boseman's nomination here for his lead performance in Ma Rainey's Black Bottom; his first and only.  Boseman tragically passed away in August of last year after a long fight against cancer, three months before his final screen performance in Ma Rainey would premiere on Netflix.  Since then, he has been the odds on favorite to be honored with an Oscar for the role, and that has carried him through all the Awards thus far this Oscar season.  The Academy has awarded posthumous Oscars before in acting roles, first to Peter Finch for Network (1976) for Lead Actor and second to Heath Ledger for The Dark Knight (2008) in a Supporting Role.  Boseman looks to be the third posthumous winner of an acting Oscar, and it's one that I cannot argue with.  Like the others, it's an Oscar win that would've happened anyway, whether he was still alive or not.  It's that good of a performance.  He takes command in Ma Rainey's Black Bottom, and delivers the performance of his life; even outshining his star-making work as T'Challa in Marvel's Black Panther (2018).  So, there is no shame in honoring his memory with an Oscar win that pretty much sums up everything that made him the great actor that he was.  The remaining nominees are all very fine in of themselves, with veterans like Anthony Hopkins and Gary Oldman even delivering some of the best work of the already legendary careers.  But, it's Boseman's to lose, and an almost inevitable win here will likely lead to one of this Oscar's most emotional moments, with Chadwick's widow likely to accept on his behalf, as she has done all season.  It's a fitting way to remember a talented life cut tragically short, and give him that special honor that will cement him as one of the icons of Hollywood.
WHO WILL WIN: Chadwick Boseman, Ma Rainey's Black Bottom
WHO SHOULD WIN: Chadwick Boseman, Ma Rainey's Black Bottom
BEST ACTRESS
Nominees: Viola Davis, Ma Rainey's Black Bottom; Andra Day, The United States vs. Billie Holiday; Vanessa Kirby, Pieces of a Woman; Frances McDormand, Nomadland; Carey Mulligan, Promising Young Woman
Of all the acting categories of this year's Oscars, this is the most wide open going into the final stretch.  All the precursor awards have gone to a different winner so far; Andra Day won the Golden Globe, Viola Davis won the SAG Award, Carey Mulligan the Critics Choice, and Frances McDormand  the BAFTA.  Poor Vanessa Kirby is the odd one out.  But, otherwise, it's anyone's to take home.  My feeling is that the ones carrying momentum into the final stretch are McDormand and Mulligan.  Frances could come away a winner if Nomadland has a big night and sweeps through all it's categories, which would give her career Oscar number three; one short of the record (held by Kathrine Hepburn, who won four).  If not, I see Carey Mulligan, who was last nominated for An Education in 2009, taking home the Oscar.  Her performance is probably the most daring of the bunch, playing a vengeful woman getting revenge on men who have a history of sexually abusing women.  It's certainly the kind of provocative, outside the ordinary kind of performance that does get noticed by the Academy from time to time, and it's certainly a departure for Carey Mulligan as well, as she usually doesn't take on these edgy kinds of characters often.  It's also a lot more dynamic than Frances McDormand's performance, which was intentionally formed around her as a personality, and doesn't really display her range as much as her past wins have done.  While both actresses are deserving of recognition, I would like to see a different winner just for the sake of history possibly being made.  For one thing, I think Viola Davis' performance as Ma Rainey was the most entertaining of the bunch, and secondly, a win for her would be the first for an actress of color since Halle Beary in 2001 for Monster's Ball.  A Best Actress win for Davis, complete with Boseman and Kaluuya's almost certain wins in their categories, and Yuh-Jung Yeon's likely win in hers would mark the first time ever that all four acting awards went to people of color, which would be monumentally historic for the Oscars.  It remains to be seen if Oscar will be that bold, but Viola Davis is a strong contender, so it's a good possibility.  More than likely, we'll see Carey Mulligan win her first Oscar for her much talked about performance, but a historic night would be a great encapsulation of the progress made by this year's Oscars overall.
WHO WILL WIN: Carey Mulligan, Promising Young Woman
WHO SHOULD WIN: Viola Davis, Ma Rainey's Black Bottom
BEST DIRECTOR
Nominees: Lee Isaac Chung, Minari; Emerald Fennell, Promising Young Woman; David Fincher, Mank; Thomas Vinterberg, Another Round; Chloe Zhao, Nomadland
At this point in the race, this one looks like a sure thing for Chloe Zhao for her work on Nomadland.  She has won every precursor in the Directing category, including the Golden Globe and the DGA.  Few have ever won those two and then lost out on the Academy Award, although such a thing did occur last year when Bong Joon-ho upset Sam Mendes.  The same thing seems less likely for Ms. Zhao, as she has far less competition that would challenge her in the same way.  It would also be an historic win built upon an already historic nomination.  For the first time in Oscar history, we have more than one woman nominated for Best Director, with Emerald Fennell being the other nominee.  It's a nice development after so many were upset by the lack of nomination for Greta Gerwig at last year's awards.  If Zhao were to win, she would also be only the second woman to take that honor after Kathryn Bigelow, who won in 2009 for The Hurt Locker, and also the first woman of color and Asian woman to do so.  All those elements boost her chances greatly.  For me personally, while I am excited for what Chloe's win could mean for the Oscars in general, I was not all that impressed with Nomadland overall.  It's a really good movie to be sure, but it otherwise left me underwhelmed.  The movie that impressed me more than any in this category, from a directing standpoint, was David Fincher's Mank.  Sure, it's the most mainstream, Oscar-baity film in the group, but I was blown away by how closely Fincher was able to recreate the look and aesthetic of an old Hollywood movie, and to me that's the most impressive thing I saw this year.  Nomadland by comparison is a more leisurely film, though with some beautiful photography.  I'm anticipating history made here, but my choices are based on what impressed me the most about the directors work, and once again I find David Fincher to be in a class all his own.
WHO WILL WIN: Chloe Zhao, Nomadland
WHO SHOULD WIN: David Fincher, Mank
BEST PICTURE
Nominees: The Father; Judas and the Black Messiah; Mank; Minari, Nomadland; Promising Young Woman; Sound of Metal; and The Trial of the Chicago 7
One sign of how unusual an Oscar season this has been, half of the nominated movies in this category were ones that I didn't even see in the calendar year of 2020.  The extended deadline for the 2020 Oscars also meant that a lot of movies slated for year end release got pushed deep into the new year, with late February being the new cutoff.  The three movies that I did see in 2020, (Mank, Sound of Metal, and The Trial of the Chicago 7) did make my year end Top Ten List, so I'm happy they are nominated here.  As for the rest, their inclusions are also expected.  The only one that I don't like in the bunch is Promising Young Woman, which I felt mismanaged it's provocative and intriguing premise with a lacking execution.  Nomadland is good enough for a nomination, but I'm not entirely sold on it's front-runner status.  And I think that Mank, Chicago 7, and Sound of Metal sadly couldn't carry their momentum into the new year, and will likely end up settling for wins in the technical categories instead.  What I do feel might be a minor spoiler in this race, and is really what I think to be the best movie in the bunch, is little but powerful Minari.  I finally got to see this one in late January and was very much enchanted by it.  It missed my top 10 for 2020, but I can see it still hold on for a spot on my best of 2021 later this year.  It's a beautifully told story about a family working against the odds to achieve the American dream, and I think it's a powerful parable for this time in the U.S.A.  that we are living in, especially wit anti-immigrant and anti-Asian rhetoric on the rise.  Nomadland is undoubtedly the movie to beat, as it has dominated Awards season so far, but Minari is the one that felt had the most heart and it left a far bigger impression on me after I saw it.  Still, it wouldn't surprise me if Nomadland not only takes home the top award, but comes through with a sweeping victory in multiple categories.  And it's a win that wouldn't necessarily upset me too much either.  It's been a while since one movie has been able to run the table at the Oscars, and it would be nice to see a smaller film like Nomadland be that unexpected juggernaut.
WHAT WILL WIN: Nomadland
WHAT SHOULD WIN: Minari
In addition, here is my brief rundown of all the remaining categories based on who I think is likely going to win:
Best Cinematography: Mank; Best Animated Feature: Soul; Best Documentary Feature: Collective; Best International Feature: Another Round; Best Film Editing: Nomadland; Best Visual Effects: Tenet; Best Sound: Sound of Metal; Best Costume Design: Mank; Best Original Score: Soul; Best Original Song: "Speak Now" from One Night in Miami; Best Make-up and Hairstyling: Ma Rainey's Black Bottom; Best Production Design: Mank; Best Documentary Short: A Concerto is a Conversation; Best Animated Short: Genius Loci; Best Live Action Short: Feeling Through
So, there you have my picks and thoughts for this unusual and unprecedented Oscars.  The fact that I am publishing this article in a weekend that I usually reserve for my Summer movie previews just shows how much this last year upended the norms.  And yet, the show goes on, and the Oscars (though later than normal) is still happening.  I have said many times before that the more diverse slate of nominees this year has been the best silver lining of this tumultuous season, and my hope is that this is reflected in the winners that we'll see on Oscar night as well.  This is going to be an Oscars full of historic firsts galore, including in some of those "lesser" categories.  It is interesting to see what a year without blockbuster movies has done to the make-up of this year's awards.  For one thing, this is an Awards season far more represented with movies that came to us via streaming, because for the most part, it was the only way movies could be seen last year.  Let's see if the anti-Netflix bias that undercut the hopes for movies like Roma and The Irishman changes this year.  It could be the barrier buster that so many streaming platforms had hope for, because this was the year that the Academy had no other choice but to pay them more attention.  For me, as someone who follows along with Oscars history more than the average viewer, I am excited to see more of a sea change happen.  The change in venue and the more diverse slate of movies represented shows that the Oscars are evolving.  Sure, it's to meet the needs of moving forward in the middle of a crisis, but my hope is that the Oscars builds upon these changes and just doesn't make this Awards season a fluke.  More diverse films from different platforms, as well as a more representative body of nominees are a good thing for the future of the Academy Awards.  Necessity is the mother of invention, and to evolve to meet the needs of running this show under the cloud of a pandemic hopefully bears fruit for a more dynamic Oscars in the years ahead.  Let's put on a good show Oscars, and hopefully next year, the good changes will be able to be a part of an Academy Awards that will feel a bit more like normal.