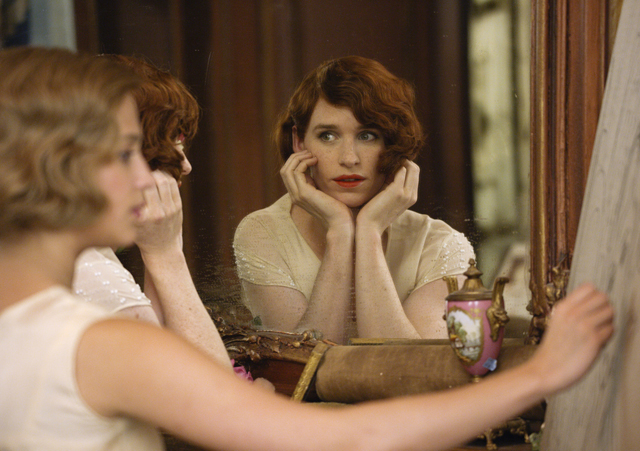 One of the great gifts of cinema is that it helps to give voice to people who ordinarily will have a hard time reaching the attention of a broad audience.  Hollywood has often valued the underdogs in society, because they are naturally the ones with the most interesting stories to tell.  This is especially true with movies based around characters that represent marginalized groups.  Like so many parts of society, mainstream Hollywood often takes it's time to grow and evolve when it comes to embracing more progressive attitudes towards marginalized people, because it's often looked at as non-commercial generally.  But, the art of cinema itself is powerful enough tool to change minds in a compelling way, and eventually, Hollywood and the rest of the film industry recognizes that it's better to embrace social awareness rather than resist it.  That's been true throughout the history of cinema, as the Civil Rights movement and Women's Liberation of the mid century helped to shape the movies that were being made in the years that followed, allowing for more representation in front and behind the camera to flourish and help break down social barriers.  Soon, it became clear that having people of color headline a movie, as well as be involved in the filmmaking process, was not only good business, but also necessary as it meant tapping into a growing demographic that for the longest time had been ignored.  There is still progress to be made, but in looking back on the early days of Hollywood, it's very clear that the direction towards diversity has been a beneficial one for the movie business overall.  In recent years, Hollywood has had to reckon with the need to improve their representation of the LGBTQ community.  Queer people of course have long been a part of the entertainment business, but more recently the stigma of being out as a performer or filmmaker has begun to shift in a more positive direction.  Again, the art of cinema has been instrumental in allowing people within the LGBTQ community to tell their own stories and bring about mainstream acceptance.  But, there are still plenty of areas where the industry should move towards allowing other marginalized voices to be heard.
One group that particularly needs the help of cinema to help push back against societal stigma is the transgender community.  Trans issues are, to put it lightly, becoming a hot button issue right now in America; stirred up as a wedge issue to drive up outrage in an election year.  The trans community has recently been marginalized in fields such as sports and in education, being condemned by hard right agitators as indoctrinating children and also being slanderously labeled as "groomers."  The campaign against the trans community has even slipped into Hollywood, as any voice of support for trans rights has been condemned by a loud, vocal minority as being an agenda to destroy the fabric of society, which they are continuously fear-mongering about in an attempt to solidify their own dogmatic views on gender.  Anyone from the LGBTQ community, or any other marginalized group that has gone through their own struggles for representation, will recognize what is going on with the trans community right now.  How they are being scapegoated for society's woes, and how they are being "othered" as a way of justifying their exclusion from certain rights.  It's an unfortunate cycle that society has yet to break; the way we go out of our way to find something or someone to hate.  Because there has been progress made on gay rights in recent years, and bigotry towards gay and lesbian citizens is now no longer an accepted norm, people looking to hate have shifted their focus on the trans community specifically.  It's an all too easy act to hate the things that we don't understand, and for a lot of people, they can't quite wrap their heads around what it means to be transgender.  That's why in this crucial time, it is more important than ever that Hollywood recognizes that trans rights matter, and that it is crucial to allow their stories to be told to a mainstream audience.  Of course, because Hollywood is a business, it's easier said than done, and over the course of time, Hollywood has struggled to really grasp the how trans issues should be depicted on the big screen.  They go where the audience is, and right now, audiences have a mixed view of what gender identity means in general.
Hollywood, in many ways, has been instrumental in reinforcing the gender norms that have permeated into our collective culture.  Look at the majority of movies made over the years, and the dominant narrative you'll find is the hero's journey, where a strong-willed man wins the heart of a fair maiden, and they live happily ever after.  It's a tried-and-true formula, but in the end, it just perpetuates the gender norms that we as a society have adopted.  Men are strong and women are the fairer sex; and thanks to the movies, that how we believe that it has always been.  Of course, there has always been people who have existed across the gender spectrum.  They just haven't been able to tell their stories.  The closest that Hollywood could ever get to portraying any representation of trans identity was through cross-dressing, and even here it was limited to comedy.  A man wearing a dress was only acceptable if was drag, and played for laughs.  The movie Some Like it Hot (1959) is a prime example of how Hollywood could get away with putting male stars in drag, while at the same time getting around censors with some stealth acknowledgement of a marginalized trans community.  The movie even closes with the now iconic line where Jack Lemmon's character confesses to his smitten beau, played by Joe E. Brown, that he is indeed a man and not a woman, and the reply is "Well, nobody's perfect."  It's a funny punchline, but with special extra meaning.  He knew that he was falling in love with a man in women's clothing, and he doesn't care.  Still, most other movies didn't have the wit of Billy Wilder to sneak in a forward thinking line like that.  B-movie director Ed Wood, who was a closeted transvestite himself, attempted to create a compassionate portrayal of character experiencing gender dysphoria in his movie Glen or Glenda (1953) and he was laughed out of Hollywood as a result; though the movie has become a cult favorite to some.  There was no doubt that any positive portrayal of gender bending in Hollywood was very restrictive in the early days of cinema, and it wouldn't get any better for a long time, even as Hollywood was making baby steps towards more inclusion elsewhere.
In addition to perpetuating gender norms throughout it's history, Hollywood also marginalized trans people through very negative and unflattering depictions.  Take Hitchcock's Psycho for instance, where it is revealed that the real murderer is Norman Bates, who has been cross-dressing as his deceased mother.  Despite it's rightly regarded status as a cinematic masterpiece, Psycho also unfortunately carries with it the outdated view of trans people being predators intent on terrorizing the "normal" people out there.  If the movie were made today, who knows how a movie like Psycho would deal with the crossdressing element of it's story, but it would likely be different.  Still trans identity on film went through the difficult trial of having to break free of Hollywood's increasingly rigid depictions of gender identity.  If you wanted to see movies that took a more progressive view of gender fluidity, you either had to seek out international films from places like France or the Netherlands which had more Lasse faire attitudes towards sexuality and gender identity, or find independently made films in the U.S. that spoke for the trans community, like those of director John Waters.  Still, many films, even into the counter-cultural 60's and 70's, still explored the issue of trans rights with a sense of it falling within the outrageous.  If characters were exploring gender fluidity and dressing in drag, it was often as an act of defiance rather than being truthful to one's identity.  You see this with movies like The Rocky Horror Picture Show (1975), where the character of Dr. Frank-N-Furter (memorably played by Tim Curry) is the very definition of gender fluid and loving it.  The character is also there to shock, rather than inform the audience about trans identity.  Even as attitudes were beginning to change regarding the queer community, trans people were still seen as too abnormal for society to accept.  But, trans people did begin to speak out and demand some change from the way they were depicted in Hollywood movies.  Another classic horror film, The Silence of the Lambs (1991), received some backlash from the trans community over it's depiction of the film's cross-dressing villain, Jame Gumb (Ted Levine).  Director Jonathan Demme was thankfully receptive to the criticisms and sought to find a way to make it up to the LGBTQ community for his insensitive portrayal of a trans character in Lambs.  This led him towards choosing the queer-rights storyline of his AIDS drama Philadelphia (1993).
The interesting thing about how depictions of trans characters in movies has changed in the years since is that it still breaks down along the same accepted binary gender norms that are part of the mainstream culture.  In particular, it seems that it's easier to find a positive story of a female to male transition story than to find one about male to female transitions.  Case in point, it wasn't all that long ago when a story about a character in transition from female to male was celebrated enough to win an Oscar.  Hilary Swank, a straight cisgender actress, won the first of her Oscars for Best Actress in the role of Brandon Teena from the movie Boy's Don't Cry (1999).  The movie, based on a tragic true story, was a breakthrough for Hilary Swank and it was an important milestone in telling a story through the point of view of a trans character.  A year prior, the Best Picture award went to Shakespeare in Love (1998) which involved the female protagonist played by Gwyneth Paltrow having to dress as a man in order to perform in plays during the patriarchal "Golden Age" in England.  In the years after, there came an interesting mix for movies related to the issue of trans rights, but with casting choices that remain perplexing.  Take for instance, the movie Transamerica (2005), which had cisgender actress Felicity Huffman playing a trans woman.  So essentially, she is a woman playing someone born a man who transitioned into a woman.  One thing that you'll notice about these casting choices is that not a single one is played by an actual trans performer.  Most of the noteworthy movie roles for a trans character have been filled with actors and actresses who are cisgender.  Thus far, the argument has been that there aren't enough trans actors out there with the kind of clout and box office pull as there are cisgender actors who can fill the same kind of role.  I can understand the argument as a gay man myself.  I wouldn't want to limit queer actors to just queer roles, because that is limiting to the talent of those actors and actresses who can play both gay and straight parts equally.  But, there is the strong argument that giving more opportunities to trans performers to play trans role is crucial to their crusade for visibility in our culture.
To the great credit of the trans community, they have made their voices heard.  There was an uproar when it was announced that actress Scarlett Johansson was going to be cast in the role of a trans man for a movie.  Johansson made the argument that she should be allowed to play any part she wants to, but this was an argument that seemed a little tone deaf, especially to a marginalized community desperate to have better opportunities in Hollywood.  She eventually bowed out and the movie ended up dying in development after losing it's bankable star.  It's the unfortunate thing about the business of Hollywood, that movies only get made if there is somebody with clout attached to it, and for a marginalized group like the trans community, they don't quite have that someone yet who can get a movie into production without having to face any hurdles.  Still, more and more actors who do have that clout are putting their support behind trans actors and are trying to ensure their visibility in future projects.  Even cisgender actors who have won awards before for playing trans characters are changing their attitudes about who should be offered the roles first.  Eddie Redmayne went on the record that he feels ashamed now that he played the role of trans icon Lili Elbe in the movie The Danish Girl (2015), a part that he earned an Oscar nomination for.  Indeed, there seems to be a shift in the industry that cisgender actors are stepping away from trans roles in order to let transgender actors have their shot first.  If the movie is good enough, it can help a trans performer gain more notoriety and eventually there will be enough trans performers with clout who will be able to accurately fill those role of trans gender characters.  One thing that is helping is the encouraging support that up-and-coming as well as established actors who go through transition in the middle of their careers are receiving from the industry in general.  The Wachowski sisters, Lana and Lily, went through their transition and managed to maintain enough support in Hollywood to get another Matrix movie made.  Elliot Page's transition has also been heralded by the industry, and his role on the Netflix series The Umbrella Academy was reworked to fit with his new identity.  As the industry itself begins to accept the idea that roles for trans characters can be filled with trans performers and still be a hit, it will do a lot of good to help elevate the voices of trans characters into the larger culture as a whole.
That, more than anything, is what is most important about giving trans performers and filmmakers more of an opportunity to tell their story on a larger stage.  The fight for equal rights has been difficult for people across the LGBTQ spectrum, but this moment in time has been particularly hard for the trans community.  With many states across the country actively passing legislation to restrict trans people from everything from sports to just basic healthcare needs, the urgency for elevated voices in the trans community is more crucial than ever.  Right now, there is an effort to silence any talk of trans rights in the United States, with trans people being slandered as "groomers" as well as those who consider themselves allies of the trans community.  Even film companies like Disney are being attacked after they voiced their support for trans and gay rights, after states like Florida (where Disney has a crucial business stake in) have moved to ban discussion of gay topics in schools as well as cut off access to healthcare for trans students.  There's the mistaken belief that gay and trans people are indoctrinated into their identity by the culture at large, but that is an absolute falsehood.  People are born queer or with gender dysphoria just as much as they are born straight or cisgender, and it's through the support of family as well as the culture they grow up to love that young people who feel different from others are able to better accept themselves for who they are.  That is why it is important for there to be affirming media to help young people who fall within the LGBTQ spectrum, because it allows them to understand that the way they feel does not make them a broken person.  For too long, these groups have been pressured into silence, and many LGBTQ people from past generations have been forced to live closeted live.  Suicide was always a big problem in the LGBTQ community, especially among trans people.  What made things change was seeing more and more positive and affirming portrayals in the media.  As people saw themselves reflected more in the movies and TV shows they watched, it greatly boosted their confidence to come out and be seen themselves.  This is what scares the people out there that want to legislate queer people out of existence; that their carefully cultivated and restrictive ideals of social norms will no longer apply, and that people will be harder to control through their idea of morality.  But the truth is society works much better when the people within it are not forced into being something they know in their heart that they are not.
There is certainly a long way to go in the fight to protect trans rights.    What is especially important is help protect the very young who experience gender dysphoria.  For them, it's especially crucial that they see themselves portrayed positively on the big and small screen.  Hollywood still has some work to do in allowing trans voices to be heard, but with more performers such as Elliot Page and Laverne Cox becoming more visible in the movie industry, there is hope that their voices will become more mainstream in the culture.  Of course there will always be those out there who refuse to accept anything other than the rigid gender norms that they have seen perpetuated in society since they have been born.  The fact that there is just the slightest change in the culture on the aspect of gender identity is too much for them to handle, and the loudest among them are crying the loudest to push back.  But, what we should be doing is listening to people when they say they feel like they were born the wrong gender.  There are a lot of stories that could and should be told about the trans community.  And those stories can help many more people feel happy about who they are, and encourage them to live without shame.  Even though they were made without authentic trans voices, it's still worth checking out movies like Boy's Don't Cry and Transamerica, and The Danish Girl.  They are movies that help tell a story about the trans experience and, more importantly, they humanize trans people in ways that can hopefully change people's minds about the community as a whole.  One certainly hopes that the big Hollywood studios are genuine when they say that they will work to protect the rights of the trans community, both in their work place as well as with their audience.  It would certainly help if they acted more to give more roles to trans performers than they do now.  Progress has been made, but there is still work to be done.  Minds can be changed.  I have even found myself evolved on this issue, and I owe that to being able to see more informative media related to trans issues.  As we celebrate Pride this year, let's all make an effort to hear the voices of those being actively silenced now like those in the trans community.  You'll find that their stories are probably among the most interesting of all.