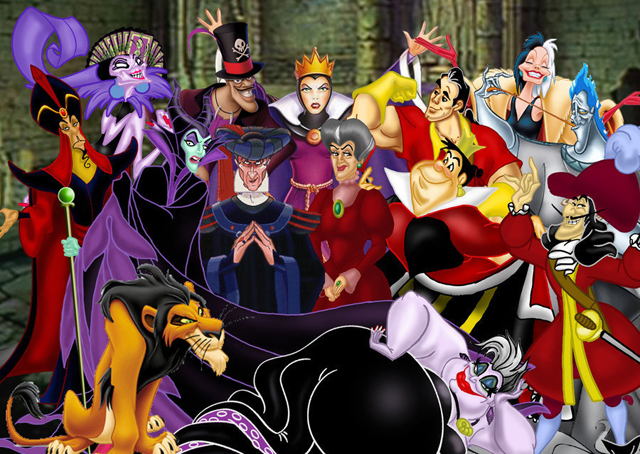 Only a few months ago I shared with you my choices for the greatest heroes in Disney movies.  With Halloween just around the corner this year, I decided to look at the flip-side of the coin and share with you my choices for my favorite Disney villains.  The collection of Disney Villains is a fascinating one, considering the widespread popularity they enjoy.  In many cases, you'll find that it is the villain that becomes the most popular character from the movie, and not the hero.  And why is that, particularly in Disney's case?  I think that it's because Disney has figured out , more than with any other type of characters, the formula for crafting memorable and captivating personalities that instantly pop out to us on the screen.  They are often flamboyant, passionate, and they revel in their dastardly deeds and are unapologetic about it.  It also helps that Disney makes them physically stand apart from the rest by color coding them most often in black clothing.   But, more than anything, I think that we respond to the Disney villains more passionately because they embody the earliest notions of evil and dark intentions that we all have growing up.  Disney movies were often intended as morality tales for younger audiences, and it is true that our first comprehension of social evils like greed, jealousy, prejudice, and violence often come from the ones we see committed by one of Disney's many villainous characters; that is if those social evils aren't already present in our lives when we are young.  With Disney villains, we see those evils distilled down (some would even say watered down) into vividly imagined antagonists, and that's why they capture our imagination so much.  Disney has made their rogues gallery one of cinema's most memorable, and with this list, I intend to share with you the ones that have stuck with me the most, both growing up and continuing on as an adult.
Before I get to that though, I would like to highlight some honorable mentions who fell short of this list: The Evil Queen (Snow White and the Seven Dwarves), The Coachman (Pinocchio), Chernabog (Fantasia), The Headless Horseman (The Adventures of Ichabod an Mr. Toad), The Queen of Hearts (Alice in Wonderland), Shere Khan (The Jungle Book), Gaston (Beauty and the Beast), Hades (Hercules), Dr. Facilier (The Princess and the Frog), and King Candy (Wreck-It Ralph).  Also, I'm limiting this list to just Disney Movies.  The characters can be adapted from classic literature, but they can't come from a source acquired by Disney long after the original creation, so no Star Wars or Marvel villains here.  And with that, let's count down the greatest Disney villains.
10.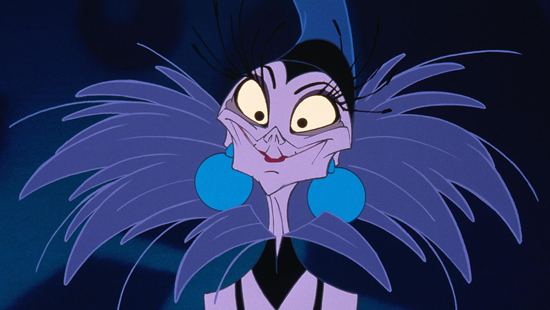 YZMA from THE EMPEROR'S NEW GROOVE (2000)
Voiced by Eartha Kitt
As far as Disney Villains go, Yzma is not your typical rogue.  Her fiendish plan ends up being one of the most incompetently executed, as her adversary is turned into a llama as opposed to being poisoned as intended.  Then her dimwitted accomplice ends up losing that same victim (the true ruler of the land by the way) and both him and her must trek aimlessly through the countryside in order to find them and finish the job right; which of course never happens.  As a villain, Yzma probably maintains the lowest batting average of success as anyone on this list.  So, what makes her so special?  In many ways, she earns this spot for being just a fantastic character all around, even with all of the missteps she faces.  Disney's underrated comedy jem, The Emperor's New Groove, is first and foremost a farce, often calling attention to and mocking tropes of past Disney films, and Yzma is a perfect villain for this type of comedic tale.  Most of the film's funniest moments often come out of her constant frustration upon dealing with her incompetent sidekick, Kronk (voiced to perfection by Patrick Warburton).  I especially love the moments in the movie where she attempts to indulge in her sweet villainy, and the moment is broken apart by the ill-timed and idiotic interjections of Kronk.  A bit where Kronk means to gather information by speaking to a squirrel provides one of Yzma's most hilarious breakdowns of frustration.  A large part of Yzma's character comes through in the exceptional voice work by the legendary Eartha Kitt, and who would have thought that the screen and stage legend would have found her comedic match with Warburton of all people.  Together, they make the greatest pairing of villain and sidekick in any Disney movie.
9.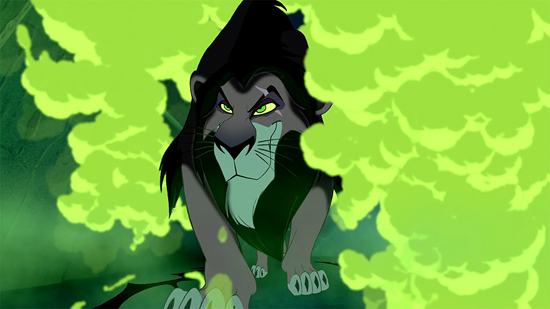 SCAR from THE LION KING (1994)
Voiced by Jeremy Irons
The Lion King  is often referred to as Hamlet in Africa, so it's not at all surprising that it's villain retains some Shakespearean qualities of his own.  Serving as a combination of Claudius from Hamlet (for the fratricide) and Edmund from King Lear (for being a second son manipulating politics behind the scenes in order to gain power), Scar is very much a villain formed out of literary inspiration.  But, even with those thoughts in mind, Scar is still a memorable character in his own right.  For one thing, he stands out among other Disney villains as being the first one to murder his victim on screen.  Other Disney films tend to value showing the aftermath of such a despicable act, but The Lion King did not shy away, showing Scar making the defining move to shove his brother Mufasa off of cliff and into a Wildebeest stampede.  This was different than say hearing a gunshot taking out Bambi's mother off-screen.  Here, young audiences saw the terrible consequences of someone's quest for more power, and it was terrifying.  Apart from that, Scar remains one of Disney's most vivid portrayals of villainy; he's deceitful and ruthless, but also consumed by a obsessive sense of self-worth.  He feels that powered is owed to him because he sees himself as smarter than everyone else.  But as we see the consequences of his actions, we come to learn that the "lion's share" of brains does not equal noble leadership skills, and the scary thing is that Scar will never see that, and will destroy anyone who questions his role.  Disney was blessed to receive the talents of Oscar winner Jeremy Irons for the role, who really brought out the Shakespearean qualities in the character.  Motivated by a tragic sense of jealousy, Scar earns his place among the best Disney villains ever.
8.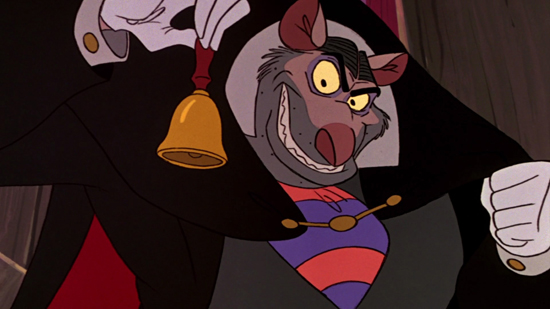 PROFESSOR RATIGAN from THE GREAT MOUSE DETECTIVE (1986)
Voiced by Vincent Price
Sometimes Disney gives their villains a more subtle portrayal that delves deeper into their character, and then other times, they drop all pretense and just let their baddies be evil for the sake of it.  And sometimes, even the less subtle villains are a lot of fun to watch.  Professor Ratigan is that kind of villain, done to absolute perfection.  He certainly has his source in literature too.  If his archnemisis, Basil of Baker Street, is Disney's re-imagining of Sherlock Holmes, than it's obvious that Ratigan is the stand-in for Holmes' own nemesis, Professor James Moriarty.  And Disney did not waste their opportunity to exploit the best out of that legendary rivalry out Sir Arthur Conan Doyle's novels.  Ratigan, probably more than anyone else on this list, relishes his role as a villain.  He even gets a song where he sings about all the evil plots he's committed, with not an inkling of shame.  What I love best about the character is the unabashed delight that Ratigan takes in developing his schemes, providing an engaging balance between the humorous and the menacing.  A lot of this comes out of the vocal performance given by the legendary Vincent Price, who you can tell is having a blast playing this part.  Price rightly steers clear of his more macabre sounding line readings which he had long been famous for, and instead perfectly embodies the voice of a megalomaniac genius criminal thug.  One of my favorite bits in the movie is the geeky way that he spells out how he's going to destroy Basil, by using all his weapons at once ("Snap, Boom, Twang, Thunk, SPLAT!!!").  They don't come any more dastardly than Ratigan and that's why he has earned a spot here.
7.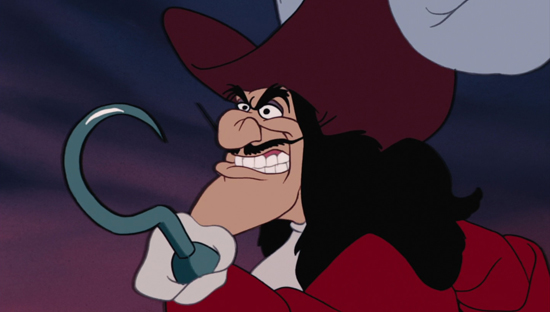 CAPTAIN HOOK from PETER PAN (1953)
Voiced by Hans Conreid
One thing that usually defines many Disney villains is their often narrow minded commitment to a singular goal, with little consideration to anything else.  Oftentimes, their goal is either for power or for wealth, but there is one villain that lives to enact one goal that's different than all the others; vengeance.  That is the primary motivation behind Captain Hook and it makes him quite unique in the Disney canon.  There have been many interpretations of James M. Barrie's iconic swashbuckler, but I don't think you'll ever see one quite as memorable as Disney's version.  In many ways, Disney brought a bit more nuance to the character than what had been there before.  This version of Hook is intimidating, but at times can be quite comical as well, with the movie never quite breaking that fine line between those two aspects in his character.  We're able to laugh when he runs afoul of the man-eating Crocodile, in some brilliantly animated moments of physical comedy, but then feel chilled by the next scene where he deceitfully manipulates Tinker Bell into revealing the hideout of Peter Pan.  Disney does an amazing job of giving their version of Hook so many layers to his personality, and it makes him a magnetic presence in every scene he's in.  I especially like the detail where he tries to maintain his identity as a "gentleman pirate;" going as far to keep a promise not to lay a finger (or hook) on Peter.  Of course, he works around that by using a bomb instead; further illustrating his cunning.  Veteran character actor Hans Conreid brings out all those aspects of the character, relishing the suaveness of Hook at his most deceitful and bellowing out the infantile cries for help to "SMEE" whenever the Crocodile is near.  Overall, he's a perfect example of how Disney can turn an already iconic character and make him one of their own.
6.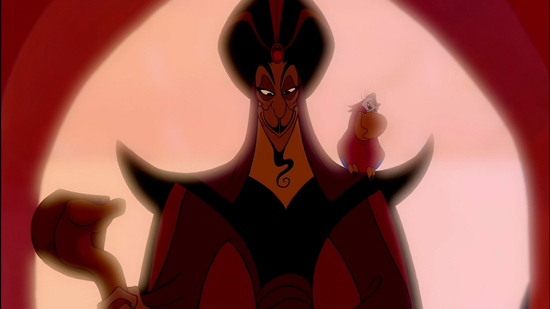 JAFAR from ALADDIN (1992)
Voiced by Jonathan Freeman
One complaint that is leveled against some Disney villains is their often lack of subtlety, which as stated with Ratigan, is not necessarily a bad thing.  But, it can sometimes be a negative when it becomes clear that narrative shortcuts were made with the depictions of a films characters, especially villains.  This means falling back on overused tropes and stereotypes when crafting your character, and the villain of Disney's Aladdin could have easily fallen into this trap.  I mean seriously, look at him.  How could any of the other characters in the movie not recognize that the guy dressed all in black and with a cobra shaped staff was up to no good?  And yet, Jafar manages to rise above those same tropes and manages to be not just the best villain for his particular story, but one of Disney's best overall.  I think that he works as well as he does mainly because he perfectly fits the tone of Disney's take on the Aladdin legend.  Aladdin was very much meant to be a homage to old Hollywood spectacle as well as over the top Broadway productions, and Jafar is a prime example of that kind of style choice.  Heavily inspired by Conrad Veidt's portrayal of the evil vizier in Alexander Korda's technicolor classic, The Thief of Baghdad (1940), Jafar is equal parts camp, class and menace.  The stuffiness of his character is perfect counterpart to the unhinged mania, which comes to the surface once he's granted the wishes he's always desired.  Broadway vet Jonathan Freeman was perfectly suited for the role, finding that right campy tone that fit with the character.  Interesting fact; many years later, when Disney brought the movie to the Broadway stage in a new adaptation, they gave the role of Jafar to Freeman, making him the only person to play the same role for Disney on both the stage and screen.  That tells you right there how much of an impact his performance left on audiences.  Jafar may be an obvious villain, but he is by no means a weak one, and it shows that sometimes even a stereotypical villain could be just what the story needs.
5.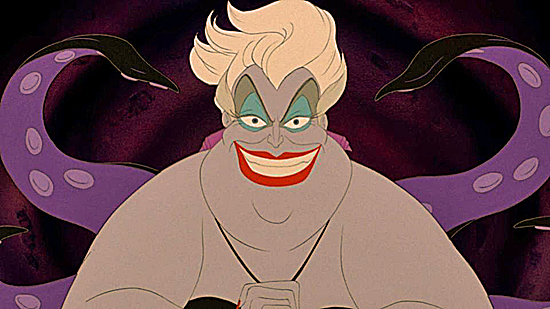 URSULA from THE LITTLE MERMAID (1989)
Voiced by Pat Carroll
In the years following Walt Disney's untimely death, the company he founded was struggling to find it's identity going forward.  Movies continued to be produced, but they were lacking some of the same qualities that were found in the movies from Walt's time; namely, memorable villains.  Sure, Ratigan managed to stand out, but do many of you remember Madame Medusa, The Horned King, or Edgar the Butler as fondly.  When it came time for Disney to really stretch themselves again, and make an animated classic like they used to, it made sense for them to put a lot of effort into making a villain to stand among the all time greats.  Or in this case, swim.  Ursula was the realization of this renewed effort on Disney's part, and along with the movie that she comes from (The Little Mermaid), she was a large part of the beginning of the Disney's Renaissance.  Taking her inspiration from Hans Christian Andersen's original unnamed Sea Witch, Ursula is a master class depiction of villainy.  What makes her so memorable is not just her design, which along is brilliant; taking inspiration from the body of an octopus.  It's the depravity of her character that makes her so memorably loathsome; preying on desperate individuals, forcing them into contracts, and then collecting them into her grotesque garden of lost souls.  She knows how to manipulate the system by exploiting these "poor unfortunate souls" and do it all legally through contracts, which makes her villainy all the more hurtful.  She also is one of the most mesmerizing Disney villains, fully embracing her campy aspects.  Ursula was said to be inspired physically by famous drag queen Divine, which is a bold choice on Disney's part.  Pat Carroll's sultry voice also lends a lot to the character, reinforcing the camp aspect of the character.  Ursula, by being both groundbreaking and a return to form for Disney, easily earn her place among the best villains the studio has ever created.
4.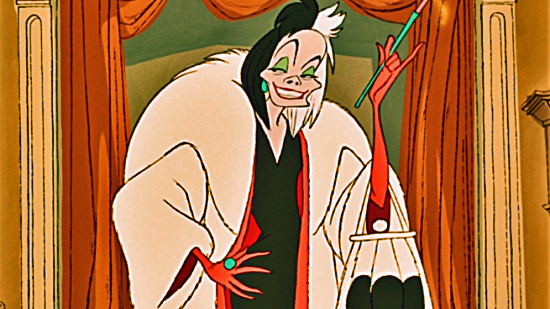 CRUELLA DE VIL from 101 DALMATIANS (1961)
Voiced by Betty Lou Gerson
There are few crimes out there that seem to be universally reviled as cruelty towards animals.  Combine that with an unglamourous portrayal of vanity taken to the extreme, and you've got the making of one of Disney's most iconic villains.  Cruella De Vil is a classic villain in every sense.  Her character design as garish, aging fashionista along makes her easily identifiable, but that's not the only thing that makes her memorable.  She is also one of the most exquisitely animated character in any Disney film, villain or otherwise.  Just look at the memorable introductory scene of her in the movie 101 Dalmatians, where she blows through Radcliffe household like a tornado demading to know where the puppies are, leaving a rotten trail of cigarette smoke in her wake.  Animated by legendary artist Marc Davis, this scene is a masterpiece of character animation, delivering all we need to know about the character in quick and often erratic gestures; her greediness, her lack of empathy, and her larger than life efforts to always be the center of attention.  As the movie goes on, we see the further depths of her character, as her plan to create dog skin coats from Dalmatian puppy fur unfolds, and she becomes one of the easiest Disney villains that we love to hate.  But, apart from her cartoonish aspects, she stands out as a fully realized interpretation of something very real that we see in our society; the self-obsessed social climber.  She not only has to be the center of attention; she has to do it in the most obscene way possible, including slaughtering puppies for her own fashion.  Of all the Disney villains, she has probably entered the cultural lexicon more than any other, as you often see many people dismiss self-obsessed divas in our culture as a "Cruella."  Regardless of that, she certainly remains one of Disney's greatest villains, being both a great symbol of evil as well as an entertaining character in general.
3.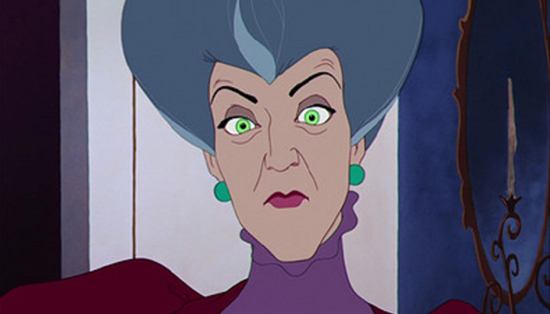 LADY TREMAINE from CINDERELLA (1950)
Voiced by Eleanor Audley
Otherwise known as the Wicked Stepmother to Cinderella, Lady Tremaine is a perfect example of a villain that strays from the typical norm of Disney villains.   She has no magical powers, nor any murderous plans.  She evil simply for the fact that she holds so much power over one person, and exploits it to an unforgivable degree.  In many ways, Lady Tremaine becomes one of Disney's scariest villains because of how realistic she is.  It is conceivable that someone in real life is capable of the same evil acts that she commits in this movie; forcing our heroine into abject slavery and submitting her to humiliating torture both mental and physical by her own true born, selfish daughters.  Cinderella is the embodiment of a light shining through the darkest of times, and Lady Tremaine finds her evil identity by extinguishing that light at every turn, giving Cinderella less to hope for and manipulating her into thinking that this is the only thing she is good for.  Mental abuse is a very real evil act, and that's what makes Lady Tremaine all the more vivid a villain in her film.  One scene in particular illustrates not only how evil she can be, but how diabolical she is with her darkness.  When she and her daughters prepare to leave for the ball, they are shocked to find that Cinderella is ready to go to, with a dress of her own.  Instead of stopping her, Tremaine deceitfully compliments the details of her dress, pointing out that it features scraps that her daughters had discarded, which then makes the selfish daughters turn possessive and start tearing Cinderella's dress to pieces.  In this act, Lady Tremaine has simultaneously scarred and humiliated Cinderella without ever laying a finger on her, showing just how powerful and diabolical her villainy can be.  And let's not forget, she has one of the most chilling stares ever committed to film; one that sinks into your soul.  Almost too real for comfort, Lady Tremaine is a masterfully realized villain.
2.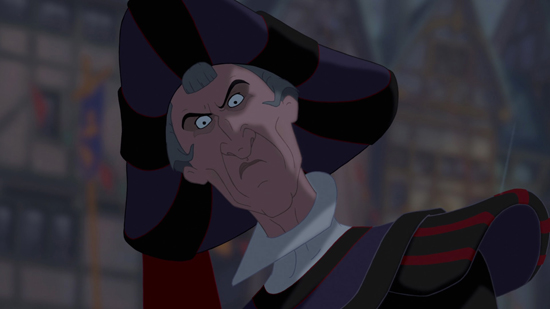 JUDGE CLAUDE FROLLO from THE HUNCHBACK OF NOTRE DAME (1996)
Voiced by Tony Jay
This late Disney Renaissance film is mostly regarded as a classic, albeit with a few flaws.  But, if there is anything about Disney's The Hunchback of Notre Dame that has received universal praise, it's with the villain, Judge Frollo.  It was a bold undertaking by Disney to find a way to turn Victor Hugo's dark literary masterpiece into something that's suitable for all audiences, but if there was anything that captured the essence of the original novel, it was Frollo.  Much like Lady Tremaine, Frollo is a villain whose frightening to audiences because of the realism of his villainy.  In fact, history has often seen too many people of Frollo's ilk, especially in modern times.  The pious, xenophobic overlord uses his power to unjustly hunt and pursue gypsies that he believes are infesting his "pure" city.  In Hugo's novel, Frollo was a man of the church, giving his villainous intents the air of hypocrisy as well.  Disney strips their Frollo of religious affiliation (probably to avoid complaint from religious viewers) but his character is no less hypocritical in his moral authority with which he uses to justify all of his horrible acts.  I believe this makes Frollo all the more frightening in his villainy, because there is no rhyme or reason to his bigotry; as is true in real life as well.  People are just inclined to hatred, and giving that kind of feeling power is the worst thing we can do as a society.  Disney's Frollo is also given the grotesque aspect of having lustful feelings towards the heroine Esmerelda, which shows the even further depravity of his character.  But, more than anything, Frollo remains one of Disney's greatest villains because of the sheer fearlessness that the filmmakers took in depicting his character.  There are no soft spots to mock about him, nor campy aspect that make him alluring.  He is the most vivid portrayal of unadulterated human evil that Disney has ever put on screen.  I also applaud Disney for casting the right voice for the character, which didn't end up being a known celebrity, but instead went to veteran voice actor Tony Jay, who delivers a knockout performance.  Disney has rarely taken the steps to show real evil on screen, but with Frollo, they managed to do so in a captivating way.
1.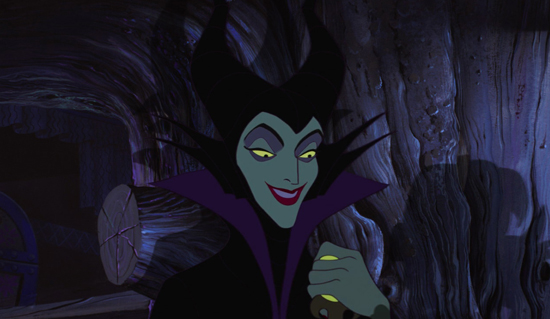 MALEFICENT from SLEEPING BEAUTY (1959)
Voiced by Eleanor Audley
Who better to top this list than the "mistress of all evil."  Maleficent's placement here shouldn't be all that surprising to those of you that have read my list of the greatest movie villains of all time, seeing as how she was the only Disney villain to make it on that one.  But the main reason why I consider her the greatest Disney villain off all time is because she has since become the gold standard by which all others are judged by.  Walt Disney may have created the archetype of a Disney villain when he developed the Evil Queen from Snow White, but with Maleficent, he perfected it.  Maleficent is everything you want in a Disney villain; larger than life, uncompromising, exquisitely designed, and able to command every moment of screen time she's in.  Even when Maleficent isn't present on screen, you feel her presence, especially in the fear that all the other characters live under because of her.  King Stefan wouldn't burn every spinning wheel in his kingdom, nor would the three good fairies live without magic for 16 years based on any idle threat.  They know what Maleficent is capable of and it terrifies them.  Maleficent certainly embodies these frightening aspects, but she is more than just that.  Her ethereal presence is also iconic in it's own right, and is often imitated.  No one commands attention better than her, and she is well aware of it.  She almost relishes the flair she puts into her speeches, often adding plenty of poetic flourish to them.  This was also enhanced by the ideal casting of veteran character actor Eleanor Audley to the role (who also gave chilling voice to Lady Tremaine).   Maleficent also set the standard for villain designs in future animated films, with her long black robes, staff, and horned headdress.  I've heard Jafar from Aladdin referred to as the male Maleficent, which is not necessarily an insult.  He even makes a monstrous transformation near the end, just like Maleficent, which is another trope that she pioneered, through her iconic transformation into a fire-breathing dragon.  So much of our concepts of what makes a great Disney villain can all be traced back to her, and that in a nutshell is why she earns the top spot as the greatest Disney villain of all time.
So, there you have my choices for the greatest Disney villains.  In some of these cases you see them make definitive versions of already established characters, or create profound portrayals of villainy from scratch.  But, regardless of origin, they all share the same aspect of being iconic symbols of evil within the Disney canon, and by that extension, within cinema in general.  But, why do we love these characters so much despite the evil that they do.  It's the same reason why we love Hannibal Lecter, or Darth Vader, or Hans Landa.  We are all attracted to great characters, and sometimes the best characters in any story are the villains.  We don't condone what they do, but we hold them in high regard because they brought out something fantastical in their selective stories that we respond very highly to.  It's something that occurred to me when I saw Rogue One last year, when I saw the last few minutes of the movie with Darth Vader.  While what Vader did in those few moments was horrifying (slaughtering a whole crew of soldiers) I found myself so overjoyed by the experience of seeing it, because I saw a return to form for the character that has been missing for years.  Essentially, I was happy that the movie stayed true to the darkness of the character and exploited that perfectly on screen.  For all these villains, they capture that same magnetic power that helps us to appreciate their selective stories even more, and helps us to enjoy the feeling hating a character so much that we love them for it.  That's the power that Disney villains have had over the years, and you can see that cross over into several generations.  When I attended this most recent D23 Expo, I can tell you that I saw far more people cosplaying as villains than heroes.  In story-telling, you need to balance the light with the darkness, and Disney perhaps has done too good a job making their darker characters stand out.  But, that's what makes their movies even better, so who can blame them for putting so much effort into making their villains so good.