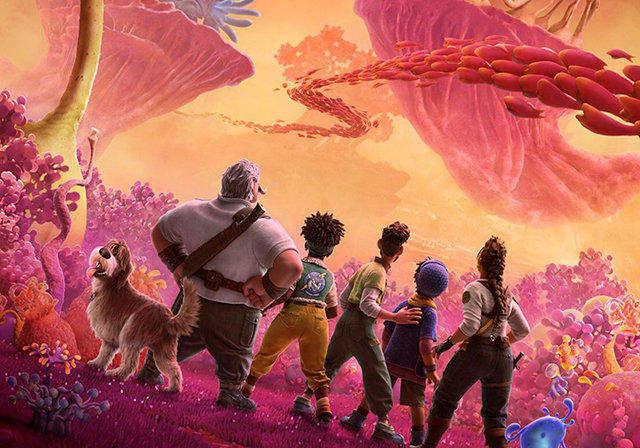 What a time for Disney Animation to release their new, 61st feature into theaters.  Just a week before the Thanksgiving Day weekend that has for many years been a major release period for the studio, Disney has seen a major shake-up at the top of their company.  Bob Chapek, the embattled CEO of Disney since 2020 is out and his predecessor Bob Iger is back in, just a few short years after he passed the baton over.  Disney certainly has weathered tough times before, but things certainly were a bit more chaotic during these last couple years, many of it completely out of the control of everyone within the company.  There certainly couldn't have been a worse time for new management to come in to the head office of the Disney company than the weeks before the outbreak of the Covid-19 pandemic, but that's where Disney found itself.  To Chapek's credit, he did the best he could to steer the company through those early months.  One of the key things that happened in that time was Disney Animation's move to shifting their productions to "work at home."  Spread between the animation departments of both Disney and Pixar, this shift enabled the company to continue working on their movies in the pipeline without having to succumb to costly delays.  On the production side of Animation at Disney, the company managed to continue working through the pandemic without missing a beat.  However, Chapek began to lose trust within the company as he cancelled planned theatrical releases for some of the animated films, particularly those made by Pixar, and moved them to streaming instead.  According to some at Pixar, these decisions were made without their consultation.  Chapek's short term profit motives over time ended up not stacking up as he hoped, leading to big quarterly misses in profits, and thus the Chapek era has come to a drastic and controversial end.  And all the while, Disney has to continue their roll out of new animated features, which have to stand out amidst all this corporate turmoil.
Releasing this weekend is Strange World, an action adventure film that marks one of the final movies made almost entirely at home during the pandemic.  Unlike Pixar Animation, Disney Animation has managed to continue releasing their films in theaters.  The first pandemic affected film, Raya and the Last Dragon (2021) received a hybrid release in both theaters where they were available and through premiere access on Disney+.  The next film, Oscar-winning Encanto (2021), received a full theatrical roll-out that saw modest box office before becoming a huge hit on streaming months later.  All the while, Pixar Animation saw three straight films, Soul (2020), Luca (2021), and Turning Red (2022) dropped straight to streaming without a full theatrical release like what Disney Animation was getting.  This led the Emeryville based studio to complain that the Burbank based studio was receiving favorable treatment, which may have led to some of the grumbling that contributed to the loss of confidence in Chapek.  Pixar did finally get a theatrical run this summer, but the film Lightyear performed well under expectations.  At the same time, rival studio Illumination managed to gross a billion dollars worldwide with their animated sequel Minions: The Rise of Gru (2022).  With the undervaluation of the Pixar brand during this pandemic, and Disney Animation also failing to reach their pre-pandemic levels at the box office, Disney for the first time in a while looks to be playing catch-up.  And this is after a decade that saw Disney go on a winning streak that included multiple billion dollar movies like Frozen (2013) and Zootopia (2016).  Which means that Strange World has to do some heavy lifting in order to convince Hollywood that Disney is still king of animation.  The question is, did Disney deliver another all time classic or is a movie that sadly is another victim of a company is disarray?
The movie Strange World takes place in the kingdom of Avalonia, a secluded land surrounded by high mountains.  The mountains have long been viewed as impassable, but that view is not shared by Avlonia's greatest adventurer, Jaeger Clade (Dennis Quaid).  Jaeger has mastered any challenge thrown his way, but passing through the mountains has been the goal that has eluded him.  He embarks on yet another expedition, but his son Searcher (Jake Gyllenhaal) refuses to go any further after making a discovery in the mountains of a unique plant based power source which he calls Pando.  Jaeger, determined not to give up on his dream of conquering the mountains leaves Searcher and the rest of the team behind and continues his trek.  25 years pass and Searcher Clade has developed a quiet prosperous life as a Pando farmer.  The cultivation of Pando has helped Avalonia progress into an advanced, technological society with flying vehicles and near limitless energy.  Searcher spends his days balancing life as both a farmer and a loving husband a father.  His wife, Meridian (Gabrielle Union) is an expert pilot, while Searcher is hoping to have his son Ethan (Jaboukie Young-White) follow more in his footsteps and take over the farm from him.  But their quiet life is disrupted when the president of Avalonia, Callisto Mal (Lucy Liu), who was once a fellow explorer with Jaeger Clade, delivers the troubling news of a mysterious disease that is affecting their Pando crop.  Searcher agrees to investigate with her, but orders his eager son Ethan to stay home much to the younger Clade's dismay, as he is hungry for an adventure of his own.  Of course, Ethan manages to sneak aboard their ship as they begin to examine a large sink hole that has emerged in their kingdom.  Not long after Searcher makes the discovery of his son's hitchhiking, they are attacked by strange looking creatures living in the cavern.  They manage to escape, but find themselves in an even stranger world where everything from the landscape to the vegetation is alive, and out to get them.  But there is more in this "strange world" than what they would have expected, as Searcher runs into someone who has been living in this world for years; his father Jaeger.
Strange World is certainly a departure for Disney, especially after what they gave us with the movie Encanto.  It's not a musical, and it's far more pulp adventure than fairy tale magical.  This is a disadvantage that Disney is going to struggle to overcome as it's contrary to their brand.  This is also especially difficult as Strange World is a high concept adventure film that is going to require a ton of world building that is not exactly easy to accomplish in a short amount of time that most animated features are allowed.  In the long run, this is where Strange World struggles the most.  It's a movie that spends too much of it's time building up it's world, and it works against the other things that are important to making a movie like this work, namely the story and the character development.  Truth be told, the world that is built in the movie is interesting and quite unique, especially among worlds seen in other Disney movies.  But, world-building does not connect if you don't have story and characters to make it come alive, and audiences will likely not care about how imaginative it is as a result.  In my opinion, I feel like the movie starts to lose it's world-building touch early, as the kingdom of Avalonia itself is not terribly interesting to begin with.  It's your generic steam-punk based culture with a Disney coat of paint.  The movie only becomes more visually interesting once it enters the "strange" sub-terrain world, but that's quite a bit into the story when we finally get there.  What I think also works against the movie is it's disjointed rhythm.  The movie has very abrupt tonal shifts, making it appear like the filmmakers didn't quite know how serious or comical they wanted to be with this movie.  It's probably why Disney has had better luck with their musical films, because there is tonal consistency with their stories.  All the while, despite feeling at times like a mess, there is still enough intrigue in Strange World that helps to prevent it from become a total embarrassment for Disney.
One thing that I do appreciate about the movie is that it is a big swing for Disney Animation.  The thing that I ended up being disappointed with on the movie Encanto is that it seemed too small in it's scope; which was especially disappointing for a movie that was the landmark 60th feature for Disney Animation.  Strange World by contrast aims higher, at least on a visual level.  Encanto may have been more consistent in tone, but Strange World is far more of an ambitious exercise in its visuals.  It just feels big in a good way.  Where I think the movie really hits its stride is in the final act, when we truly discover what is really behind the origins of this world that we've seen.  What I ended up liking is that it worked in an environmental message that feels organic to the story and contains a twist that actually is provocative in its allegorical connection to our own world.  It's where the story and visuals actually begin to connect in an effective way, and it works in service of the message as opposed to undermining it.  Working in an allegory about protecting the environment could have been easily mishandled and become very heavy handed, but here it feels earned, because it's a message that the movie didn't hammer into it's story early on, but instead let it appear organically as part of the story.  If the movie didn't have the abrupt tonal changes, which includes some rather jarring jump cuts, it may have made the message work even better.  That's what happens when high concept movies don't have enough time to immerse an audience into their world.  An animated movie like Strange World only gets 100 minutes at most to get the job done.  A fantasy film like The Lord of the Rings benefits from 3 hour plus run times that is more than enough to make an imaginative world feel lived in.  Disney ran into this problem before with the movie Atlantis: The Lost Empire (2001), another fantasy adventure that felt half-baked due to a short 90 minute run time.  Strange World fares a bit better by keeping the human story simple and the mythology not too dense.  But you can still feel the film struggle to manage it's various elements as it tries to become a cohesive whole.
The characters in the story are a good example of this movie being a mixed bag.  Some of the characters are wonderfully well-rounded while others are frustratingly simplistic.  One of the movie's brightest lights is the character Jaeger Clade.  You can really tell that  Dennis Quaid is having a blast playing this boisterous character.  Jaeger manages to be both the movie's best comic relief as well as its beating heart.  He's also the one character that feels truly original in this movie.  Most of the others are pretty archetypal by comparison. This is especially the case with Searcher, who just comes across as the typical try-too-hard dad type you see in countless other movies.  Jake Gyllenhaal gives a capable vocal performance, but Searcher is overall a very underwritten character that doesn't stand out very well, especially in comparison to the character of Jaeger.  A large part of the film's story centers around the father son story line that spans three generations.  It's one that is overly familiar, but not entirely done poorly by the film.  It's in the execution within the movie's final act that the plot device manages to actually pay off, with the conservative approach of Searcher and the radical approach of Jaeger with regards to parenting manifests in the approach that Ethan Clade takes to making a change in the outcome of the story.  Ethan overall is another character that is both interesting in concept, but perhaps a bit underdeveloped in execution.  He certainly is an important character with regards to representation in the Disney canon.  Not only is he mixed race, but he's also the first openly  gay character ever in a Disney animated film.  He's not coded gay or has his sexuality downplayed with a passing mentioned.  The movie does just enough to make it feel like a more important factor in the character's identity, but at the same time it also doesn't make too big of a deal about it either.  I especially like how all generations of the family are aware of Ethan's crush on another boy and it's treated as completely natural.  Unfortunately, Ethan also suffers from a bit of from being underwritten, and he doesn't stand out as well in the story as he should.  Jaboukie-Young White voice sounds a bit old for a teenager.  Beyond that, the rest of the cast is mostly passable or forgettable.  I do think Meridian Clade does manage to steal her scenes fairly well, with Gabrielle Union giving a lively vocal performance.  But, it's a largely mixed-affair when it comes to the characters in this movie.
One thing you can count on from Disney no matter what story they are telling is high quality animation.  Strange World does not disappoint on that front.  The character animation is acceptable enough, with a definite comic book flair given to their character designs.  Again, it's Jaeger who stands out the most, given that he's the most lively character in the movie.  The real jaw-dropping animation comes from the creatures that come from the sub-terrain world.  There is a reason why all the creatures look the way they do, but even with that knowledge there is incredible diversity found in the individual organisms that we see throughout the film.  One of the biggest standouts is an amoeba like creature that is given the name Splat.  Splat is a wonderfully animated non-verbal character that has to get a personality across purely through pantomime.  It's pretty clear that this was going to be the movie's most marketable character, but to the animator's credit he feels much more than a ploy to sell toys.  For a character with just a body and no face or discernible anatomy, he manages to convey personality through body language and that's a challenge that animators love to undertake.  The same care is also given to all the other creatures that populate the film.  One of the best experiences in this movie is seeing how this unique ecosystem functions in harmony with all these living creatures.  Big creatures and small have their own function to play, and it's fascinating watching how it all works on screen.  This is where the world-building actually comes across effectively in the movie.  The film's use of color is also fantastic to look at.  They make amazing use of organic yellows and pinks in the "strange world" which contrast with the natural greens and blues of the kingdom of Avalonia.  The worlds of this film are certainly the biggest asset that the movie has, and it's good to see the Disney animation team use their talents to their best ability in making them feel refreshingly alive.
It's likely going to be a rough road ahead for Strange World at the box office.  With the corporation going through its own turmoil, it seems like more people are more interested in that drama than what Disney's putting on the big screen.  It's likely Strange World will nit change Disney's current fortunes, but it could live on beyond its box office performance.  We've seen over time that Disney movies tend to have long legs in home entertainment, Encanto's dominance in streaming being the most recent example.  Strange World unfortunately has too many shortcomings when it comes to story to make it stand alongside the very best from Disney.  At the same time, there is some appreciable animation found in this movie that makes it at least a visual feast worth checking out.  I do appreciate that Disney is not over relying on formula and falling back on fairytale musicals.  It's a gamble, and one that doesn't entirely work, but at the very least it's original.  I'll gladly take this over another Frozen sequel, and this movie is certainly light years better than Frozen II (2019).  I'd even say that it's a more daring film than most of Disney's recent offerings, but one that maybe outreaches it's abilities.  As a film on it's own divorced of it's place in the whole of Disney history, I'd say it's a perfectly fine animated film that presents some interesting ideas and an inspired imagination.  I also appreciate what it's doing with regards to representation, especially for LGBTQ community, which really needs Disney as a steadfast ally in the culture.  My worry is that some people will label this movie as a failure because of it's spotlight on queer representation and not because of Disney's lackluster marketing of this film.  There is going to be a lot of talk about this movie, and sadly most of it will not be centered around the actual merits of the movie itself.  Strange World  is a valiant attempt doing something different, but it suffers from a uneven execution and unfortunate timing in it's release during a wild time in the corporation's history.  If you're looking for something different and challenging from Disney Animation, you could do much worse than this, but those looking for some of that Disney magic making a grand return may just have to wait a bit longer, likely when Disney returns to it's comfort zone of traditional musical entertainment.
Rating: 7.5/10