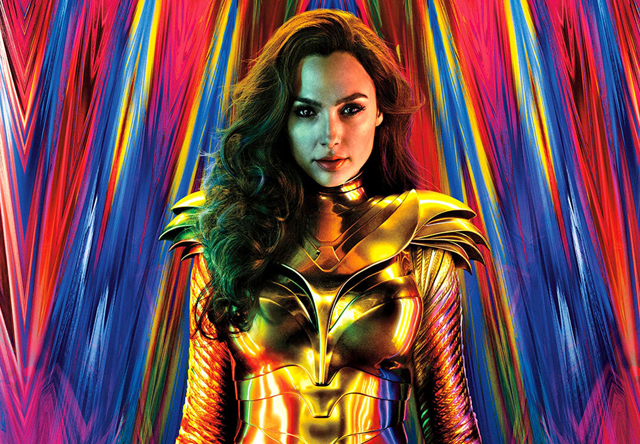 I get the feeling that we're going to be giving movies that came out in the year of 2020 a special distinction in the years to come.  Given the upheaval that happened in the industry this year due to the pandemic, the fact that any movie got released this year (especially those on the big screen) is kind of miraculous in itself.  We saw an unprecedented number of movies move off of their release dates this year due to the sudden closure of movie theaters across the country, and for the big multi-million dollar franchise films, it became increasingly difficult to find a safe place to land.  Given the current landscape of the theatrical industry, we are unlikely to have a blockbuster sized hit on the same level that we saw over the last decade.  The lackluster box office performance of Tenet (2020) proved that back in September.  And given that studios have been spending so much on the budgets for these movies, expecting billions in box office returns to justify their investment, it's leading to a reckoning within the industry that I think many of them were not expecting to confront so soon.  We saw some of that play out this past few weeks with Warner Brothers controversial choice to release their entire 2021 slate of movies on streaming at the same time as theaters.  This angered many within both the production and theatrical side of the business, seeing it as a clear threat to the long term future of the big screen experience.  No doubt, the ramifications of the move are going to effect the way that Hollywood does business for the next decade, with streaming taking on a heavier role in distribution, and if the end of the year is any indication, we may see the first real sign of what the future will look like.  This weekend, two of the major studios have used this Christmas weekend to try out the different modes of streaming distribution that have come about because of the pandemic.  One is Disney releasing their brand new and highly anticipated Pixar film, Soul (2020), on Disney+ with no extra surcharge to subscribers, while the other is DC's new super hero blockbuster Wonder Woman 1984 (2020), releasing in a hybrid premiere in theaters and on WarnerMedia's HBO Max streaming platform.
Wonder Woman 1984 was perhaps one of the most difficult movies to find a new home for in this pandemic year.  Originally slated for a June release, the movie moved twice into October and then finally to it's Christmas Day premiere.  Many were even speculating if it could even meet that mark, given the fact that the pandemic is reaching an all time high during the Holidays.  In the end, Warner Brothers still made Christmas the final landing spot for their eagerly awaited sequel, which was probably very much needed, as their 2021 calendar was already crowded and pushing Wonder Woman back any further would have complicated things even more.  The unfortunate reality of the pandemic lasting far longer than anyone hoped is that even putting the movie out on the usually reliable Christmas season didn't guarantee box office big enough to offset the cost of the movie's production.  So, the decision was made to give the film the hybrid release on both streaming and in theaters, with parent company AT&T hoping that the increase in subscribers on HBO Max could help make up for the expected lower theatrical returns.  Director Patty Jenkins, returning from her celebrated helming of the original Wonder Woman (2017), had long held out that she preferred a theatrical run for her movie, but given that such a move is impossible on a large scale right now, she reluctantly approved the hybrid release for the movie in the end.  However, she did so as a promise from Warner Brothers that it was a temporary measure given the climate of the market at the moment.  She didn't know that Warner Brothers would take Wonder Woman 1984's release model and apply it to all future film premieres moving forward.  Naturally, this did not sit well with Patty and she added her voice to all the other aggrieved filmmakers affected by Warner's rash decision.  Regardless, depending on what's available to customers across the country, we now are able to watch Wonder Woman 1984.  The question remains, does it retain the wonder of the original or did it lose it's spark too quickly.
Taking place in between the World War I setting of the original Wonder Woman, and the events in which we see her take part in the Justice League (2017), Wonder Woman 1984 finds Diana Prince (Gal Gadot) aka Wonder Woman, living comfortably at home in the mortal world after leaving her Amazonian homeland behind.  She works at the Smithsonian in Washington D.C. as a curator of antiquities, but in her spare time, she discreetly helps save citizens as the friendly neighborhood super hero.  One day, a mysterious artifact ends up in her office from Latin America, which immediately garners interest from Diana and her newest colleague, Barbara Minerva (Kristen Wiig).  The two soon find out that the stone, when held in their hand, has the power to grant wishes.  Barbara ends us using the wishing stone to make her more like Diana, both in beauty and in power.  Diana on the other hand sees her wish granted without every knowing how she made it in the first place.  She wished to see the boyfriend she lost in World War I, Steve Trevor (Chris Pine) once again, and suddenly she bumps into a stranger who miraculously has all of Steve Trevor's memories.  Though he is living in another man's body, Steve appears to Diana as the man she remembered, and she realizes he dream wish has come true.  But, over time she learns that every wish granted has a price, and the more wishes made, the higher the cost.  That's the dilemma that soon rises once a wannabe oil tycoon named Maxwell Lord (Pedro Pascal) takes possession of the stone.  Soon he gains the power to grant wishes to millions of people across the world, which only makes him more powerful, and a serious threat to the stability of civilization.  Once Wonder Woman discovers the truth behind the stone's magic, and the true cost of having wishes granted to everyone, she has to make the difficult choice of either keeping Steve Trevor in her life again, or sacrificing her happiness in order to save the world.  All the while, she has to contend with an even more dire threat as Barbara Minerva grows more powerful, ultimately becoming a foe by the name Cheetah, that stands between Diana and stopping Maxwell Lord.
When Patty Jenkins undertook the role of director for the big screen debut of Wonder Woman, it was marked with a lot of obstacles in her path.  Never before had a major studio given a project of this size to a female director before, let alone a Super Hero movie.  At the same time, Warner Brothers and DC were being widely criticized for making Super Hero films that were too dark and depressing, and were generally considered to be out of character for the comic book nature of their source material.  But thankfully, Patty Jenkins, who up until that point had only had one other theatrical film on her resume (2003's Monster), not only excelled at delivering a big hit with Wonder Woman, she also broke new ground for female filmmakers everywhere.  She proved that yes, a woman can direct an action adventure, super hero movie just as well as a man, and her incredible work even made a sea change in tone and character for all the DC movies that followed.  The same exceeded expectations were also reflected in the performance of Gal Gadot as Wonder Woman.  Once an unknown actor/model in Hollywood, Gal took the opportunity given to her with the part and has become a full blown movie star as a result.  To many people, especially among younger fans, she has embodied the character of Wonder Woman completely and in many ways, she has put to shame many naysayers who thought casting her initially was a mistake.  Because the original Wonder Woman was such groundbreaking hit, a lot of pressure was put on both Jenkins and Gadot to do it all again.  There were two ways that they could have chosen to have gone; either delve into darker territory, reminiscent of the more dramatic moments of the first movie, or go more towards the sillier side of the character that is reminiscent of her comic book origins.  In my opinion, I'm quite glad that they chose the latter.  One of my worries for a sequel to Wonder Woman was that it would just repeat what we already saw before.  The first film was not without it's lite moments, but it generally took a very serious approach to the character, putting her in a war time setting.  Wonder Woman 1984 thankfully is a departure that embraces a far more different tone that helps to set it apart.  And in that respect, I think it makes this the best possible sequel that we could have asked for.
I think for many, the change in tone might be off-putting to those used to the seriousness of the first Wonder Woman.  But I really don't think that tone would have carried over from one film to another.  For one thing, the time period is very different, and I think that director Patty Jenkins wanted the movie to reflect that change.  Where the original was a gritty war film in the vein of Saving Private Ryan (1998) or 1917 (2019), Wonder Woman 1984 is very much grounded in the quirkiness of the 1980's cultural zeitgeist.  In particular, I believe Jenkins is channeling inspiration from 80's rom coms that had a supernatural twist like Mannequin (1987) or Weird Science (1986).  That tone would feel out of place for any other super hero story, but not Wonder Woman.  The character has always reflected a colorful flamboyance that ran alongside the harrowing action adventure within the comic books, and I think that this is what Jenkins wanted to bring in this second outing.  And, for the most part, I found myself enjoying some of that 80's cheese sprinkled throughout the movie, because it really is something unique that I haven't seen embraced in many other super hero films of this type.  The differences between the movies felt very reminiscent of the differences between the first Thor (2011) and Thor; Ragnarok (2017), where the series transitioned from serious to silly, without losing the core essence of the character.  Not that WW84 removes every super hero trope either.  There are still some incredible action set pieces throughout the movie too, including an incredible chase through the desert where it seemed like Patty Jenkins was drawing even more inspiration from other iconic 80's movies like Raiders of the Lost Ark (1981) and The Road Warrior (1982).  I think the fact that the movie clued it's audience in to what kind of movie it would be very early on helped me to buy into the conceit of it's tone right away and allowed me to enjoy the ride from then on.
I think another thing that helps the movie find it's footing is the fact that Gal Gadot remains consistent from movie to movie.  We can still buy that this is the same heroine that walked into No Man's Land and almost took down the opposing force single handedly, but it's also believable that she has changed over the years as well.  Her Amazonian heritage prevents her from aging like the rest of humanity, but that same power also leaves her isolated.  She can't reveal her true power to anyone, so she can't make any long term friends.  That's why her dilemma feels so conflicting in the film, because we want her to finally be happy and fulfilled, but we also know that in doing so it would prevent her from being the hero she must be.  Gal Gadot embodies every aspect of the character perfectly, from the shining heroic battles to the more personable, vulnerable moments.  There is an especially pleasing early sequence in a mall where Wonder Woman takes down a group of thieves, and Gal makes Wonder Woman look like she jumped right off the comic page in a glorious way.  It also helps that she has incredible chemistry with Chris Pine, whose return here is very welcome.  Some might find the way that he makes it back into the film to be a bit of a stretch, but given how on board I was for the cheesiness of this movie, I accepted it, and he brings a lot of extra charm to the movie.  One big surprise to me was Kristen Wiig in the role of Cheetah.  When I initially heard about her casting, I was worried, because all I could think about was the many oddball characters that she has played on Saturday Night Live and several other movies.  But, to my surprise, she actually holds her own in the movie, and brings a surprising amount of depth to the character and even a little menace at times, especially towards the end.  Pedro Pascal's Maxwell Lord is a bit of mixed bag.  There are times when his performance is especially strong, particularly when the toll of granting wishes begins to physically affect him, but there are also moments when he goes a little too overboard.  He's clearly a representation of Reagan era hucksters that dominated the media at that time, with elements of Gordon Gecko and Donald Trump sprinkled throughout.  But, other times, I was hoping for a little more of the subtlety that I've seen Pedro give in other roles like in The Mandalorian.
Honestly, if I were to find a flaw in the movie that holds it back from being among the best Super Hero movies of all time, it would be the fact that it's trying to tell too much story all at once.  In particular, it does the same mistake that a lot of other movies like Batman Forever (1995) and The Amazing Spider-Man 2 (2014) have made, in that it gives us one too many villains in a single movie.  Both Maxwell Lord and Cheetah are iconic adversaries of Wonder Woman from the comic books, and both could carry a movie on their own.  The fact that they have to share time within the same story in a way robs the impact of one from the other, especially in Cheetah's case.  Now, Wonder Woman 1984 is a way better movie than the other examples that I just gave, but it still succumbs to the same fault when it comes to building up the villainous threat for the hero to face.  I would have much better preferred to have an entire movie devoted to Wonder Woman vs. Cheetah instead of a late third act showdown that we ultimately receive.  The film is also very long too, running almost 2 1/2 hours, and unlike the first movie, a lot of the movie is padded by filler.  A lot of it is still good character building moments, like a sweet montage of Diana showing Steve all the wonders of 1980's America, but ultimately there could have been a good twenty minutes or so of the movie that could have been trimmed and nothing would've felt lost.  At the same time, I do feel that the movie ultimately holds together by the time it reaches it's end, and it leads to a surprisingly uplifting finale that remains true to the character.  The biggest problem with the first Wonder Woman is that it lead up to a convoluted final act that felt out of character with the rest of the movie, especially falling short of that now iconic No Man's Land sequence earlier in the movie.  WW84 thankfully doesn't fall into that same lackluster ending, and overall it remains consistent.  Like the original, it has it's pitfalls (maybe a little more than the first) but it still maintains a thoroughly enjoyable experience throughout.
One thing that really helped me enjoy the movie a bit more than I probably would've otherwise is that I managed to see it on a big screen.  Four walled theaters are still closed here in Southern California where I live, but the few Drive-Ins working in the area did have the movie screening, and I gladly drove myself well outside of town to take that opportunity.  I could've watched it at home on HBO Max, but for a movie like this, nothing less than a big screen experience would've sufficed for me, and it was well worth the effort.  Wonder Woman 1984 is a big screen movie, no doubt about it, and it's unfortunate that it's premiere comes at a time when going out to the movies is not so easy for everyone, and even dangerous for others.  I really wish I could've seen this on a big IMAX screen, but the Drive In I went to, the Mission Tiki in Montclair, CA, had a big enough screen to make me feel satisfied with what I was watching.  Wonder Woman 1984 succeeds more than anything else at being a fun romp with an epic sized budget behind it, and honestly after a year like the one that we had, it was just nice to experience a quirky popcorn film like this again.  My hope is that theatrical market will come back in some fashion, and that movies like this can be able to thrive once again.  Sadly, we are looking at a future where the hybrid release model is going to be more relied upon by the studios, and it may even be here to stay depending on how well Wonder Woman 1984 does.  We'll see how that drama plays out into next year, but in the meantime, I applaud Patty Jenkins and Gal Gadot for holding true with the entertainment potential of the Wonder Woman movies.  Wonder Woman 1984 certainly is no where near the greatest movie of this genre, and it may lack the initial legacy impact of the original, but it still is great entertainment that we desperately need in a time like this.  If you are able to, with all the safety protocols in place, I recommend seeing it on a big screen, but if you choose to stream it, that's fine too.  We need a prosperous future for fun, audience pleasing movies, and if we give Wonder Woman 1984 a successful run on both ends, things could really indeed turn out to be wonderful at the movies again.
Rating: 8.5/10