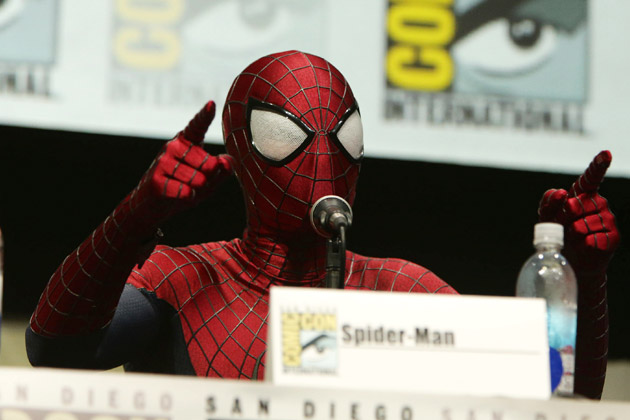 This is no ordinary corporate showcase.  In the last decade or so, San Diego Comics Convention (SDCC), or its more commonly known name COMIC CON, has become a full-fledged festival for the whole of Nerd-Dom.  Not only is it a great place for fans to encounter their favorite artists and filmmakers in person, but it's also a great place for Hollywood to showcase their tent-pole productions to an eager audience.   In all, its a celebration of all forms of media, where the experience of the presentations and panels can often overshadow the actual products themselves. But, while everything is all in fun at Comic Con, the business end is what matters the most on the actual show floor itself.  As with all conventions, Comic Con is geared toward marketing.  Big studios and publishers get the most attention in the media coverage of the Con, but SDCC started with the small vendors and they continue to be part of the backbone of the whole show.  For everyone involved, there is a lot at stake in these four packed days in mid-July.
Up and coming artists, journalists, and filmmakers are just as common amongst the visitors as they are among the headliners, and the mingling of different talents defines much of the experience at the Con.  While many people get excited by the surprises on hand, that excitement can sometimes have difficulty extending outside the walls of San Diego's Convention Center.  Marketing to a crowd of fans is much different than marketing to a general audience.  I believe Comic Con works best as a testing ground for marketing strategies in the bigger push of selling a project to the world. Sometimes, a lot of buzz can be generated with a surprise announcement or a with a well placed tease.  One clear example of this at Comic Con this year was the surprise announcement of a Superman and Batman movie coming in 2015.  The announcement was a bombshell for the fans who witnessed it live at the convention, and that extended to a media blitz that spread quickly through all news sources that same day.  This surprise effectively gained needed attention for a project that has only been in the planning stages so far.  Where the risk lies is in the effectiveness of this kind of moment, and there can be no more unforgiving audience than one made up of nerds.
Many of the big studios have figured this out over time, and the planning of their showcases at Comic Con are almost as intricate as the projects they're trying to sell.  One thing they have certainly learned is that Comic Con patrons are extremely discerning, and are often even more informed about the different projects than the talents involved.  There is a fine line between excitement and scorn within the fan community, and if you fall on the wrong end of that line, it can be brutal.  Comic Con is all about fan service, which is no surprise to everyone.  This year in particular, there were more instances of stars making appearances in costume than ever before.  As you can see in the photo above, Spiderman was there to address the audience in person, which was a special treat considering that the film's star, Andrew Garfield, was the one behind the mask.  Avengers villain Loki also showed up to introduce footage from the upcoming Thor sequel, with actor Tom Hiddleston completely in character the whole time.  All of these moments make the live presentations far more entertaining, and that in turn helps to make the audience even more enthusiastic about the upcoming films.  Comic Con is a place where theatrics meets commerce, and where a a well made sales pitch can turn into a fanboy's dream come true.
Given that SDCC started as a showcase for comics, its no surprise that Marvel and DC are the ones who put on the biggest shows; and are the ones who connect to their audiences better than anyone else, through all their experience.  But more recently, the showcases have steered away from the printed page and have been more focused on the silver screen.  Its not that Comic Con has abandoned the medium that started it all; print comics still have a place on the convention floor. It's just that the movie industry is bigger and more involved, and have seen the benefits of marketing at the Convention.
With production budgets rising, Comic Con has become more important than ever as a way to generate enthusiasm for film projects; even ones that have trouble getting attention.  Several years ago, Disney made a surprise announcement at Comic Con that there was a sequel to their cult-hit Tron (1982) in the works, which was highlighted by a teaser trailer.  Little was known or talked about with the project, and Disney wasn't quite sure if the project would go anywhere past Development, so the trailer was made as a way to test the waters.  The reception they got was overwhelming, especially when it was revealed that the original film's star, Jeff Bridges, was involved and production went full steam ahead afterwards.  Few expected a Tron sequel to be newsworthy, let alone the hot topic of the conversation at the convention, but Disney showed that year what a simple surprise could do to generate excitement.  Since then, surprises have not only become more frequent, but now they are expected.
That leads to some unforeseen consequences sometimes in a high stakes venue like this.  When the audiences are expecting a surprise to happen at any moment, it puts even more pressure on the marketing teams to deliver the goods.  There have been many cases when a production company ends up promising too much and then fails to deliver.  A couple years ago, Guillermo del Toro teased the crowd at a Disney presentation by revealing his involvement in a new Haunted Mansion film, which he promised was going to be more spiritually faithful (no pun intended) to the original Disneyland ride than the Eddie Murphy flop had been.  It was an exciting announcement at the time, but several years later, almost nothing new has been heard about the project, and with Del Toro taking on more and more new projects, it's becoming more obvious that this particular project is probably not going to happen.  Other broken promises have included several announcements of a Justice League movie, including one that is currently out there now and remains to be seen; or news that TV-scribe David E. Kelley was going to give Wonder Woman a new TV series, which led to a disastrous pilot episode that never got picked up.  This is why production companies need to show good judgment when they present their projects at Comic Con.  Once you make a promise, you have to commit.  If you don't, no one will take those promises seriously, and the whole aura that a Comic Con surprise makes will stop working.
In many ways, Comic Con has become a more favorable place for television than film.  TV shows like Game of Thrones, The Walking Dead, Dexter, and Doctor Who can benefit from all the same kinds of media buzz that a theatrical film can get at the Con, without having the pressure of marketing a massive project with a $250 million budget; although TV budgets are rising too. Comic Con isn't the only platform for marketing a film, but it's certainly one of the biggest and the stakes are getting higher.  In a year like 2013, which has seen numerous under-performing films hitting theaters this summer, the pressure is on when it comes to getting the message to resonate beyond the cheering fans in Hall H.  I don't envy the people behind the Comic Con presentations one bit, because they have so much resting on their shoulders.  And when you're dealing with a fan-base as well informed as those in the fan community, it's a wonder how they can keep the surprises coming.
I should note that I have yet to attend Comic Con myself.  My observations are from an outsider's perspective, though I do follow the live news coverage of the conventions every year with great anticipation.  I hope to someday see it for myself; just to take in the experience of seeing the whole carnival-esque atmosphere of the place.  I'm not sure if I'll attend it in costume like all the cosplaying regulars there, but then again, "when in Rome…".  Overall, there's no doubt that Comic Con is one of the most important institutions we have in our media culture today, and it will continue for many years to come.  There are Comic conventions to be found across the world over, but this is the grand-daddy of them all, and no other convention has this kind of influence on the film industry in general.  Plus, where else are you going to see cool stuff like this: