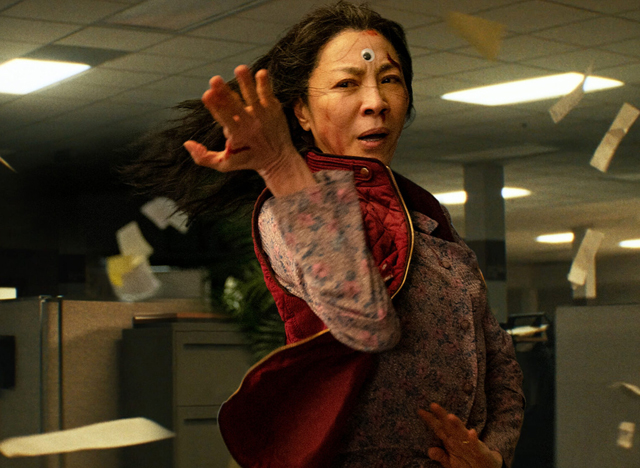 Since the rise of the independent cinema over the last 30 or so years, there have been a number of labels that rise up from obscurity to become major players in the market of films, especially when it comes to awards and acclaim.  These independent movie houses often start out as distributors for films that make a lot of noise coming out of the film festival circuit, and over time they have established themselves well enough to become a mini-major studio in their own right, capable of producing films in house.  Each decade sees a significant rise in brands that suddenly become staples in awards season, though their rise often is followed up by a steep fall.  In the 80's, Orion Pictures became the most successful distributor of award winning films, including Best Picture winners Amadeus (1984), Platoon (1986), and Dances With Wolves (1990), only to go bankrupt while their fourth Oscar winner The Silence of the Lambs (1991) debuted in theaters.  Emerging in the 90's was the Weinstein Brothers backed Miramax, with their awards favorites like Pulp Fiction (1994), The English Patient (1996) and Shakespeare in Love (1998).  At the turn of the millennium emerged Dreamworks, a new studio formed by industry heavyweights Steven Spielberg, Jeffrey Katzenberg, and David Geffen, with movies like American Beauty (1999) and A Beautiful Mind (2001).  And though it was bankrolled by a mega corporation, Netflix as a film producer also emerged in the 2010's to change the game within the industry.  And that's what unites all of these independent producers together; they were the ones changing the direction of the industry by their curating of rising talent and fresh ideas.  These studios also built their brands to be synonymous within the industry with a certain level of quality, and this was often what led to the choices of films they sought to either make or distribute.  Other independent studios have followed in the same steps as those of the past, but as we go further into 2020's, one independent studio has remarkably emerged in a way that few industry insiders may have expected, and it's leading Hollywood into a very peculiar new path.
A24 stands out amongst all of the independent studios both past and present mainly due to the kinds of films they have chosen to attach their name to.  The "A" in their name could easily stand for atypical because that's often the best way to describe their catalog of movies.  They are not producers of gritty realist dramas like Orion, or a mixture of auteur driven statements like Miramax, or socially conscious historical epics like Dreamworks, or expensive passion projects like Netflix.  A24's brand is about finding the most unique films out there and getting them seen, no matter how outside of the box they are.  When you see that A24 logo pop up on the big screen, which often appears in clever movie specific variations during the trailers, you just know you're going to see something new and different, and even a little strange.  That has been the brand they have developed for themselves over their last decade of existence and it has worked out pretty well so far.  So much so, they are now finding themselves not only awards contenders, but the overall leaders in the race this year, with more nominations for this year's Oscars than any other producer.  Though the decade is still young, it can be safe to say that they are the most valuable brand in the industry right now, and the ones that are beginning to shape the direction of the industry.  This is evident by the dominance of their top awards contender this year, Everything, Everywhere, All at Once (2022); a movie that likely would've flown under Hollywood's radar if it came out 10 years ago or more, but now is garnering unparalleled attention for a movie that is quite frankly outside of the Hollywood norm.  But, how did A24 manage to achieve this while still maintaining their mission to seek out the strange and genre-bending in both their in house productions and in their acquisitions.  In many ways, it all comes down to the awareness of what an audience is looking for.
A24 was founded in 2012 by the trio of Daniel Katz, David Fenkel, and John Hodges.  The industry professionals had all worked in various other positions within the industry, but they joined together with the goal of finding movies that fell outside of the norm and give them a spotlight with their collective expertise in marketing and distribution.  Initially, they were just a distribution label, collecting films from festival circuits, often the ones that other independent distributors found too strange to spend their money on.  For A24, these outsiders were the movies that they were confident they could find an audience for, and all it took was connecting the right audiences to the right movie.  In their first year, they managed to find surprising success with the Harmony Korine film Spring Breakers (2013).  Korine's movies have often been too controversial for Hollywood or mainstream audiences, like Kids (1995) and Ken Park (2002), but Spring Breakers ended up finding a mainstream audience thanks to A24, because they successfully marketed the movie to the right audience; namely college kids.  Korine's art house film suddenly became a must see movie for college audiences who, as you would guess, identified with the culture that was depicted in the film, even if it was showing the darker side of Spring Break festivities gone awry.  Though modest, it still showed that the A24 model of seeking the weirdest movies and targeting them to the right audience could be a profitable model to base their studio's mission on.  And it was something that helped them to quickly rise in esteem within Hollywood.
Perhaps the year that marked A24's arrival as an important player in Hollywood would be 2017, because that was the year that they pulled off one of the biggest upsets in Academy Awards history.  Only two years into the game, A24 did manage to gain Oscars attention right away.  In 2015,they had a nominee for Best Picture with their Toronto International Film Festival champion Room (2015).  The movie would go on to win a Best Actress award for Brie Larson, but it lost out to Spotlight (2015) for the top award.  The story would be different a year later.  A24 would again be in the Best Picture race with their critically acclaimed queer themed drama Moonlight (2016), but that film was up against a juggernaut called La La Land (2016).  As the latter kept sweeping up awards throughout the night, the inevitable seemed certain.  But, when the final award of the night was announced, even a mix-up passed by without raising an alarm.  Of course what ensued was one of the craziest moments in Oscar history as the wrong card was read for Best Picture, and Moonlight had indeed pulled the biggest upset in Oscar history.  In a way, A24's first Best Picture win seemed destined to be as chaotic as it was, because it is on brand for them.  But indeed, Moonlight put A24 on the map in Hollywood, and they have been a fixture at the Oscars almost every year since, with movies like Lady Bird (2017) and Minari (2020) being some of the standouts.  But now they have gone from Oscar spoilers to Oscar front-runners with their latest Everything, Everywhere, All at Once leading all other contenders.  Whether or not it can translate into an Best Picture win is still yet to be seen, but it's definitely another sign of how far A24 has advanced over the year.
So what has turned A24 into this success story.  One thing that has worked in their favor is having the right kinds of movies and getting them to the right audiences.  Their awards bait fare certainly has the right ingredients to grab the attention of voters, but their other movies that fall outside of Awards season also do their part to connect with the ideal kinds of audiences.  Where A24 has really built their brand the most successfully is with horror movie audiences.  They emerged at the right time when horror fans were growing tired of the slasher flicks and gore fests that were flooding the market over the last few decades.  Most horror films during that time were pandering and often regurgitating old franchises that had long worn out their relevance.  Horror fans wanted to see movies that were challenging and unique again.  A24 found this as a perfect avenue to seek out strange and unsettling horror flicks that could fill that need for new ideas into the genre.  One thing that really distinguished A24 horror flicks was their often more tempered pace.  Their movies didn't rely on jump scares or buckets of blood, but instead built their horror around atmosphere and unsettling themes.  One of their most famous horror flicks to date is also one for their first in-house productions; the Ari Aster directed Hereditary (2018).  Hereditary showed that a horror movie could be terrifying without cheap tricks like jump scares, and instead have building tension, disturbing imagery, and unforgiving atmosphere be the driving force behind the horror; not to mention incredible performances helping make all that believable as well, including the criminally overlooked Toni Colette.  Aster continued that atmosphere driven horror with his follow-up, Midsommar (2019), another A24 production, and you can see a lot of the studio's other horror movie output following the same pattern.  Other unconventional horror movies like Gasper Noe's Climax (2019), Robert Eggers The Lighthouse (2019), and Ti West's Pearl (2022) have all shown many different faces of horror that has greatly helped to diversify the meaning of horror in recent years, and similar to their like minded horror competitors Blumhouse, they have shown you don't have to throw a ton of money towards horror movies in order to make them more horrific.  Like with all of A24's movies, it's about making movies that are unique, and that drive for uniqueness has helped to make A24 one of the drivers of contemporary horror.
One of the keys to their success has also been in their dedicated working relationship with some of the most unique filmmakers in the business today.  Here is also where their rise in the horror genre has been valuable to their overall brand.  People like Ari Aster and Robert Eggers continue to return to A24 because they know that the studio will gladly put their money behind their oddball ideas for movies.  I'm sure that Robert Egger's The Lighthouse would've been a very hard sell to any other production company in Hollywood; a black and white character study set on a remote island with two loners growing increasingly insane as they tend to a secluded lighthouse.  And yet, it's a movie that is on brand for A24.  It's not just among horror filmmakers that they have found committed creative partnerships.  Another auteur filmmaker that has collaborated frequently with A24 is David Lowery.  Lowrey's filmography is interesting because of how frequently he changes up genres.  His two films with A24 are A Ghost Story (2017) and The Green Knight (2021) and they couldn't be more different in genre and story, and yet fit very much in the director's own style.  It's also interesting that Lowery's time with A24 coincides with another unexpected creative relationship he has with Disney, as he's directed Pete's Dragon (2016) and the upcoming Peter Pan & Wendy (2023) there, again while still maintaining his own unique voice.  A24 is a film company where a little bit of risk is welcomed on the creative end, and that's what's helped to attract filmmakers who want to work outside of the Hollywood norms to their label.  They are definitely finding out that curating talent with outside the box ideas is a good strategy for them right now, as The Daniels (Kwan and Scheinert) have presented them with their biggest hit ever in Everything, Everywhere, All at Once.  And it was a wise choice to keep them involved with A24 after their first film, which was also unusual; Swiss Army Man (2016), which featured Daniel Radcliffe playing a farting corpse throughout the whole movie.  A24 managed to miraculously connect that film with an audience, and they reaped the reward of that investment as they secured The Daniels as an exclusive partner in what may now be an awards season juggernaut.
So, can A24 manage to continue staying on top like they are now, or will they inevitably decline like Orion, Miramax, and Dreamworks behind them.  For the first year ever, their output of in-house productions exceeded their distributed titles that they acquired in the festival market.  They are now not just a seeker of unique movies, they are the makers of them from the ground up.  But, growth is difficult to maintain long term.  It's going to really depend on how much bigger A24 plans to get.  What kinds of movies do they plan on making in the years ahead.  Thus far, their movies have remained relatively modest in terms of their budgets.  Even movies like Everything, Everywhere, All at Once that are ambitious in concept have been made on relatively small budgets.  Is A24 ready to make bigger films; some in the range of $100 million per budget?  No plans for those kinds of movies are in the pipeline now, but A24 is planning on broadening their reach into a variety of different genres, each reaching a different kind of audience.  Last year, they put out their first ever G-Rated movie with Marcel, The Shell With Shoes On, and while it may be too weird of a movie for young audiences, it nevertheless shows that they are willing to make a movie appropriate enough for all audiences.  They are also starting to develop more documentary films as well, lending their brand to a selection of non-fiction filmmaking that likewise also fits outside of the norm.  One thing that has also benefitted them over the years is their forward thinking distribution deals with big streaming platforms.  They started off with DirectTV and Amazon as their go to streamers, but an exclusive deal with Apple in 2018 marked a new phase that has helped them secure funding for a number of projects, including co-productions with Apple just for the Apple TV+ platform.  Things could certainly change, and A24 may lose out their status as a driver of the industry, but there is no doubt that they know what they are doing in this moment, and that's building an expectation when you see the name A24 on a new film or television show.  They have curated a brand, one that is an indicator of quality built the atypical, and it's something that they are hopefully going to try to live up to in the years ahead.
What is really interesting about A24 in the grand scheme of things with independent filmmaking is that they've managed to build a brand for themselves with the kinds of movies that normally wouldn't survive elsewhere in the market.  There are some movies out there that are just hard to sell to executives and even more difficult to market to a wide audience.  And yet, A24 has managed to make these types of movies work for them over and over again.  Sure, they've wisely avoided movies that are way too big for their modest budgets, but the movies that they have put forward are still no less ambitious in their own way.  The A24 marketing team seems to be especially skilled in knowing exactly how to market the unmarketable, and get people excited for things as strange and challenging as Swiss Army Man, The Lighthouse, or The Safdie Brothers' Uncut Gems (2019).  There are up and coming filmmakers out there that are crafting what they see as an A24 style film in the hopes that the open-minded studio will consider their project.  Perhaps the fact that there is a concept of an A24 film buzzing around the industry that may help to keep the studio relevant for some time.  A24 doesn't need to grow beyond their means like Miramax and Dreamworks have in the past.  Their brand is being atypical to the Hollywood machine, and that enables them to remain defined by modest films as long as they still exhibit a sometimes unusual quality.  To A24's benefit, the rest of the film industry is taking notice of this, and rewarding the studio with a whole lot of accolades and awards.  It's also making studios reconsider what an Oscar-worthy movie is now; it's no longer the star-studded serious minded drama, but rather the movie that demands recognition for defying the standard conventions.  It might just be A24's time right now, and their style is clicking with both the industry and audiences, but if they continue a commitment towards curating new and fresh voices for years to come, it might be the key to their longevity.  We'll see how well that plays out at this year's Oscars, but for now we know that when that A24 logo shows up on the big screen, something bold and unusual is about to follow, and that's helping to set an example that hopefully changes Hollywood for the better.