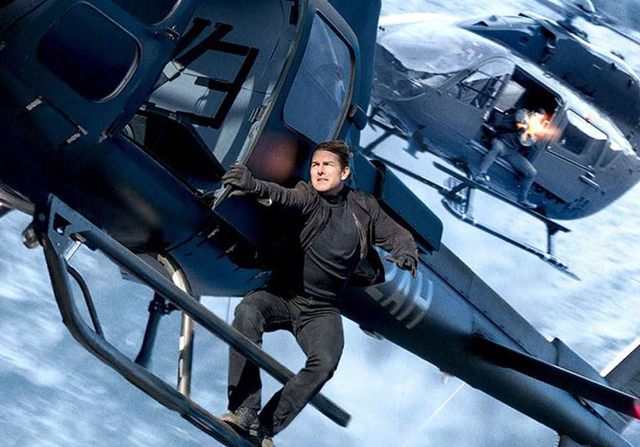 The movie career of Tom Cruise has been an interesting one to witness over the last 30 plus years.  Going from heartthrob, to matinee idol, to action movie star, he has carved out an unusual trajectory as he's evolved as an actor.  Recent years has seen him grow more comfortable in the action movie genre, showcasing his physicality more than anything else.  Sometimes his choices in action roles range from the excellent like Edge of Tomorrow (2014), to the just okay like Jack Reacher (2012), to the just plain awful like The Mummy (2017).  While many of these films are varied in both style and success, there is clearly one series over the years that has turned into his proudest effort: the Mission Impossible series.  The Brian DePalma directed original in fact began this new phase of Cruise's career, and it has been clear ever since then that Cruise has had an appetite for the genre ever since.  It's almost like every movie he makes now in between new installments in the series are merely just warm-ups for what he has next for us in this series.  It's interesting to see the Mission Impossible movies also evolve along with his career as well.  After the original, the series struggled to find it's footing, shifting styles dramatically with new directors behind the scenes.  John Woo brought a lot of style but little substance to Mission Impossible 2 (2000), and J.J. Abrams couldn't find either style nor substance in what was his first feature film with Mission Impossible III (2006).  But then after a long break, Cruise and company found new direction for the series by focusing on the things that made the movies fun in the first place, the insanely over-the-top stunts.  The first three movies in a way undermined the stunt work by adding too much visual flair to them, either through unnecessary CGI, or through indulgent directorial touches (especially with Woo's film direction).
Strangely enough, it was a director from the world of animation that helped to bring more of a reality into these movies.  Director Brad Bird of Incredibles fame appealed to Tom Cruise's appetite for more authenticity in the action scenes, and with the fourth film in the series, Mission Impossible: Ghost Protocol (2011), we finally got an idea of what these movies could actually deliver.  Instead of making the central mystery the focus of the film, the Mission Impossible series was now all about pushing the envelope when it comes to the death defying acts that the main hero (Cruise's Ethan Hunt) must go through in order to save the day.  This was especially proven through the now iconic sequence where Cruise scales the outside of the Burj Khalifa in Dubai; the world's tallest building.  Instead of relying on the safety of movie magic to recreate the needed location for the sequence, Cruise and Bird insisted on shooting at the actual tower, with the film's star literally hanging off the outside of the building.  Sure, safety lines prevented him from falling to his death, but he was still doing an extremely dangerous stunt that even seasoned professionals would have balked at.  Cruise's insurance even refused to let it happen, and he responded by dropping their account and finding a new one.  Despite all that, the sequence made it to the screen and looked incredible (especially in IMAX) and has since become the high water mark for the series since; and for all action films for that matter.  Every Mission Impossible since has been in a "how do we top that" mode ever since and it's finally given the series the identity it's always needed.  This is now a series defined by big moments, often involving Cruise doing his own death defying stunts, some of which could potentially kill him for real.  The follow-up, Rogue Nation (2015), put Cruise on the outside of a real plane taking off into the air.  And now, we have the sixth film in the series, Mission Impossible: Fallout, which aims to set the bar even higher.  But, does Cruise and company still have anything more left to prove with this series?
The movie picks up not long after the events of Rogue Nation.  Ethan Hunt (Cruise) is briefed about a new mission to eradicate what's left of the terrorist organization, The Syndicate, after the capture of their leader Solomon Lane (Sean Harris).  The most radical of these remnants have renamed themselves the Apostles, and are being directed by a new leader named John Lark.  Though little is known about Lark, it is believed that he and the Apostles are intent on acquiring stolen plutonium in order to create a bomb that will kill millions and as they put it, "with a great suffering create a lasting peace."  An attempt by Ethan and his closest associates, Benji Dunn (Simon Pegg) and Luther Stickell (Ving Rhames) to extract the plutonium from some black market sellers goes array, and the cargo ends up in the wrong hands.  The failed mission leads to an intervention by the CIA to take over the more secretive IMF agencies actions, with whom Ethan gets his marching orders from.  CIA director Erica Sloan (Angela Bassett) assigns her own agent, August Walker (Henry Cavill), to accompany Hunt on the next leg of his mission in order to assure that no further mistakes are made.  Arriving in Paris, via a harrowing Halo Jump, the pair of agents find the plutonium again in the possession of another black market seller, the White Widow (Vanessa Kirby) who needs their help in a secret extraction mission as a sign of good faith in their deal.  That mission it turns out involves breaking Solomon Lane out of prison.  Though not keen on seeing his enemy freed from captivity, Hunt plays along in the hope that it will get him closer to finding the plutonium.  Things are made even more complicated once an old acquaintance, Ilsa Faust (Rebecca Ferguson) has orders from MI-6 to take Lane out first.  As dangers keep building up, and alliances begin to be questioned and true motives are revealed, it soon becomes apparent to Ethan Hunt just how Impossible this Mission is, and that it might be the one that he ultimately can't win in the end.
Like I said before, the series has gone through a stunning transformation over the years, and in many ways has really been hitting it's stride much better now than it did when it first began.  The bar was set pretty high by Ghost Protocol, and while Rogue Nation was pretty entertaining overall, it still lacked the overall WOW factor of it's predecessor.  Thankfully, Fallout is an even better effort, coming pretty close to being the best we've seen from the series so far.  I still consider Ghost Protocol the best in the series, but Fallout is a very close second.  The reason why I enjoyed this new entry so much is largely due to the fact that it retains much of the best things about this series so far, and executes them to their best potential.  What I love about these last couple Mission Impossible movies is that they have grown to embrace the silliness of the plots and gimmicks of the series and have found fun ways of using them in some often exciting and hilarious ways.  The gimmick with the masks returns (something carried over from the original TV series) and the way it's used in this movie leads to some of the film's best surprises.  I won't spoil what happens, but there are some especially enjoyable reveals with those masks in this movie, including one hilarious cameo appearance.  I also love the fact that while the action set pieces are incredibly complex in their execution, they also allow for there to be some vulnerability in the characters as well.  Cruise's Ethan Hunt isn't bulletproof in this film, and the action scenes even allow him to get beat up once and a while, sometimes in a way that gets a laugh out of the audience.  That endearing aspect has been what has helped the series find it's character since Ghost Protocol and up to Fallout; that ability to not take itself too seriously and having a main hero who doesn't always succeed in the cleanest of ways.
I will say that the one thing that keeps the movie from rising to the top of the franchise is it's unfortunately bloated running time.  The movie is nearly 2 1/2 hours long; the longest Mission Impossible film made so far.   For the most part, the movie keeps our attention through all that running time, but there are points where it does lag, particularly at the beginning.  Ghost Protocol still stands on top because it was better paced than any of the other films in the series.  It was also the movie that laid out it's plot better than any other movie; never once getting caught up in the minutia and confusing the audience with it's twists and turns.  Fallout mostly steers clear of that too, but by devoting more time to clear out the plot details, it also makes the spaces in between the action set pieces feel too long.  It helps that the action scenes are so well done that you don't mind too much overall as you watch the movie, but the pacing issues are still noticeable.   The movie also makes the mistake of not exactly having a complex mystery at it's center.  It's pretty obvious from the beginning who the real villain of the movie is, and when the big reveal happens, it lacks the surprise that the filmmakers seemed to think that the moment was going to have.  You can also predictably figure out how the plot will wrap itself up, even down to the final climatic moment.  But, the movie kind of pokes fun at these moments too, which is also refreshing.  There is a moment during a climatic countdown where the characters actually do make you aware of the common cliche you'll find in scenes like it, and in a way sort of subvert the moment and make it feel like a fresh spin as a result.  Despite these flaws, the movies still manages to keep you on the edge of your seat through most of it's run time, and though the plot can be predictable, the small variations are not and they genuinely lead to some worthwhile surprises.
Now let's talk about what really makes these Mission Impossible movies special, and that's the incredible stunts.  The series has recently garnered the reputation of having the most insane on location stunts that we've ever seen executed on the big screen, and even more amazing, with it's headlining star doing much of the work himself.  Like the aforementioned Burj Khalifa sequence and the plane takeoff from Rogue Nation, Fallout has "Wow" factor moments as well, some of which come very close to being among the best we've ever seen.  Much of the entertainment value of this movie is just in watching how far Ethan Hunt (and by extension, Tom Cruise) pushes himself to win the day and save the world, and some of it really gets into mind-boggling territory.  Perhaps the most notable sequence of this movie will be the helicopter chase sequence, which Tom Cruise actually prepared himself for by learning how to pilot a chopper solo, just so he could get those authentic shots of him from the point of view of the cockpit as he's flying it.   And that's not even the most insane part of that stunt.  There's a point where Cruise is actually climbing up to the bottom of the chopper via a cargo lift cable and attempts to climb aboard while it's in midair.  The close-ups of this scene show you without a doubt that it's as authentic as possible and Tom Cruise is genuinely underneath a flying helicopter, with only the support wires removed digitally in post-production.  It was so intense that I nearly felt a pit in my stomach watching this sequence, knowing just how death-defying it must have been in order to get that shot.  It's insane, but it does put you right in the middle of the action, which makes it all the more enjoyable, and lengths ahead of most other action sequences found in the genre.  I honestly think that this movie makes a solid argument for there to be an Academy Award category for stunt-work, because the ones in this movie are deserving of some recognition.
One other thing that I love about this film, as well as the two that has preceded it, is the way it has rounded out the cast.  The series has become less of a one man show, and has managed to fit in wide variety of supporting players who help to balance out the series.  Simon Pegg has especially become a welcome comedic relief, working very well off of Tom Cruise's intensity as Ethan Hunt, and even finding ways to help Cruise find the humor in his own character as well.  I especially love the banter between the two of them, especially when Ethan vents his frustration when Pegg's Benji's advice doesn't end up being that helpful.  Ving Rhames, the only other actor besides Cruise who has appeared in all 6 films, is given much more screen-time this time around, and it's a great to see him far more involved in this plot.  His longtime partnership with the character also brings out some of the movie's most tender moments, and it becomes especially apparent in this film that Ving's Luther is the one who brings the heart and soul into this adventure.  I also like that Rebecca Ferguson's Ilsa makes a return to the series, as she proved to be quite the resourceful ally to Ethan in Rogue Nation, and very much his equal in both intelligence and skill.  While Henry Cavill's Walker is a bit on the underdeveloped side as a character, the actor still makes the most of his time in this role.  I like the physicality he brings to the character, carrying a whole different swagger to the profession than what Ethan has, and watching it play off between the two characters is a lot of fun.  And it has to be said that Tom Cruise keeps returning to the character of Ethan Hunt for a reason.  Not only does playing him allow for Cruise to fulfill his adrenaline junkie appetite, but Hunt is also just a fun character to be in general.  Intelligent, persistent, but also clumsy and vulnerable at times, Ethan Hunt is just an ideal action hero.  He can wow you with his physicality, but can also make you laugh when he takes an unfortunate knock to the head.  I suspect that Cruise likes this character so much, because he allows him to have the most fun while performing; even when it's during one of those crazy stunts.  And when the lead star looks like he's having a good time, as well as the rest of the cast, that will in turn make the audience feel like they're having a good time.
I honestly don't know how much mojo this series has left, especially with regards to it's leading man.  Tom Cruise is inching closer to 60 years in age, and though he has held up better than many others in his age range,time will eventually take it's toll.  The fact that this series has gone on for over twenty years on the big screen and is only getting better is something kind of miraculous in today's age in Hollywood.  A large part of it's success is clearly in embracing it's wilder aspects and choosing to focus more on taking the series to new heights (both literally and figuratively) with regards to the action set pieces.  This one in particular really was trying to push the envelope and show us things we've never seen before.  I'm still amazed by that helicopter sequence in this movie, and I hope that the eventual home video release gives us plenty of behind the scenes footage to show off just how exactly they were able to make it happen.  I will say that if there was ever a movie worth watching on the biggest screen possible, this is the one.  I was fortunate to have seen this on a very large IMAX screen, which featured select scenes shot with IMAX film stock specifically for this kind of presentation; the helicopter sequence being one.  If you are lucky enough to be near an IMAX theater too, I would recommend paying the little extra for the ticket price, because that impressiveness that IMAX brings is well worth it.    You've got to give producer and star Tom Cruise and director Christopher McQuarrie a lot of credit for turning this action franchise into an event level experience that rivals most others within it's genre.  The fact that their goal is to top each previous film that came before with even more mind-blowing set pieces is really worth celebrating.  And the passion that Cruise puts into these movies, even to the point of literally breaking bone, is something you'll rarely see any movie star do nowadays, which is both worrying and admirable at the same time.  Though not the best in the series, Mission Impossible: Fallout is still one of this summer's best films and near the top of it's already esteemed franchise.  It's a mission worth taking, should you choose to accept it.
Rating: 8.75/10