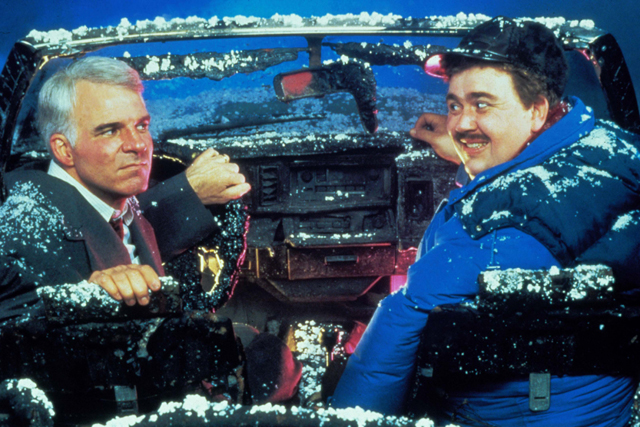 The fall season brings a festive atmosphere to our culture at large, and it is something reflected also in the movies that we watch this time of year.  This is no doubt due to the fact that two of the most cinematic holidays are found in this final home stretch of the calendar year.  They are of course, Christmas and Halloween.  No other holidays lend themselves better to the cinematic language, with the numerous traditions, folklore, and iconography that each holiday represents.  Though Christmas has long been present in the history of film, even going back to the silent era, Halloween has more recently asserted itself on the big screen, with horror films becoming a major driver of the holiday tradition.  There's even movies that bridge the two, like Tim Burton's The Nightmare Before Christmas (1993) and campy horror films with a Christmas twist like Silent Night, Deadly Night (1984) and Krampus (2015).  But, with these two holidays becoming the dynamic forces they are in our culture, there's one thing that sadly gets overlooked in the process and that's the holiday that falls in between.  Thanksgiving Day is a cherished tradition in American culture, commemorating the first successful harvest of the pilgrims that settled the Plymouth colony in 1620; a founding moment in American history.  And though it still observed with importance to this day, one cannot overlook the fact that it's impact on the culture is somewhat diminished, possibly due to the fact that the Christmas season continues to expand further out now, to the point that it begins the moment Halloween ends.  Thanksgiving is now just a thin layer of cream inside the cookie that is the Halloween/Christmas super holiday.  And there is a reason why that may be; there just aren't that many noteworthy Thanksgiving movies.
There are movies that have Thanksgiving Day moments in them, but you can rarely point out a movie that specific evokes the meaning of the holiday itself.  One thing that may be the problem is that Thanksgiving and Christmas share so many traditions, that they often become interchangeable.  Both holidays center around the gathering of family and also around the tradition of feasting.  Turkey dinners are often central to both holidays, or at least they have been with my own family.  And they are both holidays defined by a warm, welcome setting within a period of cold weather.  Really, the biggest difference is that Thanksgiving is all about the food, while Christmas is all about the presents.  But because of the many different similarities, most movies that center around family gatherings and feasting often associate more with the Christmas holiday, just because it's the more celebrated of the two.  And most of the time, a movie that does feature a Thanksgiving feast of some kind just ends up getting lumped in with the Christmas season, or has no connection to the holiday at all in the long run.  So, is Thanksgiving just by default an un-cinematic holiday.  What I think has become the issue is that very few filmmakers have ever actually tackled the idea of the Thanksgiving holiday as a theme for their movie in general.  We all know the traditions of Thanksgiving, but is there a movie that actually clearly represents the way we feel during the holiday, in the same way that Christmas and Halloween do.  It may not have the iconography of it's bigger brothers, nor the same kind of lore, but what Thanksgiving does have is a very definable sense of humanity at it's core, the thing that we want to bring out of ourselves as we congregate together in order to have a merry feast.  That's something that can lend itself to cinematic treatment, and one movie in particular captures that sense of what the holiday is all about.
John Hughes' Planes, Trains, and Automobiles (1987) is widely considered by many to be the quintessential Thanksgiving movie, and that's probably because it dramatizes and mocks one of the most universal aspects of the holiday that everyone can identify with; the anxiety of travelling.  After a decade of working with teenage angst as a central theme of his work, Hughes pivoted to this more adult centered comedy, showing the follies of two men who must band together in order to arrive home in time for Thanksgiving.  We all have dealt with making plans for Thanksgiving travel, and for many, it becomes a burden, especially if you're travelling companion is less than ideal.  But, it's all about getting to that special destination of a hearty meal with the ones you love that drive us to endure the pressures of holiday travel, and that's ultimately what's at the heart of Planes, Trains, and Automobiles.  Hughes perfectly crafts a screwball comedy around every possible thing that could go wrong during a trip back home for the Thanksgiving holiday, something that is hilariously personified in the character of Neal Page, played by Steve Martin at the top of his game.  What makes Martin's performance in the movie so hilarious is the slow burn way that he grows more and more frustrated by all the roadblocks thrown his way; igniting a fuse in his normally mild mannered demeanor that eventually leads to some amazing eruptions, including a famous "f-bomb" laden tirade with the rental car service.  And his rigid everyman character is balanced perfectly as well by the jovial persona of Del Griffith, played by a pitch perfect John Candy in what may have been his best role.  These polar opposites are forced through circumstances to having to travel together, and at certain points share accommodations, and while it does lead to hilarious situations of misfortune, ultimately the two bond over the course of the movie.  And this leads to a finale that may be one of the most touching, humane moments ever put on film, which really understates what it means to give thanks.  And as a result, people have found this to be the movie that defines the meaning of Thanksgiving better than any other out there.
John Hughes was himself a native of the area of the United States we commonly know as the "Rust Belt."  Born in Michigan, but raised in the suburbs of Chicago, Illinois, Hughes was deeply influenced by this region of the country, and has used it as the setting for most of his films; especially Chicago.  And one thing that really defines the Mid-Western states that make up the Rust Belt are the very cold, frigid fall and winter seasons; conditions that make travelling home for the holidays a bit more perilous.  No doubt that's what was on his mind when he wrote Planes, Trains, and Automobiles, because it's a situation that he probably had encountered during his upbringing.  Of course, most of it is played for laughs, but the fact that so many obstacles are put in the characters way as they try to inch their way closer to home is something that wouldn't be too foreign to many Midwesterners.  Airport delays and closures are a common reality for many travelers out East, as they receive heavier amounts of snow and sleet in the winter.  It's certainly different than my holiday travel experiences here on the West coast, which usually were conflict free going back and forth between Oregon and California, both of which have milder winters.  Hughes is also familiar with the common sight of cheap motels becoming a last option, or suddenly being stranded in Podunk towns in the middle of nowhere.  Also being a busy filmmaker, he would've known about the stress of having to deal with the time crunch of important meetings in New York City, and having to make it back to Chicago in time for Thanksgiving.  Though it's all screwball insanity most of the time, there is a definitive relatability found in this movie that no doubt came from Hughes own experiences.  We understand how important Thanksgiving means as a festivity, because it's clear how important it was for John Hughes.  Through his characters, we see how someone would risk health and sanity just to be there for their family on this important Holiday.
So, why is it that only Planes, Trains, and Automobiles seems to have become so identified with the holiday of Thanksgiving.  I believe that most other movies that use Thanksgiving as a part of their narrative, only do so with a passing glance.  Indeed, one thing that I often see used as a barometer for judging a movie as a Thanksgiving film is the presence of a big feast at the heart of the movie, centered around family and friends gathering together to celebrate together.  Some of the movies that usually get lumped into this camp, especially if you do a Google search, are movies like Lawrence Kasdan's The Big Chill (1983) or Woody Allen's Hannah and Her Sisters (1986).  Sure, these are movies about family and friends coming together to feast and celebrate, but in neither case does Thanksgiving play a role in the narrative.  They are just movies that evoke the holiday spirit of Thanksgiving, but what we see could just as well be part of a Christmas celebration.  This is why it's so hard to define a Thanksgiving movie so definitively, because it shares so much in common with Christmas, and it certainly doesn't have the same weight as the latter.  Of course, neither movie I mentioned even states that it's taking place on either holiday.  The Big Chill in fact is about a gathering of friends who are brought back together after the death of someone close to each of them, and it just so happens to have a memorable dinner scene at it's center, along with an iconic oldies soundtrack.  It seems counterproductive to label every movie that has a festive dinner at it's center as a Thanksgiving movie, because it just spreads that label to a whole variety of movies that have nothing to do with Thanksgiving.  Certainly the sharing of a meal with loved ones is a popular centerpiece for most movies, but there's nothing to tie those moments to Thanksgiving specifically.  It's just that a lot of filmmakers like using food as a common bridge to bring people together within a story.
What is interesting is the fact that very few movies actually dramatize the core historical basis for the Thanksgiving holiday itself.  The legend behind the holiday is that the pilgrims who sailed to the New World aboard the Mayflower celebrated their first ever successful harvest in the Plymouth colony by inviting the Native Americans who aided them through the harsh winter to a feast in a sign of unity that would come to define the new nation that would spring up in the years to come.  I think that why the legend of the First Thanksgiving has rarely been given a big screen treatment is because it's been widely recognized over the years that the story is based on a myth.  Though the pilgrims were aided by the native tribes in the harsh first winter of the Plymouth colony, the history between the settlers and the natives was anything but peaceful ever since.  Years of conflict followed, and the Native Americans were pushed out of their ancestral land as more colonists began expanding their reach.  So, if there was a first Thanksgiving, it might not have been as harmonious as the legend tells us.  It also doesn't work as a founding legend of America, as Plymouth was nowhere near the first colony in the New World, as Jamestown in Virginia was already a bustling port for fourteen years before the pilgrims arrived.  As the mystique of the Thanksgiving myth has worn off over time, the focus has become more centered on the unity of family in modern days, and that's what more movies focus on now with regards to the holiday.  That hasn't stopped Hollywood however with trying to tie Native American narratives the holiday season.  I see some places label movies like Pocahontas (1995), The New World (2005), and Squanto: A Warrior's Tale (1994) as Thanksgiving movies, even though they carry no connection with the holiday or with the legend behind the Mayflower landing at Plymouth rock.  It's just a misguided attempt to sharpen the Native American connection to the holiday, which I think many modern day native tribes would take offense to.
The one other metric that I have seen people use to define what they see as a Thanksgiving movie, and that's atmosphere.  It in a way goes back to what John Hughes captured in Planes, Trains, and Automobiles, and that's the feeling of what the holiday season feels like.  It's the contrast of the warmth of the household where the family has gathered together to feast against the frigid cold of the world outside.  This is something that has become the case for what many are recently claiming as the newest entry into the argument for the definitive Thanksgiving movie; Rian Johnson's Knives Out (2019).  Upon it's fortuitous Thanksgiving weekend release last year, Knives Out certainly as all the hallmarks of what we could identify as a movie centered around the holiday, and that mostly has to do with the atmosphere.  The movie definitely takes place in the frigid late autumn months, in a manor house settled in the mist covered Appalachian Mountains, where a large family of eccentrics have gathered together for a celebration.  But, even though Knives Out certainly looks like a Thanksgiving movie, it's hard to place that label on it.  The festivity is actually a birthday celebration for the wealthy patriarch of the central Thrombey family (played by Christopher Plummer) before he is found murdered the following morning.  From that point, it becomes an Agatha Christie style whodunit, with Daniel Craig hamming it up hilariously as the central sleuth on the case, Benoit Blanc.  As you can see, though it evokes the atmosphere, there is little about the movie that actually connects with Thanksgiving.  If we were going by the atmosphere alone, there are so many movies that could honestly be mischaracterized as a Thanksgiving movie.  A lot of movies use the gloomy, late fall atmosphere to give flavor to their movie, sometimes to evoke darker themes.  This is typical in something as dreary as Ang Lee's The Ice Storm (1997) or Jonathan Demme's The Silence of the Lambs (1991).  Again, very little connection to Thanksgiving, though the former does take place during a Thanksgiving weekend.  It's just another sign that it's very hard to pin down exactly what a Thanksgiving movie should represent.
And honestly, I wish more movies did take on Thanksgiving as a central point of it's story.  The gathering of family and friends for the holiday is ripe for dramatization, and there are so many interesting narratives that can rise from that.  But, so far, the one and only movie that is unmistakably tied to this often overlooked holiday is Planes, Trains, and Automobiles, and thankfully it's a movie that reflects all the great things that makes the holiday stand out.  It perfectly captures the pressure of trying to make it back to family on time, the simple joys of a hearty meal, and the deep contrast of the warmth of the home against the coldness of the outdoors.  Though I believe John Hughes intention was to make a slap-sticky road comedy, but it came from a universal understanding drawn from his own upbringing that we can all recognize in our own experiences of celebrating Thanksgiving.  Hughes brought his familiarity of the insanity we all go through every year preparing for this one holiday, and perfectly encapsulated it in this single adventure.  Whether it's by planes, trains or automobiles, or all of the above, we will find a way to get together and share this special day with our loved ones, even if it drives us to the edge.  But what is special about Hughes' story is that by the end, the journey actually makes us more humane and humble, and we see that in the bond that Steve Martin and John Candy's characters build.  What started out with the "between the pillows" mishap builds to Martin inviting Candy to his home to celebrate Thanksgiving together, especially after learning that it's the only celebration he'll have that year.  It's that humanity that really, above all else, creates the ideal of what Thanksgiving should be, and cements Planes, Trains, and Automobiles as the definitive Thanksgiving storyline.  Hopefully, more filmmakers find a way to center their stories in that same kind of ideal when it comes to the holiday.  Thanksgiving certainly has only a fraction of the same kind of attention that the holidays on either side of it get, but at least it can boast of one beloved movie that does in fact find the true meaning of what Thanksgiving is all about.