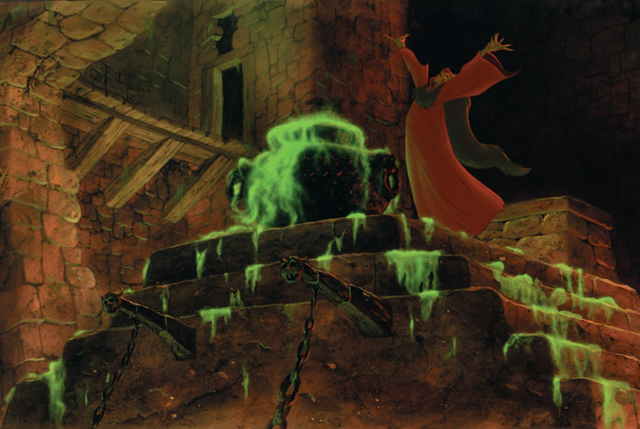 Sometimes you just want to try something new.  After devoting much of their history to producing films that were geared for all audiences, Disney found itself in the post Walt years in something of a creative depression.  Not wanting to divorce themselves from the tried and true formula that had worked for them so well in the early days, Disney unfortunately began to become complacent in the 1970's, and were likewise criticized by both the industry and their fan base for it.  While Hollywood was in a experimentally vibrant period of renewal with films like The Godfather (1972), Taxi Driver (1976), and Jaws (1975), Disney was putting out simple light entertainment like The Barefoot Executive (1971), The Shaggy D.A. (1976), and Pete's Dragon (1977).  They were films that were entertaining an increasingly smaller audience base, and it seemed more and more that Disney was out of step with the time period.  This would come to be known as the Disney Dark Ages; a time where the once mighty company reached it's closest point of failure.   If Disney was going to survive, they needed to reconsider the kinds of projects they would be investing money in, and with the times changing like they did, that meant green-lighting projects that never would have made it past Walt's desk during his time.  In the late 70's, Disney made it's first forays into more grown up entertainment, albeit with caution.  This included their first ever PG-rated film, the Sci-Fi adventure The Black Hole (1978), as well the horror themed The Watcher in the Woods (1980) and the highly experimental Tron (1982).  Though Disney changed precedent many times to make these kinds of films possible, it unfortunately didn't work as expected, with many of the films either disappointing at the box office, or outright flopping.  The question going into the decade that followed remained this; could Disney indeed grow up and make edgy entertainment, and even more uncertain, could they do it in animation too.
Disney animation during these Dark Age years was also in something of a transition.  With Walt Disney's untimely death in 1966, the animation studio that had been the core of the company since the beginning no longer had a clear creative direction.  The powers in charge of the corporation looked to a select group of Disney artists known affectionately as the Nine Old Men to steer the next few years of animation at the studio, but there was only so much these artists could do.  The Nine Old Men were just that, growing old, and were ready to retire.  Some would stay on well into their twilight years at the company, but it became more important than ever that new talent was needed as a replacement for these aging veterans of the Golden Years.  The studio established a special studies animation program at the nearby California Arts Institute in Valencia, California.  There, the Nine Old Men would pass along the tricks of their trade to a new crop of animators.  Out of this program would emerge the artists that would go on to define the next 30-40 years of Animation, including future pioneering directors like John Lasseter, Brad Bird, Ron Clements, John Musker, and even Tim Burton.  And though the promising talent that was coming out of Cal Arts was giving the studio confidence about the future, the state of the products that they were making was a less optimistic picture.  The Aristocats (1970), Robin Hood (1973), The Many Adventures of Winnie the Pooh (1977) and The Rescuers (1977) were all under-performing at the box office, and as a result, the budgets were slashed with each subsequent film.  It also became noticeable that Disney was just tracing over old animation in a way to save costs.  It was not an ideal situation for an eager new crop of artists to find themselves being a part of.  Something big and different was needed to shake Disney out of it's complacency.
That bold new thing would turn out to be a collection of fantasy novels known as The Chronicles of Prydain.  Written by American author Lloyd Alexander, the Chronicles of Prydain were a high fantasy series based on Welsh mythology that was no doubt inspired of the wild success of J.R.R. Tolkein's The Lord of the Rings and C.S. Lewis' Chronicles of Narnia.  Alexander wrote five novels in total, formalizing the concept during his time stationed in Wales during World War II.  All five novels would be published a year apart in the mid-1960's, with the second and fifth both earning prestigious Newbery honors.  It seems strange now, but fantasy novels were not a popular source for Hollywood properties back in the 60's and 70's; even Lord of the Rings would be passed over multiple times.  So, surprisingly, Disney picked up the rights to Alexander's novels in 1971 in a rare big studio move.  Nine Old Men legends Frank Thomas and Ollie Johnston were the one's who initially brought the series to the studio's attention, seeing it as a possible successor to the likes of Snow White and the Seven Dwarves (1937) or Sleeping Beauty (1959).  Early pre-production began in earnest in 1973, with veteran conceptual artist Mel Shaw creating the first visual development for the film to be.  Shaw, whose incredible pastel paintings helped to influence the style of Disney films all the way back to Bambi (1943) created a truly epic vision of the world of Prydain that could rival Sleeping Beauty in scale and scope.  But alas, as production rolled along in the years of the Disney Dark Age, that vision would sadly become more and more compromised.  It became clear that Disney would not be making all the books in the Prydain series, instead opting to condense the epic story down to a singular film.  Many characters were either excised or condensed down, and the story itself beared less and less resemblance to the original books, save for the bare essential ingredients.  Eventually, you would think that Disney would choose to either shelve such a project for later or abandon it completely after it became clear that they didn't have the resources available to make it into a reality.
But, continue they did, because in the late 70's and early 80's, Disney was facing a crisis in the field of animation that shook their very foundations.  Don Bluth, a prominent animation director who rose through the ranks of Disney, had a very public falling out with the diminishing studio.  He complained that Disney was not rising to the standard of what they used to make, instead opting to make safe and often cheap looking animation.  He wanted to push Disney towards taking more artistic risks, but when they refused to listen to him, he decided to not only cut ties with Disney, but he also took half of their staff with him, as many of them shared his grievances.  It wouldn't be long before Bluth had set up his own independent studio and within a short time, he received studio backing for his first feature; The Secret of NIMH (1982).  NIMH would be a game-changer in the animation industry; utilizing Disney quality animation on a story that was far more mature and darker than what we knew was capable from the genre.  Adult animation existed before, but it was niche and no where near as polished as The Secret of NIMH.  And it appealed to audiences of all ages.  Adults could finally watch a cartoon that had some edge to it, while kids could enjoy a movie that actually challenged their senses.  In essence, it was movie that more or less should have been what Disney could have been making, but weren't.  And Bluth's gamble worked.  The Secret of NIMH was a huge success, and Disney suddenly found itself now in a position that they were unfamiliar with; playing catch-up.  Their cute animal film released just before NIMH, titled The Fox and the Hound (1981) seemed trite in comparison.  Animation was changing fast, and Disney needed to change themselves if they were going to survive.  So, that's when they began to put their newly trained artists to work on the world of Prydain, hoping to make a dark turn of their own that would match what Bluth and his team had just done.
Taking it's title from the second book in the series, The Black Cauldron would introduce many firsts for the Walt Disney Company.  It was the first animated feature from Disney to earn a PG rating, something that wouldn't happen again until 2001's Atlantis: The Lost Empire.  It also was the first animated film ever to use computer animation, albeit in a very primitive and largely unnoticeable way, primarily for the visualization of the titular cauldron itself and a floating light orb.  Though there were some advancements during the making of the movie, The Black Cauldron also suffered from the many budget cut backs made during this period of time.  The film's original director, John Musker, was moved off the project and re-teamed with another fresh new director named Ron Clements on the smaller scale The Great Mouse Detective (1986), and his replacements Ted Berman and Richard Rich (Fox and the Hound) were brought in to reign in the budget even more.  Despite the smaller budget, a concerted effort was still made to create a epic scale film.  It would be the first animated Disney movie since Sleeping Beauty to be for 70mm film, and it would bring back animation techniques not used since Walt's time like animated backgrounds and the multi-plane camera to help make the movie more dynamic despite the budget cuts.  Even still, the production lagged on with delays  and numerous reworkings to the script.  The voice actors recorded their dialogue over the course of 5 years, which creates a jarring effect, especially when the voice of the main character Taran, a young newcomer named Grant Bardsley, had his voice break during that time.  Watching the movie, you'll notice that Taran's voice changes half way through, and that's only because there was just no money left in the budget to recast or re-record the main character.  Despite the cost-saving measures, The Black Cauldron still came in at a staggering $44 million dollar cost; equivalent to $120 million today, which was a lot for animation.  Disney was hoping that this would be the game-changer they needed and they were banking a lot on that gamble, even with money being as tight as it was.
The conditions might have seemed favorable for Disney at the time.  Fantasy films were going through something of a renaissance in the early 1980's.  Movies like Excalibur (1981), Dragonslayer (1981), and Conan the Barbarian (1982) emerged as box office and critical hits, and the success of Wolfgang Petersen's The Neverending Story (1984) even showed that a fantasy film could succeed at appealing both to adult and younger audiences in equal measure.  However, Disney had another issue to contend with right before The Black Cauldron's summer 1985 release.  After a near hostile take-over by aggressive business capitalist Saul Steinberg, the Disney Board of Directors elected to end CEO, and Walt Disney' son in law, Ron Miller's tenure at the studio, a move supported by Walt's nephew Roy E. Disney.  The Disney company then brought in Michael Eisner and Frank Wells over from Paramount to revitalize the ailing studio.  In one of their first moves at the company, Eisner and Wells appointed Jeffrey Katzenberg to head the animation department.  Katzenberg was in charge of shoring up the cost overruns in the animation department, and unfortunately The Black Cauldron became a major point of concern.  With animation at near 90% completion, Katzenberg requested a screening of the film in it's current state, and according to staff at the time, was just appalled by what he saw.  The movie, as he stated, was just far too violent and graphic, and he worried that Disney might end up with an R-Rating as a result, which would've been catastrophic for it's chances at the box office.  As a result, nearly 10 minutes of completed or near complete animation was cut from the film, which led to an already tense beginning to Katzenberg's tenure at the animation studio.  Much of what was lost in the edit were some of the more graphic moments relating to the un-dead Cauldron Born soldiers that emerge in the film's climax, which some in the animation community considers to be among some of the most incredible animation ever done at the studio.  To this day, little of those missing minutes have ever been recovered, and it's thought that a full restored cut is impossible as a result, sadly making the movie feel even more unfinished all these years later.  Still, Katzenberg did what he felt he needed to do in order to make the movie more palatable for family audiences.  But as both he and the studio would soon learn, the writing had already been on the wall for this troubled production.
The Black Cauldron released on July 24, 1985 and was immediately met with disinterest by audiences.  Cauldron failed to capitalize on the fantasy craze of it's era, and was also rejected by long time Disney fans as well for being very out of character from what they expected from the studio.  Perhaps most embarrassing for Disney was not only the fact that The Black Cauldron failed at the box office, but that it also lost out in it's opening weekend to The Care Bears Movie (1985), which was still performing well despite opening 3 weeks prior.  Ultimately grossing a meager $21 million on a $44 million budget, this ultimately looked like the final nail in the coffin for Disney Animation.  In fact, Disney would be so embarrassed by the movie that the film wouldn't receive a home video release until 1998; a full 13 years later.  But, to Katzenberg's credit, he didn't give up on the studio after The Black Cauldron's crushing disappointment.  The already green-lit Great Mouse Detective and Oliver & Company (1988) would still continue on to completion, and the promising Who Framed Roger Rabbit (1988) was getting many at the studio very excited about the company's future prospects.  So, Katzenberg looked to the John Musker and Ron Clements, whose work together on Great Mouse Detective came about as a result of Musker's depature from Cauldron, for any new ideas that could be looked at as a future project for the demoralized animation department.  Their idea of a return to the traditional fairy tale formula with an adaptation of Hans Christian Andersen's The Little Mermaid was immediately accepted, and out of the ashes of The Black Cauldron, Mermaid would indeed be the movie that would launch what we now know as the Disney Renaissance.
It's been 35 years now since The Black Cauldron crashed and burned at the box office, and it's place within the Disney canon is still an interesting one.  For the most part, Disney still kind of treats The Black Cauldron as the black sheep of the family; an embarrassment that they would rather forget.  Despite an eventual home video release and a couple DVD releases thereafter, it has yet to be given a blu-ray release or high definition transfer.  Still, they don't hide it away like Song of the South (1947); the movie is out there in the market, it's just not treated with the same care as some of the other classics.  Even among die hard Disney fans, the reception is still mixed.  Some see it as an unfinished mess while others see it as a neglected gem.  It has developed a cult following over the years; in fact the film has had a long standing fan base in Asia and Europe long before it began to take hold here in America, mainly due to them having earlier access to home video copies.  The movie's villain, The Horned King (voiced incredibly by the legendary John Hurt) is widely celebrated as one of Disney's darkest and most captivating characters, and he's likely the only character from the film that Disney still acknowledges today in any sort of marketing.  However, if you are a fan of the books themselves, this film adaptation will still leave you wanting.  Even Lloyd Alexander himself stated that the movie bears little to no resemblance to his narrative.  But given Disney's recent proclivity towards remaking their past properties, I suggest that they take a look again at the Prydain Chronicles once again.  For one thing, they can finally do the books justice and not have to compromise the epic scope of the story anymore, given Disney's success since then.  I also suggest that instead of a live action film, Disney should instead look at making The Black Cauldron into a live action series, in the same vein as Game of Thrones or Amazon's upcoming Tolkein series.  Disney's just sitting on those rights; why not put them to work.  The Black Cauldron as a movie is an interesting oddity in the Disney canon, and in many ways a valiant attempt to do something different at the legendary studio.  Had circumstances been different, it could have rivaled some of the greatest classics of all time in animation, but even still it's ambition makes it a standout, especially at a time when Disney was in dire need of a shake-up.  Despite being the darkest point of the Disney Dark Ages, it's lessons helped to spark one of the greatest revivals in movie history, and that in itself is something that helps to give it a special footprint in the history of all animation.