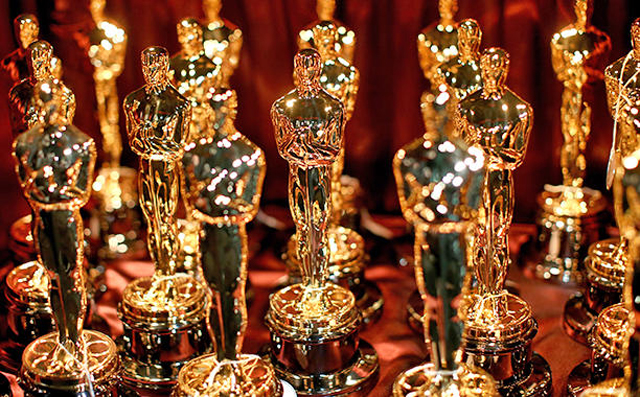 The Awards season has come to a close and all that's left is the big ceremony awarding the industry's biggest honor; The Academy Award.  Like every year, every one (including myself of course) debate over who will win and who we think will win, and often there is little consensus and often times some bitter disputes.  Regardless of who walks away with the award, we all have to agree that history will ultimately prove what's a good movie or not and that the awards are more or less just fancy get-togethers for industry insiders to pat each other on the back and give out glorified trophies.  And there's absolutely nothing wrong with any of that.  The only reason why the Oscars become a big deal is because we the public have given it the weight that it has.  Like everything else in life, we want to see every year marked by a definitive champion, whether it is in sports or in this case, culture.  The Oscars have become the industry's barometer of the status of movie-making, and whether or not you view it as on point or out of touch depends on your own tastes in movies.  This can also lead to the Oscars becoming a hot button issue for social political issues, because of that value we put on it as a touchstone of our popular culture.  Certainly, the #OscarsSoWhite campaign generated in the last month since the nominations were announced wouldn't be so controversial if there hasn't been so much value put on the Awards itself by our culture.  Regardless of the validity of the controversy, it will be a perfect tee up for host Chris Rock, who I hope delivers a hilarious routine in response.  Like every year, I will share with you my picks for the awards, including who I believe will win and who I want to see win in the biggest categories.  So, let's begin…
BEST ORIGINAL SCREENPLAY
Nominees: Matt Charman and Joel & Ethan Coen (Bridge of Spies); Alex Garland (Ex Machina); Pete Doctor, Meg LeFauve, Josh Cooley, and Ronnie del Carmen (Inside Out); Tom McCarthy and Josh Singer (Spotlight); and Jonathan Herman, Angela Berloff, S. Leigh Savidge, and Alan Wenkus (Straight Outta Compton)
Strangely enough, given the complaint of the lack of diversity in the acting categories, this year's selection of screenplay nominations couldn't be more diverse; at least in terms of genre types.  You have your straight forward historical drama (Bridge of Spies), an animated film (Inside Out), an in depth look at the journalistic process (Spotlight), a cerebral sci-fi experience (Ex Machina) and a biopic about rappers (Straight Outta Compton).  Overall, I think that many of these choices are deserving, and I'm pleased that the unappreciated Compton and Ex Machina made the cuts.  As of right now, the clear front runner in this category is the highly detailed and politically charged Spotlight.  While Spotlight's status as a Best Picture front-runner has diminished in the last couple months, due to shut outs at the Golden Globes and other early industry indicators, the momentum for awarding it's screenplay hasn't, especially after a Writers Guild award win.  Is it deserving of the honor.  I believe that that the work put into it, which must have been years in the making just for the research, helps to make it worthy of the award.  But, at the same time, the movie itself lacked any real drive, which keeps it from being my favorite.  It's fascinating, yes, but the characters lacked definition and the momentum was shaky throughout.  For a screenplay that resonated more for me, I would say that Ex Machina was the standout in this category.  Straight Outta Compton and Inside Out were both entertaining in their writing too, but Ex Machina was the one that really made me think about it long after I saw it.  It's a brilliant, understated work from accomplished writer Alex Garland.  So, Spotlight will clearly win, but Ex Machina I think will be my dark horse in this race.
Who Will Win: Tom McCarthy and Josh Singer, Spotlight
Who Should Win: Alex Garland, Ex Machina
BEST ADAPTED SCREENPLAY
Nominees: Charles Randolph and Adam McKay (The Big Short); Nick Hornby (Brooklyn); Phyllis Nagy (Carol); Drew Goddard (The Martian); and Emma Donoghue (Room)
Here we find the more traditional nominees for Best Screenplay, all classical dramas, with one major exception.  Each is admirable in it's own right.  I particularly liked Phyllis Nagy's understated but poignant gay romance in Carol, a screenplay that could have easily sensationalized it's subject and wisely chose not to.  I also admire Drew Goddard's The Martian, which managed to make science interesting as well as fun, which is sadly missing in so many Hollywood films today.  Also, a lot of praise is due to Emma Donoghue for adapting her own novel in such an effective way.  But, for my favorite, I would have to go with the odd man out, and that's Adam McKay and Charles Randolph's The Big Short, and thankfully, this one has emerged as the clear front-runner.  What makes it a stand out is the unconventional presentation of the entire screenplay, taking a dry, heady subject like the factors that led to the Housing Market crash and making it accessible to the audience, while at the same time finding the absurdest humor in it all and being able to tell a story with compelling characters.  It's a remarkable balancing act that the writing team should be awarded for.  Of all the nominees in this category, and out of all the movies nominated in general, I believe that this will be the one that will gain in stature long after the awards are over, and will probably turn into an important movie in the long run, just based on the way it informs us of such a chaotic time in our history and tries to move us towards seeing that it never happens again.  In addition, it would be a special subversive treat to see the man behind Anchorman and Talladega Night walk away this year with an Oscar to his name.  The Big Short is a brilliant and monumental satire and it will be absolutely deserving of it's award.
Who Will Win: Adam McKay and Charles Randolph, The Big Short
Who Should Win: Adam McKay and Charles Randolph, The Big Short
BEST SUPPORTING ACTOR
Nominees: Christian Bale (The Big Short); Tom Hardy (The Revenant); Mark Ruffalo (Spotlight); Mark Rylance (Bridge of Spies); and Sylvester Stallone (Creed)
One thing that you usually see happen at the Academy Awards is the awarding of an Oscar to a seasoned veteran after a long drought or a career completely devoid of any previous nomination.  Sometimes it's done through an honorary award, but other times it comes in the way of a late career win for sometimes a lesser film.  It's usually known as a "legacy win" and this year that may fall in this category as the front-runner has long been action film icon Sylvester Stallone in Creed.  Now, some people may be put off by the idea of giving Stallone an Oscar, but those same people may not have seen the movie Creed either.  I certainly wouldn't mind if Stallone won this year; one, because Creed is an excellent movie and deserving of recognition, two, Stallone gives a touching heartfelt performance, and three, it makes for a great story that Stallone would win an Oscar late in his career for the same role that made him an icon in the first place.  Certainly, Stallone could've been awarded for worse, and I think an Oscar here is not only deserved, but maybe even due for the man behind Rocky Balboa.  Now, would he be my personal choice.  Sadly, there is a great field behind Stallone this year, and any other year I would say that each of them could win.  Rylance and Ruffalo are both solid in their roles, and Bale give a delightfully twisted performance in The Big Short.  But my favorite would be Tom Hardy, who really transformed himself for his role in The Revenant and delivers what I think to be the most compelling performance overall.  Also, this category is up in the air for me because my favorite performance of the year (Benicio del Toro in Sicario) wasn't nominated.  Out of the bunch, Hardy would be my choice, but if Stallone does win, I won't complain either.  It's his time to be the champ.
Who Will Win: Sylvester Stallone, Creed
Who Should Win: Tom Hardy, The Revenant
BEST SUPPORTING ACTRESS
Nominees: Jennifer Jason Leigh (The Hateful Eight); Rooney Mara (Carol); Rachel McAdams (Spotlaight); Alicia Vikander (The Danish Girl); and Kate Winslet (Steve Jobs)
Out of all the acting categories in this year's Oscars, this is the one that feels the least decided.  Many of the early awards have been split this year, with the likeliest front-runners being Kate Winslet and Alicia Vikander.  Vikander has the benefit of being seeing as the "it girl" of the year, having appeared in many high profile projects last year including Ex Machina and Guy Richie's The Man from U.N.C.L.E.  Finishing the year with the acclaimed The Danish Girl helped to garner her even more attention and the Oscars usually bestow these Supporting awards to fresh new faces like her.  On the flip side, Kate Winslet is a much beloved Hollywood veteran, having been  nominated several times and won Best Actress prior, and her performance in Steve Jobs is one of her most interesting roles yet, making her a viable front-runner too.  It's a hard one to choose, but I think Alicia Vikander's blockbuster year gives her a slight edge, though I would love to see Winslet win just so the under-appreciated Steve Jobs gets some recognition.  But at the same time, neither has locked this up and both could even be overcome by a surprise winner here, which any of the other nominees could end up being.  Out of that group, my surprise pick is also my favorite in the bunch, and that's Jennifer Jason Leigh's gonzo performance in Quentin Tarantino's The Hateful Eight.  It's not out of the realm of possibility; Tarantino has delivered actors to Oscar wins before.  Also, Leigh is a beloved workhorse who's long gained respect in the industry and her performance is definitely the category's most unusual and daring.  So, Leigh may not be the odds on favorite, but she would make the most spectacular of spoilers in this open race.
Who Will Win: Alicia Vikander, The Danish Girl
Who Should Win: Jennifer Jason Leigh, The Hateful Eight
BEST ACTOR
Nominees: Bryan Cranston (Trumbo); Matt Damon (The Martian); Leonardo DiCaprio (The Revenant); Michael Fassbender (Steve Jobs); and Eddie Redmayne (The Danish Girl)
If there was ever a category this year that was a lock, this would be it.  After so many years of being nominated and walking away empty handed, despite being one of the most successful actors of his generation, Leonardo DiCaprio will finally win an Oscar this year.  Sometimes people complain that actors who get snubbed for so many years and then finally win usually get it for a lesser performance in a lesser film.  I don't think that's this case with DiCaprio this year.  Sure, I wouldn't call his work in The Revenant to be my absolute favorite performance of his (that would be his incredible performance in Martin Scorsese's The Wolf of Wall Street), but considering all the other nominees in this race, I would clearly say that he does give the best single performance of the bunch.  It becomes especially apparent that he's deserving of the award when you learn of all the physical hurdles that he had to go through during the filming of The Revenant, and denying him an Oscar once again after all that passion and pain may be a little cruel in the end.  He's a deserving front-runner and my own clear choice for the award overall.  Now, is there anyone in this category who could be a potential spoiler, and would they dare come up to accept in the face of the the backlash that could come from loyal DiCaprio fans everywhere.  I would say the only ones who come close would be Matt Damon for his surprisingly charming and humane performance in The Martian, and also Bryan Cranston for Trumbo, just for his beloved standing in the acting community.  But, don't count on any spoilers.  It's Leo's year and it's been a long time coming.
Who Will Win: Leonardo DiCaprio, The Revenant
Who Should Win: Leonardo DiCaprio, The Revenant
BEST ACTRESS
Nominees: Cate Blanchett (Carol); Brie Larson (Room); Jennifer Lawrence (Joy); Charlotte Rampling (45 Years); and Saoirse Ronan (Brooklyn)
This is another race that appears to have been locked up already, but I wouldn't say that it as strongly decided as DiCaprio for Best Actor.  The front-runner here is Brie Larson, who has surprise everyone so far by becoming the unexpected front-runner in a category with so many high profile names.  And, she has certainly deserved the praise since being nominated, because it's a performance that does stand out among the rest.  Playing a kidnapping victim who has lived in isolation for many years in a locked shed in the harrowing film Room, Larson's role could not have been easy and it's a great achievement to see her pull it off in the film.  Her performance was also helped a lot with the support of her young co-star Jacob Tremblay, who sadly wasn't nominated.  If she wins as she is predicted to, it will be deserved and it hopefully will elevate her status in the industry and lead to more challenging roles that will make good use of her talent.  But, is she my pick for the award.  Though I admire her performance, I would say that the one who left more of an impression on me in this category was actually Cate Blanchett in Carol.  Yeah, it seems a little unfair to choose the seasoned, multiple Oscar winner to once again be the best in the category, but that's just a sign of how good she is.  Her performance in Carol is more heartfelt and more interesting than all the rest, and that's a sign of someone who has a full command of their art-form.  Brie Larson may have had the most challenging role, but Blanchett had the more resonant performance, which made it stand out more for me.  Even still, a win for Larson will be well deserved and recognition for an under-appreciated film like Room that deserves more of an audience than it has received so far.
Who Will Win: Brie Larson, Room
Who Should Win: Cate Blanchett, Carol
BEST DIRECTOR
Nominees: Adam McKay (The Big Short); George Miller (Mad Max: Fury Road); Alejandro G. Inarritu (The Revenant); Lenny Abrahamson (Room); and Tom McCarthy (Spotlight)
It's hard to believe that of all the directors working in the industry today, that the one who's best positioned to win the coveted Directing award two years in a row is Alejandro G. Inarritu.  But, as early indicators have piled up, that certainly seems to be the case.  Once a maverick, small scale film director of indie darlings like 21 Grams (2003) and Babel (2006), Inarritu has completely transformed himself as a filmmaker, making far more ambitious projects and delivering the best back to back set of masterpieces since Sidney Lumet made the duo of Dog Day Afternoon (1975) and Network (1976) simultaneously forty years ago.  Having won last year for Birdman (2014), Inarritu has surprisingly emerged as the front-runner again for the ambitious epic The Revenant, and his win would be only the third time in Oscar history that a director has won back to back; the last one being Joseph L. Mankiewicz for A Letter to Three Wives (1949) and All About Eve (1950).  Is it an honor he deserves.  Absolutely.  The Revenant really is a tour-de-force of direction and one of the most incredible achievements in film-making this year.  I think it helps that Inarritu's only other credible competition from last year (Ridley Scott for The Martian) didn't receive a nomination, which makes his road to a win less of a challenge.  The only spoiler that I could possibly see in this category is George Miller for Mad Max.  Miller, like Inarritu, showcased the highest form of film direction seen this year in his movie as well, working under equally harsh conditions, and a win for him could also be an acknowledgement of his cherished legacy.  But, I think it's safe to say that Alejandro is going to defend his title successfully and become the unlikeliest of two-time winners in Oscar history.
Who Will Win: Alejandro G. Inarritu, The Revenant
Who Should Win: Alejandro G. Inarritu, The Revenant
BEST PICTURE:
Nominees: The Big Short; Bridge of Spies; Brooklyn; Mad Max: Fury Road; The Martian; The Revenant; Room; and Spotlight
So, of all the categories at this years Oscars, it's surprising that the biggest one of them all is also the least predictable this year.  Unlike in years past, when one or two front-runners will have emerged at this point, we don't have a clear favorite.  Yeah, some of the nominated movies have no chance and are more likely to pick up awards in other categories (Room and Bridge of Spies), but at least half of the nominated movies this year do have legitimate shots at winning this year.  So, how do I think this year's race will go.  My belief is that the Oscars tend to go for the movie that has the best chance to be a multiple winner in other categories and that has usually been large epic films.  That's why I think The Revenant will ride the coattails of the assured wins in the Best Actor and Directing categories towards collecting Best Picture.  Is it deserving of that honor.  I think so.  It was my choice for the third best movie of the year in my top ten list, and my favorite film of the year (Sicario) wasn't nominated, so I have less of an interest in who wins this year as opposed to last year when my favorite (Birdman) was nominated and won.  Unfortunately, I can't say it's my absolute pick for the award, because The Martian was also nominated, and I ranked that higher than The Revenant.  Sadly, without a Directing nomination, The Martian is out of the race, but had it had a chance, I would have picked it over The Revenant.  Complaints have also been made that The Martian is too commercial and crowd-pleasing to deserve a win, which is silly because why should the ability for a movie to entertain it's audience be considered a negative.  As it stands, out of the films that have a chance, I would favor The Revenant and I believe it will win.  Although, The Big Short winning would make an interesting finish to the night, as would a complete curve-ball if Mad Max: Fury Road snuck up and took it.  It's an unpredictable year and it probably works out for the best that the most suspenseful race is the one that's saved until the very end.
Who Will Win: The Revenant
Who Should Win: The Martian
So, there are my picks for this years Academy Award winners, as well as my own personal favorites.  In addition, I would also like to run down all my picks for the other awards of the night:
Best Animated Feature: Inside Out (no contest); Best Cinematography: The Revenant; Best Film Editing: Mad Max: Fury Road; Best Production Design: Mad Max: Fury Road; Best Make-Up and Hairstyling: The Revenant; Best Visual Effects: Star Wars: The Force Awakens; Best Sound Mixing: The Revenant; Best Sound Editing: Mad Max: Fury Road; Best Costume Design: Cinderella; Best Original Score: The Hateful Eight; Best Original Song: "Writing's on the Wall" from Spectre; Best Foreign Language Film: Son of Saul; Best Documentary Feature: Cartel Land; Best Documentary Short: A Girl in the River; Best Live Action Short: Shok; Best Animated Short: World of Tomorrow
So, those are my picks for this year's Oscars.  Am I going to be pleased or angered by how it turns out.  Well, because my favorite movie of the year was left out, I have less of a vested interest in who wins the big award, but at the same time, I value some more than others.  And one good thing this year is that unlike the previous year I walked away liking each of the Best Picture nominees; I still don't get why so many people fell in love with a terrible film like The Theory of Everything last year, and worse yet, that it managed to steal an Oscar away from Michael Keaton.  It was a good year for movies and I'm glad the nominations reflected that.  I just wish that they spread their net further and nominated more deserving films like Creed, Sicario, and Straight Outta Compton.  Maybe then they might have avoided the controversy that fell their way.  They expanded their number of nominees several years ago for the reasons of being more inclusive, so I don't get why we were limited to seeing only 8 nominated films this year.  Regardless, I hope that the show itself is worthwhile.  They couldn't have picked a better host for the ceremony this year than Chris Rock, and my hope is that he doesn't hold back.  If ever there was a year for the Academy to be grilled and mocked by it's host, this would be it, and he just might get away with it too.  In time, we'll probably forget about all the controversy and the films themselves will carry their own legacy far beyond what the awards will actually mean for them.  For me, I just like seeing the process unfold and looking at all the new names that join the ranks of Oscar winner.  It's why I watch in the end.