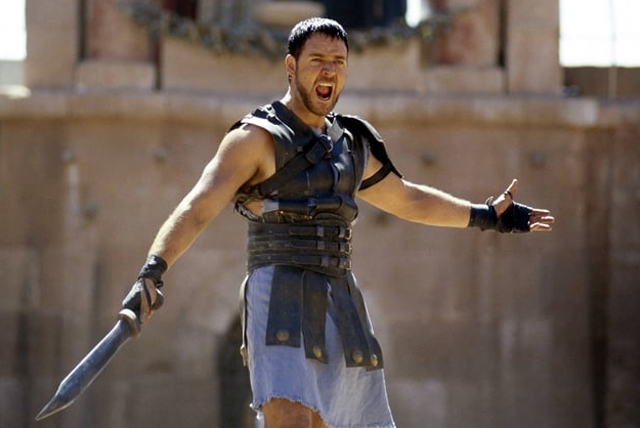 The late 1990's was an interesting transitional period for Hollywood, as the advancement of computer aided technology had opened many new doors for the industry.  Special effects extravaganzas like Twister (1996), Independence Day (1996) and Armageddon (1998) were dominant at the box office, but were usually seen as little more than popcorn flicks that were rarely celebrated for anything other than their effects.  But, there was another interesting occurance that was happening during this time and that was a surprising resurgence of something that was once the dominant genre in filmmaking at one time in Hollywood; the historical epic.  Reaching a peak in the late 50's and early 60's, the historical epic became the defining example of what Hollywood could accomplish, taking full advantage of the new widescreen processes of the time and delivering larger than life recreations of legendary moments of the past.  Started off with the biblical epics of The Ten Commandments (1956) and Ben-Hur (1959), the genre would go on to be defined by other history based dramas like Spartacus (1960), Lawrence of Arabia (1962), Doctor Zhivago (1965) and Patton (1970).  They were all grand in scale and with epic lengths to match their ambitious scope (a three hour run-time being the norm).  But with out of control costs also defining their productions, like the near cataclysmic Cleopatra (1963), the genre that would become known as the "sword and sandal" epic would not be able to sustain itself for long.  But once the CGI revolution of the 90's began, filmmakers raised on those epics of the past found a new, cost effective way to bring movies on that scale back to grandiose life.  Movies like Kevin Costner's Dances With Wolves (1990) and Mel Gibson's Braveheart (1995) began to reivigorate the long dormant genre initially, and then James Cameron's Titanic (1997) pushed the door wide open.  But a true return to an actual "sword and sandal" epic wouldn't happen until the turn of the century with Ridley Scott's Gladiator (2000), a movie that both revived the epic in a big way, but also began it's inevitable second decline as a result.
Gladiator, now reaching it's 20th anniversary, is a rather intriguing oddity in the history of Hollywood.  Feeling both modern and nostalgic, it's a movie that really feels out of place in it's time.  It is very much a throwback to the "sword and sandal" epics of Hollywood's "Golden Age," and yet every aspect of it's cinematic style is thoroughly contemporary.  And even more surprising is how much it was embraced by audiences and critics alike upon it's release.  Despite the fact that a movie set in ancient Rome had not been a box office hit in nearly 5 decades, Gladiator somehow managed to be one of 2000's highest grossing films, bested only by Mission Impossible 2 (2000) and How the Grinch Stole Christmas (2000).  And it did so with no A-List stars at the time.  Australian actor Russell Crowe had only appeared in a handful of Hollywood films at the time, most notably in The Insider (1999) which garnered him a Best Actor nomination a year prior, but he was unproven as an action star.  Joaquin Phoenix's career had barely just begun, as he had only recently moved beyond the child actor roles of his youth into more adult ones.  Plus, director Ridley Scott had been known more for his work in Science Fiction with movies like Alien (1979) and Blade Runner (1982), and a lavish, costume drama was something that he had tried and failed at before with 1492: Conquest of Paradise (1992).  But despite these limitations, the movie caught on in a big way and would go on to become one of the most influential movies of the decade.  It even rode it's success to a Best Picture win at the Oscars, something that even most "sword and sandal" epics couldn't do, coupled with a Best Actor win for Crowe.  It really leads you to wonder why this movie, above all the others, became the one to reach the top like it did in such an unexpected way.
Part of it's creation no doubt was a result of a group of filmmakers wanting to indulge their nostalgia for the epics of the past, while at the same time finding a way to make good use of the new tools that could allow them to make a movie like it work.  The original concept came from screenwriter David Franzoni, who had been working on the story since the 1970's, having been a fan of old fashioned epic movies and carrying an interest for Roman history his whole life.  Finding his way eventually to Dreamworks, and working alongside Steven Spielberg on the movie Amistad, Franzoni pitched the project to Spielberg, who himself had a long-standing interest in the genre.  Spielberg, who was too tied up at the time to direct himself, eventually gave the project over to his longtime friend Ridley Scott, who was more than eager to jump on board.  Scott certainly was also influenced by old fashioned epics, but he was far more interested in looking at this era through a more authentic vision; creating a Rome that felt less polished and more lived in.  Nevertheless, the movie would give him the chance of imagining Ancient Rome on a scale that old Hollywood would've only dreamed of, and on a more modest budget.  Aided with cutting edge CGI technology, Ridley could not only rebuild the mighty Colesseum, but even take you inside it, and span around looking at it from all angles, like in the now iconic 360 degree shot from it's ground level.  After bringing on playwright John Logan and screenwriter William Nicholson in for rewrites to further match Scott's vision, production began in earnest in the spring of 1999.  Shooting in places as diverse as Morrocco, Malta, and Northern Ireland, Gladiator was certainly one of the most ambitious projects of it's time.  But even with a professional assembly of cast and crew on board, the movie still endured some unexpected hurdles.  Most notably, actor Oliver Reed, who was playing the role of gladiatorial trainer Proximo, suffered a fatal heart attack during the middle of shooting.  With the actor playing a crucial role in the final film, and without having completed his last scenes, Scott needed to find a way to bring his story-line closure without having to recast the actor and reshoot half the movie.  He made the controversial choice to digitally resurrect Oliver by placing his face artificially on another actors body in a groundbreaking visual effect.  Yes it's a little ghoulish to do this after the actor has died and has no say over how his likeness is used, but in doing so, Ridley Scott managed to preserve the rest of his performance within the film, which is a wonderful final bow for the legendary character actor.
Though the movie is a magnificent showcase for Ridley Scott's talents as a film director, the thing that I think really turned the movie into an iconic hit with audiences was the character at the center of it all; General Maximus Aurelius Meridius.  From the moment we first see Russell Crowe's world worn but resilient face on screen as the character, we know that this will be someone who will command our attention for the next 2 1/2 hours.  Crowe absolutely owns as the charcter, being both physically imposing while also vulnerable in spirit.  And his journey through the film is no doubt what has captured the imagination of audiences around the world.  In the film's tagline, it describes the character of Maximus as "the general who became a slave; a slave who became a gladiator; a gladiator who defied an empire."  And it's that undaunted drive to push beyond your limits and fight your way back to the place where you belong that makes his story so captivating.  After loosing everything, his rank, his home and his family, at the whims of a power hungry dictator, Maximus uses what power he has left (his fighting skills and knowledge of combat) to fight his way back to seek justice.  Russell Crowe is commanding in the moments that call for him to be larger than life, but I feel that his best work in the movie comes in the quiet moments in between, where Maximus becomes introspective and questions whether or not his path should lead him down this road towards vengence.  Of course, a hero is also only as good as the villain he faces, and Gladiator has a memorable one as well.  Joaquin Phoenix's Commodus is one of the most depraved heavys put on screen in recent memory, and Phoenix does a wonderful job of capturing the slimy nature at his very core.  It's a performance that hints at the budding talent that Phoenix would display in the 20 years and more than anything else has been the thing in the movie that has aged the best over the years. Whereas most historical epics portray their villainous figures as pillars of insurmountable strength, Commodus is defined by his insecurities; a sniveling man child prone to abusing his power to compensate for his lack of strength. In many ways, Commodus is a truer depiction of what a tyrant actually behaves like than anything else we've seen in movie before, and it's a real credit to the power of Joaquin's manic portrayal of the character. It also plays off of Crowe's Maximus perfectly, centering the movie around a truly dynamic contest between idealic good and loathsome evil.
In the 20 years since the release of Gladiator, it's very interesting to see what kind of legacy it has left behind.  One thing that may be surprising about it is the fact that while it did revive the long dormant "sword and sandals" epic, it only did so for a short time, at least in the general traditional sense.  The movie's box office success and subsequent Oscar wins signaled to Hollywood that this type of movie was easy money once again, which is something that only in retrospect now looks like a foolish assumption.  As stated, Gladiator stood out because of it's stellar story and unforgettable characters, and not just because of it's spectacle.  But, what Hollywood believed was the key to it's success was the ground-breaking visual effects that it used to tell it's story, which made people believe that they could plant into any old historical event and make it work just as well.  This led to some rather misquided attempts at Gladiator clones.  Much like how Pearl Harbor (2001) tried and failed to capitalize on the Titanic craze from a couple years prior, these wannabe Gladiators also would pale in comparison.  Two of the most notable failures came from one studio in particular, Warner Brothers, who put their money behind a couple of bloated epics in the same calendar year.  First was Troy (2004) from Wolfgang Petersen, which mistakenly believed that vain, egocentric Achilles (played by a miscast Brad Pitt) could become the next Maxiumus; and then there was Alexander from Oliver Stone with an even more grossly miscast Colin Ferrall as the boy conquerer.  I already went into detail comparing the two movies in an article here, but suffice to say, both missed the mark completely in recapturing the spark of Gladiator.  Ridley Scott himself would also find it hard to repeat within the genre he helped to revitalize.  His Crusades era epic, Kingdom of Heaven (2005) was butchered by 20th Century Fox upon release, removing nearly an hour of run-time from his original director's cut and creating a hollow shell of what it could have been.  Even a re-teaming of Russell Crowe and Ridley Scott in a new version of Robin Hood (2010) couldn't even come close to the effectiveness of Gladiator.  Which really made people wonder if Gladiator really did in fact revive the "sword and sandals" epic at all, or was it just an anomaly.
In one way, I do think that Gladiator did in fact bring the "sword and sandals" epic back in a big way; just not in the way you would exepect.  The aesthetics of the genre were revitalized by Gladiator, but it managed to thrive beyond it in a entirely different genre.  Only a year after Gladiator's release, Peter Jackson and New Line Cinema released the first film of their ambitious The Lord of the Rings trilogy.  The Fellowship of the Ring (2001) in many ways took up the mantle of what Gladiator brought to cinema, making it's fantasy world feel authetic in the same way that Scott's film tried to recreate ancient Rome.  For Peter Jackson, he wanted to take J.R.R. Tolkein's fantastic world of Middle Earth and film it in a way that felt like a historical epic.  Great attention to detail was called for, making the world that the characters inhabited feel like it's existed for centuries, and not look like an obvious set on a soundstage.  Removing the staginess of the production is one thing that the movie has in common with Ridley Scott's epic, and it wouldn't surprise me if Peter Jackson was in some way inspired by the success of his predecessor while making his own epic.  He's certainly not copying Scott's style, but seeing Gladiator succeed with it's own level of authenticity no doubt must have emboldened Jackson's determination to do the same.  So, though the historical epic genre floundered in the 20 years since Gladiator, the same kind of epic grandeur still lived on in the fantasy genre, which saw it's own Renaissance in the new century.  We are even seeing the super hero genre beginning to pick up the mantle, with moments in Marvel's Avengers: Endgame (2019) and DC's Wonder Woman (2017) and Aquaman (2018) also emmulating the epic style of Gladiator and RIngs.  So, even if Gladiator didn't make a lasting impact in the historical epic genre, it's style still was able to live on in other genres that have only increased their epic grandeur.  Look at something like the arena fight between Thor and the Hulk in Thor: Ragnarok (2017) and tell me that one of the first movies that you'll recall in your mind is Gladiator.  Sure it may look different, but there are certainly echos that ring familiar at the same time.
One has to wonder though, is Gladiator the last of it's kind as well.  It certainly is the last historical epic to have ridden a wave of success towards a Best Picture win at the Oscars.  In the 20 year since, the Oscars have favored contemporary dramas more than any other, with 2003's The Lord of the Rings: The Return of the King and 2013's 12 Years a Slave being the rare exceptions.  The "sword and sandals" epic revival was pretty much over with by the end of the 2000's, with even Ridley Soctt leaving it behind for a return to sci-fi in more recent years.  And it would seem that the once pinnacle of Hollywood filmmaking was no longer a viable artform in this vastly different market that we see today.  Nobody wants to invest in a lavish reproduction anymore of what is essentially a history lesson.  You do see modest attempts at it every now and then, but even so, they don't have the majesty of something like Gladiator.  Netflix has recently attempted a couple tries at creating lavish period epics, like Outlaw King (2018) starring Chris Pine as Robert the Bruce, and The King (2019) starring Timothee Chalamet as Henry V.  Though both films are more ambitious than most, you can almost feel themselves being restrained by a sense of not trying too hard.  I think that's what made Gladiator hit so well with audiences.  It was the last epic of it's kind to not only be lavish in it's execution, but unapologetically so.  It was a movie that was not afraid to embrace the over-the-top nature of it's genre while at the same time trying to modernize it with a gritty aesthetic.  It's not just in it's epic scale that it worked, but also in it's characterizations.  Maximus and Commodus are iconic characters that capture the imagination.  You can give them the most absurd, old-fashioned dialogue possible and they will still capture the imagination because they are that interesting.  In many ways, it's not that the style of genre went out of fashion, but the fact that Hollywood forgot to add substance to these epics, leaving nothing but production values to do most of the heavy lifting.  And that's why the style that Scott's Gladiator repopularized moved on into genres that had far more interesting characters.
So, what we take away from the legacy of Gladiator is that it had a profound impact on the movies of the new century, but in a way that I think Hollywood and even the filmmakers involved probably didn't expect.  Most of the industry expected the "sword and sandals" epic to just pick up right where it left off thanks to the movie, but that just wasn't the case.  We ended up seeing a short lived revival, while other genres would end up prospering, picking up the aesthetic that had served the historical epic so well in the past.  But, though the movie may not have given it's own genre the kick that it needed, it still holds it's own as a fine epic that stands the test of time.  It did a lot of things for Hollywood as well; it reinvented Ridley Scott as an epic filmmaker, broke new ground in visual effects, made Russell Crowe a star and shed a spotlight onto a young Joaquin Phoenix. Legendary character actors like Richard Harris, David Hemmings, and Oliver Reed were also well served by this movie, with Reed's final performance thankfully maintained even while being incomplete. But I think what works best for the movie is in how it inspires audiences who see it; reminding them of a time when historical epics set the high bar in filmmaking. Sure, Gladiator is far from historically accurate, as most films like it are, but it shows just how incredible a window into the past can capture our imaginations on the big screen.  During a rousing pre-battle speech early in the movie, Maximus tells his soldiers that, "what we do in life, echoes in eternity."  It's a profound statement that not only hits a personal core, but also reflects well on the legacy the movie leaves behind.  By being the bold artistic vision that it is, and striving to hold up the high standard of grand epic movies in the past, Gladiator continues a whole new generation of filmmakers to keep that tradition going on into the future, and hopefully inspire a desire to see more movies like it made in the future.  Strength and honor indeed.