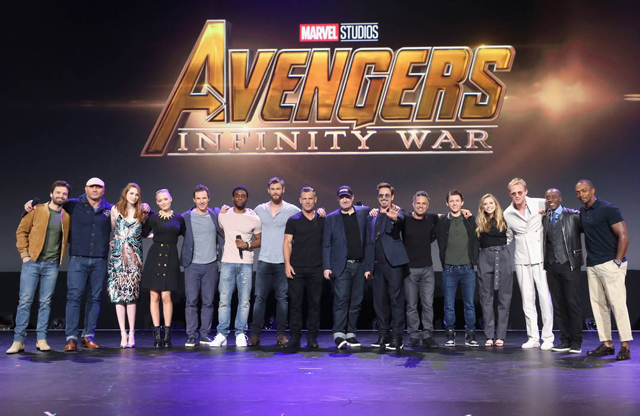 It already feels like it happened so long ago, but the D23 Expo for 2017 still has left some lasting impressions on me two weeks out.  Namely, it was the impressive big presentations in the main hall that left the biggest impact, because it gave those of us lucky enough to get in an exclusive first look at material that the rest of the world won't see for months or even years from now.  Not only that, but they treated all of us to seeing people involved in the making of these movies come out on stage and show their own enthusiasm for what's to come.  The interesting thing to think about in retrospect with all of this is what the ultimate purpose of all the exclusivity means in the end.  Yes, seeing all the Avengers cast on stage and viewing the first look footage was thrilling and a high point for me at this year's Expo.  But, there were also the incredibly stringent measures taken by the Disney company to ensure that nothing shown at the Expo's big presentations ever gets leaked out into the public.  Before each show, we had to turn off all of our electronic devices and have them sealed up in special bags.  And throughout the presentation, security guards were constantly walking through the aisle to make sure no one took any recording device out, or else they would be escorted out.  Why would such measures need to be taken, if some of this material will be visible to the public eventually?  The answer is that Disney was ensuring that two things would take place in that hall.  One, that they themselves would maintain full control over who sees whatever top secret material they are working on, and two, that by making the material exclusive, they increased their audience's enthusiasm for what they've just seen, and in turn have generated word-of-mouth excitement coming out of that show building up what the true intent of what the show was meant to create; hype.
Hype is practically everywhere in the film industry, because it is the essential way that allows anyone to have a movie made nowadays and ensure that it is seen by the largest audience possible.  It goes far beyond just marketing a movie.  For a business as massive as this one, it becomes essential to know how to manage hype around a project just as much as it does knowing how to make a movie to begin with.  From inception to completion, a movie has to generate interest in order to survive.  For anyone trying to sell a script to the industry, they must understand that a certain level of hype is required to give investors the desire to want to read what's been written.  After given the green-light, then the producers must generate excitement over what's being made, preemptively stoking audience interest while the project is coming together.  This can be accomplished by spotlighting any celebrity names attached to the project, or giving details about the locations and/or production design being used to to make the movie.  Then, marketing gets involved with trade ads, trailers, and all sorts of cross promotion in order to make the final sell to the public.  From all points, the level of hype that a movie generates for itself will ultimately determine how well it does in the long run.  But, the hype machine's existence as a part of the Hollywood industry is not the thing that fascinates me, since it's always been a part of the industry from the very beginning.  No, it's the complexity that it has evolved into overtime, and the varying degrees of success that have come out of it that fascinates me.  There are many fascinating avenues that Hollywood has gone down in order to generate hype for their movies, and they haven't always turned out well either.  And given the fast paced world of the internet that we now live in, hype sometimes turns into this overwhelming thing that can in turn destroy the very thing that it's trying to help.  That, in the end, becomes the fascinating aspect of hype in Hollywood.
From my experience in D23, I saw first hand how a company takes charge of generating hype for their projects.  They put on this massive show, involving incredible logistical wrangling to get the likes of Oprah Winfrey, Chris Pine, Emily Blunt, Jon Favreau, Mark Hamill, Robert Downey, Jr. and pretty much half of the Marvel Cinematic Universe on stage for a single two hour show, and have it only be seen by 8,000 people at most.  Of course, they released press clips thereafter, but the entire experience was witnessed by a lucky few.  All of that, just to get those 8,000 in attendance excited for the future of the company.  But us 8,000 spread the word out afterwards, exclaiming about the incredible things that we saw and in turn making those who weren't able to see the same show envious of our lucky break and intrigued even more about what we saw, an that in turn gets the hype train rolling.  It's a balancing act, but one that pays off in the long run.  Disney is not unique in this either.  San Diego Comic Con has been in the business of hype for decades now, and they in turn have become an essential part of the business as the biggest possible venue to generate excitement for fans, with everything from exclusive content to cross promotional goodies available to everyone.  What D23 and Comic Con has shown us is the level to which hype has grown as a part of the business.  Marketing a movie now has to be bigger than the movie itself, and in some cases that is true.  Some marketing budgets do exceed the budgets used to make the movie.  But, a well managed hype campaign can also make it possible for a movie to succeed without millions wasted on marketing that never hits it's target.  And in such a competitive, fast-paced world as unpredictable as the one we live in now, finding that right level of hype can prove to be elusive and even sometimes well out-of-reach.
The answer in understanding how Hollywood uses hype to their advantage comes from observing how it has evolved over the years.  For as long as Hollywood has existed, so has the marketing used to sell it's product.  Print ads and posters were the start, and then with the advent of sound came the preview trailer.  But, a new level of hype began to become elevated once celebrity culture developed in Hollywood.  Soon, hyping the talent became just as essential as hyping the story, as more and more people became fascinated around the world about this little community called Hollywood.  This in turn spilled over into the way movies were developed.  A turning point came with the highly anticipated adaptation of Margaret Mitchell's best-seller Gone With the Wind (1939).  Even before the book hit the shelves, producer David O. Selznick began hyping up his project once he secured the rights and pushed interest into the public's eye, ensuring that his movie was going to be nothing short of the biggest movie ever made.  Polls were taken from the public asking who they saw as the ideal casting for each character; an unheard of tactic at the time, but one that has since become a popular tool for other hype driven marketing campaigns in the future.  With audience awareness at an all-time high, Selznick's gamble paid off and Gone With the Wind indeed lived up to the hype in the end.  Another turning point that caused a change in the industry was the release of Psycho in 1960.  Not only was it a smash success, but it even changed the way that people watched movies in a theater.  Alfred Hitchcock made it clear in his promotion of the movie that this was a film that needed to be seen all the way through in order to appreciate the mid-film twist.  Up until then, people came and went as they pleased when visiting the movie theater, as it was a continuous presentation throughout the day with shorts and news reels in addition to the feature presentation.  Psycho changed that and for the first time ever in the industry became the beneficiary of one of the most useful forms of hype; the word of mouth campaign.
Since Psycho, audiences fell into the habit of experiencing films as a whole, rather than just as part of day at the movies.  Word of mouth worked hand-in-hand with what advertisements could sell about a movie. And from that, the industry learned what effect audiences could have with giving these movies a boost.  But, with an external force like audience driven hype helping to boost interest in their films, the industry also opens itself up to external forces out of their control to affect the reception to their movies as well.  Controversies become an issue that affects the anticipation levels of a movie sometimes and how well a movie does in the long run is determined by how well a company can manage to weather a storm surrounding the flick.  Torrents of political fervor sometimes drives hype around some films, either making them essential viewing for the moment in time or works so dangerous that they must be seen in order to be understood.  Mel Gibson's The Passion of the Christ (2004) saw heavy criticism from one side, critiquing it for presumed Antisemitism and ultraviolence, while the other side saw it as a faith-affirming work of art, and both camps end up making it one of the most talked about and highest grossing films of it's time.  Documentarian Michael Moore likewise drove up plenty of controversy for his agitprop doc Fahrenheit 9/11 (also 2004), and it too rode a wave of interest towards increased exposure and box office numbers.  But, success from controversy is not always a guarantee.  2016's Ghostbusters reboot really mishandled the controversy surrounding the casting of an all-female team, seemingly courting the controversy by giving credence to the opinions of some despicable, online misogynists, and in turn, it turned all audiences away.  Controversy is an unreliable and sometimes treacherous way of utilizing hype to sell a movie, and it often takes an expert hand to make a film live on through those troubled waters.
But what usually becomes the biggest challenge of managing hype in the industry is the speed under which it operates.  The internet and social media are changing audience tastes and attitudes at an alarming rate, and what once was a sure thing several years ago may no longer be reliable at the moment.  That's the danger that some of these long-gestating hype trains are running into now.  For a while, thanks to Marvel Studio's success, it appeared that the future of blockbuster film-making was going to revolve around the creation of cinematic universes.  In time, we saw every studio in the business come out and announce that they had a bold master plan to create universes that would rival Marvel's and become reliable revenue generators for their companies.  The only problem with making these bold plans is that you've got to anticipate what audiences will think in the long run about your plans.  Promise too much and deliver too little, and the hype will die out too fast.  Universal Studios is witnessing such a result right now.  They hyped up this new venture called "The Dark Universe," which was going to be a shared universe that would combine all of their gallery of famous  movie monsters, each played by a marquee movie star.  The only problem is that they put so much emphasis on selling the idea of this shared universe that they forgot to make worthwhile movies that could live up to the promise.  The first film released, this summer's The Mummy starring Tom Cruise and Russell Crowe, was met with such disinterest from the public, that it quickly disappeared from theaters, flopping at the box office, leaving the future of the "Dark Universe" in serious doubt.  Sadly, by being so determined to hype this cinematic universe and reveal so much of their future plans, Universal is now locked in a situation where they are going to lose money if they continue or look foolish if they quit too soon.  Thus we see the faults of trying to overreach when it comes to hyping something big.
That's why it helps to know the kind of audience that you are hyping to and how best to reach out to them.  It also helps to be creative as well.  In the age of the internet, the target audience may be ever changing, but a thoughtful, unique hype campaign can bring that into focus.  The comic conventions in particular do a lot to generate hype in ways that trailers and advertisements can't.  They create experiences that stick in the minds of viewers and make them interested in seeing how the final result will turn out.  In the internet age, sights and sounds make a bigger difference more than ever with generating hype for a movie, and we are seeing film companies bringing more of an outreach into the fan experience than ever before; sometimes in some very unexpected ways.  It's seen in moments like Johnny Depp appearing in character as Jack Sparrow within the actual ride of Pirates of the Caribbean at Disneyland in anticipation for the new franchise movie.  It's seen in the placing of a giant inflatable King Kong on the top of the Empire State Building in anticipation for the original film's then 50th anniversary.  The internet also becomes a breeding ground for generating more hype for a film, by allowing interactive experiences to enrich the deep lore behind a film's narrative.  The Blair Witch Project (1999) revolutionized this idea, creating a website specifically to explain the fictional "Blair Witch" myth and make it feel even more authentic, driving the fan explosion that the original film benefited greatly from.  Similar guerrilla style marketing has since become mainstream in the industry, like the fake Harvey Dent campaign website for The Dark Knight's (2008) promotion, and it's usually effective in sparking more interest from the public.  But, it's also an avenue of hype that also needs to be well handled.  Sometimes, it might come off as a shameless marketing ploy, like the despised website plug at the end of the horror flop The Devil Inside (2012), or the mishandled tie-in to a fake Walt Disney related backstory as the inspiration behind Tomorrowland (2015), but using creative means to generate hype for a film project is never a bad idea.
What I most like to see is when hype is used well by Hollywood.  My D23 Expo experiences are prime examples of that, and it gives me great joy to spread the hype around when it's something that I believe in.  Hell, I devote an article at the end of every spring and summer giving you my picks for the must sees of the season, with the hope that it will make all of you more aware of them too.  Not every project needs my help, and my voice is still a relatively small one in the grand scheme of things, but I still love being a part of the hype.  Is it deceptive sometimes; absolutely, and I for one am not above admitting when I'm wrong about a movie.  Still, the many interesting avenues in which hype takes it's form is something worth analyzing.  I am still amazed how so much thought goes into such things as exclusive presentations at Comic Cons and once in a lifetime experiences, just as way of marketing to a larger audience and get them psyched for something that won't be complete for some time.  It backfires quite a lot sometimes, but a well executed attempt at generating hype can even outlive the production that it was trying to sell.  I like to know what goes on inside the brainstorming sessions behind these moments.  Who makes the call to say that they want every Marvel Avenger on stage together and how do they maneuver things around to make it a reality.  More importantly, how do they keep some of that planning a secret.  It all comes down to a lot of forward thinking and excellent logistical planning.  Hype is a powerful tool, and it has it's downside too, but when done well it can be just as enriching as anything it is meant to sell us on in the first place, especially in the world of entertainment.