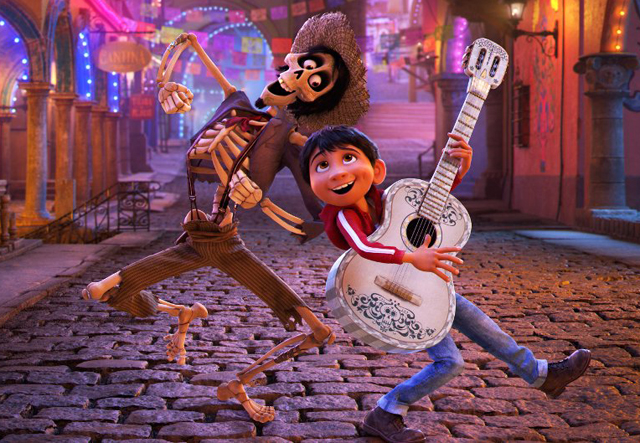 Pixar Animation Studios has made a name for themselves in Hollywood for a variety of reasons.  They have an incredible track record at the box office; their characters are known the world over; and they are always pushing the envelope in the field of animation, making them an undisputed leader, alongside their partner company Disney.  But, one other thing that usually defines their movies are the ways they put interesting spins on unusual concepts and mine them into universal stories that anyone can enjoy.  From them, we have witnessed stories of what toys do when they're not being played with, the working lives of monsters, and the suburban dramas of a family of superheros.  They have also given us an innocent romance between two robots, showed us that even a rat could be a gourmet chef, and even told us the story of the emotions within the mind of a twelve year old girl.  Pixar, on top of it's groundbreaking animation, is also rightly celebrated for it's creativity, and for it's devotion towards trying new things.  However, they also work in an industry that demands continuing results, and in some ways, Pixar has fallen victim to it's own success.  Because their movies do so well, the demand for sequels has been overwhelming for them, and despite their desire to move forward with newer ideas, they are still obliging to those demands and have made a number of sequels, especially in the last few years.  While some of their continuing franchises are still celebrated (Toy Story for example), there are quite a few who aren't.  And you can tell which sequels are given the least amount of care within the studio.  This past summer's Cars 3 may be the least inspired Pixar movie to date, and it is disheartening to see a studio that made such a big deal in the past about the importance of story care so little about what narrative they were telling in their own movie.  Still, whenever Pixar does have the opportunity to do something new, they relish it, especially if it's a concept that's ripe for the Pixar treatment.  And after seeing stories of toys, bugs, robots, rats, and even emotions, Pixar again shines it's light on an unexpected subject; the Mexican holiday of Dia de los Muertos.
Coco, the studio's 19th feature, uses the holiday as the starting off point for it's new epic adventure.  This isn't the first time that Pixar has tackled a singular national culture in one of their movies.  Unfortunately their first experience with this ended up with the disappointing Brave (2012), which merely used it's Scottish setting as window dressing for a rather banal story.  With Coco, the focus is placed much much more heavily on the culture of it's setting, and the importance that it holds on the lives of everyone within it's story.  This is a movie that is steeped heavily within Mexican culture; celebrating the art, the music, the traditions, and most importantly the people of this culturally rich nation.  It's a movie that identifies heavily with the setting of it's tale, and yet still manages to touch universal themes that will resonate to people of every culture, especially with regards to the importance of family in one's life.  This is probably why the filmmakers chose Dia de los Muertos ("Day of the Dead") as the source of inspiration for this story, because of it's association with all of the above.  It is a uniquely Mexican holiday, and one that emphasizes the importance of family and personal identity.  But, it's not just those themes that Pixar was interested.  They also saw the potential in exploring the idea of the world that the "Dead" live within; the one that they visit from on this certain holiday.  They also found inspiration in the iconography of the festivities, including marigold flower petals and candy colored skeletons, all of which is given a very fanciful treatment by the Pixar team.  But, like I've said before, it can be tricky basing your entire movie around a certain cultural tradition, and Pixar has managed to fail in that arena before.  So, does Coco show Pixar at their most inspired, or is it another shallow attempt to use colorful cultural inspirations to mask it's narrative shortcomings.
The story of Coco is centered around a passionate and restless youth named Miguel (voiced by newcomer Anthony Gonzalez).  He is the youngest child in a family of shoemakers who have had their trade passed down through several generations.  His grandmother, Abuelita (Renee Victor) makes the family live by the strict rule of no music, based on the past past history of their family matriarch, Mama Imelda (Alanna Ubach), being abandoned by a musician who wanted to pursue his dreams of stardom.  Miguel disobeys his Abuelita by practicing his music in secret, sharing his talent only with his great grandmother, Coco (Ana Ofelia Murguia).  On the eve of the night of Dia de los Muertos, Miguel hopes to enter the talent contest at the village's festival, but his guitar is discovered by the family and is smashed by his Abuelita as punishment.  Heartbroken, Miguel ventures to the tomb of his idol, famed musical legend Ernesto de la Cruz (Benjamin Bratt), in the hopes that he can use his famous guitar that remains on display there.  After strumming one note, Miguel suddenly finds something amiss.  He is invisible to those around him, except to his dog Dante, and all around him are skeletons walking among the living.  He soon realizes that he's crossed into the realm of the dead after encountering relatives from his past that have passed on.  They take Miguel with them and enter the Land of the Dead, where Miguel must get the blessing of his great, great grandmother Mama Imelda to return home.  However, when her conditions includes a promise to never play music again, Miguel runs off.  His only chance of returning home must come from the man that he now believes to be his great, great grandfather, the legendary Ernesto, who unfortunately is unreachable.  However, when Miguel meets a wayward outsider named Hector (Gael Garcia Bernal) who promises he can sneak Miguel into Ernesto's compound, his adventure heads into new and even riskier territory, in both a race against time and death itself.
Given that this is Pixar, the expectations on Coco are pretty high, especially when they are tackling something original.  Despite it's place within the whole legacy of Pixar Studios, does the movie stand well enough on it's own?  I can safely say yes to that.  Coco is an endlessly charming feature that is both heartwarming in it's narrative, as well a visually stunning piece of animation art.  The movie is especially a welcome palette cleanser to get that sour taste of Cars 3 out of our memories.  This is both a welcome return to form for the studio, as well as a unique change of pace for them.  While you can still see the same traditional Pixar calling cards throughout the movie (stylized worlds, Pizza Planet truck cameo, John  Ratzenberger, etc.), it also feels very different from their other features.  While most other Pixar movies center around their main characters changing the course of their future, Coco is all about healing the scars of the past.  This is a movie that makes family the primary issue, and how knowing where you come from and who has made up your family tree factors into the person that you are and what course you will take in your life.  For the main character Miguel, his journey doesn't come down to him living out his dream but instead finding out why his life matters in the grander scheme of things.  It's ultimately a movie about not losing the things that matter, something that is tied integrally to the festivities of the Dia de los Muertos.  In Mexican tradition, the holiday is all about remembrance, and passing memories along through generations, so that those who have left us can never be forgotten.  The movie's greatest strength is the effectiveness with which it conveys that tradition, to the point where remembering loved ones is a key point to the plot.  And, in the best way that Pixar knows how, they take the simple ideas behind the tradition and elevate it into grandiose spectacle.
One thing that I definitely can say about this movie is that it is probably one of the lushest and most extravagant films ever made by Pixar from a visual standpoint.  The Land of the Dead itself is a wonder to behold, with a sense of scale that raises the bar for Pixar.  There is this beautiful mix of styles that spans across the many years of Mexican cultural history.  You see the influence of Mayan and Aztec art and architecture, combined with post-colonial classicism, and then finally the art deco modernity of the 20th century, all literally stacked on top of one another in the fanciful realm of the afterlife.  Within it, you see the richness of Mexican culture that has spanned centuries and has been influential to so many.  Cultural touchstones are even spotlighted, with even famed artist Frida Kahlo making a memorable appearance at one point.   The movie also does a fine job of portraying a contemporary view of modern day Mexico in the living world scenes as well.  Miguel's community has a beautiful tranquility to it that I'm sure many real Mexican people will tell you is closer to the real thing than most other images of their country that makes it into the media these days, especially compared to those that mean to misrepresent their country.  Even with the heavy cultural influence, the movie still feels like a Pixar film, especially with their attention to detail.  That extends even into the designs of the characters.  Considering that this movie deals with many characters that are dead, it's a good thing that Pixar resisted the temptation to venture into any macabre territory, which itself would have been insulting to the tradition itself.  What they do instead is to give the skeletal characters ornamental touches similar to the candy skulls you see made specifically for the holiday.  The colorful touches also add variety to the characters' designs, with some of the designs accentuating the individual's personalities in some fashions.   It all adds to a lushness in the film's design that makes this a feast for the eyes with every frame.
And while the movie stands among the greatest of Pixar's films in terms of visuals, there is unfortunately one other aspect of the movie that sadly keeps it from reaching the pinnacle of the studio's best.  While the story is imaginative and leads to some wonderful moments throughout, it is also far too predictable most of the time.  Maybe it's because I've watched pretty much every Pixar film to date, along with hundreds of other animated films, that I am far too familiar with the playbook that these movie draw from for their narratives, and sure enough, Coco follows them to a "t".  There is a second act plot twist that I sniffed out way in advance, and by the time it was revealed, I felt less surprised by it.  By being predictable to a fault, I felt that the movie undermined the impact of it's story.  Sure, it plays those moments far better than other movies do, but at the same time for a movie as visually inspired as this one, it should have taken less conventional roots to get there.  I would say that Coco is better in it's individual moments than it does as a narrative.  It probably doesn't help that this conventional story follows in the tradition of a studio that continually told stories that nobody else was doing.  This is the same studio that had an old man and a boy scout traveling to South America in a flying, balloon suspended house.  That's a story that you had no idea which way it was going to play out.  Here, you know how Miguel's story is going to end, because you've seen it done in so many other films.  Traveling to another realm to learn a truth about the kind of person he is.  You could just as well call this land Oz or Phantasia, because the journey is roughly the same.  The movie even trots out overplayed tropes like the betrayal of a friendship and a hidden antagonist revealed late in the story.  Now, Coco doesn't misuse these tropes horribly, but by being too recognizable, you can't help but be taken out of the movie by seeing the mechanics behind which this story is built.
At the same time, the movie makes up for these story shortcomings by being so imagnative in all other aspects.  The movie plays familiar notes, but oftentimes they are played so perfectly that you can't help but love them.  It helps when the movie has a great heart at it's center in the character Miguel.  He is one of the most endearing main characters you will ever see in a Pixar movie; full of life and passion, he is a character who is instantly worth embracing.  He's also well-rounded, with a good many flaws that prevent him from being bland as well.  Newcomer Anthony Gonzalez manages to find that fine line between precocious and grounded in his vocal performance, and he easily holds his own against more veteran talents like Benjamin Bratt and Gael Garcia Bernal.  It should also be noted that another way this movie is set apart from it's predecessors is in it being the first fully fledged musical from Pixar.  While the animation giant has included original songs in their films before (some Oscar-winning), they have never actually been as integral to the story as the ones here.  Here, the music is a part of the story and it's the characters themselves that carry the tunes.  It may not be a musical in the classic Disney sense, but it certainly falls more in that category than anything Pixar has made up to now.  The songs themselves were written by Robert and Kristen Lopez, the same people you can blame for those inescapable ear worms from the movie Frozen (2013), and their work here is just as strong.  The primary number, "Remember Me" in particular has a special part to play in the movie's plot, and I'm sure that it will turn into a classic all it's own.  The song also plays a part in the other thing that Pixar films are famous for, which is the ability to make their audiences cry.  There's a climatic moment that I won't spoil for you, but suffice to say, the screening I went to had some people openly weeping.  You can say that Pixar has done it's job as intended when it makes it's audience do that, but fear not, it's a moment of joyful weeping. There's no traumatic sadness like the openings of Up (2009) and Finding Nemo (2003), nor the somber feelings of Jesse's story in Toy Story 2 (1999).  It's the kind of emotional release of unimaginable love that ultimately becomes this movie's greatest triumph.
So, the movie has narrative shortcomings that keep it from becoming an all time great, but individual moments within stand among the greatest that Pixar has ever committed to film.  Apart from that, I credit directors Lee Unkrich and Adrian Molina for immersing their film so heavily within the culture of Mexico and for not compromising that vision either.  This is movie that embraces everything about the culture and imbues it with a grandeur that grabs your attention through every moment.  The movie also remains truthful and respectful to the traditions and cultural touchstones that it portrays, giving audiences unfamiliar with the intricacies of Mexican cultural traditions a great and entertaining primer towards wanting to learn more.  The movie is already being embraced by audiences in Mexico itself, where it saw it's premiere first before anywhere else in the world.  It's already broken box office records south of the border, and that resounding support should extend northward as well.  I myself was still enchanted by the movie, despite not being surprised by the directions it took.  Maybe Pixar's bar has just been set far too high by past masterpieces for even this very well-crafted feature to clear.  I would still easily put it in the upper half of the Pixar canon.  The characters are delightful, the music is exceptional, and the visuals are awe-inspiring.  And it gives me confidence that Pixar is still trying their hardest to do interesting things with their movies.  The subject of Dia de los Muertos is perfectly explored in this movie, especially with regards to it's themes about family.  My hope is that this movie inspires many people to look deeper into their own family histories, and discover all the fascinating stories that lie within them.  That's ultimately where Coco leaves the greatest impact, and it's one that sets a great standard of it's own within the legacy of Pixar.
Rating: 8.5/10