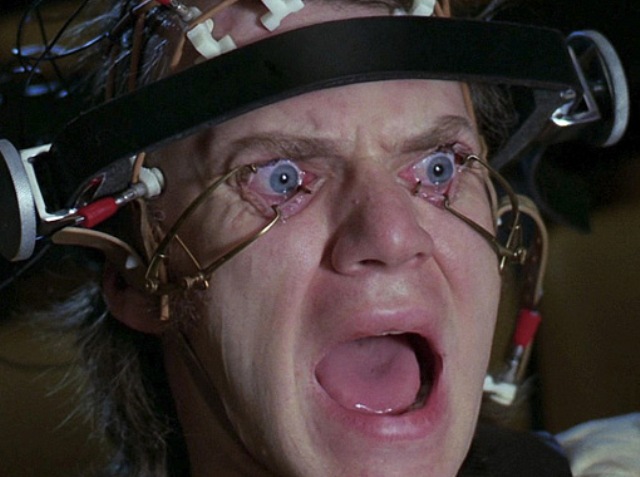 For as long as there have been movies there has been the desire to tell stories that depart from the norm and venture into sometimes dangerous new territory.  And whenever we see a movie that intentionally means to provoke a response, that response will usually manifest itself as a backlash from those who don't like it's message or content.  But whether or not the response the movie gets is positive or negative, the one thing that 's for sure when a film courts controversy is that it gets everyone talking about it.  What is amazing today, in our social media driven culture is that controversy can now become a viable marketing tool for a movie to run on.  Even if you have a movie that is drawing scorn from a large amount of people, it still boosts the exposure of the product, especially if it becomes controversial to the point of being headline worthy.  But the question remains whether or not a movie demands to be seen once it becomes a hot button issue.  Are we compelled to see what all the fuss is about or should we ignore the hype and stop feeding the beast?  Like most things, it really comes down to the product itself, and whether or not it can stand on it's own amid all the noise.  But the fact that not only does controversy help put the spotlight on the film but actually helps it to gain much more success than it would have normally is really something interesting in the industry.  One other interesting outcome of this is finding out whether the controversy is warranted in the first place.  Sometimes a movie is just ahead of its time and looking back on past controversies can sometimes make them look ridiculous in hindsight.  It's a cycle played out all the time in Hollywood, and even though it happens often, we can still be surprised by the extent of a movie's impact on our larger culture, or at least the established order it can shake up.
This is something that we are currently seeing played out in our cinemas now with Clint Eastwood's new film American Sniper.  In my review of this movie a couple weeks ago, I highlighted the fact that the film took a rather polarizing figure in our recent history of war and used him as a focal point for a larger examination of the life of a modern American soldier.  Understandably, basing a movie on the life of a controversial figure like Chris Kyle was going to ruffle a few feathers in both our pop cultural and political world, and sure enough, the last month has been a firestorm of everyone putting in their own two cents about the movie.  Interestingly enough, the critiques of the movie have run pretty much down party lines, albeit with a couple open-minded voices actually breaking from the predictable opinion.  Since the movie's release, we've seen critics attack this movie as being right-wing propaganda and racists to Muslims, while others on the opposite side view it as a strong endorsement of American military might.  My own opinion is that neither extreme is true, and that the movie is an intriguing character study of a flawed but talented soldier in combat, and how that experience is indicative of many more like him trying to come back to a normal life at home.  But, what I find the most interesting about the movie is how much the controversy has fueled it's box office numbers.  It broke all sorts of box office records for the month of January and is continuing to dominate headlines in both the entertainment and political world.  In this case, I think that the movie accomplished something good by being controversial, because it's gotten everyone talking about important issues like the responsibilities of war and how we treat our wounded soldiers.  And it also offers up a picture of war that can't be so easily defined by conservative or liberal talking points.
But, while American Sniper is the hot button issue of now, it's not the first movie to stir up controversy, nor the first to have been the beneficiary of added exposure.  Cinematic history is full of movies that pushed the boundaries of taste and socially acceptable behavior.  In the early days of Hollywood, the standards of violence and sex had yet to be established, so for many years filmmakers were free to push boundaries all the time.  Even studio made movies had openly frank movies about violence (1931's Scarface) and sex (1933's Baby Face), but that all came to an end with the establishment of the Hays Code, a restrictive set of guidelines set up by religious figures in conjunction with studio heads in order to "clean up" the loose morals of the movies.  For the decades that followed, Hollywood would play it safe and movies became a lot more sanitized and morally righteous in the years after.  Restrictions on depicting violence loosened during the war years, but even still, approval by committee had to be given.  In the 50's, the McCarthy trials also made the studio system weary of political messages in the films as well, which led to an unprecedented era of censorship in the realm of film-making.  And naturally, when restrictions become too much of a burden, it inevitably leads to a backlash, and for many years Hollywood started to fall behind as necessary controversy existed outside of the industry, rather than being guided within.  It wasn't until the late 60's, after the Hays Code and the Blacklist were abolished did we see an era where free expression and new ideas become a big part of the cinematic experience again, at least for a time.
During the tumultuous 60's and 70's, when Vietnam and Watergate dominated the headlines, Hollywood was finally embracing filmmakers who had ideas and stories that could shake up the world and even change it for the better.  One thing that came about in this time was the creation of the Ratings system, conducted by the MPAA (Motion Picture Association of America), a corporation set up for the specific purpose of determining the appropriate audience for any select film based on it's content.  Sort of a self governing body, the MPAA took the power out of the government and studios hands to determine if a movie should be seen or not based on it's content and instead left that determination up to the customers, giving them the information based on the rating upon it's release.  In the beginning of this new system, Hollywood didn't prejudge movies by their ratings, and instead celebrated the changing attitudes that were starting to become popular at this time.  Even movies slapped with the highly restrictive X-rating (which banned any audience members under the age of 17 from seeing it) were celebrated; director John Schlesinger's X-Rated Midnight Cowboy (1969) even won the Oscar for Best Picture that year.  But, even though hot button movies were embraced in this time period, there was also an inevitable backlash as well.  Religious groups organized to the point where they could put pressure on the studios once again, and the MPAA's ratings system became less of a suggestion for audiences, and more of a standardized label that segregated movies away from each other.  In the 80's and 90's, it began to matter a lot more whether you were saddled with a PG or R rating.  And in this time, controversial movies began to stand out that much more.
But do filmmakers set out to make their movies controversial and do they really use that as a way to boost their production's exposure?  For many, I don't think that filmmakers really want their movie to be seen as controversial.  Provocative, yes; but I don't think they have the intention to draw criticism onto themselves.  For a lot of filmmakers, their choice of project is more about the story they want to tell and their belief that people will indeed want to hear it.  Controversy will sometimes arise when the filmmaker runs into a wall of rejection when their tastes run contrary to a whole select of people, usually those who share different worldviews than the filmmaker.  What may seem rational to one will seem radical to another, and the storm raised between one and another is what fuels the controversy around any given movie.  This usually comes down to three certain areas of contention, which are politics, religion, and standards of violence.  Probably the most effective way to really push a few buttons in Hollywood would be through tackling religious doctrine.  The film industry is primarily secular, with a few religious camps present as sort of a niche market, but if a major filmmaker chooses to take on a religious subject head-on, it usually ends up drawing the ire of some.  I'm of the belief that religious themed movies can be worthwhile if they have something interesting to say; which unfortunately very few of them do.  But, when experimental filmmakers like Martin Scorsese and Darren Aronofsky tackle biblical tales in unconventional ways, it suddenly makes their projects much more explosive, because of how their breaking from an established order of things in Hollywood, both spiritual and secular.  Mel Gibson's The Passion of the Christ (2004) stands as one of the most controversial movies of all time, but that's less because of it's religious stance and more of because of how it affected different groups politically.  Even still, controversy got it exposure it definitely wasn't expecting.
Whether expected or not, once a movie becomes a topic of discussion, it drives more people to want to see it.  Sometimes  it happens because of the movie's content, and sometimes it just happens out of nowhere.  I'm sure that Seth Rogen and James Franco never thought that their silly buddy comedy The Interview would become so controversial that it would get pulled from the cinemas before release, but once you draw the ire of an international body intent on publicly shaming you just because you used them as your point of ridicule, you suddenly become on of the most controversial movies of all times.  And usually it's just the timing of the controversy that matters the most.  Your movie may intend to push a few buttons, but unless it's relevant to the times we live in, no one will really care.  Some controversial movies of the past now feel tame, and that's usually because of the loosening of social standards on violence and sex in the years since.  Stanley Kubrick's masterpiece A Clockwork Orange (1971) was so controversial in it's time, that it was banned in the United Kingdom for decades for having inspired rising gang violence in that country.  Seen today, after all the violent movies that Hollywood puts out today, Clockwork Orange doesn't have the same kind of shock factor, unless you count the unsettling eye torture that Malcolm McDowell's Alex goes through later in the film.  But it's notoriety was definitely fueled by it's early explosive reputation.  And it's button-pushing movies like this that have indeed moved society in a different direction that helps to make it's content more acceptable.
Other controversial movies however loose their luster after their time has come and gone, especially if all that made them stand out in the first place was just their button-pushing content.  Documentaries are especially notorious for brewing controversy and gaining exposure right away.  Michael Moore's Fahrenheit 9/11 (2004) became noteworthy for being the highest grossing documentary of all time, mainly due to being a scathing critique of a sitting President during an election year.  It elevated Moore in the world of film and politics, believing that his movie would lead to the ousting of then President George W. Bush and would make  history becoming the first documentary to be nominated for Best Picture.  When neither happened, the aura around the movie diminished and Michael Moore has been increasingly marginalized as his kind of firebrand film-making has become less popular during the Obama administration years.  And indeed, political documentaries are the ones who can gobble up awards and get the most exposure quickly, but they are usually forgotten much quicker.  The documentaries that last longer are the ones with a compelling story like Shoah (1985) or Hoop Dreams (1994).  But sometimes controversies drive movies not by design but by circumstance.  For instance, the creation of Joseph L. Mankiewicz's Cleopatra (1963) ran into controversy when both of it's leading stars (Elizabeth Taylor and Richard Burton) began a highly publicized affair on the set.  In order to capitalize on the public awareness of the scandalous couple, Fox quickly streamlined the already troubled production and turned what was going to be a two-part series into one four hour long epic.  It was seizing a moment they had to save their over-budget monster, even though it was not planned that way.  Controversy is a double-edge sword sometimes.  Either it can give your film production a lot of headaches, or it can be that lightning in a bottle to boost your movie into places unseen before. American Sniper likewise is finding itself caught up in a flurry of controversy that is driving a wedge between different political factions, but at the same time is also boosting it's box office to unprecedented levels.  I for one believe that it's a movie deserving of exposure in any way it can get it.  I just hope that people also go into the movie with an open mind.  The most interesting thing about controversial movies is the fact that they are unpredictable.  Usually, we can tell a lot about ourselves and where we stand as a culture by which movies we end up making the most controversial.  Sometimes they force us into confronting issues that need to be addressed, or it can force us to reevaluate or own standards of decency and acceptance.  Many controversial movies have benefited us in the long run, while others diminish when they prove to just be a product of their time.  But is it right to give into the hype surrounding a movie?  Sometimes these movies only become controversial because we are the ones fueling the fire behind them.  Even though a movie becomes a button-pushing issue, it should be stated at the same time that it's also just a movie.  The only power you give it is the effect that it has on you.  You can choose to ignore it or you can participate in the frenzy and see what all the fuss is about.  Sometimes, your opinion may actually surprise you once you've actually witnessed the movie yourself.  But, there's no mistaking the fact that these movies have a power over the industry, and are usually the ones that become the driving force behind what we see in the future.  Hot Button movies are just as important to the industry as the tried and true formula pictures.  In the end, it's not a big deal if controversy and hype fuel the performance of a movie.  Time will tell in the end if it was all worth it and whether or not a movie can stand on it's own.