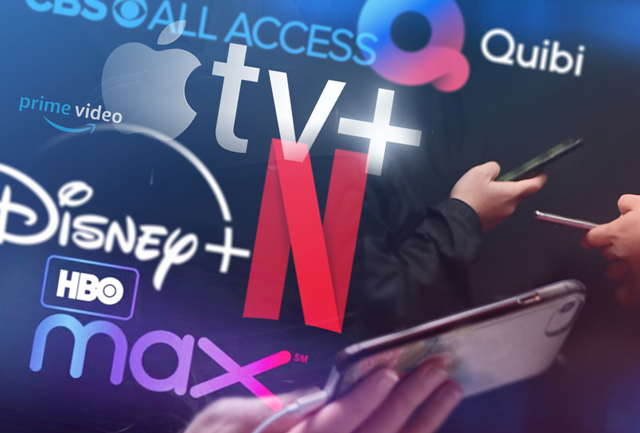 As we stand now, 3 months away from the end of another decade, it's interesting to see how far the last ten years have advanced the way that we consume content.  Looking back at the year 2010, when you heard of somebody watching a video online, most likely they would have been referring to short 10 minute clips that had been posted on YouTube.  The fact that the internet would soon be the primary source of our daily media intake was almost an inconceivable idea back in those days.  Back then, online videos were short little diversions, movies were still primarily destined for the big screen, and Netflix was still operating completely through their by mail servicing.  But, as the decade moved ahead and newer advances in communication made it more possible to download and process large files of content faster and cheaper than before, it suddenly changed what was possible in the realm of entertainment.  Now, people are able to watch what they want wherever they want, whether at home or on the go.  And through these advances, a new market in entertainment has opened up that has not only grabbed the attention of all the major studios in the business, but has become their primary in recent years.  This is the beginning of the Streaming Era in Hollywood, where the new cache is having a platform where people will pay a monthly fee to watch movies and shows that can only be seen on the specific channel.  This is a new frontier for the industry, as it enables them to bring content direct to the consumer in ways that have been impossible up to now.  Before, movie studios needed to work with the movie theater chains or the cable providers in order to have their catalog of content presented to the public.  But with streaming, the power is put into the studios hands, as they are now allowed a platform where they can bypass all other channels and bring the content directly into the home through an internet connection.
Netflix was the first to dip their toes into this new form of distribution.  First off, they added their streaming option to their monthly subscription plan as an alternative for people who thought the through the mail servicing was not fast enough.  As the streaming option became more popular over time, Netflix added more and more content to their streaming package.  What particularly became popular on their streaming platform was the television shows, as people were watching shows like Friends, Seinfeld, and many other classic shows that they had missed out on in their initial runs.  This created a new behavior for audiences which we know now as "binge watching," as it was discovered that most people were watching multiple episodes all at once; sometimes even entire seasons in one sitting.  As Netflix saw their subscriptions rise because of this new streaming option, they suddenly came up with a bold idea; why not make our own shows, exclusive to our platform.  It a short amount of time, they put together a plan to stream original programming on their platform, which in turn would change the industry in a dramatic way.  Their first show, the short lived Lilyhammer (starring Steven Van Zandt) was not much to talk about, but their second exclusive series, the critically acclaimed House of Cards, became the talk of the town.  Suddenly, people took notice and Netflix emerged as a real contender in Hollywood.  With several more shows like Orange is the New Black and Stranger Things having an almost perennial presence in the Awards races, not to mention garnering devoted fan-bases,  it was only a matter of time before Netflix would look to conquer the original film market as well.  This is where the platform has seen the most push back from the industry, as movie theater chains have aggressively fought Netflix's day and date release model, barring them from screening their movies in most chains across the country.  But, as Netflix has welcomed in more and more prestigious talent to their burgeoning studio, the pressure has risen on the industry to consider what place streaming should take as a part of the legacy of the business.
Though Netflix was the first to put their assets into the streaming market, they certainly weren't the last.  In the years since, online retailer Amazon would launch their own platform through their Prime membership, giving exclusive content to their customers as well.  Though they have been competitive with Netflix on the television series end, with their own award winning shows like Transparent and The Marvelous Ms. Maisel, they have not followed their rival in the original film race as much, instead opting to form an Amazon Studios division to produce movies for theatrical distribution.  Hulu, which had already been streaming broadcast television shows before Netflix, decided to follow their lead and make exclusive content as well, both for television and film.  In an interesting confluence of events, both Netflix and Hulu even had competing films covering the same subject released days apart, namely the Fyre Festival documentaries, which I covered here.   Though all these channels have done a lot to innovate and move the industry towards creating a streaming market, we still refer to the format itself as the "Netflix" model.  And this is because out of all the competition there is in the streaming world, Netflix has positioned themselves as being the industry leader.  Amazon and Hulu are massive platforms in themselves, but Netflix has become a part of the culture in a way that the others quite haven't reached.  As of right now, much of the maneuvering going on within the industry is in direct response to what Netflix has been doing.  Netflix has already conquered the video rental business, and even put Blockbuster out of business as a result.  They are dominant in the television market, which has forced cable companies to change their way of doing business as many people have opted out of their cable plans in favor of the more affordable Netflix.  What's to stop them from taking on the movie studios as well.
That is why this year is a big turning point for the streaming era.  In one month, two new streaming platforms from two of the most formidable media companies in the world are going to be launching; Disney+ and AppleTV+.  For the first time ever, Netflix will be seeing competition that may actually affect their dominance in the streaming market.  Disney+ for one takes advantage of their extensive library of always popular content, and they are also bring a lot of exclusive stuff to the table with new shows based on their Marvel and Star Wars properties.  And then you have AppleTV+, which is going to benefit from the world's largest corporations seemingly bottomless supply of funds for exclusive content.  They are also launching with subscription plans significantly less costly than Netflix currently is.  Netflix has certainly been planning for stiffer competition, as they've been signing exclusive contracts with some of the industry's hottest producers right now, like American Horror Story's Ryan Murphy, Game of Thrones' David Benioff and D.B. Weiss, and many more.  Not to mention, they've been pushing to get due recognition from the film community by campaigning hard for year end awards.  They made their best case yet with Alfonso Cuaron's Roma last year which took home several Oscars and nearly won the top award as well (and probably should've).  They are again making their run for Awards season this year, with movies like Martin Scorsese's The Irishman being heavily pushed, stating once and for all that Netflix, and by turn streaming itself, is an essential part of this industry and should be recognized as such.  Despite how this year will turn out, the streaming market is only going to keep expanding, with platforms like HBO Max, Peacock, and the short form channel Quibi all premiering in the next few years, so indeed, Netflix's drive to change the industry is actually happening.
But what is that going to mean for the industry itself.  We have already seen a big shift happen with theatrical distribution as a result.  There has been a noticeable decline in recent years with regards to mid range productions making it to the big screen.  By mid-range, I mean movies that aren't tent-poles but at the same time are not indies either.  These are typically comedies, romantic dramas, and the modest budgeted action flick.  They are disappearing from the multiplexes, where only a decade ago they once dominated.  This is mainly due to the fact that most of them have moved over to streaming, where these kinds of movies are much less of a financial risk if they don't perform well.  What we're left with at the local box office is big tent-pole films on one end and small budget indies on the other; mainly the only movies that the industry deems worthy of the big screen because they are the only ones that can turn a profit in the end.  In order to compete, movie theater chains have in a way adopted a model not unlike their streaming competitors, with many chains now adding their own subscription service to their patrons.  But even still, the options at the local multiplex are not as diverse as they once were, because streaming has soaked up so many of the mid-range films that used to drive a wider variety of people to the box office.  With more and more studios beginning to set up their own exclusive platforms, you may see even more of those types of movies taken out of the theatrical market and made available exclusively online.  It's all going to depend on whether movie theaters are able to retain their appeal as an alternative to the home viewing experience.  The subscription model, first brought to the industry by the now defunct MoviePass, may be the key, but up until now, it was only Netflix they had to contend with, and not a whole industry of streaming studios.
Another thing that may drastically change in the years ahead is the value that is put on available content.  For one thing, Netflix has recently been on a shopping spree in order to lock up exclusive streaming rights to content that they know is going to drive people to their platform.  Seinfeld, the now 20-plus year old, just sold it's streaming rights to Netflix from parent company Sony for a mind-boggling $500 million.  This was in direct response to Warner Brothers opting to take their shows Friends and The Office off of Netflix so that they could stream it exclusively on their platform, HBO Max.  Decade prior, you could probably expect studios to sell broadcasting privileges to cable outlets for a few million here and there.  But now, to have exclusive streaming rights, a single show now carries a half billion dollar price tag, and that's only because it's a big part of the way audiences consume content now.  Whoever has the sturdiest library will be the ones who make the most money, and though Netflix has a respectable collection of content to their name already, they don't have the decades worth of movies and TV shows that the big studios do.  So, before Sony gets an idea to start their own exclusive streaming channel, Netflix is making sure that their prized properties find a home with them beforehand.  With Disney set to launch their platform in November, they carry an already built in library of not one, but two major studios (themselves and Fox), so the need for exclusive content with name recognition is pretty much the most valuable thing to have right now in the industry, and it's only going to get fiercer in the years ahead; especially if some of these studios have to spend a lot more in order to compete.
One thing though that hasn't really factored into the discussion of the upcoming streaming wars is how much of an impact will it put on the customer themselves.  For right now, there is a lot of excitement for what's coming down the line, especially when it comes to all the properties that have been announced in the past few months.  But, as more and more channels are being announced as being in the works, people are going to start wondering if they are going to be able to afford all of it or not.  Right now, cable TV packages can cost in the range from $100 a month to $500, depending on how many channels they offer.  Streaming platforms are not part of those packages, and operate in a separate way; unless they make a deal with cable companies for a tie in promotion, like Amazon and Netflix sometimes do.  Some people have opted to leave their cable subscriptions behind and just do streaming instead, which has hurt cable providers a little bit, but not much as streaming still needs broadband internet to function.  But, when you look at all the streaming channels that are coming over the horizon, the cost of leaving cable for streaming may not look like the bargain it once was.  Netflix has already raised their basic streaming package over time, from a modest $8 a month to a now $12 fee, with possibly more increases down the road.  Disney and Apple are starting out with a relatively low $7 and $4 a month respectively, but again, the price might change over time.  And with HBO Max, Universal's Peacock, and multiple other platforms having yet to announce their introductory monthly rates, you may in the end having a streaming bill in the $100 a month range all by itself, in addition to your internet fee.  Thankfully, cancelling a streaming subscription is easier than exiting a cable package, but as content becomes more and more exclusive over time, people are going to be hard pressed to make tough choices about which platforms they choose, and that might mean that some of these platforms may not survive as well as hoped over time.  Even Netflix may lose part of their subscriber base, if they are unable to compete.
What is fundamentally interesting about this point in time in the entertainment industry is all the uncertainty.  We don't know how this upcoming streaming war will play out.  We just know that it's about to get a whole lot bigger in the years ahead.  Already we are witnessing a change in the industry that may or may not benefit the quality of the content we watch.  I for one think that competition is a good thing for the industry, as it allows for more  creative risks to be taken, but even this comes at a price.  I certainly want the movie theater experience to survive the competition from streaming, and hopefully their own subscription based system might be the key to that survival.  Also, the added cost that it'll put on the consumer might have a negative effect over time, as exclusive content might remain out of reach for those who can't afford to add on that one extra channel.  We may end up living in a world where people only watch their movies and shows from one studio and nowhere else, which is kind of already happening at the worldwide box office, with Disney taking an almost 40% share of total theatrical ticket sales.  But, even with all that, we are also witnessing a flourishing of creativity in Hollywood now that we haven't seen in a long time.  This Golden Age of television that people have been proclaiming recently has been largely fueled by the risk-taking new shows that have come from streaming, and that same flourishing is beginning to extend into films as well.  I love the fact that Netflix has invested in prestigious talent and given them free reign to do whatever they want.  It's a refreshing change from the more budget-conscious, focus group driven model of the last few decades.  Despite what it may do to my wallet over time, I have already signed up for Disney+ and am considering adding more streaming platforms into my daily options instead of less.  There's a reason why so many film studios are jumping on board, because streaming allows them a direct connection to the audience that they've never had before, and with a solid stream of revenue coming from monthly payments, many of them can return to making movies and shows the way they want to make them; with renewed confidence.