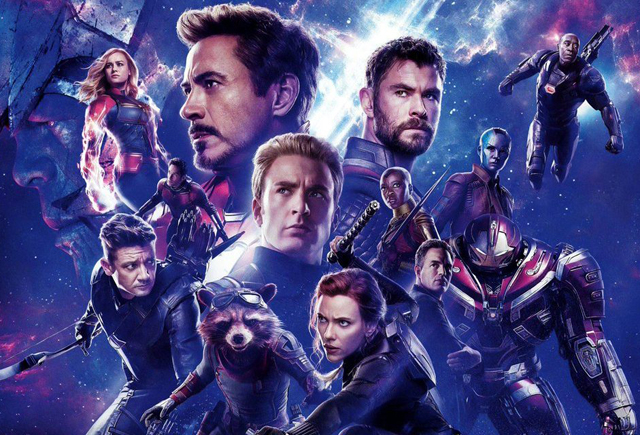 If there is ever going to be something that the 2010's will be known for, it'll be the years that the Avengers ruled Hollywood.  The super hero team from Marvel Comics took the industry by storm over the last decade, breaking everything from box office records to previous held conventions and boundaries.  Marvel showed us, among other things, that Iron Man, Thor, and Captain America were indeed bankable characters; that a comic book movie could touch upon sensitive cultural issues like racism, gender equality, and corruption in government, and still be fun along the way; that a movie with a strong and proud black identity could break box office records; and it also showed that a movie of this genre could be nominated for a Best Picture Academy Award.  But, the even more impressive feat that Marvel has pulled through it all is that they've connected all of it together into one single narrative.  The cornerstones of the Marvel Cinematic Universe, the Avengers series, has been where all the hard work in building worlds and characters culminates together and gives us, without question, the most ambitious movies ever put together for the cinema.  Marvel Studios chief Kevin Feige has stated that while every movie is given it's due attention, there has always been this ultimate goal in mind to get to; an end game if you will.  Every film adds a piece of the puzzle to a narrative that runs through nearly every one, even though each one stands on it's own separated from the rest.  Essentially, whether we've been aware of it or not, we've been following along with the greatest serial drama that has ever been created; bigger than any Star Trek, or Sopranos, or Game of Thrones.  But, just like any of those TV series, all narrative threads have to be resolved eventually, either by the end of the season or or the end of a series.  And Marvel is now in the position of delivering a finale of some kind for it's audience, and for some it will be only the closing of a chapter while for others it will be the end of the book for good.
A lot of things had to go right for Marvel to be in this position.  First off, they had to enact their ambitious plan in a time when audiences were ready to take the journey along with these characters.  Thankfully, the MCU was launched during a Renaissance period for comic book movies and serialized story telling in general.  Sam Raimi's Spider-Man (2002) and Christopher Nolan's Batman Begins (2005) brought respectability back to the genre after it's near death in the late 90's following Batman and Robin (1997).  Likewise, serial narratives on television saw a comeback in the mid 2000's, with shows like Lost gaining devoted cult followings, with fans eager to see complex stories unfold over entire seasons.  In that same, Marvel Studios formed and plans were put into motion to create a similar serialized narrative for their own cinematic universe.  The only thing is that though crossovers and linked narratives were commonplace before on the comic book page and on television, it had never been achieved before on film; at least not to this kind of level.  For this to work, there needed to be cooperation across all production levels the likes of which have never been seen before.  This meant, they needed to find actors willing to appear across multiple films, even if it meant a reduced salary; they needed filmmakers who were willing to compromise their instincts in order to follow the playbook; and they needed to put the trust in the audience to keep up with all the various plot threads across all the movies.  And then there was the crucial aspect of getting it started on the right footing.  This fell upon director Jon Favreau, who was given the reigns of Iron Man (2008), and he took the risky (but in the end brilliant) move of casting long disgraced actor Robert Downey Jr. in the role, more than anything because he was the perfect man for the job.  Iron Man of course was a hit and the rest we say is history.  And given the incredible track record that we've seen in the 21 films since Iron Man, the closing of this third phase of the MCU takes on a whole new significance.  At this point we are now reaching the goal that Kevin Feige and his team had hoped to reach when they launched this universe.  The only question now is, with 22 movies under their belt, an unimaginably complex narrative having been built up, and fan anticipation at an all time high, can Marvel stick the landing with Avengers: Endgame.
This is usually the point in the review that I provide a condensed plot summary for you.  However, given the enormous cliffhanger that the previous movie, Avengers: Infinity War, left us on, even providing the smallest plot detail would spoil something major; and I'm going to try my hardest not to make this a spoiler heavy review.  So, instead, I'm going to sum up where each character arc was left off with the ending of Infinity War.  The mad Titan Thanos (Josh Brolin) succeeded in collecting the Infinity Stones, the single most powerful artifacts in the universe.  In the final stages of his plan, he had already secured the purple Power Stone, the blue Space Stone, the red Reality Stone, and the orange Soul Stone, which he had to sacrifice the life of his daughter Gamora (Zoe Saldana) for.  Lured to his home planet by Doctor Strange (Benedict Cumberbatch), the guardian of the green Time Stone,  Thanos is ambushed by an alliance of Strange, Iron Man (Robert Downey Jr.), Spider-Man (Tom Holland), and half of the Guardians of the Galaxy.  They nearly subdue the powerful foe, but Star-Lord (Chris Pratt) loses his cool when he learns that Thanos has already killed Gamora, whom he was in love with, and his careless rage cause Thanos to be free.  After another skirmish, Thanos nearly slays Iron Man, which causes Dr. Strange to relent and hand over the stone.  With one left to go, Thanos heads to Earth to claim the last stone, the yellow Mind Stone, which is housed in the forehead of fellow Avenger Vision (Paul Bettany).  The Avengers make one last stand in Wakanda, kingdom of Black Panther (Chadwick Boseman), but are unsuccessful.  Thanos slays Vision, claims the Mind stone, and adds it to his Infinity Gauntlet.  Though Thor (Chris Hemsworth) make one last attempt to stop Thanos, he misses the kill shot and Thanos snaps his fingers, using the combined power of the stones to wipe out half of all life in the universe.  The Avengers watch in horror as friends and loved ones suddenly fade away, and the only survivors left standing are Iron Man, Thor, Captain America (Chris Evans), Rocket Raccoon (Bradley Cooper), Nebula (Karen Gillan), War Machine (Don Cheadle), Wakanda general Okoje (Danai Guira), Black Widow (Scarlett Johansson) and Bruce Banner (Mark Ruffalo).  Despite being wounded by the immense power he unleashed, Thanos retreats to a secluded farm where he sits relieved that his plan was fulfilled.  But two other survivors remain who could change all that; the immensely powerful Captain Marvel (Brie Larson), and Ant-Man (Paul Rudd) who's been trapped in the microscopic Quantum Realm.
There's no doubt that Infinity War set the table for Endgame with one of the most shocking cliffhangers in movie history.  It's a testament to how well Marvel pulled off their ambitious plan to build a cinematic universe that the finale of Infinity War hit so many fans hard.  Especially considering how many of the victims of "The Snap" included beloved favorites like Black Panther and Spider-Man, the reaction to the event almost felt like a loss in the family.  When I saw the movie in the theater last year, there were people openly weeping around me.  Now, I knew that this kind of thing wasn't going to stay finite for long, because one, characters always come back in the comics, and two, sequels for some of the lost characters had already been put into development; so I knew that they would all be coming back.  The only question is how, and could Marvel pull it off without it feeling like a cheat.  Well, ten years and 22 movies of planning clearly got Marvel to the narrative conclusion that they needed because I'm happy to say that Avengers: Endgame sticks the landing and delivers a beautiful conclusion to this epic story.  Without going into plot details, I can safely say that the movie doesn't spoil the emotional impact of it's predecessor and in fact compliments the story very well, helping to resolve the story in a way that is ultimately satisfying.  It's clear that Kevin Feige and screenwriters Christopher Markus and Stephen McFeely spent years working this story out before they got it right, and thank god they did.  I don't know if in any other circumstances this movie would have come together as well as it did, but Endgame benefited from the all the dominoes falling exactly as they should.  What's especially impressive about Endgame is that it both succeeds as the conclusion of this two film story arc with Infinity War, as well as a culmination of all the Marvel movies up to now.  It took a decade to get to this point, but it was all worth it by the end, even if it's not the end completely.
To separate the film from it's place in the MCU for a moment, how does it function as a film on it's own.  For the most part, it stands very well by itself, with minor nitpicks here or there.  Is it the best movie in the MCU; I'll have to contemplate that for a while.  If the movie has a flaw it's that the narrative flow is a bit shakier than some of the best Marvel movies; even compared to Infinity War.  Infinity War had the benefit of the race against the clock battle against Thanos, with much of the tension being built around whether he was going to get all the stones or not, with all threads leading to the terrifying conclusion.  That tension is replaced with something else in Endgame, that while still engaging, doesn't quite have the narrative focus of it's predecessor.  Endgame is also far more dependent on previously built narrative elements than past Marvel movies.  To be as vague and spoiler free as I possibly can, I'll just say that if you haven't seen most of the other Marvel Cinematic Universe movies beforehand, you might be a little lost.  This is a very lore dependent movie, and it does become distracting at times when it calls on the audience to remember things in order for the plot to make sense.  Even still, there are some beautifully constructed payoffs that do make it worth it, but it also makes Endgame also feel a tad less structurally sound as a result.  Also, the movie does have a couple tonal issues that undermine a moment here and there, especially when humor is injected.  Now, there are a lot of hilarious moments strung throughout, but I found that some gags perhaps didn't land as well as in previous Marvel films.  Even still, despite these nitpicks, it's without a doubt one of the most satisfying movies ever to come from Marvel Studios, with a finale that is likely going to stand as one of the talked about in movie history.
I for one need to single out the incredible job accomplished by the Russo Brothers; Joe and Anthony.  This duo of filmmakers refined their craft for years working on television shows like Arrested Development and Community before they landed over at Marvel.  Since their debut with Captain America: The Winter Soldier (2014), they proved very quickly that they were indeed the ones who would carry the MCU to to the "promised land."  With Captain America: Civil War, they showed that they could balance a movie with multiple characters and their continuing story-lines with great care, and with Avengers: Infinity War, they proved that they could accomplish the epic sweep that the story required.  Endgame had to wrap everything that the MCU had built up to in a satisfying package that could please everybody, and they were the only ones capable of doing that.  The witty banter of Joss Whedon wouldn't have fit here, nor the goofiness of Taika Watiti or the pop culture savvy of James Gunn.  It had to be the Russo Brothers with their unassuming, laser focus on set up and pay off in storytelling that came from their years in television that made them the best possible choice to see this film to completion.  And that's where Endgame excels so well, in paying off all those narrative threads that have been building for years.  With Kevin Feige keeping the gears churning and Markus and McFeely giving a spirited voice to the script, the Russos applied their vast in scope but never distracting vision to this story and made all the pieces fall into place in the best possible way.  Their command over fan service moments is especially impressive, because never once do they feel forced on the audience.  Every moment of fan service is woven into the narrative perfectly and never feels out of place.  A lesser approach, like some we've seen from other non-MCU super hero movies, merely shoe-horns these moments in without the proper build up, making the result feel cheap.  Endgame, like the best super hero films, makes those moments feel earned, and with the workman like approach of the Russos, fans are given treats that never feel like they don't belong in the movie.
It's also incredible just how well Marvel has put together their cast for this movie.  This is, without a doubt, the most incredible ensemble ever assembled for a single film.  The main cast of course are uniformly excellent, showing just how perfect each of their castings have been over the years.  Some actors were discovered through their participation in the MCU, while others got the career boost that they desperately needed, and others saw their careers transform into something else than what it had been before.  And in the case of Robert Downey Jr., he experienced a complete career resurrection.  This movie is especially a celebration of the original team of Avengers, some of whom have already made it clear that they are retiring from the MCU following this movie.  Without revealing individual fates, Endgame is both a transition for many of these characters, but also the final swan song for some.  Some story lines come to an end in Endgame, and one of the movie's greatest triumphs is in how well it brings closure to some of these characters.  One moment in particular is going to go down as one of the most triumphant singular acts of heroism that we'll every see in a movie, and I am so happy to see a film like this nail that moment perfectly.  There are plenty of excellent stand out performances in this movie, some of which probably stand among the best we've seen so far from any Marvel movie.  Jeremy Renner, in particular, deserves special mention for his performance as a deeply damaged Hawkeye, bringing more depth to this often unfairly maligned character.  Chris Hemsworth also brings a new layer to Thor that you would've never expected and it provides the movie with some of it's most hilarious moments.  And then there are surprise appearances that will be especially rewarding for long time fans, and seeing these faces made the movie even more special.  Also, the movie marks the final cameo from the late Stan Lee, which is fitting given that this is a movie marking the end of an era. Over 11 years and 22 movies, it's been the remarkable cast bringing these characters to life that has been the key to Marvel's success, and in Endgame, their effect is taken to even bigger heights.
There is no doubt that Avengers: Endgame is going to be a monumental moment in movie history.  In addition to breaking every possible box office record, the film also provides a prime example of a studio building something through complete and mind-boggling complex cooperation and having it all build to a satisfying end.  A movie like this shouldn't work; an all-star cast having to share equal screen-time, a complex narrative juggling plot threads from multiple stand alone franchises, and putting so much faith in the audience to have the head space to follow it all.  Oh, and did I mention that the movie clocks in at a record shattering 3 hour and 2 minute run time.  Marvel has defied everything we used to know about comic book movies in the past, and they've reaped all the rewards because of it.  Endgame is a triumph not because it managed to pull all this together, but because it does so with heart and respect for it's subject.  These have been movies made by fans, and that love of comic book heroes and their stories permeates every moment of the movie.  You do not feel those 3 hours at all, because there is so much going on and enough great payoff that those minutes just breeze right by.  Sure, Endgame has some minor flaws, and some plot holes might be picked apart in the future, but when the end result is this satisfying, those issues feel so insignificant.  I especially loved the way it resolves the things that needed to be resolved and some of the characters that see their stories come to a close are given the most beautiful of departures.  In the end, Marvel did what they set out to do, and everything hereafter is just the icing on the cake.  There will be more Marvel films to be sure, and Endgame even gives us some tantalizing hints about what's to come.  But even if this was the end of the road for Marvel in general, and there was nothing left on the horizon, this would have been a satisfactory finish.  Avengers: Endgame delivers exactly what we wanted from MCU, and in turn it will set a new high bar for super hero movies for years to come.  Given that Marvel now has all their toys back to play with, the future still holds a lot of promise for the genre, but Endgame has earned it's place as a very crucial corner stone.  AVENGERS ASSEMBLE!!!
Rating: 9/10