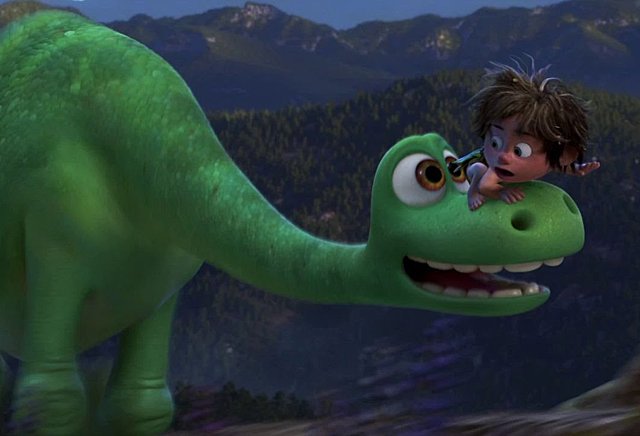 A Thanksgiving release has long been a tradition for animation; at least it has been as long as I've known. Dating back to the mid-November release of The Little Mermaid in 1989, animation studios (most often Disney) have staked a claim on the weekend and have usually dominated it year after year. This also became a tradition for Disney's prized computer animation partner Pixar, who has also benefitted from a holiday release schedule dating all the way back to the Thanksgiving opening of their first feature, Toy Story. Needless to say, this is a prime weekend for family audiences that enjoy good animation, and both Disney and Pixar have consistently delivered at this time of year. Most of the Pixar films have followed the same release patterns over time; either opening on this weekend, or coming in the middle of the summer. And so far, positioning themselves in a prime release pattern has provided them with near consistent success. Sure, some Pixar films have done better than others, but we've gotten to a point where any time the studio releases a film, it becomes an event, and those dates carry that weight with them. This year however, Pixar has taken the unprecedented action of releasing two films on both of their claimed time slots. While it doesn't put the films in direct contention with one another for box office, this closer than usual release does put them in contention for people's attention, and as a result both movies are going to be more highly scrutinized than they normally would. This summer, we got one of Pixar's all time best with Inside Out (which I reviewed here), and that success unfortunately raises the stakes higher for it's follow-up, The Good Dinosaur.
The Good Dinosaur comes to theaters after a long and tumultuous development. The movie suffered many story problems early on and it eventually led to the removal of it's original writer/director Bob Peterson (Up), a Pixar veteran, from the project. A move like this usually means that a film is in deep trouble, but it's not a first for a studio like Pixar, which holds it's movies up to a very high standard. Pixar has long held the belief that a movie is not worth making unless the story is sound and sturdy. Throughout their history, they have long put their story development through the highest scrutiny in order to keep the quality of their brand strong. This has worked for them in the past; a shake-up in the directors chair for Ratatouille (2007) saw the removal of original director Jan Pinkava in favor of a complete overhaul done by Brad Bird, who then went on to win an Oscar for his work. Even Toy Story went through an overhaul in it's development, which reworked the character dynamic between it's principal characters, Woody and Buzz Lightyear. Needless to say, Pixar has shown that it can be done. However, they've also shown that some projects are too troubled to be saved and their high standard can't always ressurect a project that's doomed from the beginning. Case in point, Brave (2012), which saw an overhaul and removal of it's original director Brenda Chapman, but it resulted in a film that felt unoriginal and stale. Because of the less than successful results of Brave, those same worries are again present with a similarly troubled production like The Good Dinosaur, which also has to deal with the extra pressure of following up the near perfect Inside Out. Thankfully, The Good Dinosaur shows very little of the scars of it's troubled production, but at the same time, it also shows that it's hard to follow-up perfection, even when you're Pixar.
The Good Dinosaur takes place in a "what if" scenario that presents an alternate reality where the dinosaurs were not wiped out by an asteroid hitting the earth and have instead lived on and evolved to the present day. This is the setting of the film, which tells the story of Arlo (voiced by Raymond Ochoa) the third born child of a pair of Apatosauruses simply named Poppa (Jeffrey Wright) and Momma (Frances McDormand). As he gets older, Arlo tries to overcome his crippling fear of everything in life, made especially difficult by his overachieving siblings, Buck and Libby. Poppa tries his best to instill confidence in Arlo, which includes teaching him how to trap critters. One day, a critter finds it's way into the family's crops, which turns out to be a human child named Spot (Jack Bright). Poppa leads Arlo after Spot in order to help him get over his fear, but when they venture too far from home, they get caught in a storm and Arlo loses Poppa in a flash flood. Alone, Arlo must find his way home, but to do so, he must rely on the instincts of the little critter Spot, whom Arlo believes is responsible for getting his father killed. Though they start off on their journey begrudgingly out of necessity, they quickly develop a shared kinship as they bond over their shared tragic pasts. Over time, Arlo helps to civilize the wild Spot and show him the importance of family, while Spot helps to embolden the timid Arlo, and together they take a harrowing trip that has them battling a pack of bloodthirsty Pterodactyls and rustling cattle with a family of T-Rexes. And soon, one time enemies become the closest of friends.
The Good Dinosaur overall is a very easy film to like, maybe even love. While I did enjoy my time watching it, I can't say that it moved me as much some of Pixar's best films. There are some flaws that do affect it. But, surprisingly, the story itself is not one of them. Yes, the thing that actually gave the Pixar story team the most amount of headaches throughout production is actually this movie's greatest strength. I think this is largely the result of an assured directing job from first-timer Pete Sohn. Sohn came onto this project late in the process and I think that he deserves a great amount of credit for righting the ship. First of all, this is a tough premise to make workable from the beginning, putting the idea across of this alternate reality. Thankfully the movie makes it work by not dwelling too heavily in presenting it. The movie starts with a prologue that shows the fateful asteroid heading on it's way to Earth. Instead of striking the planet like it's supposed to, we see the giant rock skim the top, leaving all the dinosaurs unharmed. It's simple, but effective, which allows the rest of the film to flow more smoothly, without having to reinforce it's premise over and over again. Secondly, I love the way they put a twist on the whole "boy and his dog" scenario, by making the "dog" in this case the "boy." Arlo and Spot's relationship easily carries this film in a big way and it's a heartwarming friendship. Pete Sohn also deftly handles the tonal changes of the movie, making the comical moments work hand-in-hand with the heavier oNed. There's a surprising amount of tear-jerking scenes here, whether it's Poppa's death early on, or the bonding moments with Arlo and Spot. If you're not moved by a scene towards the end that leaves the friendship at a crossroads, then you my friend are made of stone. Naturally, this is the kind of thing Pixar excels at, so it's not surprising that they nail the emotional stuff here too.
It's good to see that Pixar's high standard of story did work out in the end for this feature. Unfortunately, while well told, is not particularly groundbreaking either. This is where the inevitable comparison with it's predecessor begins to hurt it. Inside Out was such a standout for the company, both in concept and in execution. What Pixar has done so well over time is reinforce the belief that they are capable of making things you've never seen before over and over again, and Inside Out was proof of that. It's the kind of movie that reminds you that it could only come from a place like Pixar. The Good Dinosaur on the other hand feels like it could have come from someplace other than Pixar. Now if that were true, it would be considered a masterpiece from that company, but the fact that Pixar made this one makes it feel a little out of place in it's catalogue of hits. We've seen stories like this before from Disney and from Don Bluth, with films like The Lion King (1994), Bambi (1942), and An American Tail (1986) all showing their characters learning life lessons in the wild after suffering a tragedy. An even more apt comparison would be Don Bluth's A Land Before Time (1988), which is very similar in story and tone to this movie. The Good Dinosaur is not covering new ground here, which in turn makes it less successful as a movie than Inside Out. That doesn't mean it's bad, it just could've been more. My other problem with the movie is the inconsistent animation style. The fill overall is beautiful to look at, but there was a glaring issues with the character designs here. I felt that the overly cartoonish look of the characters clashed too heavily with the photo-realistic imagery of the environments. Though the characters are still animated with wonderful personality, the clashed way too much with the backgrounds, and it did take me out of the film occasionally. I wish this had been an instance where Pixar showed some restraint and made their characters feel more like they belonged as a part of this world.
But, that being said, I do want to praise the work that the animators did on the environments themselves. There is so much detail put into even the tiniest of elements, whether it be the terrain that the characters tread across or the plants that grow around them. Even the raindrops feel authentic. The filmmakers took inspiration for the setting from many points in the American West, including picturesque places like the Blue Mountains of Eastern Oregon to the prairie lands of Nebraska, to even the jagged peaks of the Rocky Mountains. Every environment is lovingly recreated here, and having grown up myself in the Pacific Northwest, I can tell you that much of the setting here feels absolutely authentic. You can almost smell the pine trees as if they were right there in front of you. And although the characters do clash with this environmental design in a distracting way, I still have to applaud the animators for giving the characters a lot of personality. Spot, in particular, is the character that feels most in place here. I'm sure that audiences are going to love this character the most, mainly because of his unpredictable and wild personality. But at the same time, Spot's animation shows a lot of signs of subtlety, which comes out perfectly in some of the film's more dramatic moments. Arlo's cartoonish design may feel out of place at first, but he grows on you too, and his innocence is perfectly conveyed in the animation. You also see the progression of the character as he becomes emboldened over time. One of the movie's best plot strengths is getting across the compelling arcs of Arlo and Spot's stories, and it's made all the more poignant with character animation that perfectly presents their growing personalities.
The film is not just limited to them alone, however. There is a whole cast of characters help to flesh out this world as well. While watching this movie, I was often reminded of one of Pixar's most beloved features, Finding Nemo (2003), and in a good way. In that film, we were presented with another journey taken for the characters that took them to many new places and helped to introduce them to a diverse group of new faces. That sort of progression through different experiences instead of telling a traditional good vs. evil narrative is present here too and it works just as well as it did for Nemo. Just like that movie had it's heroes meet a band of reformed sharks, survive a school of jellyfish, and cross the ocean on the backs of sea turtles, this one has Arlo and Spot meeting many interesting friends and foes along the way. I particularly enjoyed the encounter they have with a family of cattle rustling Tyranosauruses named Butch (Sam Elliott), Ramsey (Anna Paquin) and Nash (A. J. Buckley). These characters were entertaining enough to support a movie of their own, and their brief presence in the film is very welcome. I especially liked Sam Elliott's gruff voice coming out of the ferocious looking Butch. There's menace in his performance, but also a lot of heart, and the character actually does serve a purpose in the movie by teaching Arlo that fear is not something to be ashamed of, but something to help motivate him. The voice cast is universally excellent, especially the two young stars behind Arlo and Spot, and like Finding Nemo before it, the movie is made all the better by a colorful and diverse cast.
So, overall, The Good Dinosaur may not reach a level of greatness when stacked up against it's more groundbreaking brethren, but still, it's a very enjoyable and pleasing film that will win over audiences. I'm sure that most people won't know or care about the hard road that this movie had to take towards it's release (it was actually supposed to come out last year, but had to be delayed to fix it's problems, with Big Hero 6 taking it's previously announced spot). But, because I've been aware of the troubles that this movie faced, I would definitely call this film a minor triumph. It doesn't fall into the same pitfalls as Brave which is very welcome. But, unfortunatly, because of the delay, it had to share a release year with an instant classic, and sadly that comparison reflects onto it negatively. Had The Good Dinosaur been released any other year, say having to follow-up a lesser Pixar movie like it was origninally going to, then this might have been viewed a bit more favorably. Unfortunately, I can't overlook some of the flaws that this movie has, which did affect my experience watching it. That being said, it is still a beautifully animated and touching film for the most part. When your family has finished carving up that turkey and downing that plate of stuffing and mashed potatoes, this will be an ideal holiday film to watch for everyone. Overall, it's high mid-range as a Pixar movie, not quite reaching the upper-tier. But, it does show that it's worth the extra effort to get the story right, which will hopefully continue to be the standard of practice for the legendary animation studio.
Rating: 7.5/10