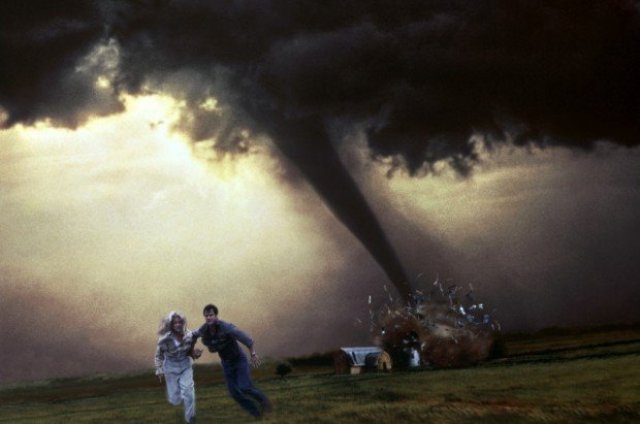 There are many cases in Hollywood where films with similar premises arise at the same time; sometimes so identical that they're hardly distinguishable.  Oftentimes these movies tend to be ridiculous popcorn flicks that more or less are trying to cash in on a fad or a topical event.  Sometimes these movies go into development at the same time and are released within months of each other.  Others are made in response to another's success, either trying to duplicate the same formula or taking the earlier film even further.  Either way, movies like these are often looked at as the reason why people believe that Hollywood is running out of ideas.  That could be true, but then again, why would somebody put effort into making a movie that they already know has been done before.  I wrote an article about copycat films earlier this year, and in that article I noted that following a trend usually factors into why these movies get made, but what I find interesting here are films that follow similar formulas that seemingly rise out of nowhere.  The blockbuster era of the 90's saw a lot of this, with disaster movies dominating the cineplexes.   It seemed like at this particular time, studios were sold more on concepts than stories and it ended up starting a race to see who could capitalize on them first.  This particular idea of concepts driving development has led me to create this new series where I take a look at movies with similar scenarios, and decide which one did it better.  In particular, I will take a look at these so-called "cinematic twins," as well as movie remakes, copycat films riding the coattails of other popular flicks, and movie homages where they copy other films on purpose.  And by contrasting these movies, I will hopefully make it clear how one or both succeeds and/or fails with the premises that they share.
For my first article in this series, I thought I would look at two movies separated by 17 years of film history, but are still deserving of a comparative analysis.  Sticking with the disaster movie genre, I am bringing Jan de Bont's 1996 thriller Twister and SyFy Network's 2013 blockbuster Sharknado into the ring, and see which one is the better cyclone-based action film.  Now, on the surface, you may think that these two have nothing in common.  Apart from the lengthy space of time in between their premieres, the movies are also significantly different in scale and production values.  One is a big budget film that features a star-studded cast and top-notch special effects work, while the other movie is a made-for-TV schlock-fest featuring D-List actors and C- grade CGI.  But, the question that I pose is whether or not those differences in film quality make any difference.  Let's be honest, they are both incredibly flawed films, but does one of these movies actually benefit from it's flaws, while the other is sunken by them?  Do lowered expectations come into play, or must a movie purely be judged on the quality of it's production?  I put forth the idea that Twister and Sharknado are very comparable movies, because of the way that they exploit their premise with very little thought for anything else like plot and character development; or science for that matter.  In some ways, that's what makes them both entertaining to watch.  But what definitely separates these two movies significantly is their tone, and that's primarily where I will find the strengths and weakness in each.  So, between Twister and Sharknado, who made the better corny Tornado movie?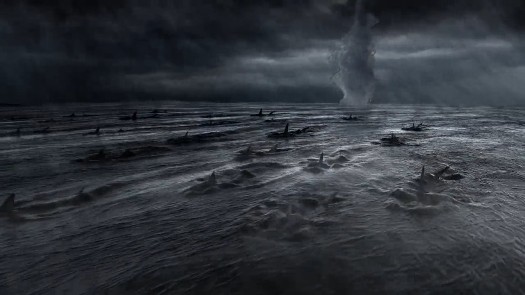 "We can't just wait here for sharks to rain down on us."
First of all, we've got to exclude comparisons in the quality of the special effects in the two movies, because on that front, Twister clearly would win.  On top of that, Sharknado isn't even attempting to try to match Twister's quality of CGI animation, nor would it be allowed to.  The only way that the two films can be comparable here is when it comes to and how they use their production values.  What I find interesting about the way Sharknado uses it's effects is that every special effect is there to punctuate a moment in a hilarious fashion.  In Twister, the effects are there to create a foreboding atmosphere, something that it does very well.  Honestly, the best thing you can say about Twister is that it actually looks like the characters are really caught up in a storm.  Sharknado on the other hand doesn't even try to hide the fact that it was shot in the middle of Summer in Los Angeles, with the titular "Sharknado" appearing out of clear blue skies.   But, then again, Sharknado delivers on what it promises, which is the mindless destruction of a famous city.  While it does look cheap as hell, it nevertheless paints a broad picture.  Twister on the other hand, with all it's endless resources, tends to keep things squarely grounded, and as a result it feels smaller in ambition.  All we get in Twister is a lot of torn up farmland, but not much else.  The only time that Twister really goes a little nutty is towards the end, when Bill Paxton and Helen Hunt's characters are fleeing the massive F-5 tornado, including a part where they drive their truck straight through a displaced farm house.   By keeping things a little more subdued in the beginning, Twister almost undermines it's ability to entertain with it's premise, something that the more outlandish Sharknado takes full advantage of.  So, yeah the sharks in Sharknado look totally artificial, but they're used to their full potential.  Better looking tornadoes in Twister cost more, so it limits how much they can be used, thereby lessening their impact.
But, restraint can be a blessing.  Those moments when the tornadoes appear in Twister are very impressive, even by today's visual effects standards.  And by limiting their presence in the film, it also make them stand out and be more impactful.  If only everything in between worked as well.  Twister's main flaw, above all the other big ones, is that there is no consistency of tone.  It goes from melodramatic to absurd many times over throughout the very thin plot, and sometimes the tonal shifts are jarring.  There's also a certain uncomfortable grimness through many of the scenes, particularly regarding ones centered around Helen Hunt's character, Jo.  She has a tragic past that is alluded to frequently, but is never fully explored.   This has actually resulted in some of the movie's most notorious scenes, like the infamous "finger of god" moment halfway through the film.  The moment's attempt at sincerity falls flat on it's face, and ends up being hilarious instead.  But, while a moment like that is remembered fondly for how awful it is, it unfortunately is not true for the rest of the movie.  Twister never cohesively comes together, and is only remembered for parts than as a whole.  Sharknado on the other hand is consistently absurd from beginning to end.  It wears it's preposterous-ness proudly and manages to carry it through to the end.  But in many ways, that can also work as a negative.  At some point, when your film is consistently ridiculous, the humor can run it's course and start to feel old.  To it's credit, unlike so many other SyFy films, Sharknado doesn't lag too much.  But there comes a point where you begin to get tired of those long scenes inside the getaway truck with inconsequential dialogue between characters .  There is a balance that these kinds of movies have to adhere to in order to keep them from going to either extreme, but when comparing these two films together, it seems like Sharknado benefits a little more by going further in one particular direction.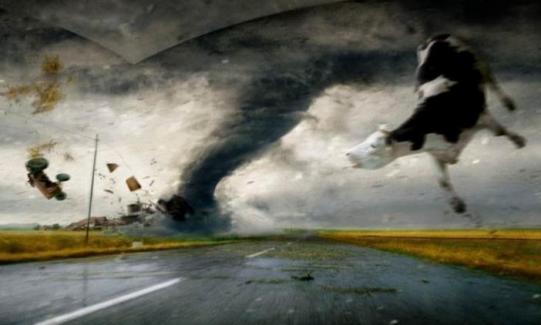 "I gotta go Julia.  We've got cows."
What ultimately determines what makes one of these ridiculous movies better than the other is the intent vs. result factor.  Did each film do what it was meant to do ends up being the defining question, and in this case, the results work more in Sharknado's favor.  Sharknado was conceived from the very beginning to be exactly what it is; low-budget cheese meant to exploit an already ridiculous premise.  And in every respect, it fulfills that promise.  Lowered expectations makes the shoddy production values acceptable for audiences wanting just that, and Sharknado never disappoints by always disappointing.  Twister on the other hand is trying to reach higher aspirations, but the results don't reflect that.  Twister was never intended to be seen as a joke, but rather a sincere look at the destructive effects of tornadoes in America.  The fact that it fails at this so measurably is what has made it noteworthy, but it also makes the film much more notorious.   Sharknado actually encourages it's audience to laugh along with it, but when you laugh at Twister, you can't help but think that it's at the expense of someone else's serious intent, deserved or not.   Twister is exceptionally well made, but because it failed in the story and script department ultimately makes it seen as a failure with regards to making it's premise work.  Sharknado accomplished it's goal of giving us a tornado filled with sharks along with intentionally bad acting and dialogue, and that was a result worth rewarding.  Sometimes it helps to step back and embrace the absurdity whole-heartedly.
And again, the tone shifts matter with this distinction.  There are instances in Twister where the film does deliver some memorably absurd moments.  They had cows flying in tornadoes long before there were sharks.  But, whenever the love triangle story-line works it's way in, the story derails.  And what's more, the movie tries to make it's science seem logical, when any meteorologist will tell you that it's complete nonsense.   Whenever the movie tries to sell itself as thought provoking when it's obviously based off of junk science, that's when you begin to question it's validity as a whole.  Sharknado on the other hand so obviously doesn't care about scientific accuracy, and it actually makes the absurdity of the movie all the more enjoyable.  The character's big plan for stopping the "Sharknadoes" in the movie is to drop explosives into the vortexes and blow them up.  That idea is so ridiculously stupid that it's genius, on the part of the writer I mean.  What better way to end a movie with this ridiculous a premise than by having the characters take on the most absurd actions possible.  At least the filmmakers had the good sense to make it purposefully dumb.  When Twister tries to make the implausible happen in their movie, we can't just turn our brains off and accept it, because the movie's tone hasn't allowed us too.  When Bill Paxton and Helen Hunt survive a tornado's path of destruction by strapping themselves to a pipe near the movie's end, we don't know whether to accept that as a believable conclusion or to laugh at it's preposterous-ness, because the movie never makes the tone clear.   With Shaknado, madness is it's ultimate purpose, while there never seems to be any purpose in Twister other than to get the plot where it needs to go.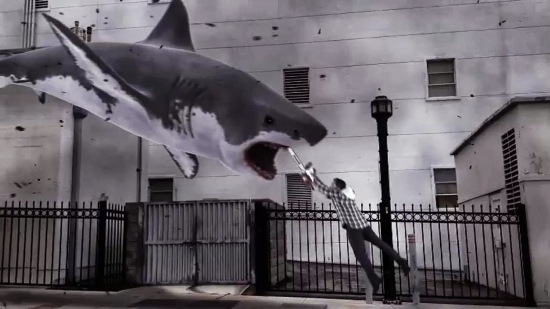 The reason why I feel that these two movies should be judged against one another is because it shows how Hollywood movies ultimately rise and fall in unexpected ways.  Here we see a big budget blockbuster fail to make good on it's premise despite having all the resources available to do so, while another film gets made on a shoe-string budget with very little expectations and delivers on what it promises.  In the end, both movies are absurd disaster flicks that end up being more stupid than thought-provoking.  But what makes one better than the other is that one movie was made that way on purpose, while the other squandered it's potential.  It's amazing that a movie with wooden performances from the likes of Ian Ziering and Tara Reid could be more entertaining than a film with future Oscar-winners like Helen Hunt and Phillip Seymour Hoffman in it's cast.  But then again, Twister is a movie where Hoffman is reduced to saying the phrase, "I'm talking imminent rueage."  Twister hopes that people will excuse it's lack of subtlety while Sharknado draws attention right to it, and that ultimately makes it feel like a more honest film.   The independent film market can be full of itself sometimes, but so can blockbuster movies, and that's why I cherish the ridiculousness of Sharknado, because it shows that movies like Twister can never be taken seriously or should.   Yes the conditions for each film's productions are different, but in the end, they are not that dissimilar, and that's a result of Sharknado's success and Twister's failure.  So, in the end, Sharknado stands as the better movie, thanks to a consistent tone and a knowing sense of humor.  Twister has it's moments, but it hasn't aged well over the years, and considering that a made-for-TV monster movie has done the tornado disaster premise better (and with sharks no less), it doesn't reflect well on the studio movie-making machine.