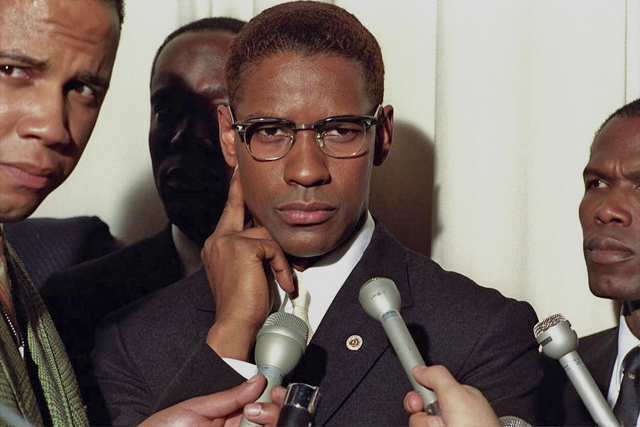 As we reflect on the important figures that come into focus during Black History Month, it is important to also look at the many Black voices that have made an impact in cinema as well.  The Criterion Collection, for their part, have made an effort to spotlight filmmakers of color in their library.  Sure there are the iconic Blacksploitation films of the 60's and 70's in the collection, including a Box Set of the films of Melvin Van Peebles, as well as Shaft (1971, Spine #1130).  But, the collection runs through so many genre types that it gives diverse look into the many different ways that Black filmmakers were able to tell their stories throughout film history.  In there you'll find Westerns like Sidney Poitier's Buck and the Preacher (1972, #1140), Noirs like Carl Franklin's Devil in a Blue Dress (1995, #1135)  and comedies like Robert Townsend's Hollywood Shuffle (1987, #1173).  The collection also has films directed by Black women, like Gina Prince-Bythewood's Love & Basketball (2000, #1097), Dee Rees' Pariah (2011, #1083), and Regina King's One Night in Miami (2020, #1106).  But, when we are talking about the history of Black cinema, one of the most obvious names to come up is Spike Lee.  Lee has been one of the most prominent faces of African-American cinema over the last 30 years, and he continues to bring his sharp-edged social commentary to the big screen with recent celebrated films like BlackKklansman (2018) and Da 5 Bloods (2020).  He thus far has 3 films that have become selected as part of the Criterion Collection.  One is his blistering media satire Bamboozled (2000, #1019).  Another is a movie that many consider to be his masterpiece, and the one that put him on the map in world cinema; the iconic Do The Right Thing (1989, #97).  Most recently, however, they have added to the collection what may be the most ambitious movie of Spike Lee's career; the epic scale biopic Malcolm X (1992, #1160).
Spike Lee, apart from being known as one of the most accomplished and skilled filmmakers out there, is also known for being one of the most opinionated too.  From the moment he started rolling film on his first ever movie he was adamant about using the art of cinema as a platform for spotlighting the Black experience in America.  In particular, there is a very charged political outlook in almost all of his movies, and he is not ashamed of the bluntness that he addresses those issues either.  As a result, he has become somewhat of a divisive figure in the world of cinema, though more recently he has been rightly celebrated for his accomplishments by a broad consensus within and outside of the film industry.  While some may be turned off by Spike Lee's abrasive style, there can be no doubt that he is a one of a kind filmmaker and someone whose daring choices often always makes his movies pop with life and passion.  It's rather surprising that given the subject matter that he often tackles in his movies, typically regarding the systemic racism that pervades our country, that he has managed to maintain a steady career in Hollywood, even with the support of some major studios.  His movies up through Do The Right Thing were produced independently and with modest budgets, but for his follow-up to Do The Right Thing he was given the full backing of Warner Brothers.  Malcolm X was a major jump for the still young filmmaker.  He was going from a contained, single location drama like Thing to a massive 3 1/2 hour epic story about one of the most divisive figures in the Civil Rights movement.  Convincing a major studio to invest in an epic biopic about the firebrand "by any means necessary" civil rights leader was not going to be easy.  But, with the celebrated Do the Right Thing lifting his profile, Warner Brothers believed it was a risk worth taking, and thus Spike Lee was granted the chance to bring his long time passion project towards reality.  The only question was, would audiences be willing to see it, especially those unfamiliar with the large swath of Black History and the cinematic voices that Hollywood often had pushed to the side for many years.
For his film, Spike Lee would focus on the formative years of Malcolm Little (X)'s life, from his time as a petty gangster, to his imprisonment and conversion to Islam behind bars, to his activism as part of the Nation of Islam, and then eventually to his departure from the same organization that led to his assassination.  All told through a first hand testimonial from Malcolm's own perspective, we see the many different life moments that shaped the man into the crusader that he eventually became.  One of the most interesting aspects of the movie is that the man we meet at the beginning of the film is so far removed from the man we come to know by the end.  Malcolm Little (Denzel Washington) starts off as a zoot suit wearing gangster in 1940's Boston, working for a gangster running a numbers racket named West Indian Archie (Delroy Lindo).  After running afoul of Archie, Malcolm and his friend Shorty (Spike Lee) begin committing robberies to settle their debts.  Unfortunately they get caught and end up serving 8-10 years for their crimes.  While in prison, Malcolm befriends another convict named Baines (Albert Hall) who mentors the troubled youth and helps him convert to Islam.  Once his sentence ends, Malcolm pursues a more active role in the Nation of Islam organization, eventually rising up the ranks to be in the company of the organization's leader, Elijah Muhammad (Al Freeman Jr.).  Through his activism within the NOI, Malcolm emerges as a powerful orator and a lightning rod figure in the growing Civil Rights movement.  It also puts him under the scrutiny of law enforcement, who frequently targets Malcolm and his follows as a means of suppressing Civil Rights movements in America.  As he grows older, Malcolm's activism goes through it's own transformation, as he begins to retreat from some of the supremacist rhetoric of the NOI  and instead he desires a more humanistic view of civil rights.  This ultimately makes him a target of NOI hardliners, who begin threatening him and his family, including his steadfast supportive wife Betty Shabazz (Angela Bassett).  Eventually Malcolm has to put his own life on the line to continue his crusade for Civil Rights, and this ultimately leads to his assassination from hitmen sent by the NOI.  Though his life is tragically cut short, he leaves behind a lasting legacy which in typical Spike Lee fashion is spotlighted through a montage of civil rights movements that have grown ever since.
It cannot be understated what a monumental piece of filmmaking Malcolm X is.  Spike Lee clearly was inspired by epic biopics made by Hollywood over the years, and this was his opportunity to show that the same ambitious storytelling on a grand scale could be accomplished by a Black filmmaker for a Black audience as well.  In all of it's 3 1/2 hours, Spike Lee commands a huge multifaceted epic tale of race in America without it ever sagging under the weight of it's ambition.  It's frankly remarkable that he made this movie (his sixth overall) at the age of 35.  Most filmmakers often have to work a lifetime in order to make something this grand in scope, and he did it almost fresh out of film school.  What is equally impressive is that he brought along all the same crew that he had worked with before on his other films from She's Gotta Have It (1986) to Mo Better Blues (1990); cinematograhy by Ernest Dickerson, costumes by Ruth Carter, and music by Terence Blanchard, all of whom working for the first time on a period set drama.  The movie shows him and his crew growing by leaps and bounds with their craft, and making a statement for their own place as people of color working in their respective fields within the Hollywood machine.  But what is especially impressive is that they were able to make the subject of Malcolm X, one of the most divisive figures in Civil Rights history, and give him mainstream recognition in a big Hollywood.  For many reasons, Spike Lee needed to be the filmmaker to tell Malcolm X's story, because most filmmakers would've been too afraid.  Given Malcolm X's violent rhetoric towards whites in the past (something which he later retracted in his last years), filmmakers had largely been reluctant to tell his life story on film, with the Civil Rights movement largely being framed on screen through more peaceful figures like Dr. Martin Luther King Jr.  Spike Lee was the one and only filmmaker who could form a nuanced portrait of the controversial figure and show us, especially White audiences, that Malcolm X was much more than the firebrand activist with the violent racial rhetoric that he characterized with.
Above all else, what was crucial towards making the movie work as well as it did was the casting of Denzel Washington as Malcolm X.  By this time, Washington had risen to leading man status in Hollywood, with an Oscar win for Glory (1989) already on his resume.  There was no doubt that he would take a meaty role like this and run with it.  What makes his casting so perfect is that he nails every aspect of the character through his transformations over the course of his life.  From his gangster days to his firebrand activism to his late stage self-reflection, Denzel captures so much of Malcolm X's journey through his performance.  What he really brings to the character is soul; you feel the weight of history that informs the person that Malcolm X is, both as a black man in America and also through just the personal trauma that he has had to go through.  He is definitely supported with a dynamic ensemble cast around him, including Angela Bassett, Delroy Lindo, and Al Freeman Jr., but this movie is first and foremost a showcase for his talents as an actor.  Naturally, this would lead to a Best Actor nomination at the Academy Awards, though he would lose out to industry veteran Al Pacino who finally won for Scent of a Woman after losing for so many other iconic performances.  Though the movie was well received in critical circles, it did only modest business at the box office.  This sadly caused Spike Lee to no longer have the unfettered studio support that he once had, and he returned to more low budget fare for a while, with many believing that he peaked too early as a filmmaker.  His more recent resurgence has proven that he still has it as a filmmaker.  But it's hard to know for sure if he has another movie on the scale of Malcolm X   in his future.  For what it's worth, he is fortunate to have made the most of the short window that was open to him in order to make that kind of movie with the support that he was afforded at the time.
The Criterion Collection has included Malcolm X in their library with a special 4K UHD release.  Started in 2021, Criterion has entered the 4K market with a few of their high profile releases, and Malcolm X is one of the beneficiaries of this move towards high end home presentation.  The film's original negative was taken out of the Warner Brothers Archive and was rescanned in 4K resolution.  A team of restorationists worked with cinematographer Ernest Dickerson to clean up the film's picture and sound, and the new digital master was given approval by both Dickerson and Spike Lee for this UHD release.  The film's 4K presentation is given it's own UHD disc in the set and features full Dolby Vision HDR picture quality.  Several DVD and Blu-ray releases have done the movie justice in the past, but this new 4K presentation is remarkable in it's fidelity.  Spike Lee for one thing is a filmmaker known for his bold uses of color in his films, and while Malcolm X is more subdued and muted compared to some of his other movies, the colors that are present definitely pop off the screen with the HDR support.  The fine detail of the picture really stands out in 4K resolution, which really makes you appreciate the period details that went into this movie; especially the costumes from Ruth E. Carter.  The film's soundtrack is also something to admire too.  It's almost identical to the 2012 5.1 mix that was conducted for the film's original Blu-ray release from Warner Brothers, but it does sound even better with the uncompressed UHD disc.  The Criterion set also includes a Blu-ray copy of the movie which was sourced from the same 4K restoration master.  No matter what version you watch, you will be seeing this movie in the best possible version that has been on the market to date, helping to keep the movie looking just as good as it did when it was first released in theaters 30 years ago.
There is also a healthy helping of bonus features here as well, some from previous Blu-ray releases of the movie, as well as some made just for this release by Criterion.  The 4K UHD disc features just one bonus feature and that's an audio commentary track.  Recorded in 2005 for the movie's DVD release by Warner Brothers, this track features Spike Lee himself alongside comments from Ernest Dickerson, editor Barry Alexander Brown, and Ruth E. Carter.  Though all were recorded separately, the track is edited together to create a very insightful conversation about the making of the movie from their first hand experiences.  The same commentary track is also found on the Blu-ray version of the movie.  A third disc includes all of the remaining bonus features.  First, there is a featurette called Spike Lee in Conversation, which was made just for this release by Criterion.  It's a conversational interview with Spike conducted journalist Barry Michael Cooper.  You can tell these two are long time friends as the conversation remains casual as they reminisce about the early years of Spike's career when they first knew each other, and they eventually touch upon the turbulent times that surrounded the making of Malcolm X.  In addition, Criterion also film two separate interviews with two of Lee's longtime collaborators, actor Delroy Lindo and composer Terence Blanchard.  Both of them offer their own interesting anecdotes about working with Spike and being a part of Malcolm X.  The bonus disc also carries over some of the features from the Warner Brothers Blu-ray, including the making-of featurette called By Any Means Necessary: The Making of Malcolm X as well as nine deleted scenes and the film's theatrical trailer.  The most substantial feature, however, is a feature length documentary from 1972 about Malcolm X, narrated by James Earl Jones.  The documentary helps to give more historical insight into the person that Malcolm X was, and it's a valuable document considering it was made within only 5 years of X's assassination.  Like most other Criterion titles, this is a bonus collection that does justice to the movie it is complimenting, and any Criterion collector will be please by what they are given here, both with the old and the new features.
There are several movies that should be considered essential viewing when learning about the fight for Civil Rights here in America, and I think Malcolm X is one of those titles.  It is an exceptionally well crafted movie made on a grand scale that bravely puts a controversial figure at the center of it's story and shows his important contribution to the struggle with nuance and intelligence.  With Denzel's iconic performance and Spike Lee's fearless direction, they managed to make a movie that expertly breaks down what kind of a man Malcolm X was, and why it is important to share his story.  You may not have liked everything Malcolm X stood for, but you cannot deny that part of the reason Civil Rights had been achieved to some extent in America is because of his contribution to the movement.  Spike Lee uses his own unique style to drive home Malcolm X's message in a way that connects with modern audiences, while at the same time drawing upon cinematic inspirations of the past.  You can see echoes of other epic biopics like Lawrence of Arabia (1962), Patton (1970) and Gandhi (1982) in Spike Lee's film, with it's attention to period detail and the generation spanning nature of it's narrative.  There's no doubt that Spike was making this film as a statement for black audiences, but the style of movie also appeals to audiences of all races with it's epic filmmaking, and that seems to be the ultimate intent of Spike's purpose for making this movie.  He wanted to put Malcolm X into the same league as these iconic figures that shaped history, and in a sense he had to do that by making his story appear as mainstream Hollywood as it could.  But, at the same time, Spike Lee is not selling out and going Hollywood.  Malcolm X is still a Spike Lee Joint to it's core and only has the added benefit of it's grand scope and mainstream appeal to help it endure with audiences of all kinds, black or white.  It's an ideal choice to join the Criterion Collection and they've given it a worthy presentation to boot with insightful bonuses included.  For those who haven't seen Spike Lee's Malcolm X, please do yourself a favor and carve out some time to give it a watch because Malcolm X's activism is an essential chapter to learn in the course of Black History and Spike's movie is a cinematic event that puts the perfect mythic spotlight on this larger than life figure.