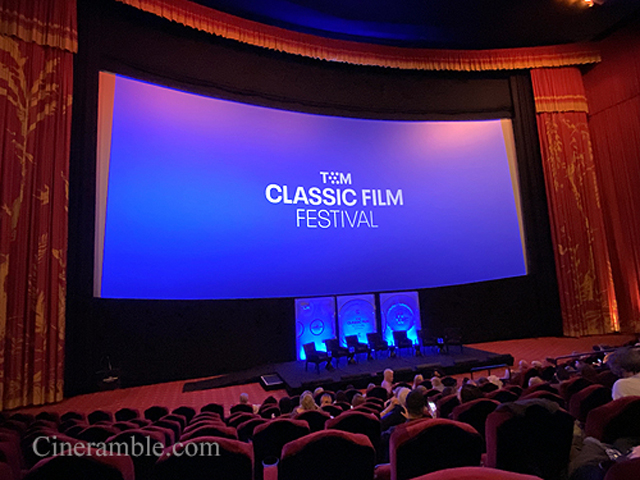 One of the sad things that was lost almost immediately in the early days of the COVID-19 pandemic was the annual Turner Classic Movies Classic Film Festival.  Usually set in the month of April, the planned 2020 Fest was well in the planning stages and advance passes were already being purchased.  But, as it became clear that the spread of Covid across the country was imminent and that movie theaters were going to be forced to go dark to help stop the spread, the team at TCM had to make the terrible but unavoidable choice to cancel the imminent festivities.  Passes were refunded of course, and as I'm sure was the case with everyone worrying about the future, fans of the festival were worried about what the state of the festival would be in the future.  TCM tried to make up for the disappointment by holding a "virtual" festival across their media platforms.  It was not the same, but it's all that TCM could do in the era of social-distancing.  As the pandemic stretched into a second year, and movie theaters were still in the early days of re-opening, TCM decided to also put on hold plans for returning in 2021, and they again took their festival virtual last year, adding the HBO Max app as an extra platform to share their programs on.  But now, with the worst of the pandemic hopefully behind us, TCM is finally returning to the heart of Hollywood with an actual in-person festival, another thankful sign of life returning to normal; at least for us LA based movie theater fans.  And, as it appears, TCM is picking up right where it left off, not making any drastic adjustments to their festival format and instead giving us fans exactly what what we've loved from them in the past.
There are, however, some things that the pandemic has unfortunately changed about the festival.  Most prominent of them is the loss of two of the festivals most beloved venues.  Both the Egyptian Theater on Hollywood Blvd. and the Cinerama Dome on Sunset Blvd. have not reopened since closing for the pandemic lock down two years ago.  Now, the Egyptian is planned for a future reopening after it's current renovation is compete in celebration of it's 100th anniversary and it's new ownership under Netflix.  Unfortunately, the Cinerama Dome doesn't have as hopeful of a future as the Egyptian does, as it's previous owners (Pacific Theaters) effectively went bankrupt.  There are hopes of a possible return of the legendary venue in the future, but there has been little news to go on to say when or how it will happen.  As a result, both of this beloved theaters are not a part of this year's festival.  For many people, the Egyptian was an especially popular place to screen a movie, because of it's exclusively film based projection.  The prospect of getting to see a movie in a rare nitrate print presentation has been in recent years one of the festival's most interesting attractions.  That, unfortunately will not be a part of this year's festival, and that is a shame.  Thankfully, all the other venues of the past in this festival are open and welcoming guests this weekend.  Among them, the crown jewel of the TCL Chinese Theater, the adjoining Chinese Multiplex Theaters, and the American Legion Post Theater, which made it's Festival debut in 2019.  In addition, the legendary Roosevelt Hotel (host of the first Oscars) is ground central for all Festival activities, as well as the host of Poolside screenings at it's rooftop swimming pool.  Being a long time fan of this festival, I'm of course taking this opportunity to once again attend and revive my long dormant report to all of you.  My goal is to take in as much as I can across all four days of the festival.  So, without further ado, here's my report of the TCM Classic Film Festival 2022.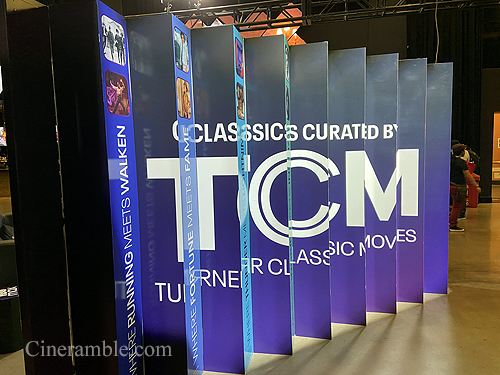 THURSDAY APRIL 21, 2022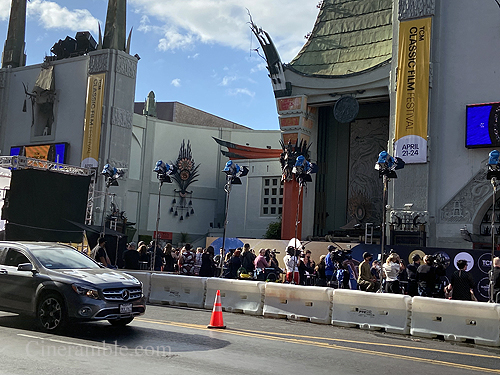 Given that I have a 9-5 job during the weekdays, my first two days of the festival are going to be truncated in comparison with the weekend.  Thankfully, the Festival doesn't begin until the afternoon on the first day, so I'm not missing much.  Like most festivals in the past, the opening night begins with two major events held in the Chinese Theater that is only available for those with only the highest level event passes.  One of those events is the presentation of the Robert Osbourne Award, which is sort of their lifetime achievement honor given to a particular noteworthy individual within the film community.  It can be a filmmaker, or a film historian, or technician of note.  This year, the recipient is famed film critic and historian Leonard Maltin; a frequently seen face at these annual festivals and an absolute deserving choice for the Osbourne Award.  What I'm sure is also a great honor for Mr. Maltin is that he's getting the honor on opening night from none other than actor and director Warren Beatty.  In addition to the Robert Osbourne presentation, the Opening Night of the festival is also being marked by a 40th anniversary screening of E.T. The Extra Terrestrial (1982). Held in the massive Chinese Theater, this is a marquee event, almost like a film premiere, and just like most film premieres, the festival also rolled out the red carpet just for this event.  The reason this screening in particular is so exclusive is that in addition to having it played on the big screen, it will also be preceded with an exclusive Q and A with director Steven Spielberg and select members of the cast and crew.  Joining Spielberg are producer Kathleen Kennedy (now head of Lucasfilm), and actors Dee Wallace, Robert Macnaughton and Drew Barrymore.  Unfortunately for me, the price level for passes into this event are still way out of my price range, as I am once again using the standby option.  So, my best look at this year's opening night event was from across the street, behind the barricades.  Still, it's nice to see the Festival once again kicked into high gear, even from that vantage point.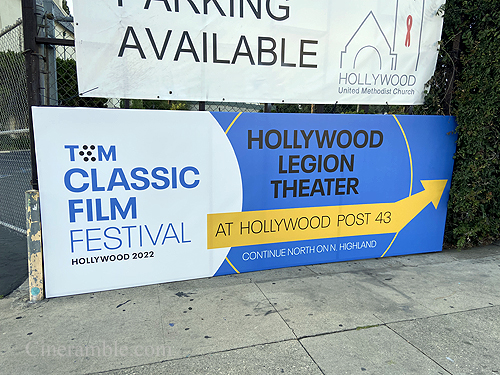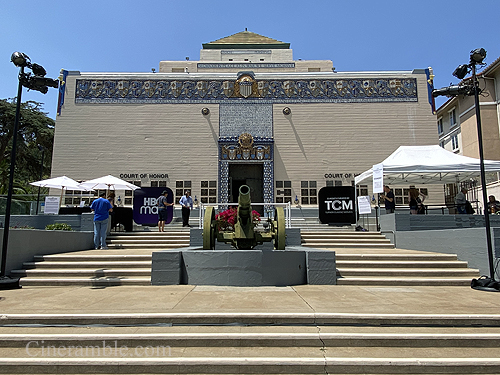 I arrived a little after 5:30pm to the Roosevelt Hotel to check in at the vaccine validation desk.  This year's festival is taking no precautions for granted and is only allowing in guests who have proof of Covid vaccinations and are requiring everyone wear a mask inside the venues.  Thankfully, once you show your proof of vaccine at the table, you receive an armband that can be worn through the rest of the fest.  So, I got my armband and immediately made my way to my first film.  Unfortunately, my first choice was at the American Legion Post Theater, which was a half mile walk up the hill from the rest of the festival.  It's not a terrible walk, but a hassle if you're in a hurry.  I thankfully had enough time to spare and got there a good hour before show time.  Because I wanted to focus on movies I haven't seen yet, I chose this venue first, because it was playing an Oscar winning movie that I have missed until now.  That film was Tender Mercies (1983) which is noteworthy for being the movie that Robert Duvall finally won his Oscar for.  It was a nice, easygoing movie to start out the festival with, and it made it especially special that it's one of the movies screened at the festival with one of the stars in attendance.  Duvall's love interest in the movie was played by actress Tess Harper, and she was at this screening, interviewed by TCM host Eddie Mueller.  She was a delightful interviewee, discussing how this movie was her big breakthrough as a movie actor, what it was like working with Robert Duvall and director Bruce Beresford, and what it was like shooting on a small budget in rural Texas.  She had some really funny stories, like how she bit into her screenplay when she first got it just so she could make sure it was real.  She also gave a nice perspective of the film's quiet but respectable legacy over the years.  For a first show of the night, I think this ended up a good choice for me.  Like Eddie Mueller jokingly said, "Who needs to watch E.T. again anyway."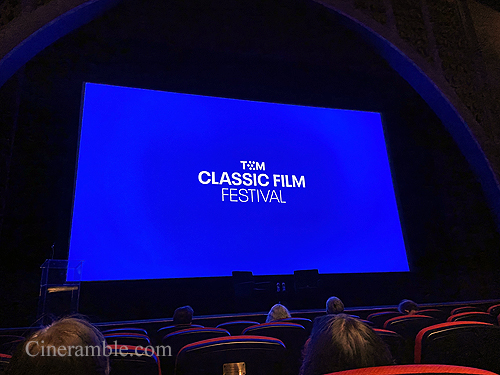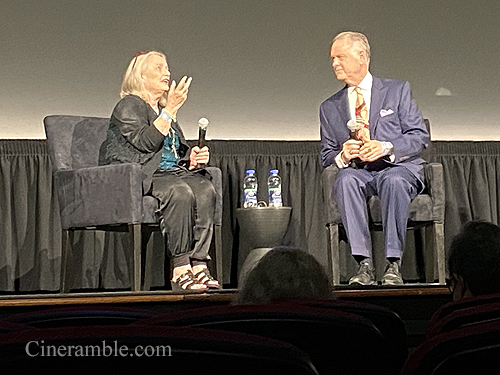 After the movie at the Legion Post, I made my way back down to the Chinese Multiplex for what I was hoping would be my ideal second film of the night.  That movie was going to be Topkapi (1964), an Oscar-winning heist film from Jules Dassin.  The reason why I wanted to see that film in particular was because it was the only one that evening playing in 35mm, and at this festival, if I can watch a movie on actual film, it's an opportunity not worth passing on.  Unfortunately, this was my first strike out of the festival.  The screening sold out before any of us in the standby queue were even let in.  So, the option was to go home disappointed or stay and watch something else.  Not wanting to end the night on disappointment, I opted to watch a Preston Sturges comedy instead.  The movie was Hail the Conquering Hero (1944), starring Eddie Bracken.  To introduce the movie, the festival invited producer Michael Uslan; most famous as the executive producer of the Batman franchises at Warner Brothers.   Uslan is certainly a fan of Sturges' comedies and he detailed for us the historical context of this film, which was set in and made within the midst of WWII.  The patriotic fervor is palpable throughout the movie, but at the same time you can see where Sturges managed to find the humor in it all.  The movie is certainly a product of it's time, and perhaps doesn't hold up in certain ways like other comedies of the era, but it's certainly entertaining for it's madcap energy.  At least watching this movie helped me to get a good start to my overall count for the festival.  In a rare oddity for the Los Angeles area, I exited the theater to find it pouring down rain, and because I left my car at home, I had to brave the elements just to get home by subway.  A certainly odd start off to my festival experience, but, the forecast was good for the rest of the weekend, so it would hopefully make the rest of the festival a pleasant experience.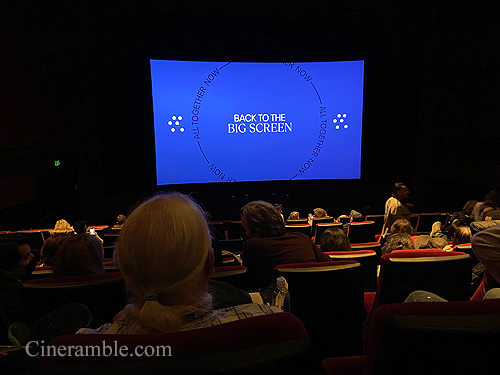 FRIDAY APRIL 22, 2022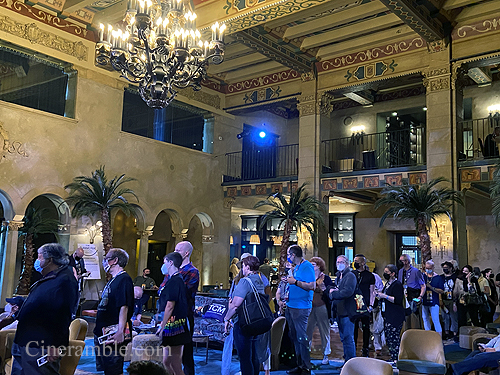 Returning late because of work, I missed out on the morning screenings, which has been the case before at past festivals.  But, I arrived at the Hollywood and Highland complex ready and hopeful to have two more screenings complete that night.  For my first choice, I ended up going with the movie The Letter (1940), a Noirish drama starring Bette Davis and directed by William Wyler. I chose this because it was another movie that I hadn't seen before and it peaked my curiosity.  However, I wish I knew what I was passing up, because screening at the same time in the Chinese Theater itself was a brand new 4K restoration of George Stevens's classic Giant (1956).  Now, I have seen Giant before, but never on the big screen, and I only realized later that there was a surprise unannounced guest at that screening.  Apparently, Steven Spielberg showed up to help introduce the movie alongside previously announced guest, George Stevens, Jr.  Both were interviewed by Festival Master of Ceremonies Ben Mankiewicz, and if I knew that this was part of the screening, I would've absolutely been there instead.  However, The Letter itself was not a bad movie to pass on either.  The movie was introduced by TCM host Alicia Malone, who was there to interview the co-founder of the Bette Davis Foundation, and author of her biography, Kathryn Sermak.  Ms. Sermak gave a nice insightful look into the latter years of Bette Davis' life as she had once worked closely with her as an assistant, all of which she details in the book.  It was interesting to hear how Davis could be a handful if she felt she was being disrespected and Kathryn managed to win her respect strangely through silence, which Ms. Davis characterized as intelligence.  It was an interview that definitely helped to shine a light on the iconic status of Bette Davis' stardom, and after watching the movie itself, you really see how she embodied every bit the ideal of a movie star.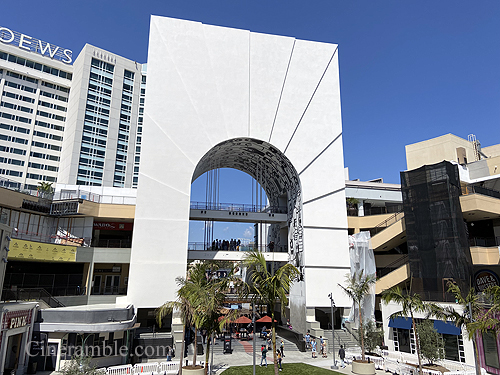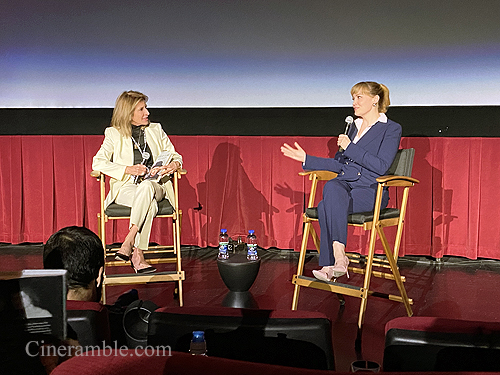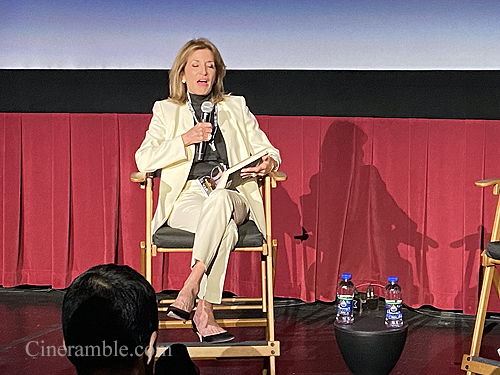 Leaving The Letter, I immediately got into line for my next preferred film, which was I, The Jury (1953).  Now, why would I want to watch an obscure detective movie from the 1950's. That's because this one was being screened in 3D.  Any chance to watch an old 3D movie in the way it was intended is definitely an experience not worth passing up.   Unfortunately for me, this was strikeout number two for this year's festival.  Some standby guests did manage to get a seat, but my place in line was too far back, and after about 5 people, they had the show sold out.  Because this was around 10pm at night, there were no other options left; except for the midnight show.  Every festival, they save slots past midnight for edgier movies that probably are contrary to the tastes of some of the older classic movie fans.  Because I again didn't want to end a night on disappointment, I stuck around for a couple hours, taking in the sometimes chaotic nighttime atmosphere of Hollywood Boulevard, before getting in line for that night's midnight showing.  Thankfully, getting into this one was easier, as there were plenty of available seats.  The movie screening that night was a movie best described as meet-cute romance combined with post-apocalyptic thriller.  It's called Miracle Mile (1989) and it's a movie that clearly had escaped my radar before because I had never heard of it.  But, one who had was TCM host Eddie Mueller, who really was championing this movie.  Joining Mueller in the introduction was the film's director, Steve De Jarnatt.  De Jarnatt gave an interesting backstory for his movie, saying that he wrote the script right out of film school at the American Film Institute in 1979, but he didn't get around to filming it until ten years later.  The movie is interesting for it's clever use of limited budget and locations to tell this big story about the end of world through nuclear war.  For anyone familiar with the geography of Los Angeles, they'll get a kick out of recognizing that all the locations used in the movie are just in small block radius of the Wilshire and Fairfax intersection, which of course is dubbed, "The Miracle Mile" like the movie's namesake.  I have been hesitant in the past about doing a midnight showing, because of the time constraints because of work and the options of the festival, but I'm glad I finally gave myself the opportunity to try it this year.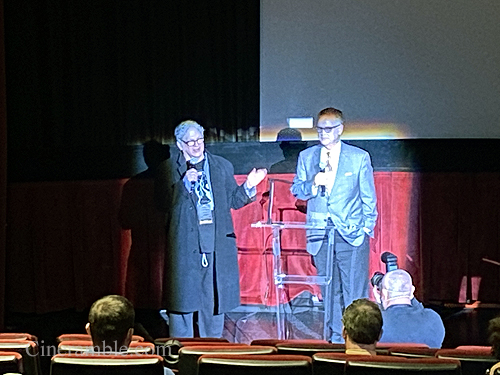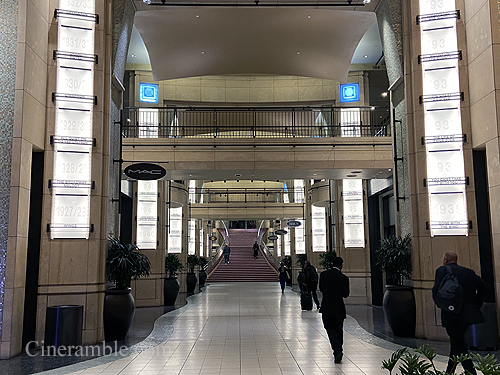 SATURDAY APRIL 23. 2022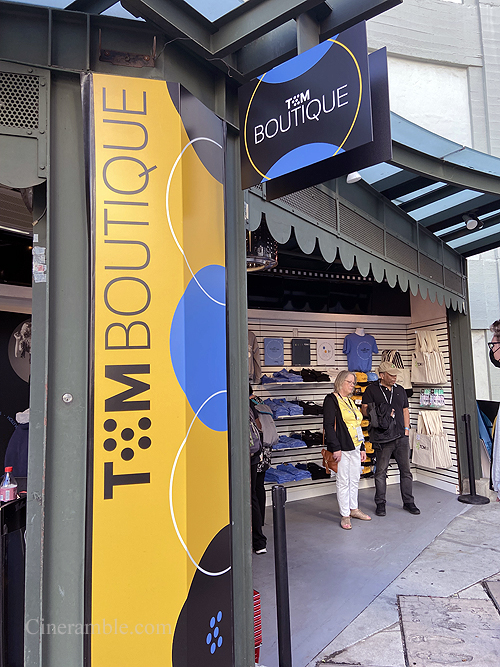 Because of my choice of going to the midnight show the night before, I opted to skip the morning screenings on day three of the festival.  Thankfully, none piqued my interest, either because I wasn't interested in the movie, or it was one that I had seen before.  So, I gave myself a couple extra hours of sleep and made my way back to the festival venues for Day 3.  For my Saturday start, I chose to begin in the crown jewel of the Festival venues; the TCL Chinese Theater.  Though the theater has been re-opened since the end of the lock down last spring in 2021, this marked my first actual return into that theater since the last TCM Film Fest in 2019.  And it is such a treat to be back in such an iconic place again.  Unchanged since my last visit, the Chinese Theater is majestic as always.  My first movie here is a screening of the musical Annie (1982) which is another movie having an anniversary; 40th, just like E.T.  I've made it known here before that movie musicals are not particularly my thing.  Still I wanted to check this out because I've never seen it before and it is a cinematic rarity being the one and only musical ever directed by the legendary John Huston.  The movie itself is a little too sweet for my tastes overall, but I do adore the supporting cast which includes a few of my favorites like Albert Finney, Tim Curry, and the always amazing Carol Burnett in a scene-stealing role as Miss Hannigan.  For this screening, the Festival gave us a wonderful introduction by little Annie herself, the now grown-up Aileen Quinn.  Interviewed by host Alicia Malone, Ms. Quinn talked about working at such a young age with  these icon, and she held John Huston up in very high regard, seeing him as very grandfatherly to her.  Despite my feelings about the movie, it was still a majestic experience watching it play on the undisputed largest screen in town.  Next up, I went to the multiplex to catch a quick little over an hour long Western called The Tall T (1957).  This Western, starring Randolph Scott and Richard Boone, just received a brand new 4K restoration, and the results are pretty outstanding.  It's a slight Western, but was beautifully shot, which the restoration really highlights.  the movie was introduced by historian and author Jeremy Arnold, who talked extensively about the work of director Budd Boetticher and where this movie stands among his body of work.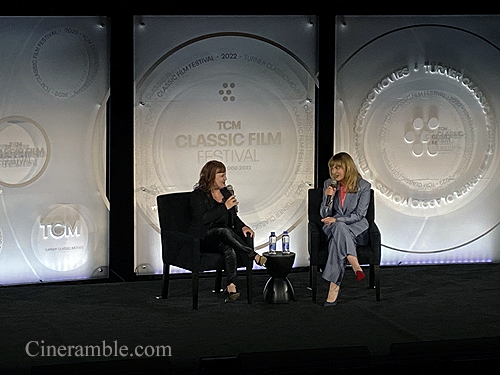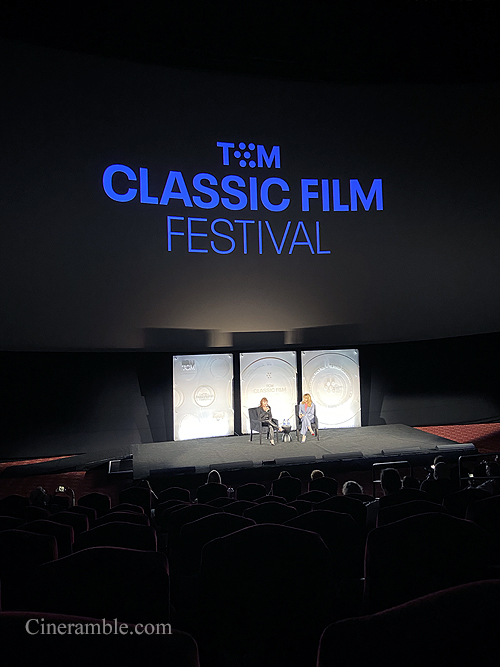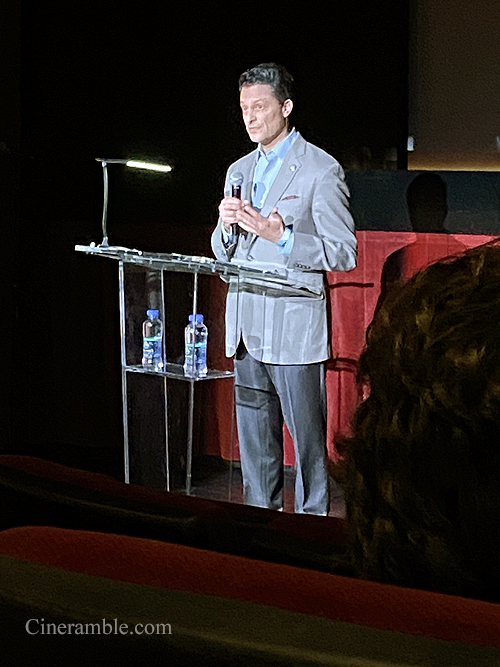 Having two movies complete in quick succession, I made my way to stand in line for the next big show, which was a screening in the TCL Chinese Theater of the film Heaven Can Wait (1978).  The reason why I was determined to attend this screening was because the special guest in attendance was going to be the movie's co-director, co-writer, and star Warren Beatty.  One of my goals at each of these festivals is to take the opportunity to see at least one of the old timer screen legends live in person while they're still here.  It's what introduced me to the festival in the first place, back in 2012 when I made my way there to watch a screening of 20,000 Leagues Under the Sea, with a then 95 year old Kirk Douglas in attendance.   At this year's fest, I had two both excellent options, of seeing either Beatty or the also very iconic Bruce Dern, who was one of this year's spotlight honorees.  I elected to go with Beatty ultimately, and hopefully I can have another chance to see Mr. Dern another time.  For Warren, this was one of the rare instances of the discussion happening after the conclusion of the film.  This was a first time viewing of the movie for me, so I'm glad that the interview followed afterwards, just for the context.  Warren is certainly up there in years now, but he's still very insightful about his experiences working on the film.  It's interesting that only two people have ever nominated for an Oscar for acting, directing, writing and producing for the same film; one is Warren for this film, the other was Orson Welles for Citizen Kane (1941).  And Mr. Beatty accomplished that feat twice, doing it again for Reds (1981).  It was interesting to hear Warren talk about working with the legendary James Mason in the film, as well as sharing directing duties with Buck Henry.  Interviewer Ben Mankiewicz also noted that Warren was also working again with Julie Christie, who he'd worked with before on movies like McCabe and Ms. Miller (1971) and Shampoo (1975), while also being romantically involved at the time.  By the time they made Heaven Can Wait, their relationship was over but they remained on good enough terms to continue acting together, which Mankiewicz observed as being well reflective of both of them.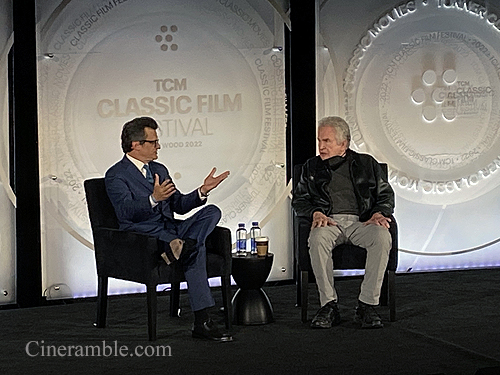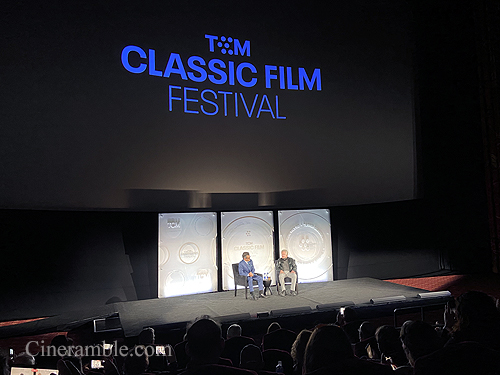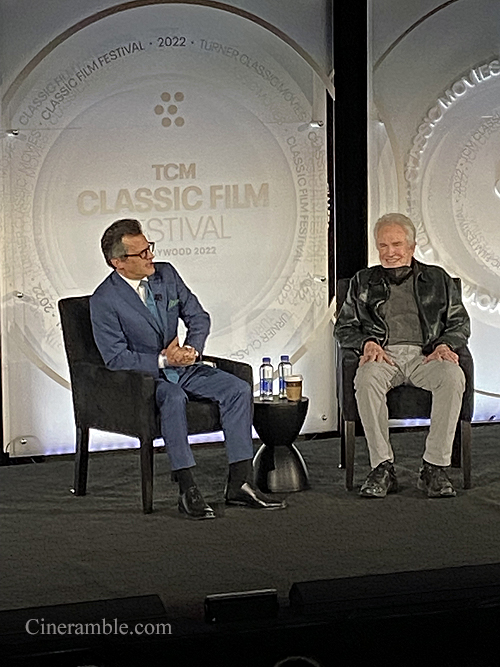 The audience of course was very pleased to see Warren Beatty, and he received two standing ovations from the crowd in the Chinese.  Once that was over, I made the trek up Highland Boulevard to the Hollywood Legion Post again for hopefully my last show of the night.  The showing was the Barry Levinson movie Diner (1982), another movie celebrating it's 40th anniversary at this festival.  This was going to be a high demand movie, because the special guests at this show were four of the film's stars; Kevin Bacon, Tim Daly, Steve Guttenberg, and Paul Reiser.  I really had to hustle, because it's a half mile walk uphill between the Chinese and the Post, but when I got there, the standby line was already 20-30 people deep.  I took my place in line and as expected, strikeout number three.  The venue completely filled up with pass-holders alone, and everyone in the standby queue had to look at their other options.  For me, I wanted again to find an alternative.  So the best possible choice in that moment was to go back to the multiplex and pick one of the late 9:30pm showings.  What I ended up choosing was a screening of the Jackie Chan kung fu action flick, Drunken Master II (1994).  I missed the opening introduction by TCM host Jacqueline Stewart, but I arrived just as the opening credits were concluding.  What I've learned about this movie since watching it was that this was sequel was made 16 years after the original and it was Jackie Chan's first tradition martial arts movie in nearly a decade.  Naturally, after that long of a gap, Mr. Chan was going to pull out all the stops and really take things to the next level with this movie.  And that includes many death defying stunts that Jackie himself performed.  Some of them are pretty crazy, like Jackie falling on real inflamed coals or being actually set on fire multiple times.  Suffice to say, the audience I was with was eating all that up, and were having a uproarious time watching this movie.  I was certainly impressed with the movie as well, just given the level of work that went into all those stunts, and how relentless they are throughout the whole movie.  What I thought was interesting was the fact that this was the North American premiere of the original uncut Hong Kong version of the film, as only the poorly dubbed English version had been available before.  Suffice to say, I salvaged my night with an uplifting choice.  Now it was time to get ready for the final night.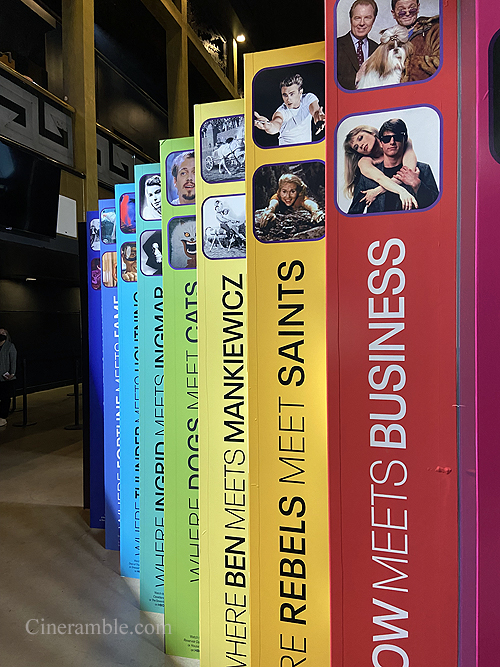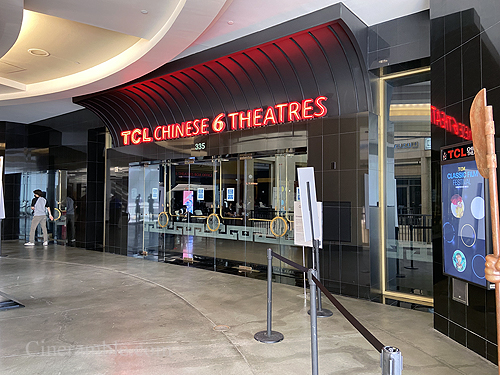 SUNDAY APRIL 24, 2022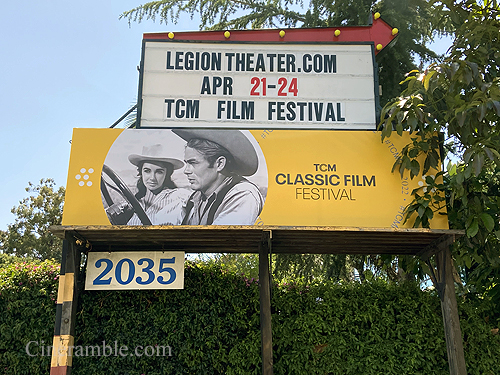 After a very short turnaround to get as much sleep in as I could, I made my way to the heart of the festival again the following morning, starting off with another of my must watches of the festival.  At the Hollywood Legion Post, they were going to being screening a brand new 70mm print of the classic historical epic Spartacus (1960).  It's a movie that I have seen many times before, but never on a big screen.  It was something worth getting up bright and early in the morning, no doubt.  I managed to make it there just as the standby seating was beginning, and thankfully for me, it wasn't a sell-out (morning screenings at the festival rarely are).  There was still a fair amount of people in the quite large venue, but I still got an ideal seat in the middle of the row, fairly close to the screen.  Jacqueline Stewart, the TCM host and curator for the Academy Museum on Wilshire Blvd. (my review here ), told us that this print came from a new 4K master and that it would be presented in it's Roadshow format, complete with Overture and a 15 minute Intermission.  I can't tell you just how majestic it is to see a film screened in 70mm.  It just has a texture when projected that is unlike any other format, and it's especially wonderful to see a classic film like this presented in that way.  It was also neat to see the Legion Theater recreating the way Roadshow films were presented back in the heyday of Hollywood, with the curtain drawn closed over the screen as the Overture plays, opening once the studio logo appears on screen and closing once again over the Intermission title card.  There was a little hiccup in the middle of the show, as the screen went dark in the first half; something that's unfortunately is a common hazard with screening film, as the projector can sometimes not work properly.  They resolved it within minutes and the movie played on without incident thereafter.  What really stuck me about the movie this time is how breezy the film feels with it's 3 and 17 minute runtime.   And, it's the first time seeing this movie after Kirk Douglas' passing in 2020 at the age of 103, and it just reminds you of how much of an icon he was on the big screen.  This is the kind of cinema that just demonstrates what's great about the movies, and seeing the magnificent epic grandeur put on screen by director Stanley Kubrick in the way it was meant to be seen.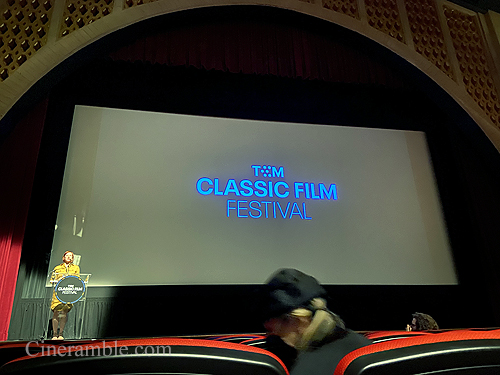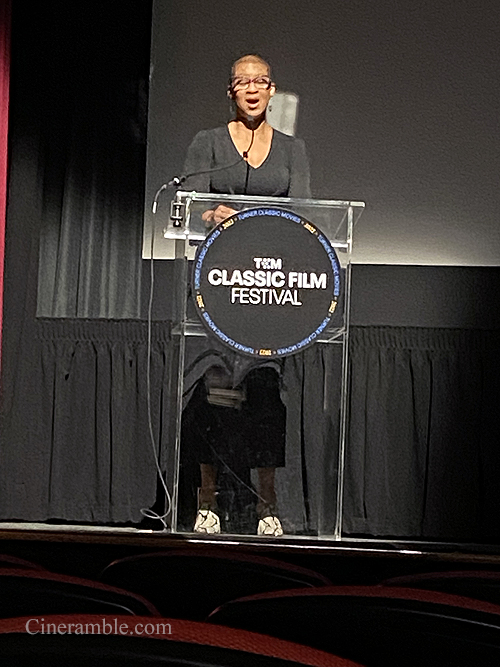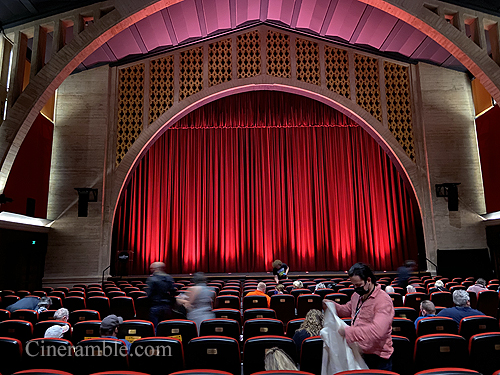 Because of Spartacus' epic length, the run time extended well through the morning, and by the time I got out of my screening, the next round of movies that morning had already begun.  This was planned for on my part, and thankfully, it didn't interfere with my remaining plans for the day.  So, I had a lengthy break in between movies, which I used for grabbing lunch and to visit some of the other attractions in the area.  I took a look at the work in progress renovation of the Egyptian Theater.  The preexisting, 1922 structure looks like it's being retained, but the whole courtyard out front is torn-up and filled with dirt, so it looks like there's still a lot of work left to do.  Hopefully, it's all done in time to have this as a venue at the next festival; complete with it's capabilities of screening nitrate film like in past years.  After my break, it was back to the Chinese Theater to watch my next film; 1973's The Sting.  The Best Picture winning film, best known for reuniting Robert Redford and Paul Newman after their iconic pairing in Butch Cassidy and the Sundance Kid (1969), was being presented here with a discussion after the film with the film's two producers, Michael Phillips and Tony Bill, as well as the screenwriter David S. Ward.  Seeing David Ward at the festival was especially cool to see, given that he's someone I've personally interacted with as a student in his thesis screenwriting class at Chapman University.  The remarkable thing about the trio was just how young they were when they made this movie; Phillips and Bill were just a little over 30 at the time, and Ward was 28 when he wrote the script.  And they were collaborating at that young of an age with established icons like Redford and Newman, as well as director George Roy Hill.  They had a lot of interesting stories, including the intriguing alternate casting of Peter Boyle in the role played by Paul Newman.  There was also a lot of talk about how tricky they had to be to make the twist at the end land as well as it does.  As they said, the key was to keep the audience as much in the dark about what was going on as the mark of the grift in the movie, played marvelously by Robert Shaw.  The movie itself still manages to hold up almost 50 years later, and it was great to see these three important players from the movie get a major honor of seeing their movie playing again at the Chinese to a pretty large and entertained audience.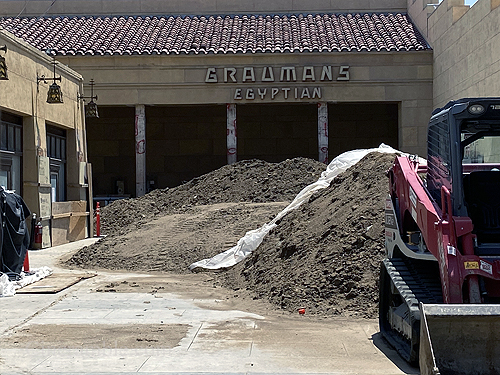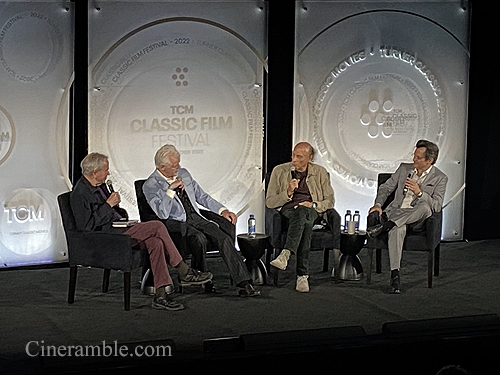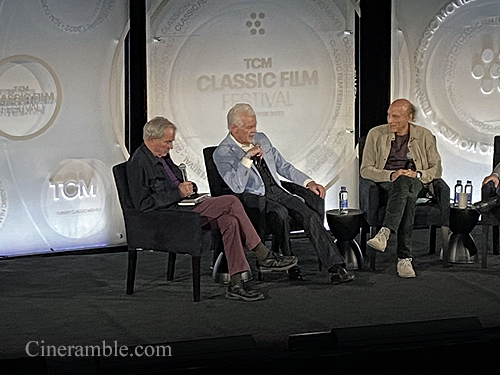 So, coming to the very end, where would I go for my final film of this year's festival.  Well, the clear choice had to be the Chinese Theater, despite the fact that I had just been there one movie ago.  There was a good reason to be there though because it was the closing night presentation, and thankfully standby tickets were available.  For this special showing, the movie selected was the 1992 Penny Marshall film A League of Their Own.  The movie, marking it's 30th anniversary, is one that I certainly remember seeing in a theater when it first came out, and I enjoyed it quite well.  Seeing it on the big screen again is something that I certainly wouldn't want to miss, and at this festival, we get the added bonus of seeing the movie with many of the film's original cast.  Sadly no Tom Hanks, or Geena Davis, or Madonna.  But, the ones there were quite a great assortment.  In attendance were actresses Lori Petty, Megan Cavanagh, Ann Cusack, Anne Ramsey, Patti Pelton, as well as comedian Jon Lovitz, who played the part of the talent scout in the movie.  Ben Mankiewicz was there to moderate, but the panel pretty much was a conversation between long time friends sharing memories than it was an interview.  Lovitz of course offered his own humorous anecdotes throughout.  They of course touched upon how much they appreciated working with Penny Marshall, what it was like working with Tom Hanks and Geena Davis, and of course the surreal aspect of sharing the screen with Madonna, the biggest pop star in the world at the time.  There was also a very welcome surprise for us at this screening, because another guest of honor was one of the actual Women's League baseball players that were the subject of the film.  Her name is Maybelle Blair, and though she wasn't a participant in the panel itself, she did get a shout out and a standing ovation from the audience.  It was also pretty adorable that she was supporting herself with a walking cane shaped like a baseball bat.  That special connection to history helped to make this a very special screening, and in deed, the audience was really into this showing.  There were quite a lot of cheering and clapping at several points in the movie, especially at Tom Hanks now iconic line, "There's no crying in Baseball!"  Overall, a good choice to close out the festival experience on.  I left the theater exhausted from a long four day stretch but at the same time a little sad that it was all done.  Sticking around for just a couple more minutes of atmosphere, I headed to the subway and made my way home, with another TCM Film Fest experience complete.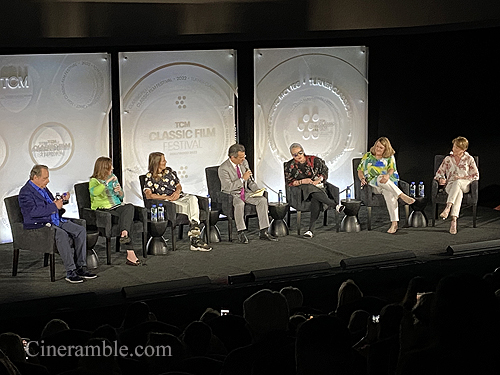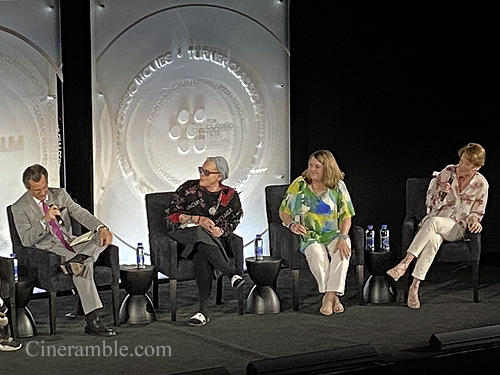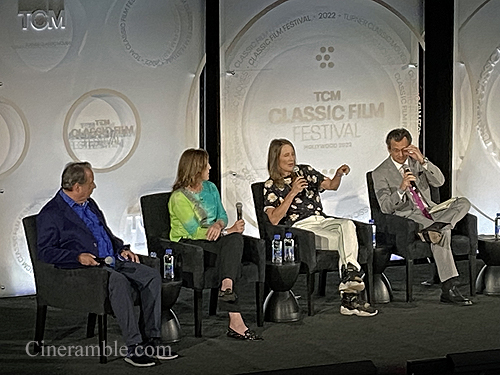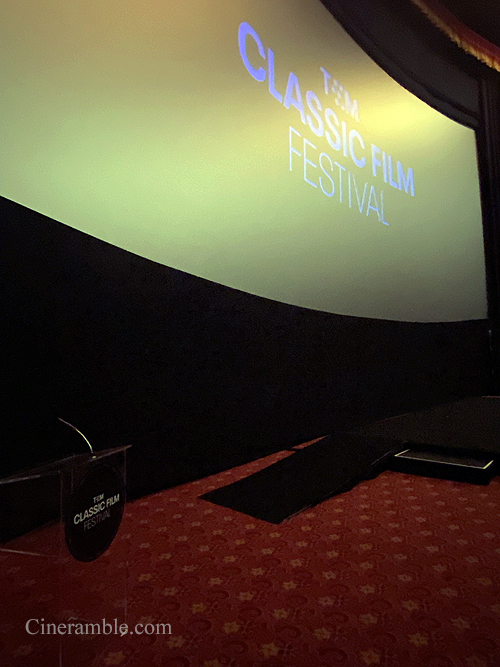 I think what really made this festival different from others in the past was the feeling of relief that it was finally here again.  It was one more thing that the pandemic took away from us that we finally got back and of course absence makes the heart grow fonder.  Though the festival was still affected by the absence of some past venues, it still felt like old times again for those of us who have made multiple trips throughout the years.  I for one managed to get the most out of my experience.  I saw 11 films in total (one short of my record in 2019) which is still quite an accomplishment, even with my three strikeouts.  I don't feel like I wasted any opportunities, though that Giant screening with Spielberg is one that I wish I had prepared better for.  It was also wonderful being in these different venues again and having the chance of watching these classics in the way they were meant to be seen.  I got to see Warren Beatty live in person which was a nice experience, and I also watched a beautiful new print of Spartacus be screened in stunning 70mm.  Also, I managed to add a first to my festival experience and watch one of the midnight showings for the first time.  That's a side of the festival that certainly differs from any other.  My hope is that this return of the festival proves as successful as years before and that it will be back in full force next spring.  The level of attendance seemed pretty strong so I think it's a definite probability.  Hopefully the refurbished Egyptian will be added back to the roster of venues and also (fingers crossed) the Cinerama Dome as well.  After a two year absence, I am so happy to be sharing these experiences will all of you again.  It was a rough pandemic for the movie going experience, but the level of popularity in this festival that I saw over the weekend makes me hopeful for the future of the movie theater experience.  There is nothing better for a cinephile like me than to be able to watch so many classic movies in the heart of Hollywood in the most famous movie theaters in the world.  Thank you for bringing this back to us TCM Classic Film Festival.  Hope to see you again next year.