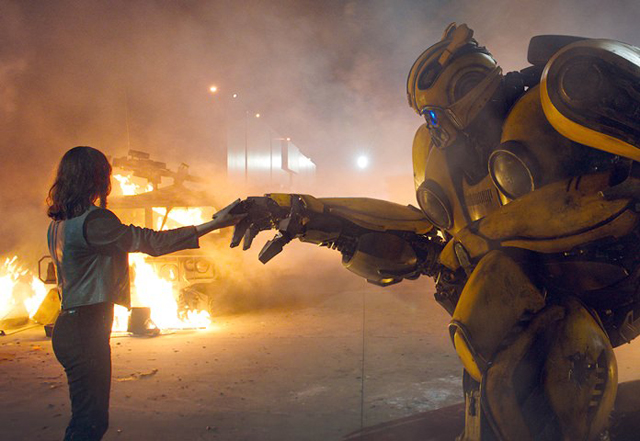 If there is one thing that people across the board are becoming tired with in Hollywood, it's the lack of anything original on the blockbuster level.  Pretty much all the tent poles released this year during the summer season is either a sequel, a remake, or a reboot, showing just how repetitive the summer season has become over the last few years.  And that's not to say that all types of movies of these kinds are bad; so far one of the best and most successful movies of the year is Avengers: Endgame, a sequel.  But the issue is not the quality of each individual movie, but rather the fact that there is little to no movies anymore that stand out as something wholly original.  Pretty much the one and only movie that fits that bill this year is Quentin Tarantino's Once Upon a Time in Hollywood coming this June, and even a Tarantino release has an element of continuation built upon the director's own cinematic universe.  Though it's sad to see so little new ideas coming out each year from the mainstream of the industry, it's also understandable in a way.  Movies that rely upon already established name recognition tend to be a safer bet, especially when the movie is expected to cost a lot of money, so that's why they are more likely to receive a green light over something untried like a fresh new idea.  And this is something that unfortunately will always be true about Hollywood.  There are just not enough unique high concept ideas that come along that demand the $100 million treatment, and tried and true will always rise to the top in terms of being forwarded towards production.  Given all that, audiences are still discerning when it comes to the types of sequels, reboots and remakes that they like, and oftentimes this will become a big point of contention when audiences remark their level of satisfaction with whatever Hollywood is putting out.  Remakes in particular are a tricky brand of film to get right, and what it usually boils down to is whether it comes from the heart or not.
There is an interesting separation between successful and unsuccessful remakes, but the primary thing that defines the response to each movie is in how it matched up to the original.  The hardest hurdle that a remake must overcome is to justify it's necessity for being; something that few movies ever get to do.  It becomes even harder when the movie being remade is a beloved classic.  For many people, there are untouchable movies that can never be tampered with, and even the thought of attempting a remake for these is instantly condemned.  But, with Hollywood becoming more and more hesitant to invest in newer, unproven properties, they are looking to more and more classic titles as a way to generate immediate box office.  From that point, it falls upon the filmmakers to deliver a movie that fulfills the criteria that the studios have set, while at the same time gaining the interest of the audience.  And in many cases, this can be daunting work.   For some filmmakers, the job becomes only that, and they deliver a movie that looks and feels like something we've seen before, but lacks anything else.  But, other filmmakers can take a familiar story and spin it into something that doesn't feel like a rehash.  When this happens, we end up having a remake that not only matches the original, but may even surpass it.  And this is something that only happens when the filmmaker really believes and loves the movie that they are making.  For them, they are either hoping to reintroduce something they love to another generation, or take something that interested them but never quite reached it's full potential and use their talents as filmmakers to do that film justice.  When a remake or reboot is approached in this fashion, that's when it better appeals to an audience at large, because they can recognize that they're not being fed the same rehash all over again.  Old can become new again when the filmmaker him or herself is just as much of a fan as the person in the audience is.
Currently, the ones who are putting the most money into remaking old titles is The Walt Disney Company.  Starting in 2010 with the surprise success of Tim Burton's remake of Alice in Wonderland, Disney quickly realized that there was a market in adapting their own library of classic animated movies into live action, and since then a major chunk of their studio investment has gone into producing these nostalgia driven remakes.  The timing couldn't be more opportune for the studio, since most of the audience that grew up with their movies, from the birth of home entertainment and the era of the Disney Renaissance, now are beginning to come of age and are having children of their own.  With a whole new generation of movie goers who are already a built in audience for these titles, it's no surprise that this slate of remakes has made them enormous amounts of money.  The Beauty and the Beast (2017) remake is still the biggest March release in box office history, and that's over heavy hitters like The Hunger Games (2012) and Captain Marvel (2019).  But, there's also one thing that has stuck out with these Disney remakes and that's the very mixed response that they've received from audiences.  Some do generally well critically, like Cinderella (2015) and The Jungle Book (2016), while others are severely criticized, like Beauty and the Beast and more recently Dumbo.  The same mixed reaction is also following the recent Aladdin remake, with fans split right down the middle either loving it or hating it.  No matter what for Disney, as long as they are making money, they'll continue to make these remakes, but for a lot of long time Disney fans, this is a trend that is troubling to witness.  For them, they are seeing movies that are merely pandering to an already satisfied audience and what we get in return are movies that come no where close to capturing the magic of the original.
This is where the level of the filmmakers approach to the material becomes so important.  For one thing, if the director and cast are invested and want to do justice to the movie that they are remaking, it will help to go a long way towards making the movie stand on it's own.  Jon Favreau in particular has demonstrated his enthusiasm for the movies he's remaking for Disney.  With The Jungle Book, he took the basic outline of the Disney original and provided his own spin on the story that fit his own tastes as a director, particularly with the sense of humor.  No lines are repeated, but the movie does honor the parts of the original that audiences would be expecting, such as the songs like "The Bear Necessities."  And he combine this with cutting edge technology to bring the creatures and jungle itself to photo realistic life in a way that can indeed blow audiences away.  His example shows that a director with an appreciation for the original can exceed the expectations of the audience by showing them a movie that is familiar but also groundbreaking at the same time; a formula he's hoping to also repeat with The Lion King this summer.  Contrast this with something like Beauty and the Beast, which was directed by Bill Condon.  It becomes clear from the outset of that movie that Condon was just a director for hire, because he relies heavily on the audience's familiarity with the original to carry the narrative drive of his version of the movie.  And everything in the live action Beauty and the Beast feels devoid of that loving touch, with every creative decision proving less effective than how it played out in the original.  When the animated version feels more true to life than the live action version, than you know that you've made a huge error.  And that's the dilemma that Disney is facing with these live action remakes; is it worth making all that money when the audience is all too aware that they are cash grabs that in no way replaces the original for them.
The best way to ensure that a remake works in your favor is to show for audiences that there is a reason that this movie should exist.  Disney surprisingly found that to be the case with their remake of Pete's Dragon (2016).  And that's because unlike many of the other movies getting remakes, the original Pete's Dragon (1977) was a movie that was flawed and forgettable enough to warrant a re-imagining.  Surprising, Disney gave the job to art house director David Lowery, who took the goofy musical with an animated dragon and transformed it into a dramatic coming-of-age tale that took it's premise and characters seriously and emotionally; without songs.  And it worked.  Lowery saw something in the story that he could mold through his own style, while still being true to the core of what made the original work in the first place; the relationship between the boy Pete and his dragon named Elliott.  With that, he made a movie that both fans and newcomers could both appreciate, and have it stand on it's own.  It's something that all the best remakes share; the ability to be seen as it's own unique thing, and it usually is rooted in a director finding their own voice in an already established movie.  Sometime it works best by filtering the story through another genre altogether.  For instance, Sergio Leone took the samurai films of master Japansese director Akira Kurosawa and re-imagined them as Westerns, with his "Man with No Name" series, themselves becoming classics of their own.  Leone didn't remake movies like Yojimbo (1961) because he felt that they could be better; he remade them because he admired the storytelling and wanted to bring that into the genre that he was most comfortable with, the Western, because he believed these kinds of stories were what the genre had been lacking.  When the director is devoted to the remake of a popular film, the end result will reflect that through the passion they put into every frame.
There are instances where the director can be too much of a fan of the movie they are remaking.  That became an issue when director Gus Van Sant attempted a shot for shot remake of Alfred Hitchcock's Psycho (1960).  And when I say shot for shot, I mean that he recreated every camera angle and edit that was in the original, with the only major differences being the cast and that it was in color instead of black and white.  It's a fascinating experiment on it's own, but the end result falls into the same pit that marks all the rest of the bad remakes; it never justifies it's purpose for existing.  Nothing Gus Van Sant does in the movie improves upon the original; all we are reminded of is how great the original movie was, and why it should never be remade at all, because everything still works perfectly as it did when it was first made.  I think that Van Sant was always aware of this as well, as he stated in interviews that he made this remake so that no one else ever would; effectively closing the door on any chance Hollywood ever would.  The only problem is that the remake itself still exists, and should never have existed in the first place, even as a deterrent.  Sometimes filmmakers try to be too reverential to the films they are trying emulate, and it robs their new film of an identity.  This was the case when Bryan Singer made his reboot of the Superman franchise with Superman Returns (2006).  The problem with his movie was the fact that he was trying way to hard to make the movie a spiritual successor of the Richard Donner originals that he undermined his own instincts as a director, and the movie ended up being a pretentious bore.  At the time, people wanted to see something new from Superman, similar to how Christopher Nolan's Batmans felt different from Tim Burton's, but Bryan Singer failed to make his own film work because he was trying to recapture something that wasn't his in the first place and which audiences had already moved on from for well over 20 years.  It's good to love a particular kind of movie, but in the end, you still need to make the case why it should be remade, and it has to stand for more than just a personal fulfillment.
But, for the most part, being a fan of the thing you make does work to a movie's advantage, and it helps to sell that movie to a broader audience who are expecting something to live up to their previously held expectations.  That's why you see a range of ups and downs from various franchises as they often learn the hard way that it takes a certain kind of knowledge about a popular intellectual property to translate it perfectly to the screen.  One of the most dramatic examples recently of a long standing franchise finally figuring out how to please it's audience and transform into a better version of itself is conveniently enough the Transformers series.  For the last decade, Transformers has been under the stewardship of Michael Bay, who clearly has never delved very deep into the lore of the property he's been asked to adapt for the big screen.  That's not to say that Transformers has this deep, important mythos behind it, but when watching the Transformers movies, it's clear that Bay is making a movie that satisfies his tastes, with little regard to what fans who grew up with these characters hold dear.  But, when Paramount, the company behind the franchise, decided to spin-off one of the most popular characters, Bumblebee, into his own movie without Michael Bay, something surprising happened.  The franchise enjoyed it's first ever critical hit for the Transformers franchise, receiving the best reviews the series has ever had.  Part of what made such a difference was the fact that director Travis Knight had a vision for the story that was more closely tied to the style of the original animated series, complete with on model designs for the Transformers themselves, showing that he himself took this property seriously, and was not going to fill it with indulgences like Michael Bay had.  This was a movie made by a fan for the fans, with the Transformers themselves, namely Bumblebee, taking center stage, which had never happened to this extent before in the series.  And Paramount has taken notice, with Michael Bay no longer being eyed to make any future films in this franchise, to the delight of many.  Any franchise can reach it's full potential when the person making it has a sense of the inherent character of what they are making, and doesn't just try outshine it with their own self-indulgent character.
While most audiences have learned to be suspicious of remakes and reboots, there are plenty of precedents showing that these movies can work when the person behind it puts their heart into it.  Indeed, some of the most popular movies of the last decade have been movies that either re-imagined a beloved property, or re-sparked it into a whole new generation.  Look at the two franchise with J. J. Abrams involvement; Star Trek and Star Wars, both of which are clearly made by people with both knowledge of the properties they have been asked to shepherd to the big screen, as well as the creativity to try new things to help bring the franchises into a new era.  These remakes also restore things that were lost over time when the franchises became either stagnant or had completely lost their way.  Just like how Bumblebee brought back a playfulness and identity to the Transformers franchise, the Abrams Star Wars flicks helped to undo some of the bad instincts that George Lucas had let infest the beloved franchise during the prequel era by returning the series back to it's practical effects utilizing, non-CGI enhanced simple aesthetic.   Many other examples show how giving these franchises over to fans has reinvigorated them in ways that make them work better than they have in years.  Prime examples include Ryan Coogler's reinvention of the Rocky franchise with Creed (2015), which puts the beloved champion into the role of mentor; and also the Planet of the Apes reboot centered around the incredible motion capture performance of Andy Serkis as Cesar the Ape, taking a once campy franchise and imagining it as a harrowing saga about survival in a harsh, post-apocalyptic world.  What these movies show is that any franchise can live a long life in the hearts of audiences when the people behind them really believe in the movies that they make and have a genuine love for the final product as well.  I think that's why the recent Disney remakes have been such a mixed bag for audiences.  They feel more like products of a machine rather than expressions of genuine art.  That probably why their best remake to date is the one that they cared the least about; Pete's Dragon.  That was the only one where it's clear there was much to improve upon from the original, and the director was also very willing to show how special it could actually be.  Finding room for improvement and exploiting it is what has separated the best remakes from the rest.  After all, everyone loves something new, even when it's from something we've already seen before.