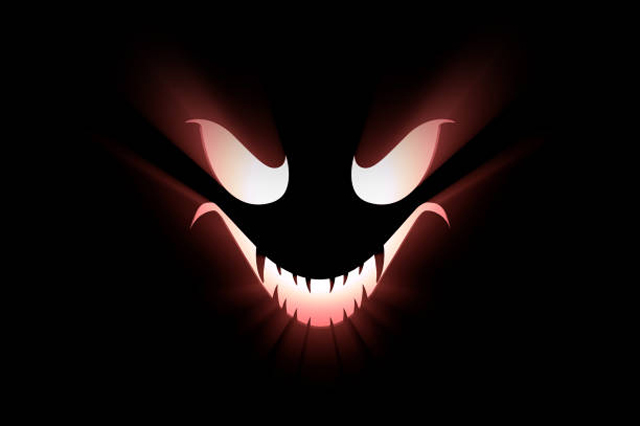 Heading into the next decade when it comes to cinema makes one look back on the past 10 and think about what impact has been left behind.  For the most part, we look back at all the most inspiring moments as well as the most fun ones as well.  At the same time, we also take a look back at all the moments that left us chilled to the bone.  The 2010's was a tumultuous time, so it was often hard for the movies to keep up with all the scary things going on in real life, but even so, there have been plenty of thrills and scares on the big screen that have stuck with us.  But what really makes us remember the darker cinematic moments of the last decade is the incredibly dark characters that are usually at the center of them.  As is often the case with movies of all types, the villains are always the most memorable characters.  The 2010's were full of villains of all types, but the ones that stuck around in our mind were pretty reflective of the direction that cinema had been heading in throughout the last ten years.  For one thing, thanks to Marvel and DC, comic book villains became the most popular throughout the decade.  Marvel's rogues gallery in particular enjoyed a major boost, as many once obscure Marvel baddies all of a sudden became household names.  That's not to say DC's were left behind though; one of their's is currently enjoying record breaking box office with his own movie in theaters right now.  But, there were also plenty of other villains that still left their mark outside of the super hero genre, and usually their lasting impression came from the fact that their darkness was all too real and familiar in our daily lives.  What follows is my list of the best movie villains from the last decade.  Some are no-brainers, but there are a few here that are personal favorites of mine, and I hope that spotlighting them here will help to keep their presence fresh in people's minds as the decade comes to a close.  So, let's take a look at the best of the worst from the 2010's.
10.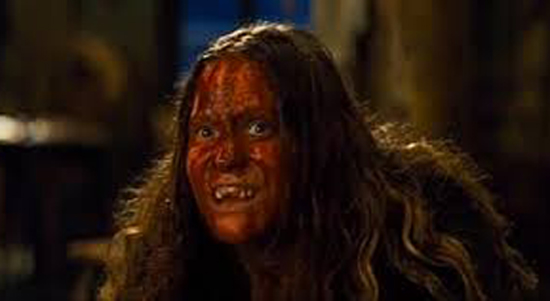 DAISY DOMERGUE from THE HATEFUL EIGHT (2015)
Played by Jennifer Jason Leigh
Quentin Tarantino's early films were pretty light on primary villains, mainly due to the fact that he made movies where everyone was a villain of some kind.  But many of his recent films have managed to spotlight a character above all the others that just is evil incarnate, and as a result, ends up being the most memorable character in a film full of great characters.  Chief among them certainly was Colonel Hans Landa from Inglorious Basterds (2009), who stands among the greatest movie villains of all time (and a personal favorite of mine).  Django Unchained (2012) gave us a dastardly duo with Leonardo DiCaprio's Calvin Candie and Samuel L. Jackson's house slave Stephen.  But, for a villainous character that stood out as truly one of the best of the decade from the imagination of Mr. Tarantino, it was Daisy Domergue from The Hateful Eight.  Daisy, when we first meet her, is already a condemned woman on her way to a hanging, and for the first half of the movie, her presence is merely to be there as a vile low life whom we laugh at whenever she gets under the skin of her captor, John "The Hang-Man" Ruth (Kurt Russell).  But, as the plot unfolds within the confines of the isolated log cabin that all the titular 8 characters end up stranded in, we learn that she is far more cunning than we initially perceived.  Daisy becomes something like a spider, delightfully toying with all these flys that have been caught in her web, and through her manipulations, we see Tarantino create one of the most despicable characters he's ever dreamed up for one of his movies, brought to life so exquisitely through Jennifer Jason Leigh's fearless, Oscar nominated performance.  In Sam Jackson's character's own words, she is a "diabolical bitch" and that makes her all the more memorable.
9.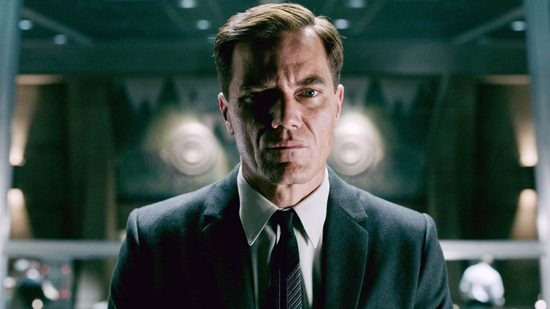 RICHARD STRICKLAND from THE SHAPE OF WATER (2017)
Played by Michael Shannon
In the wrong hands, a character like Agent Strickland could have turned very one note.  On paper, he is basically a physical representation of repression that plagues the central characters of Guillermo Del Toro's sci-fi fairy tale.  He's a racist, misogynist, and a sadist, and what makes all those different aspects of his personality worse is the fact that he's a man in a position of power.  But, the character becomes far more than the tropes that defines him, because actor Michael Shannon brings so much presence into his performance.  One of the greatest character actors working today, Shannon has played his fair share of dark, foreboding characters, but with Strickland he goes for broke, creating one of the most heartless characters seen on screen in many years.  Another actor in the role might not have been able to play the character as sinister as Shannon makes him here, or at least with the same sincerity.  Michael Shannon makes Strickland as rotten to the core as the fingers that are literally rotting on his hand throughout the movie.  And I love the fact that the movie never tries to find the silver lining within the character; that soft spot that most other films feel like they need to include in a villain's backstory in order to bring them "depth."  The Shape of Water is a movie about monsters who have a heart, and through Strickland, we see that the most human character, with the most human flaws, is the one who acts the most monstrous.  It's the people that use their power to play by their own rules that Del Toro presents an impressively vivid portrayal of villainy, and given how the world evolved over the last decade, Strickland is one of the most prescient villainous characters in recent memory.  It's no mistake that Del Toro put all that into an agent of the government.
8.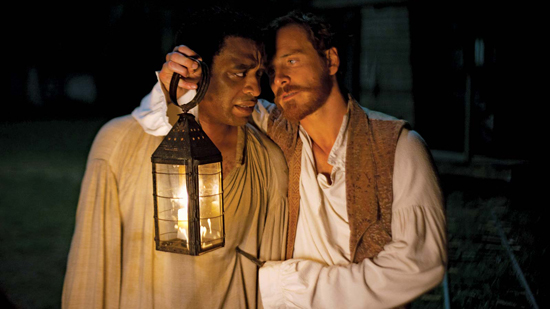 EDWIN EPPS from 12 YEARS A SLAVE (2013)
Played by Michael Fassbender
It's hard t encapsulate all the horrors of slavery within a single narrative, but one of the most valiant efforts of recent years was this Steve McQueen directed adaptation of 12 Years a Slave, the historical autobiographical account of Solomon Northup.  Not only does Solomon (played by Chiwetel Ejiofor) have to endure the daily horrors of a lifestyle that he was trapped into and has no means of escape except to rely upon his intelligence, but he must also do so under the tyrannical eye of the master who has taken ownership of him.  Edwin Epps stands out as one of the most frightening villains of the decade not only because of how he embodies all the evils of this institution, but also because of how chillingly he manipulative he is as well.  The brilliance in Michael Fassbender's unforgettable performance is in how he doesn't simply portray Epps as a foaming at the mouth bigot.  It's the quietness of his terror that makes him especially effective.  The scene where he confronts Solomon after discovering his plot to make an escape is especially tense, as all that Epps does to instill fear into him to make Solomon confess is to wrap his arm over his shoulder and hold a small knife to his gut.  He never utters a word and instead lets Solomon do all the talking, all the while giving Solomon a penetrating stare.  There are other scenes where Edwin grows more outwardly violent, but in this unforgettable scene we see just how effectively foreboding he can be in one of his most restrained moments.  He perfectly represents the institution of slavery in America; false gentility masking the truly horrifying and inhumane practices that lied under the surface.  12 Years a Slave effectively conveyed the absolute terror that it must have been like to live under such oppression and Edwin Epps, with his projection of moral authority guiding his every brutal move, shows us how chillingly real such brutality could exist within our own history.
7.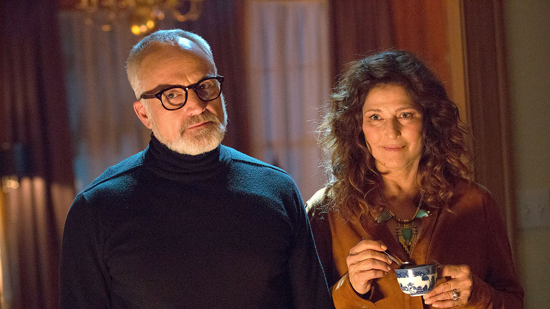 THE ARMITAGE FAMILY from GET OUT (2017)
Played by Bradley Whitford, Catherine Keener, Allison Williams, and Caleb Landry Jones
Sticking within the same theme of black men entrapped into an institution of slavery of some kind, writer and director Jordan Peele put his own modern spin on the concept with his breakthrough horror film.  And he does so with not just one memorable villain at it's center, but a whole family of them.  The Armitage Family are a wonderfully twisted group of characters, seemingly normal on the surface until you peel back the layers and find out what they are really up to.  What is brilliant about Peele's reveal within the movie is that he makes the Armitages feel like the family next door, completely comfortable with the idea of accepting a person of color into their family.  Jordan Peele even makes them politically liberal, stating that they would've "voted for Obama for a third time."  But as the movie goes along, and the truth comes out, we learn that their is a sinister side to their comfort level with African Americans, and what their actual deal is becomes both insane and terrifying.  Catherine Keener's Missy, the matriarch of the Armitage clan, is especially memorable with her chilling use of hypnosis to entrap black men and women within their own minds.  You'll never see anyone make stirring tea in a cup as frightening as she does in this movie.  Allison Williams also stands out as the one who creates the false sense of security for Daniel Kaluuya's protagonist, going from the ideal girlfriend to the embodiment of evil literally within a flash, once the truth comes out.  Much like how it probably would have been back in the days of Slavery in America, that projection of civility masks the truly sinister practice underneath, and more importantly, it's all centered around the dehumanization of a whole race of people for the benefit of the captors.  With the Armitages, Jordan Peele shows that the evils that have plagued America still can be found even with what appears to be the perfect, modern American family.
6.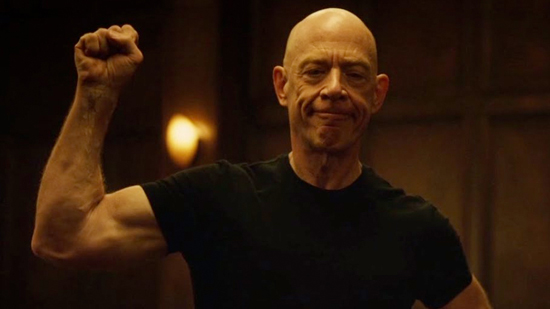 TERENCE FLETCHER from WHIPLASH (2014)
Played by J.K. Simmons
Of course, not all great villains need to be murderers or monsters.  Some could just be the teacher from Hell.  That's the case with Terence Fletcher from the movie Whiplash.  In Damien Chazelle's explosive debut feature, he presented us with one of the most unforgettable antagonists in recent memory, and in one of the most unexpected places as well.  You don't expect to be confronted with the struggle of your life within a jazz class at a music conservatory, but that's the situation that Fletcher creates for Miles Teller's Andrew Nieman.  Fletcher's style of teaching is, how shall I put this, a little extreme.  One moment he's calm and collected, the next, he's throwing a chair across the room right at your head because you're off the beat.  Simmons' Oscar winning performance is stunning to watch as he balances both the intensity and the serenity of this perfectionist character.  No other actor could instill so much menace into a phrase as simple as "not my tempo."  The scary thing is, we've all met a Fletcher in our lives; that one person who drove us nearly into insanity with their obsession to mold us into a more ideal person, whether that person was a teacher, a coach, a loved one, or our boss.  We've all experienced something like that to certain degrees, but Fletcher is certainly an extreme case that makes this narrative about creating perfection in art such a harrowing ride.  By the end, Andrew and Fletcher do come to a glorious moment when they are on the same page, but you're left with the feeling of wondering if was worth the struggle in the end.  I just love the fact that the normally mild-mannered Simmons was able to create such an intense portrayal of this character.  There are moments where he's wound up so tight that it looks like veins will pop right out of his head as he growls his commands sometimes too close for comfort.  As we see with his character, you don't have to commit evil acts to be an iconic villain; sometimes you just need to be the most glorious of assholes.
5.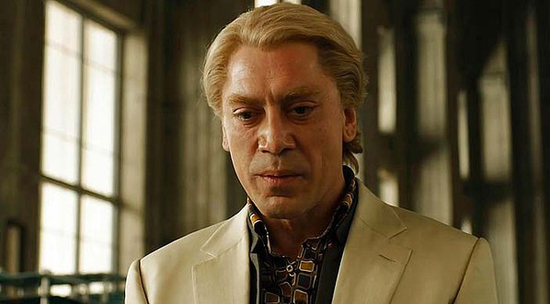 SILVA from SKYFALL (2012)
Played by Javier Bardem
The long running James Bond franchise has had it's fair share of memorable villains throughout the years; Goldfinger, Scaramanga, and of course Bond's arch-nemisis Ernst Stavro Blofeld, who just recently saw a cinematic revival in Spectre (2015).  But, it was with the third film in the Daniel Craig era that the franchise may have created it's most memorable villain yet.  Silva is a character so vividly imagined that he almost puts all the others to shame, especially those that came from some of Bond's campier outings.  Having already come out of the previous decade playing one of the best villains of the 2000's (Anton Chigurh in No Country for Old Men), Javier Bardem created yet another all time great baddie with Silva; a villain with more layers than a wedding cake.  Silva's main motivation is revenge, not against Bond, but rather against the woman that trained both of them into the killers that they became, M (played by Judi Dench).  But his villainy extends beyond just vengeance, as he displays some severe psychological trauma that's driving his sinister actions, delighting in the suffering he's inflicting like it's a game.  In many ways, he's a twisted mirror of James Bond himself.  Where Bond is a cool, level headed agent with a licence to kill with expert precision, Silva is a killer with a flair for the dramatic and a lack of compassion for even the most innocent of person unlucky to be caught in his way.  Combine this with a genius level intellect, and we've got a character that probably represents Bond's greatest threat ever.  When we first meet Silva, he tells us the metaphorical tale of rats trapped in a barrel until there were only two left, after they had resorted to eating the rest.  In his words, "they had changed their nature."  And that makes Silva so memorable a villain, as being the best challenge that James Bond has ever faced, with the two of them battling it out to be the last rat standing.
4.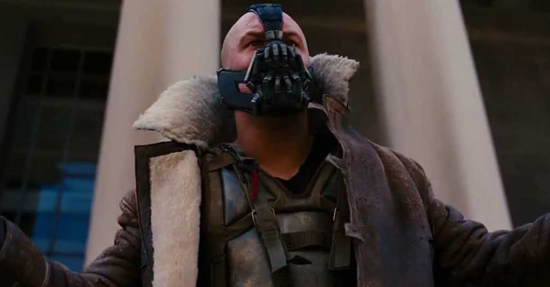 BANE from THE DARK KNIGHT RISES (2012)
Played by Tom Hardy
Christopher Nolan had an almost impossible task with his follow-up to The Dark Knight (2008).  Heath Ledger's now iconic performance as The Joker was almost too high a bar to overcome, and given Ledger's untimely death following the making of the movie, Nolan couldn't continue on with another actor because of how well Ledger left his mark on the role.  Thankfully, Batman's rogues gallery is a deep one and there were plenty of iconic characters to choose from as a possible follow-up.  The only question is, could Nolan find one that could rise to that same level.  Surprisingly, Nolan landed on the character of Bane as the villain for this trilogy capper; a character that you wouldn't have expected for this version of the Batman mythos as imagined by Christopher Nolan, especially following in the wake of the Joker.  But, somehow he made it work, thanks in no small part to an incredible performance by Tom Hardy that, in my opinion, rises up to the high standard set by Heath Ledger.   The smart decision was made to completely transform the character, straying away from the Luchador mask wearing, steroid enhanced muscle man from the comics.  In Dark Knight Rises, Bane is a muscle bound terrorist with a mission, as well as the gravitas to inspire chaos to reign over Gotham City.  He's more than a physical match for Batman, even incapacitating him after their first fight, and what makes him such an effective villain is that he's both brains and brawn.  In many ways, I like this Bane better than the comic book version, and he may even be my favorite character in the entire Dark Knight trilogy.  I especially love Hardy's commitment to that peculiar and often imitated voice, and how much of his acting comes through in the eyes, as his face remains covered by that gnarly looking mask.  Even detractors of The Dark Knight Rises still sing the praises of Hardy's performance.  The most remarkable thing about the character though is that he rose up from a second tier Batman villain into a more elevated level, and remarkably holding his own in the final chapter of a groundbreaking trilogy, and even became an adequate follow-up to one of the greatest screen villains of all time.
3.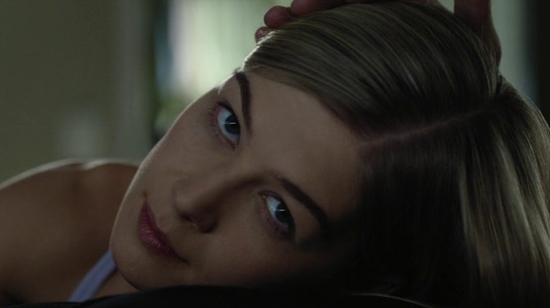 AMY DUNNE from GONE GIRL (2014)
Played by Rosamund Pike
We are now in a time when abuse victims claims are now thankfully taken more seriously, but suspicion still dogs many cases where one party will claim that the other is fabricating their story for whatever reason.  Gone Girl takes that kind of scenario to the extreme, where the character of Amy Dunne, frames her husband (played by Ben Affleck) for her disappearance and possible murder.  Her motive is out of disgust for her married life, which is not unfounded as Affleck's Nick Dunne is no saint, but what makes Amy such a memorable villain is the lengths that she goes to for her vengeance.  She's almost a genius when it comes to covering all her tracks and making her husband look like the guiltiest man in the world.  But she doesn't just stop there.  After misfortune sidelines her well laid out plan, she goes to even more extreme ends to end up on top; even resorting to self-mutilation and murder.  And it's all in the service of keeping up the appearance that she is completely innocent.  What I love about Rosamund Pike's performance is the fact that she seems to take some thrill in causing so much chaos.  As her husband continues to be grilled and beaten down by the media that has falsely proclaimed him as a monster, she gleefully sits by and watches her narrative play out exactly as she wanted it to, until Nick learns of her came and comes back with some media manipulation of his own.  In many ways, Amy is a perfect representation of the kind of monstrous way that we let the truth slip away all in the service of a more compelling narrative, and how some sinister people are literally able to get away with murder because of that.  Media manipulation is a very contemporary evil, and Amy Dunne is one of the most compelling villains we've seen that embodies that.  In a brilliant bookend to the movie, we see the same shot of Amy staring back at us from the POV of her husband.  Once the full context of the movie comes into focus, the meaning of the shot changes, and becomes a quite frightening final note.
2.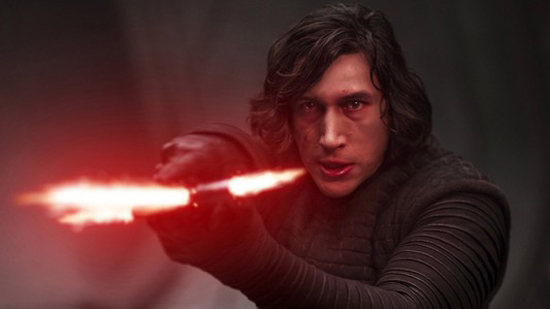 KYLO REN from STAR WARS: THE FORCE AWAKENS (2015), THE LAST JEDI (2017) and THE RISE OF SKYWALKER (2019)
Played by Adam Driver
In an iconic saga that has spanned several decades and has included all time great villains like Darth Vader, it was going to be a daunting task to create a new villain that would live up to the high Star Wars standard.  Thankfully, this concluding trilogy brought us probably the most compelling villain yet in this series.  Kylo Ren may not be as menacing a presence as Darth Vader, but he is probably the most fleshed out baddie we've seen in the Star Wars universe so far.  Caught in between the pull of the light and dark side, Kylo Ren's story is a semi-tragic one, where we see how a character who has the ability to do good constantly falls into a spiral of evil actions, all in the pursuit of some empty fulfillment.  It's all the more tragic given how he is the off-spring of two of Star Wars most beloved heroes; Han Solo and Leia Organa.  His turn towards the dark side could've been avoided too, had the pure hearted Luke Skywalker (Mark Hamill) not succumbed to one moment of weakness in his pursuit of exterminating all forms of the dark side in the world, even if it manifested slightly in his own nephew.  It's that tragic sense of the character that makes him so compelling, and he's vividly portrayed throughout the trilogy by Adam Driver.  Driver is able to capture the moodiness of the character without making him an insufferable edge-lord of a character.  A part of us hopes that he can be redeemed, but the sad truth is that he may be far too gone to ever come back to the light.  Given how I picked his counterpart, Rey, as the hero of the decade, it only makes sense for his inclusion here as well.  It will be interesting to see how his character evolves further as the saga comes to an end this December.   No matter what happens, the Star Wars saga has left us with a memorable villain in it's final chapter that delivers just as much interesting pathos as he does chilling menace.
1.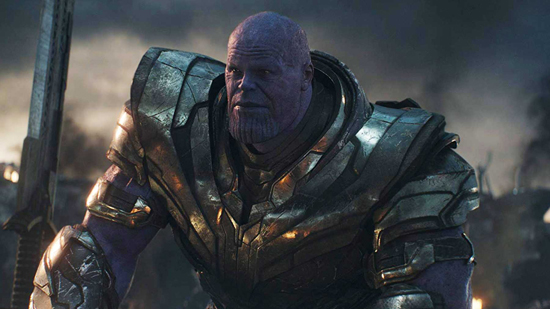 THANOS from AVENGERS: INFINITY WAR (2018) and AVENGERS: ENDGAME (2019)
Played by Josh Brolin
Not really a big shock that Thanos tops this list.  The Marvel Cinematic Universe has been the most defining cinematic creation of the last decade and Thanos has certainly be set up as it's primary antagonist.  Ever since he was first teased in the end credits of the original Avengers in 2012, there has been a growing anticipation for his ultimate showdown with the band of super heroes.  Remarkably, Marvel was able to sustain that anticipation through three full phases of their world building over multiple franchises and 21 total films.  Some were worried that Thanos wouldn't be able to live up to the hype, but thankfully in the hands of a skilled actor like Josh Brolin, not only did Thanos deliver, he left an unforgettable impression that in many ways makes him one of cinemas greatest villains ever.  First of all, the character is a technical marvel (so to speak), setting a new high bar in the motion capture technology utilized to bring him to life.  It really is amazing how much of Josh Brolin's subtle acting translates into the CGI model of the character.  At the same time, the "Infinity Saga" duo of Infinity War and Endgame do such an amazing job of portraying his character, explaining his motives and even finding the sadness underneath that drives his evil actions.  Thanos is by no means a sympathetic villain, but we feel the anguish that takes a toll on him throughout as he heads toward his evil goals.  As he says in the movie, "I am inevitable," and it's that unwavering drive towards his own zealous ideal that makes him truly terrifying.  It also helps that he commits one of the most evil acts ever put on screen by killing half of all life in the universe with the snap of his fingers; including some beloved characters.  Thanos was every bit worth all of the build-up and Marvel did the character justice in the end.  If there was anything that defined on screen villainy in the last decade, it was the long awaited arrival of the tyrannical mad Titan, and the way he left us all shaken to the core by the depths of his evil deeds.
So, there you have my choices for the best movie villains of the 2010's.  Some are likely choices, but others are ones that I hope are given deeper evaluation in the years to come.  No doubt, the comic book dominance of the last decade made the inclusions of Thanos and Bane expected on here.  And they were just the most noteworthy of a whole ten years of incredible villains taken off the comic page and brought to the big screen.  We all had the likes of Tom Hiddleston's Loki, Michael B. Jordan's Erik Killmonger, Cate Blanchett's Hela, and James Spader's Ultron in the mix as well.  Other noteworthy villains that didn't make the list also included Smaug the dragon from Peter Jackson's Hobbit trilogy, President Snow from the Hunger Games franchise, and plenty of other interesting villains that made their cinematic debuts in the last decade.  We also saw some memorable re-imaginings of classic movie villains, like Bill Skarsgard's new take on Pennywise in IT (2017).  What I hope this list shows is the eclectic mix we witnessed over the last several years; showing that the most profound portrayals of villainy were not just limited to super-villains, but also from dark corners of contemporary society (Amy from Gone Girl) as well as our troubled history (Edwin Epps from 12 Years a Slave, the only character on this list based on a real person).  It will be interesting to see what the next decade has in store for us.  Marvel and DC will continue to expand their universes; although I don't know what Marvel will do as a follow-up to a character as iconic as Thanos.  Some of the best villains in the next decade could also be complete surprises, so I'm interested in seeing how the 2020's plays out when it comes to capturing captivating villainy on screen.  Regardless, it was a good decade for the best of the worst on the big screen, and it all leaves us with some worthwhile options to scare us once again as we indulge our dark sides in this upcoming Halloween season.