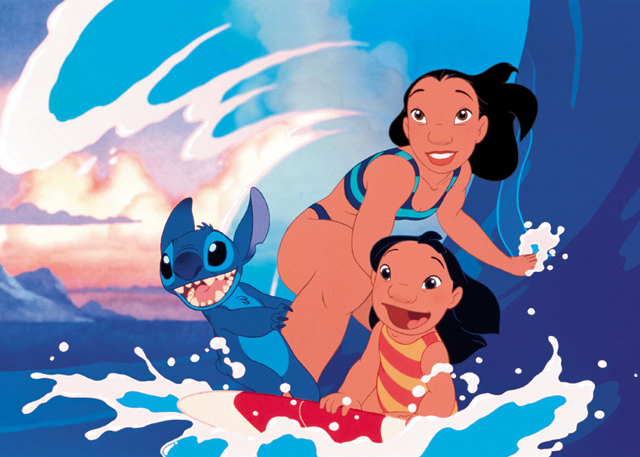 Like Marvel in our current day, and Pixar Studios through the 2000's, Walt Disney Animation went through an unprecedented win streak that helped to revitalize them as a vanguard brand in Hollywood during the 1990's.  This period in time is known as the Disney Renaissance, and it still is one of the most celebrated periods of creativity in the annals of Animation history.  After hitting a low point in the 80's with the colossal failure of The Black Cauldron (1985) at the box office, there were many who were wondering if Disney would even be able to make animated features any more, and that they would always just be a legacy studio shepherding past glory.  That all changed once The Little Mermaid (1989), one last big Hail Mary by the struggling animation department, became an immediate hit.  As a result, the legendary animation studio that had given the world Snow White, Peter Pan and Sleeping Beauty came roaring back to life, better than ever.  Building off of the success of Mermaid, Disney kept the momentum going with each film building off of the success before.  They released Beauty and the Beast (1991; their first Best Picture nominee), Aladdin (1992), and The Lion King (1994).  Lion King in particular broke every record imaginable at the box office, and proved that Disney wasn't just a success again, but a force within the industry.  But, The Lion King's success may have been too big, as it began to put too much pressure on what was to follow after it.  The next film up was Pocahontas (1995) which performed decently at the box office, but nowhere near the numbers that The Lion King managed.  This began a small decline in the years after, which saw both The Hunchback of Notre Dame (1996) and Hercules (1997) making far less than their predecessors.  But, the Renaissance was not quite over, as Disney saw a bit of a bounce back with two hits in a row in the last half of the decade, with both Mulan (1998) and Tarzan (1999) delivery strong box office returns.  Though Disney still remained a strong brand going into the new millennium, it was clear that some of that sheen was wearing off.
Part of the decline of the Disney Renaissance also had to do with internal shake-ups that were affecting the flow of production at the studio.  The very public feud between Disney CEO Michael Eisner and Head of Production Jeffrey Katzenberg saw the latter's departure after the premiere of The Lion King.  Katzenberg would then team up with Steven Spielberg and David Geffen to form Dreamworks, which would directly challenge Disney as it formed it's own Animation studio.  At the same time, Disney was also reaping the rewards of it's partnership with a rising force within animation called Pixar.  Pixar of course created the first ever fully computer animated feature called Toy Story (1995), which out-grossed Disney Animation's own film (Pocahontas) at the box office, and it began to spark the conversation of whether this was the future of the animation industry.  For Disney Animation, they were still sticking by their commitment to the tried-and-true traditional hand drawn form, but in all those years since The Lion King reached it's peak and the emergence of computer animation as an exciting new venture, there was added pressure to justify it's worth in the market.  Though traditional animation has it's base support of fans, it was not enough to outshine the allure of computer animation.  So, Disney Animation began to look outside it's comfort zone of adapting well known tales and fables into Animated epics and instead the focus became finding unique stories that would appeal to a broader audience, much like what Pixar was excelling at during that time.  This unfortunately led to a bit more disruption in the stability of the Disney Renaissance.  The Emperor's New Groove (2000) went through a turbulent re-working as it's previous incarnation (a dramatic epic titled Kingdom of the Sun) went through a disastrous production overhaul.  And the more grown up oriented Atlantis: The Lost Empire (2001) became perhaps too much of a departure for Disney.  But, as luck would turn out, a surprising little gift landed in their lap as a quirky, original story made it's way through Disney Animation that had long been the pet project of a passionate but untried new voice at their studio.
Chris Sanders came to Disney Animation just before the beginning of the Disney Renaissance in 1987.  A graduate of the legendary CalArts animation program (the incubator of pretty much all of the most noteworthy names in animation over the last 50 years), he had previously done work for Marvel Comics and the television show Muppet Babies.  An accomplished draftsman, his primary expertise was storyboarding and character development, which helped to earn him a place in the rapidly expanding and revitalized Disney Animation.  He worked on various projects, including storyboards for both Beauty and the Beast and The Lion King, where he was very instrumental in helping to shape the characters of the enchanted objects in Beauty as well as the hyenas and Timon and Pumbaa in King.  Though he was widely celebrated for his stellar story artwork, Disney was also realizing that he was adept as a writer as well, and this then led them to giving him the chance to take a shot at drafting a screenplay for their next film, Mulan.  Mulan was a special project for Disney as it marked the first feature film produced entirely at their satellite studio at the Disney World in Orlando, Florida; a testament to the level of growth that Disney had enjoyed during the Renaissance years.  The California based Sanders made the move out to Florida to participate in the creation of Mulan.  In addition to co-writing the screenplay with Rita Hsaio, Phillip LaZednik, Phillip Singer and Eugenia Bostwick-Singer, he also was made co-head of story for the film.  His co-head of story was another rising star in the story department at Disney named Dean DeBlois, who would prove to be a valuable partner in story-telling for Christ Sanders.  DeBlois had been a layout artist for Don Bluth animation before moving over to Disney, and like Chris Sanders, he was also showing a lot of promise as a storyteller.  Mulan premiered to great acclaim and was celebrated for it's deft balancing of sincere drama and charming humor.  Afterwards, the Orlando studio was looking for their next project after proving it's worth, and both Sanders and DeBlois jumped at the opportunity.
Chris Sanders had been sitting on an original story from even before he started at Disney Animation.  It was about an alien creature named Stitch who comes to Earth and befriends a human child, who helps the creature abandon his destructive instincts.  First developed by Sanders right out of art school in 1985, it was pitched to no avail as a children's book with original art that Sanders had drawn himself.  After Disney picked up Sanders as a talent, he stopped sending his manuscript to potential publishers and had it sitting in his portfolio for years while he rose up the ranks at Disney.  But even while he found success on other projects, Sanders still would return to this story from time to time, hoping to make it a reality someday.  When he began partnering with Dean DeBlois on story development, he looked to his new collaborator for help in fine tuning this long in development idea.  Together, they made changes to help flesh out the story and make it feel even more unique. One of the big changes they made in this time was the setting.  Originally, Stitch was to have crash landed in Kansas and befriended a farm girl who helped to smooth away his destructive path.  They later realized that the islands of Hawaii would provide a more interesting backdrop for the story; as it still allowed for Stitch to be stuck in an area without major population centers with the added element of being surrounded by water.  Stitch also went through a transformation during this time, going from a reptilian like appearance to more of a cuddly, puppy dog like look.  But even more importantly, they fleshed out the character of the child who befriends Stitch, eventually molding her into the young native Hawaiian girl named Lilo.  Lilo would end up having her own interesting narrative going on at the same time, struggling to cope with a shattered family where her sole means of support is her older sister Nani, who herself is on the verge of losing Lilo to child protective services.  Lilo is also a bit of a oddball herself, attracted to strange sights and sounds with a particular obsession towards the music of Elvis Presley.  Eventually, all these story elements came together to where Chris Sanders and Dean DeBlois felt confident in pitching it as a film idea to Disney Animation.  And, even in the midst of a changing dynamic in the world of Animation, Sanders and DeBlois managed to received the go ahead from the head of Disney.
Lilo and Stitch managed to enjoy a relatively smooth production compared to it's other contemporaries at Disney Animation.  With Sanders and DeBlois taking on directing duties for the first time, there was still pressure to prove that they could deliver a hit film for the studio, especially at a time when they needed one.  Sanders and DeBlois benefited surprisingly from some of the turmoil of the productions of other Disney films.  When Kingdom of the Sun went into it's production hiatus to be reworked into The Emperor's New Groove, Lilo and Stitch managed to pick up many of the animators and artists that were displaced suddenly by that troubled production.  This included legendary animator Andreas Deja, who had been one of Disney's most celebrated talents during the Renaissance, animating characters as varied as King Triton, Gaston, Jafar, Scar, and Hercules.  On Lilo and Stitch, he was granted the coveted assignment of animating Lilo, which when you look at his other work was quite the departure for him, but one that he relished the opportunity to undertake.  The animation of Stitch was given to another longtime animator named Alex Kupershmidt, who exceled at frantic comedic action, which he showed in the animation of all three hyenas in The Lion King.  One of the most important aspects of putting the movie into production was in accurately conveying the look and culture of the Hawaiian islands.  The production team took many trips to Hawaii to get a sense of it's natural beauty, but to also acquaint itself with the native population and it's centuries old culture.  Numerous cultural and historical consultants were included in the development of the film, as the animation team wanted to be respectful to the traditions and characteristics of the native Hawaiians in their film.  Sure, Lilo and her sister Nani are contemporary characters dealing with modern day problems, but their cultural identity is also a strong part of who they are too.  It's probably through the research into Hawaiian traditions that the concept of Ohana worked it's way into the story.  Ohana is of course the Hawaiian word for family, and as this film is about finding one's own family even out of unusual circumstances, it's only natural that this would be the thing that drives the heart of the story.
The movie is an interesting mix overall of different, oddball concepts working together to create a very original film.  One of the most interesting out of left field ideas that the Disney animation studio brought to this movie was using watercolor to paint the backgrounds of the movie.  This was quite the departure for Renaissance era Disney which had invested in very hyper-detailed background art in many of their movies.  But, it's not unprecedented, as watercolors had been used before by Disney on films like Dumbo (1941) and Bambi (1942), which helped give those films a very storybook like feel.  This naturally helps to bring to life the story that Chris Sanders had originally envisioned as a storybook for children in his original concept.  It's especially effective in conveying the sun-kissed natural beauty of Hawaii, with the colors being especially eye-popping.  The movie also does a great job in conveying the voice of the Hawaiian people.  Though Lilo was voiced by a young Caucasian actress Daveigh Chase (who perfectly captures the spunkiness of her character), other actors in the cast included native Hawaiian performers like Tia Carrere as Nani and Jason Scott Lee as her surfer boy crush David Kawena.  And foregoing a traditional musical score like previous Disney films, the film does feature two original songs performed by Hawaiian artist Mark Keali'i Ho'omalu, as well as some interspersed Elvis songs.  In another departure for Disney, there is a wildly imaginative science fiction element centered around Stitch in the movie.  All the while Stitch is learning to cope with life on Earth, he's being hunted down by his maniacal creator, a mad scientist named Jumba (voiced by Disney stalwart David Ogden Stiers) and his assistant Pleakly (voiced by Kevin McDonald) who may be the first implied trans character ever in an animated film.  Another interesting choice is that the voice for Stitch was provided by Chris Sanders himself.  It's possible that Sanders had been fine tuning how Stitch would sound like over many years he had been working on the story, so when the opportunity came to give voice finally to the character, only Sanders was qualified enough to do the character justice.  It's interesting that even 20 years later, and even after Sanders has long left Disney behind, he still returns to perform Stitch's voice for various projects, showing just how much he is intertwined with the character.
Though Lilo and Stitch moved forward without any issue to it's planned Summer 2002 release, there was one real world event that did cause them to make an eleventh hour change.  In the film's original climax, Stitch chases after Lilo's captor, a giant alien named Captain Gantu (voiced by Kevin Michael Richardson) in a 747 airplane he hijacks from a local airport (safely without passengers I might add).  During the aerial pursuit, Stitch has to pilot the massive plane through the high rise buildings of Downtown Honolulu.  Of course, as you might guess, this scene had unfortunate echoes of the real life attacks on the World Trade Center on 9/11, which happened during the last months of Lilo and Stitch's production.  Despite having the scene fully animated and picture locked, the decision was made to rework the climax at the last minute, which the animation team managed to accomplish with impressive speed.  The 747 was changed into a giant alien spacecraft and the high rises were changed into a mountain range.  It worked so well that no one who saw the movie noticed anything off in the reworked climax.  As the film prepared for it's summer release, Disney decided that this unusual film needed an unusual marketing strategy.  Deciding to focus on the character of Stitch, the marketing team came up with the idea of having Stitch invade other classic films and sabotage them.  This included him showing up in moments from Beauty and the Beast, Aladdin, The Little Mermaid, and The Lion King and naturally wrecking havoc, showing that he was a very different kind of Disney character that challenged the formula.  It was probably a strategy made in response to the challenge of Dreamwork's Shrek (2001) which directly made fun of Disney.  Lilo and Stitch was therefore set up by Disney as a cynical repudiation of their own formula, which was not really reflective of the movie itself, which was honestly just a heartwarming story told with a lot of soul and passion, as many of the great Disney movies are.  Even still, the plan worked, as Lilo and Stitch became a box office hit for Disney, easily becoming the highest grossing animated film of the year.  However, the belief that this movie would help propel a second act in the Disney Renaissance was short lived.  The financial gains made by Lilo and Stitch were offset by the financial losses of it's follow-up Treasure Planet (2002), which ended up losing Disney a lot of money and accelerated the decline of traditional animation afterwards.  What it ended up showing in the end was that Lilo and Stitch was the final hurrah of the once mighty Disney Renaissance, which had it's days numbered.
Looking back 20 years, it's interesting to see how Lilo and Stitch stands in the Disney canon.  It's place at the tail end of the Disney Renaissance helps to mark it as a pivotal point in Disney's transition going into the new millennium.  It became clear that Disney had to change and embrace a new way of making animated films as computer animation began to dominate the market.  With Lilo and Stitch, it showed that they didn't always have to rely on familiar stories to reach an audience, but instead work with stories that were grounded and true to the human experience, even if it had fantastical elements within them.  The sincerity of the storytelling was also crucial.  But, with the failures that followed Lilo and Stitch, it was clear that there was not going to be much of a future for hand drawn animation.  Even Chris Sanders and Dean DeBlois knew that, as they begun their follow-up film for Disney called American Dog, which was going to be their first computer animated movie.  Unfortunately for them, another shake-up at the studio in the post-Eisner era of Disney saw the team clash with the new head of animation, John Lasseter for Pixar, and they eventually left Disney Animation altogether.  American Dog was reworked into the film Bolt (2008) with different directors, while Chris Sanders and Dean DeBlois landed new positions at Disney rival Dreamworks, where they later developed the soon to be classic film How to Train Your Dragon (2010).  You can definitely see the same creative force in the making of Dragon as seen in the making of Lilo and Stitch, showing that Sanders and DeBlois lost none of their talent in the transition.  There's also a notable similarity in the design of the dragon Toothless, who bears a very Stitch like look, particularly in the football shaped head.  Despite all the behind the scenes turmoil that surrounds it, Lilo and Stitch has not lost any of it's luster 20 years later.  It's still a favorite for many, and Stitch in particular is still a widely used mascot for the Disney company.  You'll still see many theme park appearances of the character as well as tie-in merchandise that sells pretty well to this day.  It's a real testament to the longevity of the character and the movie, which stands alone outside of it's era.  Sadly, the Disney Renaissance did not live much longer after Stitch's success, but it certainly is not the fault of the film.  It was the kind of fun romp that audiences wanted, but was sadly too few and far between for an animation studio that collapsed under the weight of it's own lofty goals.  Of course, Disney animation would find new life again in the Digital Age, but Lilo and Stitch stands as one final benchmark in one of the most storied periods in the medium of animation.  Consider it Disney's one last great Aloha for it's beloved era of Renaissance animation.