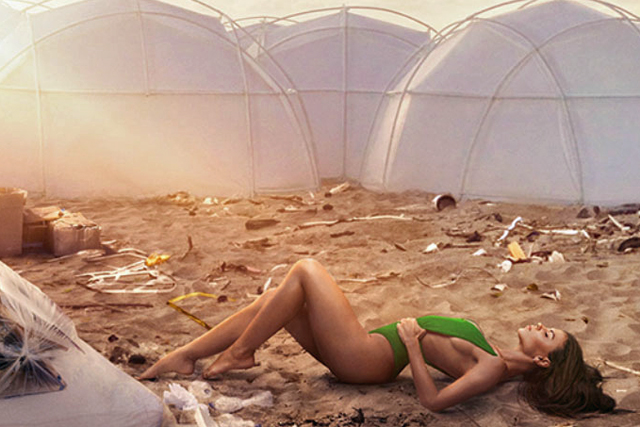 The Oscar countdown got on it's way this week, but that wasn't what captured the attention of audiences this week.  Instead, what became the focal point of people's attention were a pair of documentaries premiering on separate streaming platforms.  Nothing unusual about a noteworthy documentary capturing people's attentions, but the interesting thing about these two particular films was that they were both about the same thing, and were intentionally launched to directly compete with one another.  The movies in question relate to the notoriously failed Fyre Festival of 2017; an event that is surely going to go down in infamy even more now after the premieres of these documentaries.  Made almost simultaneously, we have the Netflix produced Fyre: The Greatest Party That Never Happened, and from Netflix competitor Hulu, we have Fyre Fraud.  Though both movies show us pretty much the same true story, they are both wildly different in tone and scope of the event.  Netflix details the moment by moment breakdown a bit more, while Hulu better grasps the larger picture.  And both succeed at what they set out to do.  Really, you could even watch both movies back to back (as I did) and not feel too much repetition.  But, it is interesting that though they cover the same ground, their narratives play out much differently.  And it's an excellent example of how to use the documentary form in different ways to tell a story.  Some documentaries often stumble upon their story when the filmmakers allow the story to unfold before them.  And then there are the other documentaries that collects material together and presents and investigative picture of the whole experience.  Both are valid ways of making a documentary, but seeing two presented back to back reveals a lot about how documentaries frame a story for better or worse.
For reference, the Fyre Festival itself is a perfect subject for such a medium.  The whole event was spear headed by an entrepreneur named Billy McFarland and by rap artist Ja Rule.  Having collaborated before with McFarland's last start-up business, which was a credit card targeted specifically to millennial in urban hot-spots called Magnesis, the two planned to set up a new music festival that they wanted to rival the exclusivity of Coachella and Burning Man.  Their main selling point was that they were going to run this festival on a private island in the Bahamas that once was owned by Pablo Escobar, with luxurious accommodations and the hottest musical acts all performing on their stage.  They put together an unprecedented hype campaign utilizing viral marketing on Instagram, relying upon top "influencers" like Kylie Jenner to spread their material on their timeline.  Within mere days, they had already sold out their entire allotment of passes and accommodation packages, but there was one problem; none of the foundational groundwork had been completed yet.  Worse yet, after spotlighting the fact that their island venue was owned by Pablo Escobar, even though the island's owners told them explicitly not to, they lost their licence to stage there.  They were a festival without a home.  And this created a snowball effect of mismanagement as construction delays set it in, substandard amenities were set up, and ultimately illegal money wiring was committed.  And this was before the guest even arrived, and when they did, things got even worse.  People who thought they rented out luxurious beach front villas found that they were staying in FEMA disaster relief tents, and instead of gourmet food, they were served cheese sandwiches in a Styrofoam box.  After day one, the festival was cancelled, without a single performer making it on stage.  Soon, Billy McFarland was charged with multiple counts of fraud from the FBI and he is now serving a 6 year jail sentence.  The after affects of the festival are still felt by those in the Bahamian community where it was held, and with the unlucky festival goers who realized very quickly how much they had been duped.
Both Netflix and Hulu cover all of this same essential stuff in their documentaries, but it's in how they present it that we see their own interesting takes.  What Netflix offers particularly well is the exclusivity of their in the moment footage.  Netflix's Fyre was made, interestingly enough, by the same team that had also been hired by Billy McFarland's company to run the marketing campaign for the fest.  Because of this, they had exclusive access to document everything; from the pre-planning stage all the way to the festival itself.  The amount of material they got was amazing, because it's clear that McFarland believed they were going to make history with this thing and he wanted it recorded for posterity.  The unfortunate thing for him is that by allowing so much access, much of his criminal activity was also captured on camera, and that's where the incredible story unfolds.  Combine this with a wide spectrum of personal accounts from people involved after the fact, and you get this feeling of watching a disaster build moment by moment as if you are watching from within the eye of the storm.  Strange things can happen when people are aware they are on camera, and things can escalate or diffuse as a result.  In particular, it's the individual interviews that offer the most effective element of drama, because it punctuates everything we see unfold and gives us the human element to go along with it.  The most talked about interview from either documentary this last week was from the festival's producer Andy King, who reveals in a shocking revelation that Billy McFarland had asked him to retrieve a crucial shipment from customs by performing oral sex on the agent who had put it on hold.  Thankfully he was spared from having to go through with it, but it's in that moment that the Netflix documentary hits it's dramatic peak, because it puts everything we've seen into agonizing perspective.  King's revelation painfully brings home just how destructive this event was to the people who lived it, and in particular, helps the movie to serve as a cautionary tale.
If there is one thing the two movies do share despite everything different, it's that they have a common villain in Billy McFarland.  Both Netflix and Hulu's documentaries clearly lay the full blame on the man who started the whole mess, but Hulu particularly seemed interested in examining just exactly why he was such a dangerous figure.  Fyre Fraud is much more of an examination of the makings of a con artist than an in depth look at how his festival fell apart.  though it still devotes a good amount of time to showing how the festival fell apart, the documentary frames it with a look at McFarland's past shenanigans and how he was continuing to scam people after the fact.  In many ways, Fyre Fraud becomes a character study of con artist, and shows how something like the Fyre Festival inevitably stems from the flaws of such a character like him.  The biggest coup that Hulu got for their documentary was in getting McFarland himself to sit down for interviews, which themselves are fascinating to watch.  Seeing him try spin his own take on the events even while all the evidence is laid out in the documentary through both video footage and the paper trail found through the research, is reveals so much about who he is, and why he deserves a special amount of blame.  In those interviews you can see a man who has believed most of his life that he could coast on his ability to charm people.  But, charm only works when you have a level of trust to back it up, and by this point he has lost all trust in everyone he knows.  By movie's end, you can see the veneer of his charm offensive wear down, and he becomes clearly exposed as the movie goes on, ultimately looking very uncomfortable near the finale.  Kudos to the interviewer for not letting him get off easy.  McFarland clearly is targeted, but Fyre Fraud also examines social media culture in general through their documentary, and how easily something like this was able to unravel because of how ego driven we have become when it comes to presenting ourselves online.  In that regard, Hulu points the finger at everyone; the event planners, the festival goers, and even those of us passing judgement on the people involved, even though we ourselves could have been easily fooled based on our own desires for a glitzy, enviable life.
Netflix found it's story through a lucky bit of circumstance, while Hulu found theirs through an in depth level of investigative reporting.  And they both did a great job of doing it either way.  There are many ways to use the documentary technique for capturing a narrative that'll grab a hold for each viewer, but the Fyre Festival documentaries show the most basic types that you'll usually find.  One thing that every documentary has to tackle in order to work successfully is to capture a feeling of authenticity; or to put it another way, it's got to find that element that element of universal truth.  The Netflix approach in many ways stems from the "invisible camera" approach, which is meant to make the audience less aware that they are watching a documentary at all.  Most documentaries at some point become a lesson in something, whether it's to deliver a point of view, or present a demonstration of some key experience, or to teach us about something or someone important.  But, a particularly effective documentary can portray it's subject in such an way that the experience almost becomes theatrical.  These are usually documentaries devoid of narration, or even sometimes context.  Sometimes the documentarians just let the cameras roll and then find their movie in the editing room.  This particularly worked for documenting the Fyre Festival, because so much was caught on tape.  There could be a cut of the Netflix movie where you could have done without the interviews, and people would still get the jist of how much a disaster the festival was.  In contrast, Fyre Fraud clearly wants you to be aware of it's documentary format, and that helps to sell the broader picture angle better.  It uses actual footage sparingly, and combines it with a collage of images as varied as news reels to overviews of various people's social media profiles, to hilarious "on-the-nose" inserts that helps to shape the intended message of the movie.  Both documentaries rely on a lot of established methods found in the medium, and knew which avenue best suited their own version of the story.
The late, great documentarian Albert Mayles always championed the idea of the "beautiful accidents" when discussing the work that he did.  He would know best about capturing the unexpected on film, because he, along with his brother David, were responsible for documenting another disastrous musical festival as it happened live; the notorious Rolling Stones concert at the Altamont Speedway, which was presented in their now classic documentary, Gimmie Shelter (1970).  Initially started as a chronicle of the Rolling Stones tour, the Mayles brothers soon found themselves in the controversial situation where they had their cameras rolling while the Hell's Angels gang that was hired for security had pulled a knife on a rowdy concert goer and stabbed him, leading to his death hours later.  Having captured the moment as it happened, the entire focus of their work changed, and so did the narrative of their documentary.  The incident became the story, and Gimmie Shelter is now considered one of the most important documentaries of it's time because of that.  A similar case happened with last year's Oscar winner for Feature Documentary, Icarus (2017), which also started production one way and then became something else entire.  The film follows filmmaker Bryan Fogel as he set out to examine illegal doping in the world of professional cycling.  Using himself as the guinea pig, he eventually meets with an expert on the subject, who ran a anti-doping lab in Russia.  But, quite unexpectedly, as he worked with this expert scientist, he soon learned of the existence of the largest conspiracy of illegal doping in sports history, one that eventually led to Russia's nationwide ban at the 2018 Olympics.  The best documentaries are not usually the ones that come preformed, but are instead the ones that just manifest themselves if the filmmaker is lucky enough to be there as a witness.  The Netflix documentary, though formed after the fact, benefits from so much captured footage, that it does have that feeling of a "beautiful accident" that Mayles had talked about, even though the stuff it captured was anything but beautiful.
But, there are also a lot of documentaries that find a lot of drama outside of what's captured on camera.  Many great documentaries can find enough drama purely through the testimonials of the people speaking to the camera.  The interviews from both Fyre Fest documentaries show that to be the case, but there are many other documentaries that even further rely on the personal accounts driving the narrative, even without the aid of footage.  One potent example is the 2012 documentary The Act of Killing, directed by Joshua Oppenheimer.  The documentary is about the people who participated in the brutal mass killings in the nation of Indonesia during the years 1965 and 1966.  The people who committed the gruesome acts are interviewed, and sometimes even reenact their deeds in front of the camera, and they described what happened 50 plus years ago in vivid and unnerving detail.  What is most remarkable is that not once does the documentary ever cut to real footage of the atrocities, nor insert anything else like photographs.  All we have to go on is the words of these men, and it is harrowing all the same.  Their shame is palpable, especially when one man can barely get thorough his account of beheading another man without needing to throw up.  And this is where the power of documenting a story can still shine through even though it is far removed from the original events.  There are many documentaries that are captivating as historical trips when given the opportunity to re-contextualize for a more contemporary audience.  My favorite documentary of last year, Won't You Be My Neighbor? (2018), examined the life of long departed children's entertainment icon Fred Rogers, and strongly connected his importance to a generation that's come of age in an era that's growingly polarized, in the hope of finding a common decency in humanity once again.  Many great narratives can manifest in the moment, but perspective also fills that out to, and remarkably drama can emerge even after the camera stops rolling.
Regardless of what tactics they chose to follow, both Netflix and Hulu produced two very enjoyable documentaries that really emphasize what a monumental disaster the Fyre Festival was.  It's also interesting to know that Hulu intentionally wanted to get their documentary out before Netflix did.  One of the most interesting participants in the Hulu documentary is a former employee of the marketing team behind the festival, who also are responsible for the documentary on Netflix.  In a rather shocking accusation, he points out that his former employers knew quite early that this was going to be a disaster and yet still kept chugging along and gave Billy McFarland what he wanted, possibly looking for more interesting footage to shoot.  He essentially says that they were all culpable in this disaster too, and that their documentary is more about saving their own face rather than taking some of the blame.  Essentially, by including this extra tidbit, Hulu is giving the middle finger to Netflix, casting doubt on their legitimacy as a accurate account of what happened.  That's a ballsy way to compete against your competitor, and upstart Hulu is really punching upward when it comes to Netflix.  But, it's a win-win for both platforms in my eyes because both documentaries received a significant amount of buzz this week, with seemingly every part of the internet and entertainment mentioning it at some point.  And the conversation often involved people comparing and contrasting, meaning that both documentaries had been seen in the same short amount of time by a lot of people.  That's good for both Hulu and Netflix, and for documentaries in general, because usually these kinds of movies don't usually spark this much debate.  Overall, it does show the intriguing way in which the medium can successfully deliver a story, either with much of the drama depicted on camera or outside of it, and the disastrous Fyre Festival was just the right subject to be documented; not once, but twice.