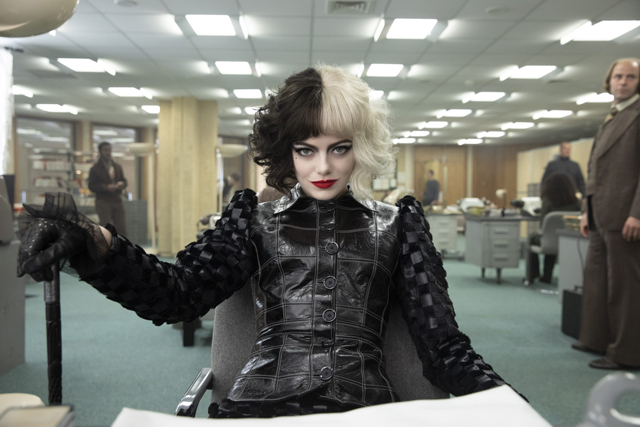 There is just something about the Disney villains that has captured the imagination of audiences around the world.  You look around the web and you'll find numerous devoted fans of the famous baddies, showing their love with everything from fan art to full blown cos-playing.  And why is that?  It's not like any of these fans are endorsing any of the bad deeds that these villains enact in their individual films.  There are a number of factors that are the reason for this.  One thing is that when it comes to portraying these characters, Disney has always gone big.  The Disney villains are larger than life, often given voice by actors relishing their time in the character's skin, and thanks to the animated medium, they are often distinctively designed as well.  You'll often find that when people describe who the best character was in any given Disney movie, they'll more than often say it's the villain.  In many cases, the villain in a Disney movie is the most well drawn and interesting of the bunch, compounded even more when there is a rather weak protagonist at the center.  And for many actors and animators that work on these movies, most will even say that they will actively campaigned for the role of bringing these baddies to life.  Overall, there is a proud legacy of Disney creating memorable villains that we all love to hate, beginning with the Evil Queen in Snow White and the Seven Dwarfs (1937) and extending all the way up to recent members of the club like Dr. Facilier in The Princess and the Frog (2009).  The rogues gallery of Disney villains has become such a strong grouping of classic characters, that Disney has even begun giving them their own live action films putting them front and center in their own stories.  This was started back in 2014 when Disney reimagined the fairy tale of Sleeping Beauty (1959) by putting the focus on the villainous Maleficent, and showing the story from her side in the movie bearing the same name.  Now, Disney is turning to another one of their classics, 101 Dalmatians (1961) and giving it's legendary villain her own backstory with the new movie, Cruella (2021).
Cruella comes to us out of a long line of recent Disney remakes of their animated classics.  It makes sense that Disney would focus their attention on the thing that most people remember from the original film, being Cruella De Vil herself.  First imagined in the original 1956 children's novel by Dodie Smith, Cruella instantly became an icon in her big screen debut in the Disney film.  Voiced with delicious glee by character actress Betty Lou Gerson (doing her best Tallulah Bankhead impression) and animated by one of Walt Disney's celebrated Nine Old Men, Marc Davis, Cruella takes an already lovely story about the titular family of Dalmatians and makes it into an all time classic.  She also provided the template for a certain kind of Disney villain that isn't motivated by a lust for power or pursuing a vendetta.  Her villainy is purely maniacal in nature and sadly all too real in our world; cruelty just for the sake of it.  She is motivated by nothing more than to wear a coat made from spotted Dalmatian skin, solely because she thinks it will look good on her.  Being both that demented and a larger than life figure has endeared her as one of the all time greats in the Disney canon.  In fact, long before Disney ever began their trend of remaking every one of their animated classics, they had already given 101 Dalmatians the live action treatment in a 1996 film starring Glenn Close as Cruella.  That remake itself proved to be so successful that it even spawned it's own sequel with 102 Dalmatians (2000), with the focus increasingly on Cruella herself.  Given that these previous remakes adhered closely to the original, another remake today would've been a bit of overkill.  So, instead of rehashing the same story over again, Disney decided to wind the clock back more and reveal how Cruella became the villain that she is in a new origin story.  Thus, we get Cruella, which attempts to answer every question we have about Ms. De Vil, from how she got her iconic two tone hair to why she has a thing against Dalmatians in the first place.  The only question that remains is do we want those questions answered, or is it better to leave Cruella the enigmatic monster that she is?
The story begins all the way back in Cruella's early childhood.  Young Estella (Tipper Seifert-Cleveland) has a hard time behaving in school, often getting into fights and disrespecting authority.  Her mother Catherine (Emily Beecham) calls this bad side of her daughter Cruella, and instructs her daughter to keep Cruella hidden away so that she doesn't get into more trouble.  When the situation gets dire for the mother and child, Catherine hopes to get help from a wealthy benefactor.  Unfortunately, the wealthy benefactor's pet Dalmatians send Catherine falling off a cliff, and Estella now finds herself orphaned and mourning her devoted mother.  Making her way eventually to London, she meets a pair of pick pockets named Jasper and Horace.  They reluctantly take her in and teach her the tricks of their trade.  10 years later, grown up Estella (Emma Stone) is finding her life of scamming and stealing with her two companions unfulfilling.  Luckily for her, Jasper (Joel Fry) has managed to secure a job position for her in one of the most elite fashion stores in London through the kindness of his own heart, though Horace (Paul Walter Hauser) still thinks there is an angle behind it.  Though happy to start a new, straight-laced life, Estella eventually finds her dream job is not what she hoped it would be, and soon she begins to let her bad side out.  Remarkably, an act of vandalism at the store garners the attention of The Baroness (Emma Thompson), the queen of the London fashion world, and she offers Estella a job on the spot.  Again, this turns out to be too good to be true, as the Baroness is revealed to be a nightmare of a boss.  And this ultimately leads Estella to give up any pretense of civility she has left and fully embrace the Cruella inside.  Through a series of bold stunts, given publicity assistance by former classmate and friend Anita Darling (Kirby Howell-Baptiste), Cruella soon creates a name for herself as a new fashion icon, directly challenging the Baroness' supremacy, but as she soon learns, the Baroness is not one to take things lying down.  What ensues is a test of whether or not Estella/Cruella can withstand the Baroness' wrath, and ultimately determine once and for all if she needs to break bad in order to defeat someone who is even worse.
Naturally there will be many comparisons between this and Disney's Maleficent, as they are both revisionist takes on these iconic villains.  While the film Maleficent did have a decent performance from Angelina Jolie in the title role, the movie otherwise failed because it sugar-coated the things that made Maleficent such an iconic villain to begin with, and ultimately resulted in an underwhelming movie as a whole.  It was a movie that missed the point of what made the character great in the first place.  Now, I will say that as a movie, Cruella is far better than Maleficent, but it unfortunately falls into some of the same pitfalls that undermines it's overall effectiveness.  Cruella's main fault is that it ends up defanging what would have otherwise been an interesting descent into darkness for the character, just so it could still appeal to family audiences.  By pulling it's punches, Disney just ends up making another product pandering to the masses, rather than exploring the authenticity of the origins of evil.  What is frustrating is that there does seem to be a really good movie in there trying to break free of it's genre constraints.  Brought to the screen by director Craig Gillespie (I, Tonya) and screenwriters Tony McNamara (The Favourite) and Dana Fox (Isn't it Romantic), the movie can be really summed up like this; hokey first act, strong engaging second act, and underwhelming final act.  The middle section of this movie, where most other films usually struggle with, is actually where the movie finds it's voice and begins to sing.  It's pretty much when Emma Thompson enters the picture that the movie finally begins to pick up, because it's when the movie is able to pit our main character against an adversary, and with it, sparks begin to fly.  All the ways Cruella manages to thwart and outsmart the Baroness really are fun to watch and it actually helps you to forget that you are watching a remake of a Disney movie overall.  But, whenever the movie reminds you that you are indeed watching a movie based on an animated classic,  (with numerous Easter eggs and inside jokes) it undermines the story that is being told.  Had the movie stuck with the more interesting angle of how bad people often turn bad through a cycle of abuse by the people in their lives, it might have made the movie far more interesting than it ultimately ends up being.
That's why a movie like Joker works where Maleficent and Cruella do not.  Joker did go all the way with their title character's full arc into villainy.  Though the movie did portray moments where you empathize with the Joker upon seeing the hardships in his life, it still did not pull back and turn him into something of an anti-hero.  That's why his arc was so harrowing, because we see the full destruction of a person's humanity as we watch him become more and more villainous.  The Disney movies don't really seem to know what they want their villains to be; hero, anti-hero, villain, misunderstood monster, who knows?  Like I stated before, had the movie gone all the way, we could see an interesting arc play out for Cruella, as she embraces more of her darker side.  Or they could've dispensed that entirely and showed her to be a misunderstood anti-hero.  This uneasy middle ground the movie opts ultimately makes the end result feel like a cheat.  Either go all the way bad, or don't.  The unevenness of the movie comes really in the late second act turn.  I won't spoil it, but there is a secret revealed at the close of the second act that unfortunately undercuts all the goodwill that led up to it, and sets up a lame, predictable climax.  Up to that point, the movie had an interesting battle of wits going, but then it suddenly turns cliché as it tries to stick a landing.  Even worse, it tries to tie things together where it begins to set up the events of the original story of the 101 Dalmatians, which seems antithetical to the story that this movie was trying to tell in the first place.  I feel like the filmmakers initially had a vision of what they wanted to do with the character of Cruella, and then through executive interference, ultimately had to compromise along the way.  As a result, Disney just ends up reinforcing how much these movies are inferior to the originals, instead of actually taking advantage of these titles and doing something bold and new with them.
Though the plot is ultimately a let down in the long run, there are some saving graces in the movie's favor that does help to elevate it over some of Disney's other remakes.  For one thing, I found the performances in this movie to be incredibly strong, especially for a live action Disney movie.  Emma Stone in particular commands in the title role.  I like the fact that she doesn't simply try to impersonate the character that we all know.  This is her own spin on Cruella, and she manages to give her a surprising amount of character depth that otherwise isn't there on the page.  Apart from getting the accent down perfect and looking good in all those lavish costumes, there is some amazing subtle work that Stone does with Cruella throughout the movie.  In particular, she gets a lot across with her eyes.  She creates this sinister glare that really defines a lot for the character, showing just how much she is relishing being bad.  She also runs the gamut of emotions pretty well too, never going fully over the top which helps to center the tone of the movie pretty well.  Had she gone full cartoonish like Glenn Close did in her turn as the character, the performance would have seriously clashed with the rest of the movie.  Close's performance as Cruella was perfect for her more light-heated movie, and Emma Stone is perfectly attuned to what her film asks of her.  Not to be outdone, but Emma Thompson also delivers the goods as the Baroness.  She turns what could have been a one-note villain into an interesting examination of extreme narcissism run amok, and in turn makes the Baroness a villain you love to hate.  The movie really does shine with both Emma's on screen together, and thankfully we get a whole lot of them working off each other.  I also especially like the extra character development that they give Jasper and Horace, two buffoonish goons from the original movie that actually are given much more to do here, acting as Cruella's de facto family.  Both Joel Fry and Paul Walter Hauser give the characters far more depth than we've ever seen from these characters in prior iterations, and that's a welcome change.
One thing that I'm sure is going to be celebrated about this movie are the lavish costumes and production design.  I'll definitely credit the movie for capturing the feeling of it's era, which is mid-1970's London.  Especially with the fashion world, the movie does capture that punk rock evolution influence that defined the setting from that era, and that's especially reflected in the movie's costuming.  Created by Oscar-winning costume designer Jenny Beavan (Mad Max: Fury Road), the costumes are creative and memorable, including a stunning red dress that is revealed after Cruella set's her flash paper robe alight.  While there is a lot of punk rock influence in all of Cruella's outfits, it still does feel in character with her as a whole.  I'm actually happy that Disney didn't try to force in the iconic fur coat from the previous movie, and instead defined this Cruella as something different (albeit still with the salt and pepper hairstyle).  Director Gillespie does also get the visual style authentic, drawing inspiration from British New Wave icons like John Schlesinger and Nicholas Roeg in his direction.  The music choices also put the movie in a definitive setting, with needle drops that include the likes of the Rolling Stones, Nina Simone, the Zombies, Deep Purple, and even ELO, though sometimes the choices are a little too on the nose.  It all helps to put the movie in it's rightful tonal setting.  An anti-authoritarian trouble maker like Cruella would flourish in this era of culture, particularly in the fashion world.  Which is why there are quite a lot of things to like about this movie in a visual sense.  Often times, I feel like the Disney remakes have run into the trouble of being over-produced; putting way too much attention into the ornate production design and not enough into the story and characters themselves.  Here, it actually works in the movie's favor, and more importantly feels authentic.  Cruella isn't trying to do too much eye candy, but when it does, it's used appropriately.
Ultimately, Cruella is a frustrating movie.  It is better than the average Disney remake, but I still felt like it missed the mark as a whole.  Had the movie actually not played it safe and challenged it's audience with a more authentic origin of it's iconic villain, than I think the movie could have stood out more as a triumph.  Sadly, it feels like a compromise in the end, with some at Disney not willing to alienate any audiences who had any qualms about rooting for a villain.  In a frustrating way, I can see the points where this movie could have broken out and really show us something interesting.  I like what the movie initially was trying to say, that villainy comes out through experience and learning all the wrong lessons in life.  But, by the end, Cruella doesn't learn any lessons that may have pushed her off the edge of true villainy nor does it show the breaking bad moment that culminates her journey towards the dark side.  It just neatly wraps everything up in the end, giving Cruella the reward she wants, with no real indication that she's all good or bad in the end.  For Maleficent, the failure of that movie was that it made a hero out of someone who was more interesting as a villain in the most nonsensical way possible.  With Cruella, the movie could've gone either way and it would have worked for the character, instead of this ambiguous middle ground that the movie opts for.  Still, it does feature much better performances than what we've seen from the average Disney remake, as well as a better visual aesthetic overall.  I just wish Disney would not be so afraid to give these movies a little more bite.  The reason why Cruella has endured so much over the years is because she is a distinctive personality; hilariously over the top in the way she presents herself, but still menacingly hard edged to be viewed as a threat.  That's why Cruella has often been used as a shorthand in our culture to describe a vain, egomaniacal person in society, usually one from a center of celebrity or power.  Disney's Cruella has a lot of things going for it, but it ultimately can't rise above the shortcomings that it unfortunately has inherited from other remakes.  Honestly, they should just let their villains remain rotten to the core and not have us start to see the softer side, allowing us to see what evil looks like and how people can be turned bad.  Because like the song about Cruella De Vil tells us, "If she doesn't scare you, no evil thing will."
Rating: 7/10