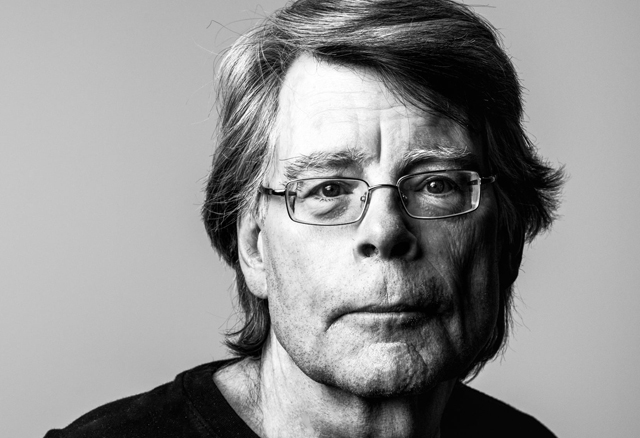 Well, we've reached that witching hour of the year again.  Halloween has arrived in a year truly marked with unimaginable real life horror.  As we try to make the most out of our socially distant festivities, I'm sure most people's favorite Halloween tradition to hold onto this year is watching scary movies. No doubt many people will be watching from the comforts of their home some classics from the horror genre, either for the hundredth time or maybe even the first time.  Whether it's a slasher, a gothic period ghost story, or just a good old-fashioned monster movie, there are literally thousands of good choices to indulge in at home this Halloween.  No doubt what will end up being a favorite for many are the numerous films that were inspired by the imagination of perhaps the most prolific author of his generation; Stephen King.  King has been an active writer for half a century now, and his bibliography is stacked with best selling classics, with no sign of slowing down anytime soon.  King continues to publish at least one new novel every year, showing that even in his more advanced years, he is still a tireless master at his craft.  Though he does write in a variety of other genres, it's been horror and suspense that he's made a name for himself, creating some of the most beloved tomes of the genre the literary world has ever seen.  And likewise, these books have provided the inspiration for many film and television adaptations.  For this Halloween, I thought it would be worthwhile to put together a list of the top ten movies based on the work of Stephen King.  I am excluding television adaptations here, but movies that are based on King's non horror stories will be considered.
These are my own choices, so you may disagree with a few overall.  Here are some noteworthy movies that, while good, didn't make it into my top ten: Christine (1983), The Running Man (1987), Dolores Claiborne (1995), Apt Pupil (1998), The Green Mile (1999), 1408 (2007), 1922 (2017) and Doctor Sleep (2019).  So, with all those out of the way, let's take a look at my choices for the best movies based on the spooky writing of Stephen King.
10.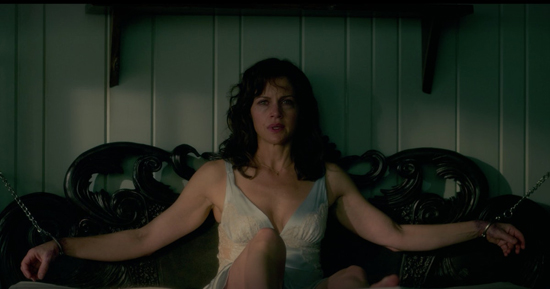 GERALD'S GAME (2017)
Directed by Mike Flanagan
There has been a recent revival of Stephen King's work in recent years, with many remakes of past films making it to the big screen in recent years, as well as new adaptations available on streaming channels like Hulu and Netflix.  Streaming in particular has given some of the lesser known Stephen King novels and short stories a chance to shine, as they are less in competition with the blockbusters.  One of the most successful adaptations of a lesser known King story on streaming is this film version of King's 1992 novel of the same name.  A prime example of simple but effective storytelling, the story is intimate in scope, but builds towards the same kind of disturbing decent into madness that we expect from a King novel.  The movie involves a couple heading to a secluded house deep in the woods of Maine to have a weekend affair.  Gerald (Bruce Greenwood) cuffs his wife Jessie (Carla Gugino) to the bed posts as part of a kinky sexual activity.  However, Gerald suddenly suffers a fatal heart attack, and Jessie is left bound to the bed without any means of freeing herself, nor any way of seeking any help as the nearest neighbor is miles away.  As time goes by, and Jessie grows weaker and more desperate, she begins to let the voices in her head take over, and that includes hallucinations of Gerald speaking back at her from the afterlife, reliving childhood trauma, and also receiving a visit from a disturbing ghoul like figure in the night that she calls the "Moonlight Man," a particularly King-esque addition.  The great thing about Netflix's adaptation is that it's not afraid to take it's time and build it's atmosphere, which has become a trademark of director Mike Flanagan, who has emerged recently as a stand out in the horror genre, having also done an adaptation of King's Doctor Sleep as well.  This one is noteworthy because of the way that it absorbs you in a way that you don't typically see from most King film, or in most horror for that matter.
9.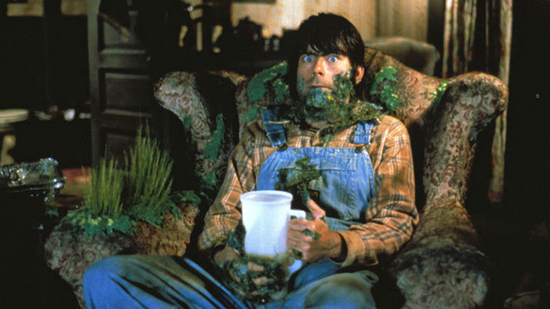 CREEPSHOW (1982)
Directed by George A. Romero
On the opposite end of the spectrum, we have an adaptation of Stephen King's work that is anything but subtle.  This anthology film combines five short stories by King and presents them loosely tied together as this homage to pulp horror comic books.  Romero of Night of the Living Dead (1968) fame brings his trademark gonzo style and ramps it up to maximum in this bizarre, out of control, and always creepy cinematic experience.  The movie is also noteworthy for being Stephen King's first active foray into the filmmaking process.  After years of letting his novels be licensed out to other filmmakers, King worked closely with Romero on every aspect of the making of this movie, acting as screenwriter for the first time in his career.  Even more surprisingly, Stephen King even appears on screen in the role of Jordy Verrill, acting for the first time in a part from his own writing.  King would continue to appear in cameos throughout most of the future movies and mini-series based on his novels, but I don't think any of those will leave an impression as much as his wild performance in this movie.  There are also some standout performances from other legendary actors, including a villainous one from Leslie Nielsen, as well as a disturbingly paranoid one from E.G. Marshall.  George A. Romero also utilizes the comic book aesthetic to great effect, combining some wild visual ideas throughout the movie, both in the way the movie is colored and in how it is framed.  This certainly doesn't stand as the most chilling, or even scary movie based on King's stories, but it does represent Stephen King at his most unbound, free to just let loose and put some of the wildest ideas he has on the screen.  It's Stephen King at his campiest, and for that, it does deserve a special recognition in relation to everything else he's made.
8.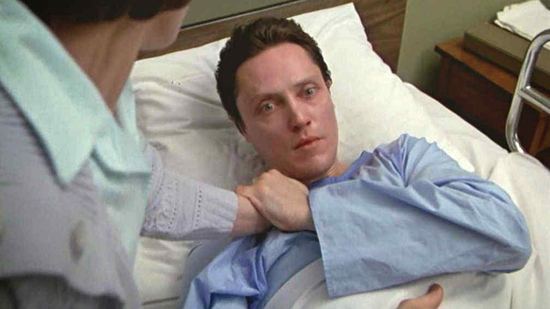 THE DEAD ZONE (1983)
Directed by David Cronenberg
Though not every Stephen King story is specific to horror, he nevertheless gives the majority of his stories a supernatural element.  Such is the case with The Dead Zone, which is more of a thriller that a scary story.  The story revolves around a man named Johnny Smith (Christopher Walken) who awakens from a coma with new pre-cognitive powers that allow him to see into someone's future after experiencing physical contact with them.  Over time, Johnny uses his powers to help others, but becomes disillusioned when his insights aren't able to help solve local murders.  He later encounters a controversial political candidate (Martin Sheen) who he envisions becoming president one day and launching a nuclear strike that begins the end times.  It's a great example of Stephen King working within the paranoia thriller genre.  Johnny's gift is both a blessing and a curse, as he is able to alter the course of some terrible fates, but over time learns that each action (good or bad) has a consequence, and that he may be doing more harm to the world over time by not allowing fate to play it's part.  Christopher Walken is very effective in this role, showing Johnny slowly falling apart the more his powers take a toll on his psyche.  But what I especially like is Cronenberg's stripped back approach to filming this story.  With the cool, haunting photography, Cronenberg fuses the story with this foggy sense of dread, underlining the condition of Walken's character.  As a result, we feel the paranoia that he feels, because the movie puts us in his headspace, with this detached cold atmosphere all around him.  While it's not a horror show like what we associate from Stephen King's other work, it still shows that he can characteristically present a sense of dread in even a story without much horror in it.
7.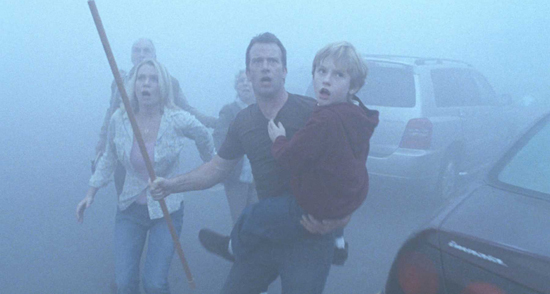 THE MIST (2007)
Directed by Frank Darabont
Stephen King is certainly known for his monsters, whether supernatural, spectral, or even human.  But what we learn from a lot of his writing is that it's not just the typical monstrous creatures on the outside that become a problem for main characters, it's those that emerge among us that also pose a threat.  In this supernatural thriller, a small coastal town in Maine is shrouded in a mysterious fog that limits visibility in the surrounding area.  Suddenly, emerging out of the mist are giant bug like creatures attacking civilians.  A small band of survivors hold themselves up in a grocery store, but as time goes on and no hope for rescue becomes apparent, the survivors in the store begin to turn on each other.  It's a great examination of different societal reactions that happen when humanity is pushed to the brink.  It is most apparently shown in the clashing personas of the optimistic everyman played by Thomas Jane and the pessimistic religious zealot played by Marcia Gay Harden.  As hope fades, we see otherwise good people turn into monsters themselves, and show that even a safe haven could be anything but.  At the same time, the movie does an effective job of creating the gloomy atmosphere that pervades every moment of this story.  Frank Darabont, who is no stranger to adapting the works of Stephen King (this being his third go around), manages to craft an adaptation of one of King's more supernatural works just as well as he had with one of the more grounded ones.  Not only that, he even went beyond what King had originally intentioned, and gave The Mist a much more downbeat, tragic ending than what was in the novel.  The Mist is an unforgettable, and bleak, adaptation of Stephen King's work that blends together the best of what we've come to expect from his writing; a dark, disturbing tale of men vs. monsters, with a bit of sharp social commentary on the human condition as well.
6.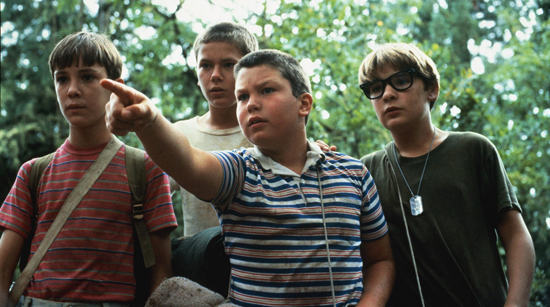 STAND BY ME (1986)
Directed by Rob Reiner
Here is a prime example that not every Stephen King movie needs to be scary.  Though it does revolve around the discovery of a dead body, the story is actually about the coming of age of it's four central characters.  Told through flashback narration provided by actor Richard Dreyfuss, the movie revolves around four young boys who set out on their own to find the body of a missing child that they've heard rumors about.  The four form a bond on the road and create their own little adventure, facing everything from junkyard dogs, to oncoming trains, to even leeches.  There is a charming innocence to this story that you don't see in most of Stephen King's other writing, and that's what makes it such a unique movie in his filmography.  I imagine that with this one, King drew more from his own childhood experience growing up in rural Maine when writing this story, and it is grounded very much in a universal sense of what it was like to be a young boy trying to figure out your own place in the world.  The movie is equal parts heart-wrenching, funny, and ultimately inspiring, which has helped it become a favorite for many audiences across generations.  What especially make the movie work are the unforgettable performances from the four leads, Wil Wheaton, River Phoenix, Jerry O'Connell, and Corey Feldman, all who feel authentic and relatable as their characters.  In addition, director Rob Reiner, on only his second ever feature, delivers a beautiful looking canvas for this road trip tale, substituting rural Oregon for the Maine of King's original story.  It is strangely the only film based on Stephen King's work that you could call "family-friendly," and indeed, it's what initially introduced me to Stephen King as kid, even though I wasn't aware of who King was at that point and what he was know for.  Stand by Me is an evergreen classic story that still holds up over thirty years later, and should still be shared with many more generations to come.
5.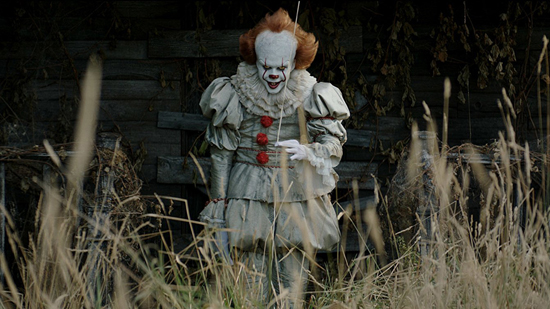 IT (2017) and IT CHAPTER TWO (2019)
Directed by Andy Muschetti
There's no doubt that if there was any novel in Stephen King's body of work that would define him as an author, it would be his Bible length classic IT (1986).  First adapted into a 1990 TV mini-series, the book would end up receiving a big screen treatment spread across two parts in recent years, and it led to record breaking box office.  King's lengthy novel is noteworthy for one thing in particular, and that's the demon clown Pennywise, who is perhaps the most famous of all of King's monstrous creations.  He was first brought to life memorably by Tim Curry in the TV mini-series, but Bill Skarsgard's portrayal is still pretty effective as well.  There's no doubt that the main attraction in these movie is Pennywise, and director Andy Muschetti does not hold back in making every moment with the demon clown terrifying.  But what really makes the movies stand out is the way it portrays the other main characters in the story, known as "The Losers Club."  Breaking away from the non-linear format of King's novel, the two parts of IT wisely focuses each movie on different time periods when the Losers Club encounters Pennywise.  The first shows them in their formative childhood years, while the second takes them to the present where they are all adults.  It helps to make each film stand on it's own, while at the same time cohesively working together as a full narrative.  The casting for the Losers club, both young and old, is also outstanding, making the connection between these characters across the years feel even more authentic.  Even still, director Muschetti knows he's working with one of King's most iconic work, and a great deal of effort was put into making it as expansive and epic as the book itself.  I actually prefer the more tonally consistent second part, but both together certainly stand as one of the most impressive cinematic adaptations of Stephen King's work.
4.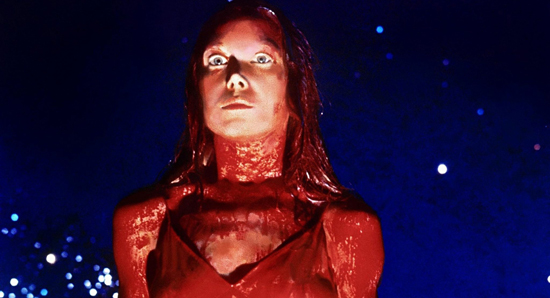 CARRIE (1976)
Directed by Brian de Palma
Of course we can't talk about Stephen King's impact on the silver screen without spotlighting the movie that introduced him there in the first place.  Carrie was King's first ever published novel, released in 1974, and it quickly put him on the map in the literary world.  Naturally, Hollywood took notice and Carrie was quickly picked up by United Artists and handed over to Brian de Palma for adaptation.  Though King wasn't involved in the filmmaking process, he was nevertheless approving of De Palma's approach to the story, as it is pretty close to King's writing.  It doesn't use the epistolary nature of the novel, but it does retain the point of view of it's title character, the psychic powered teenager Carrie.  For the most part, De Palma holds back on his flashy style until the very end, when it's used to spectacular effect.  Perhaps most memorably, he made use of split screen to show Carrie unleashing her powers with a glance to the doors as they close shut.  At that point we see the movie move from a troubling psychological thriller, where the tortured Carrie deals with bullying from school and punishment from her religious zealot mom (played memorably by Piper Laurie), changes dramatically into a terrifying horror show as Carrie finally snaps and lets the monster within out.  A large part of the movie's success certainly goes to Sissy Spacek, who became an instant star thanks to her performance as Carrie.  Though her more vulnerable moments throughout the movie really show off Sissy's talents as a actress, it's that dead eye stare at the film's fiery climax that really cements her as a horror movie icon.  Though it marked the beginning of a long legacy for Stephen King as a presence in cinema the movie still stands out as a classic and still has the power to fright so many years later.  To this day, it's finale jump scare, with the hand reaching out of a grave, still has the power to leave movie-goers spooked out of their wits.
3.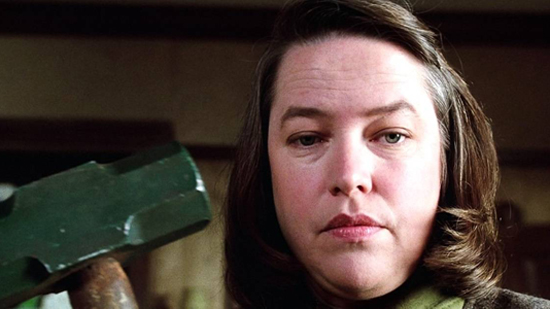 MISERY (1990)
Directed by Rob Reiner
Though Rob Reiner managed to successfully bring one of Stephen King's more upbeat and life-affirming stories to the big screen a few shot years before with Stand by Me, he was also not afraid of tackling something far more dark from the mind of the author.  Misery almost feels like a window into Stephen King's own personal fears.  And what appears to frighten Stephen King is being trapped all by yourself by a rabid fan of your work.  That's the situation that he puts romance novelist Paul Sheldon (James Caan) in when a car accident leaves Paul stranded in the middle of nowhere and left in the care of Annie Wilkes (Kathy Bates), who takes her fandom of Paul's novels to the extreme.  Though James Caan is excellent in his role, the movie definitely belongs to Kathy Bates, whose performance was so strong in the movie that it launched her to a very well deserved Oscar win.  Her performance really is an incredible tour de force of character construction.  She manages to balance the wild mood swings of Annie Wilkes, with her sweet matronly tone giving way to manic paranoia merely moments apart, and never once makes it feel unnatural or out of character.  I think that's what makes Annie Wilkes such a terrifying villain; the fact that you don't know exactly which side of her you're going to face at any moment.  Bates' performance honestly is probably the best one ever seen in a Stephen King movie, and she has the gold to back that up.  And a lot of credit goes to Reiner for not holding anything back either.  This movie is as dark as anything else we've seen from a King movie, and the hobbling scene in particular still stands as one of the most horrifying ever put on screen.  We now know what scares the master of horror, and with a character as vividly brought to life as Annie Wilkes, she becomes our terror as well.
2.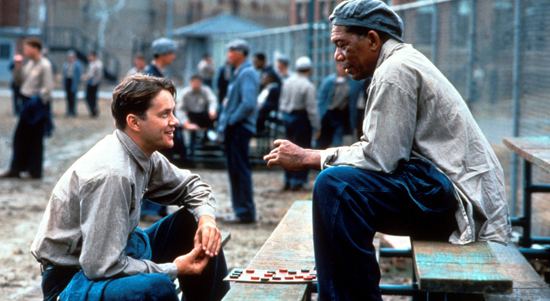 THE SHAWSHANK REDEMPTION (1994)
Directed by Frank Darabont
Frank Darabont has in total made 3 movies based on the works of Stephen King, including The Mist and The Green Mile.  But there is no doubt that his greatest King adaptation is The Shawshank Redemption.  Based on the novella Rita Hayworth and the Shawshank Redemption (1982), Shawshank is the film adaptation that feels the least like anything we know to expect from Stephen King.  It's not supernatural, it's not a psychological thriller.  It's about inmates in a prison trying to hold onto their humanity behind bars.  And yet, Darabont took Stephen King's short story and crafted it into not just a faithful adaptation, but into a film that nowadays is considered to be among the best of all time.  No doubt it is helped by the collaborative efforts of some of the greatest technical artists of their generation behind the scenes, like the masterful cinematography from Roger Deakins or the haunting musical score by Thomas Newman.  And then of course, the unforgettable performances of Tim Robbins and Morgan Freeman, whose courses in life are forever altered by their connection made in prison.  While most of the movie is a melancholy examination of the way that imprisonment breaks down the humanity of those it keeps behind bars, and shows the unfathomable cruelty of those left in charge of all those souls, it surprisingly ends on a positive note, with Robbin's Andy Dufresne outsmarting the system and escaping the prison that had stolen his life.  The way it plays out is enough is so pleasing, with the discovery of the tunnel behind a poster, to Dufresne's triumphant escape in the pouring rain.  It is cinematically exhilarating, and strangely out of character for the normally downbeat Stephen King.  But, it's that conquering the darkness of ordinary evil in our society that has made the movie so enduring and lifted it to become a classic for all time.
1.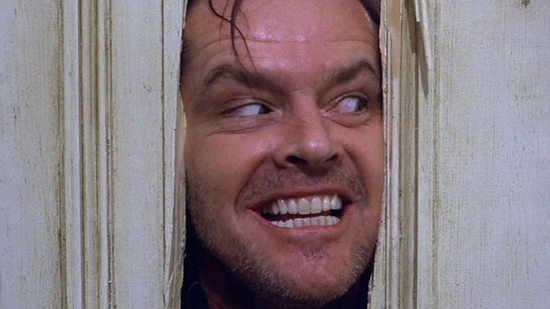 THE SHINING (1980)
Directed by Stanley Kubrick
Was there any doubt this would be here.  Naturally, to find the greatest cinematic adaptation of a Stephen King novel, look no further than the one made by one of the greatest movie directors of all time.  Interestingly enough, one of the most vocal critics of this acknowledgement would be Stephen King himself.  King has been adamant over the years about his displeasure over Kubrick's adaptation of The Shining, at times even stating that he outright hated it.  His tone regarding the movie has softened over time, stating that he does respect what Kubrick did as a filmmaker, while still objecting to the changes that he made.  But, even if you agree with King's assessment, there is no denying that The Shining is one of the most terrifying and artfully crafted horror movies ever made.  Sure, Kubrick did change a lot of what King wrote, but the essentials are still there, and what Kubrick added are brilliant in their own right.  There still is nothing more terrifying today than seeing those creepy twin girls appear at the end of a hallway, and that's just one of the many terrors in the movie.  What is especially effective about the movie is the fact that Kubrick disobeys one of the fundamental rules of horror filmmaking and has most of the movie brightly lit.  Usually horror movies allow shadows to hide most of the terror in the dark, but when there are no shadows anywhere to be seen in a bright hallway, it makes all the more terrifying when something scary does appear.  Jack Nicholson of course is brilliant in his unhinged performance, and Kubrick infuses every frame with a sense of inevitable dread.  Not to be forgotten, Stephen King's original novel is still a brilliant piece of horror itself.  Kubrick made the movie he wanted to make, and though it is different in many ways, it is no less terrifying.  They are both iconic pieces of art and stand out as the best that their genre has to offer.  King's novel is great, but Kubrick's film is arguably more terrifying, and that says a lot.
In a career spanning 50 years, it's amazing that we still haven't reached the end of Stephen King's complete body of work.  The man is a tireless writing machine that keeps churning out new stories almost at the rate of one a year, which is astounding.  Of course, his bread and butter is the horror genre, but he certainly has left his mark on other genres as well.  It's interesting that throughout as long of a career as he has had that his novels have inspired film adaptations from some of the greatest filmmakers who have ever been in the business.  He can boast having icons such as George A. Romero, John Carpenter, Brian de Palma, David Cronenberg, and Stanley Kubrick behind the movies based on his books.  He can also boast having the highest grossing horror movie of all time be based his novel, IT.  But, even with all that success, it doesn't distract away from his ability to keep on writing.  He is able to churn out new original novels faster than any other writer of his generation, and though he often does rely upon repeating tropes (alcoholism, religious persecution, the state of Maine) he still manages to give each story a sense of uniqueness.  Amazingly, even after nearly 40 years of movie and TV adaptations, there are still countless other Stephen King works that have yet to be adapted.  We are likely to be seeing plenty more films and shows based on King's novels in the years to come, and with King still writing today, the well will not be going dry any time soon.  So, for a good time this Halloween, find yourself a good horror film from the countless ones based on King's books, or find a copy of one of his widely published novels and start reading from the man's own words.  Stephen King is an icon perfectly suited for this time of year, and the movies I spotlighted above certainly show how much his imagination has meant to the art of cinema, especially in the realm of terror.