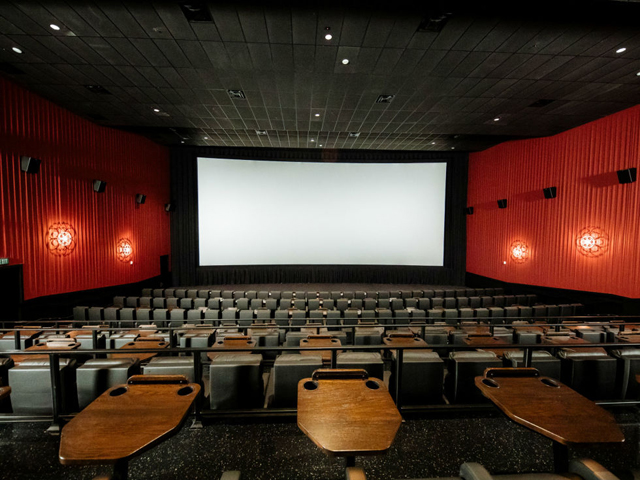 We are near the end of another Summer movie season, and it's one that had an outcome that I don't think anyone expected.  At the top of the summer season, I'm sure many prognosticators of the movie industry believed that the Summer season was going to be dominated by tried and true franchises that have carried Hollywood to glory in the past.  These included of course new movies from Marvel, Pixar, Transformers, Fast and the Furious, DC, Mission: Impossible, and Indiana Jones.  From the beginning of the Summer, it seemed like Hollywood was going to hit it big with their heavy hitters.  Unfortunately for most, it was a season flooded with disappointments.  The performances of this Summer's box office was defined by a string of movies that either performed well under expectations to just downright flopping.  Marvel did about as well as expected with Guardians of the Galaxy Vol. 3, and their co-production with Sony Animation, Spider-Man: Across the Spider-verse outperformed expectations.  But, other films like Indiana Jones and the Dial of Destiny, Fast X, and Mission: Impossible Dead Reckoning – Part One, could not make up for their extravagant costs with sub-par box office.  And then there is the case of DC's The Flash, which is going to go down as one of the biggest flops in box office history, possibly costing Warner Brothers to suffer a quarter of a billion shortfall on that film alone.  But, the summer was also defined by another odd occurrence that actually proved to be a savior for movie theaters.  The "Barbenheimer" phenomenon will absolutely go down as one of the craziest "out-of-nowhere" things to happen in Hollywood ever.  Both Barbie and Oppenheimer were entering the Summer season with no one expecting much of them, but online communities took notice of the odd counter-programming that each offered with the same release date and decided to turn it into an event.  Thanks to this, both films are now set to become the biggest box office successes of the year, with Barbie now well above a billion globally, and Oppenheimer likewise is climbing the charts in a way that a three hour R-rated biopic shouldn't.
One other unfortunate thing that has also defined this summer season is the ongoing strike by the WGA and SAG-AFTRA unions.  Even after 3 months of picketing, it looks like neither side is willing to budge, and it is beginning to deeply affect the industry as a whole.  It's likely that some of the soft box office numbers for this season is due to the lack of publicity that the studios is missing out on with their actors joining the picket lines.  The lack of traction in the negotiations are also affecting the upcoming release schedules in the near future, as movie and show productions right now have been put into a months long freeze.  Because of this, the studios are pushing back movies into next year, much to the frustration of movies fans.  Believe me, when I was gearing up to write this preview for the Fall Movie season, it was going to look a lot different, as one of my most anticipated Must See films, Denis Villeneuve's Dune: Part Two, was suddenly pushed back to March of next year by Warner Brothers.  It makes me wonder if any of the films that I still have on this preview will be bumped to next year as well.  Hopefully, a fair deal is struck soon and the films we still have set for this Fall still make it to theaters on time.  In any case, here is my preview of the films of Fall 2023, broken into my Must Sees, the Movies That Have Me Worried, and the Movies to Skip.  Keep in mind, these choices are just based on my early impressions based on the film's marketing and general advance hype.  My predictions don't always pan out (I really underestimated Barbie this summer), but I hope it's helpful for all of you for what to expect in the upcoming months.  So, let's take a look at the Movies of Fall 2023.
MUST SEES:
KILLERS OF THE FLOWER MOON (OCTOBER 20)
If there has been a streaming provider that has navigated the waters of the streaming "gold rush" wisely, it has been Apple.  The entertainment wing of the tech giant is not as financially strained as the other major Hollywood studios, given that they are funded by the biggest corporation in the world.  But, Apple has also chosen their projects wisely; opting for quality over quantity.  The Apple TV+ library of content may not be robust, but they have thus far gained notoriety for award winning productions, including the first ever Best Picture win for a streamer (2021's CODA).  This year, Apple Studios is making it's biggest push ever into mainstream success with a pair of highly anticipated epics from two Hollywood legends.  Not only that, they are giving these movies wide theatrical runs before they move to streaming; a strategy that I hope catches on.  First, there is Martin Scorsese's new epic based on the best-selling historical novel of the same name from author David Grann.  Killers of the Flower Moon looks like another ambitious exercise for the legendary filmmaker; taking his expertise in exploring the seedy underworld of organized crime, but filtering it through the lens of the American Western.  This film about the Osage Nation murders in 1920's Oklahoma looks to be gritty and multi-layered exploration of greed and violence that Scorsese is the undeniable master of.  Given the already strong buzz out of the Cannes Film Festival where it premiered, it looks like Scorsese has another winner on his hands.  The director unlike many of his other contemporaries has been more embracing of streaming, as his last film The Irishman (2019) released through Netflix, and I think it's because streaming platforms have allowed him more creative wiggle room than the established Hollywood studios have given him.  Hopefully the near 3 1/2 hour runtime doesn't scare off audiences; maybe Oppenheimer's success could be a good sign.  But with a cast that includes two of Scorsese's favorites (Leonardo DiCaprio and Robert DeNiro), plus a potentially star-making turn for Lily Gladstone, and supporting performances from heavy hitters like Jesse Plemons, John Lithgow, and recent Best Actor winner Brendan Fraser, this should very much be a movie that is going to light up the screen and show that Scorsese in deed is not losing any of his edge.
NAPOLEON (NOVEMBER 22)
Here we have Apple Studios other big epic gamble for this Fall season.  It's quite the flex that not only are we getting a new Scorsese film from Apple this year, but also a new Ridley Scott film as well.  Scott has been hit or miss over the last decade, but when he's got a project that works to his strengths (lavish period production values and epic scale battles) he definitely delivers.  His last historical epic, The Last Duel (2021), while not a financial success still was a winner with critics and it showed that he indeed has some of the old Gladiator magic left in his arsenal.  For his lavish biopic of the notorious French general turned emperor, Scott re-teams for the first time in over twenty years with his Gladiator star, Joaquin Phoenix.  Phoenix has been on a roll lately with his Oscar-winning turn in Joker (2019) as well as a collection well received notices in indie films from A24 like C'mon C'mon (2021) and Beau is Afraid (2023).  Phoenix is certainly the ideal choice to take on this larger than life historical figure and it will be interesting to see what he and Scott bring to the film in telling his story.  Naturally, you can expect this movie to have some incredible visuals, which is expected of a filmmaker with the resume that Ridley Scott has.  Apparently, this has been a long in the making project for Scott, who has been circling this project for decades.  It's probably why he was intent on working with Apple on this, because they were likely less concerned about the cost than other studios.  That way Scott could make the film grittier and harder hitting than the usual PG-13 he's been required to deliver in the past.  And thankfully like Killers of the Flower Moon, Apple is giving Napoleon a full theatrical run, partnering up for distribution with Sony Pictures (Moon is released through Paramount).  That way, we'll be able to still see good old fashioned Ridley Scott directed epic battles on a huge screen, like we always should.
THE MARVELS (NOVEMBER 10)
Marvel Studios managed to hold it's own in a very unforgiving Summer for most franchises.  Guardians of the Galaxy Vol.3 did about as well as many people hoped, though it wasn't anything record-shattering.  And despite being looked at as a box office disappointment, this February's Ant-Man and the Wasp: Quantumania's $476 million worldwide gross is something that I'm sure most other studios wish they had right now.  Even still, there are troubling signs for Marvel that they are still grappling with.  The Phase Four line up that wrapped last year with Black Panther: Wakanda Forever (2022) didn't sizzle at the box office like past Phases of Marvel, and critically the studio is suffering from far less enthusiasm than before.  The box office numbers are solid, but not exceptional, and it seems like Marvel is becoming a victim of their own astronomical success.  At the core of their problems seems to be that they are over-stretched, with too many plates being served with not enough ingredients; something that is only being compounded with the multiple projects exclusive to Disney+.  Even still, Marvel movies are still events that warrant attention, and this sequel to the hit movie Captain Marvel (2019) has an interesting element that helps it to stand out.  This film is the first to incorporate central characters that were already established in the Marvel Disney+ series line-up; in this case Ms. Marvel (Iman Vellani) from the show of the same name, and Monica Rambeau (Teyonah Parris) from Wandavision,  joining to team up with Captain Marvel (Brie Larson) herself.  Thankfully for Marvel, these two characters are from two of the more successful and critically acclaimed Disney+ shows, so their inclusion here is likely more of a benefit than a hinderance.  Captain Marvel is certainly a divisive film amongst fans, but with so much of the world and character building out of the way, this sequel has the benefit of actually letting the story stand on it's own.  Director Nia DaCosta has stated that her film is going to be more geared toward a looser, more emotional character driven side, which might be a good change of pace for Marvel after a string of formulaic exercises.  And given that Dune: Part Two's move has opened up a bunch of large format screens for the movie, it might be the box office hit that Marvel needs to recharge it's momentum.
DISNEY'S WISH (NOVEMBER 22)
The animation landscape has shifted pretty dramatically.  Disney, Pixar, and Dreamworks, once the hallmark brands of the industry have struggled post-pandemic to gain back the family audiences that once turned them into reliable box office power houses.  In the meantime, upstart Illumination has enjoyed back to back monster hits like Minions: The Rise of Gru (2022) and The Super Marion Bros. Movie (2023), and Sony Animation hit both critically and at the box office with Across the Spider-Verse.  Some are saying that these once powerful brands days are numbered, but I don't think it's the studios that are the problem, but more that family audiences are more inclined to go back to the theaters for something they know will entertain their kids than something they are not sure about.  Minions, Mario and Spider-Man all succeeded because they already had built in audience awareness.  Original animated films unconnected to built in franchises are what audiences are struggling to embrace.  Disney's Encanto (2021) was thought to be a box office disappointment, but a few months later, we were all signing about not talking about Bruno. This year, Pixar's Elemental (2022) likewise also found it's audience slowly over time, turning around their box office fortunes from costly flop to sleeper hit.  The films aren't the problem, it's getting audiences confident in the studio brand again to make them take their kids to the theater instead of waiting for streaming.  Disney's Wish is such a movie that could achieve this by having the studio return to their strengths from past films.  It's a musical fairy tale, which has always been Disney's strongest suit.  It's also experimental in it's art style, emulating hand painted cel animation in 3D computer animation, which owes a bit to the Spider-Verse influence.  Having recent Oscar-winner Ariana DeBose on board voicing their new Disney princess is another plus.  And given that this is their release for the 100th anniversary, Disney is also likely to put in some meta elements centered around the story point of the wishing star in the film, like a cameo or two.  Disney's had mixed results post-pandemic with their string of original films, but Wish might have the right mix of originality and familiar elements to help make it a new animated classic that brings the legendary studio back to the top.
NEXT GOAL WINS (NOVEMBER 17)
Taika Waititi has been one of the most prolific comedic filmmakers as of late, with a very enviable track record to back that up.  One of his movies, Jojo Rabbit (2019) was in my opinion not just one of the best comedies of the last decade, but also one of the best movies period.  He's also been a key voice in the Marvel Studios stable of directors, having re-invented the Thor franchise with Thor: Ragnarok (2017).  His follow-up, Thor: Love and Thunder (2022) was much more divisive, though I found myself not minding it too much.  His next upcoming film, however, finds him returning to his roots as an early comedy filmmaker.  The common thread through most of Waititi's films is an appreciation for lovable losers, and that's the theme at the core of this film.  In Next Goal Wins, he is telling the story of the Samoan National Football team, which historically had the worst score ever in international competition; losing 31-0 to Australia.  Despite mining all the comedic potential of how bad this team can be, there is a warm human story to be told here as well, about a community often looked down upon by the rest of the world and how they manage to remain bonded together through adversity.  It's also a lot about how an outsider, namely the new head coach played by Michael Fassbender, learns more about the essence of the game by seeing the literal worst players in the world find so much fulfilment by being on that field as a team.  Taika is so masterful at balancing those moments of hilarity with heart and hopefully this film carries over some of that great mix of both that he so expertly weaved into Jojo Rabbit.  From the trailer alone, we can definitely see that at the very least there will be some pretty hard laughs in there.
MOVIES THAT HAVE ME WORRIED:
WONKA (DECEMBER 15)
Well, with Dune: Part Two off of the 2023 calendar, this is actor Timothee Chalamet's one and only chance to deliver a hit this season at the box office.  This film is going to be fairly controversial in many ways.  It is taking a beloved literary and film classic and attempting to tell a back story that I don't know if anyone was clamoring that much for.  Here we are getting the story of how Willy Wonka came to be the eccentric "candy man" that we all know from the classic Roald Dahl tale, delivered as a big musical extravaganza.  It's not the first time that this story has been revisited before on the big screen.  Tim Burton famously brought his own vision to the famous story, but unlike this film, Burton's version was it's own thing, acting more as a unique adaptation of Dahl's novel, and less of a re-make of the beloved 1971 film Willy Wonka and the Chocolate Factory starring Gene Wilder.  This film, however, is deliberately tying itself to that original film version, and that may be a risky thing to do correctly.  First of all, Chalamet has some very big shoes to fill, as Gene Wilder's performance as Willy Wonka is viewed by many as iconic and without comparison.  Johnny Depp's version of Willy Wonka very much fell short compared to Wilder's performance, and that's the same kind of harsh scrutiny that is about to come Chalamet's way.  Chalamet is also not known as a song and dance performer, so he is going to have to disprove a lot of naysayers out there.  On the plus side, this film is being directed by Paul King, the man behind the beloved Paddington films, and this kind of movie is something that very much plays to his strengths.  Hopefully the team behind this film can make it stand well on it's own, but given the pedigree of story they are working with, the bar is going to be set pretty high.
A HAUNTING IN VENICE (SEPTEMBER 15)
You've got to hand it to Kenneth Branagh; he is a persistent filmmaker.  His adaptations of Agatha Christie's Hercule Poirot mysteries has become a little franchise that could on it's own despite some heavy obstacles along the way.  2017's Murder on the Orient Express became a modest hit at the time, but it's follow-up Death on the Nile (2022) was a pandemic and scandal plagued production that limped into theaters in early February and was quickly dismissed.  It's surprising that after all that Branagh was still able to keep going with the continuation of these films, and do so as quick as he did.  At least this time around, his film is not being dogged by pandemic delays or one or two problematic actors in the cast.  A Haunting in Venice, the third film in this Poirot franchise, seems to be playing it more safe after Death on the Nile; modest in scale with less of an all-star cast than previous movies.  Even still, Branagh is still making some surprise choices in his casting of this movie, with performers as diverse as Jamie Dornan, Tina Fey, and newly crowned Oscar winner Michelle Yeoh in the cast, alongside with himself returning as the "world's greatest detective." What is interesting though is the big shift in tone.  For this movie, Branagh is far more leaning into horror movie tropes, which is a departure from the tone this series has had up to now.  Is it something that may breathe new life into this series of movies, or is it a doomed "hail mary" play that likely won't capture any cross over appeal.  I certainly don't think that Branagh's making a straight up horror movie here, but then again it could end up being surprisingly dark comparatively for this kind of movie.  Thus far, this Poirot franchise has been a mixed bag, and never quite as exciting as the trailers have made it out to be.  But, I'm willing to see if a fresh approach actually does something good here.  Branagh has demonstrated his capability of being an experimental and venturous filmmaker before.  Maybe it might be interesting to see him explore a darker side.
POOR THINGS (DECEMBER 9)
This is the kind of movie that honestly go either way for me.  I have in the past responded to films from Yorgos Lanthimos in very opposite ways.  I distinctly hated his 2015 film, The Lobster, but I loved his 2018 film, The Favourite.  It seemed to me so unbelievable that I could have such polar opposite opinions to movies from the same director like that, but I guess he's just that kind of filmmaker.  I feel like this new film of his will likely drive me to either extreme as well.  It is certainly a movie that is going to take some risks, and likewise challenge it's audience.  It's hyper-stylized, and I almost think that this might be a bad thing, especially considering that production design on this film feels a bit too much like AI generated art for some tastes.  One thing that could indeed be the film's best element is the cast.  Emma Stone, who worked well with Lanthimos in The Favourite, takes the spotlight here and seems to be relishing the opportunity to go weird with this Frankenstein-like origin to her character.  Mark Ruffalo also seems refreshingly oddball, which is a nice departure for him, and I do get a laugh out of his awkward reading of the line "Oww" in the trailer.  And of course, if you are going to go weird with your movie, casting Willem Dafoe is always a good choice.  One other thing that I think works in Lanthimos' favor is that he's once again working with another writer's script (The Favourite's Tony McNamara) which I think is the winning formula.  I find Lanthimos' own screenplays to be too self-indulgent, so I think he works better adapting a screenplay that is not his own, because his strengths better lie in his direction.  We'll just have to see if this film falls on the Best or Worst list by the end of the year.
AQUAMAN AND THE LOST KINGDOM (DECEMBER 20)
Most of the major film studios are having a bad year, but DC is having an extraordinary bad year.  The aforementioned The Flash is a box office flop for the history books, and the other entries from the DCEU franchise that includes Shazam: Fury of the Gods and Blue Beetle have not faired any better.  Before James Gunn takes the reigns of the future of the DC cinematic universe, there is one film left from the old regime that is still in the pipeline.  Aquaman (2018) was surprisingly the biggest box office success of the DCEU era, becoming the only film of that franchise to gross over a billion worldwide.  One thing that worked to it's advantage was that it was able to coast on the wave that was the peak year for the super hero movie genre, 2018, which also saw the likes of Black Panther, Avengers: Infinity War, and Ant-Man and the Wasp all making big money at the box office.  Sadly for Aquaman, the heydays of that money train are over, and it's been especially rough for DC.  It also feels like the movie is doomed even before it hits theaters, not just because of the shake-up in management of DC, but also from the news that the movie has had to go through multiple re-shoots, all of which have ballooned the already high budget of this movie.  Is there anything that can help this Aquaman sequel avoid the same terrible fate of the rest of DC's 2023 slate.  On the plus side, Jason Momoa is still a generally liked movie star, as opposed to the "star" of The Flash, and his star power could still conceivably help carry the film.  Also, Warner Brothers is remarkably as of right now still sticking with the Christmas holiday release date for this movie.  If Dune: Part Two was acceptable to push to the Spring but Aquaman and the Lost Kingdom was not, it must show a level of confidence that Warner has in this film; at least that's the hope.  We'll have to see if DC is going to close this chapter right, or if it's the final pathetic nail in the coffin of the doomed DCEU.
MOVIES TO SKIP:
THE HUNGER GAMES: THE BALLAD OF SONGBIRDS & SNAKES (NOVEMBER 17)
If there is something that the last Summer season has shown us, it's that reviving long dormant film franchises is not a winning formula anymore.  Indiana Jones and Transformers learned that the hard way, and I think that the same is likely going to happen to The Hunger Games franchise as well.  In the early 2010's, Hunger Games was certainly a force to be reckoned with, but once it got into the latter entries in the series, the fuel was definitely starting to run out, and now The Hunger Games no longer feels culturally relevant anymore.  Still, the people at Lionsgate seem to think that there is more to mine from this property and that's why they are adapting this prequel to the original series.  This to me seems like a big mistake because one, Hunger Games is no longer the power house that it used to be, two, just by knowing the events of the original films we know how this movie will end, and three, the series' central heroine Katniss (whom was the main thing that hooked in fans from the beginning) is not involved in any way.  Basically, this movie is trying to lure audiences back on the concept and the world alone, which I don't think is enough to bring audiences on board.  For the original films it was the characters, and in particular Jennifer Lawrence's performance as Katniss that became the big draw.  There are some heavy hitters on board here, like Viola Davis and Peter Dinklage, but I don't see them drawing back any of the series' past fans.  For a series that already had a short shelf life, I feel like this will be a quickly forgotten chapter.
TROLLS BAND TOGETHER (NOVEMBER 17)
I mentioned before that Dreamworks, along with Disney and Pixar, have had a rough time lately at the box office.  But, unlike the other two studios which has bright spots on the horizon with original concepts and experimentation, Dreamworks' future slate looks pretty unremarkable with more formulaic sequels for the foreseeable future.  This is even despite having their best film in years last Winter with Puss in Boots: The Last Wish.  This summer, they had their biggest failure with Ruby Gilman; Teenage Kraken, and up next on the slate is the third film in their tepid Trolls franchise.  The first Trolls (2016) was a modest if unremarkable box office success, and their follow up, Trolls World Tour (2020) got sidelined from theaters altogether by the pandemic, sending it straight to streaming.  This film looks like it's just a repeat of the formula and not adding anything substantial artistically or thematically to the franchise, which is something that the best sequels should do (Puss in Boots; The Last Wish being a shining example).  Like the other movies, this film seems more geared towards selling an album than making a memorable film, and it's unfortunately another sign of Dreamworks losing it's edge as one of the hallmark names in animation.
EXPEND4BLES (SEPTEMBER 22)
Speaking of another franchise that has lost it's potency over the years, we are now getting another Expendables movie, nearly 9 years after the last one.  The original concept when this franchise was started was fun enough, with Sylvester Stallone assembling a team made up of some of the most legendary action movie stars all in one movie; including having himself, Schwarzenegger, and Bruce Willis share the screen for the first time.  Two more sequels added even more star power like Jean Claude Van Damme, Mel Gibson, Antonio Banderas, and even Harrison Ford to the roster.  But, time eventually ran out, and a lot of those movie stars either fully retired, or became less interested in returning.  So now it's just Stallone, Jason Statham and whatever C-Lister they can rope in left.  Part of the appeal of this series is now gone, and it just looks like a tired retread of a now irrelevant series.  Of the cast, only Statham has any real star power left, and even here it seems like he's phoning it in.  Probably better to have left this team retired.
So, there you have my outlook of the Fall 2023 movie season.  Given the uncertainty brought on by the ongoing stalemate of the dual strikes hitting Hollywood right now, I fear that this will be a movie season that will see a lot of movies struggle at the box office.  Given the dramatic move of Dune: Part Two this week, it seems worrying that no breakthrough is expected anytime soon.  The studios are shamelessly trying to shift blame to the striking talent, but the writers and actors don't have the power to move movies off of their release dates; that's entirely on the studios.  I don't know if they are intentionally doing this as a ploy to weaken the union's position in the eyes of the audience, or if they are that dependent on star power to sell a movie to audiences.  None of this is deterring the solidarity of the unions, and if anyone is hurt in the crossfire, it's the movie theaters themselves.  They have had to fight tooth and nail to keep afloat through the pandemic era, and now they are once again in a panic by the effects of strike.  Unlike the pandemic which was a global crisis, the economic impacts of this stalemate in the strike negotiations is entirely a self-inflicted wound for Hollywood.  Had the studios just come forward with a fair deal that took into consideration the things that are important to all their creative workers, they wouldn't be in the precarious position they are in now.  The unions are not asking for a whole lot (less than 1% of the studios yearly profits) and yet the studios' greed has ended up costing them billions.  I hate to go off on a rant like this, but sadly we are seeing pettiness on the part of Hollywood executives spoiling what could have been a stellar year at the box office.  Hopefully the whole thing gets resolved soon so that we don't see any more of our most anticipated movies get pushed further back.  Hopefully there are some good surprises that come out of the Fall festival circuit that helps to make the upcoming awards season interesting.  And with all this considered, let's hope the Fall Movie season of 2023 makes us happy and eager to go back to the movies again.