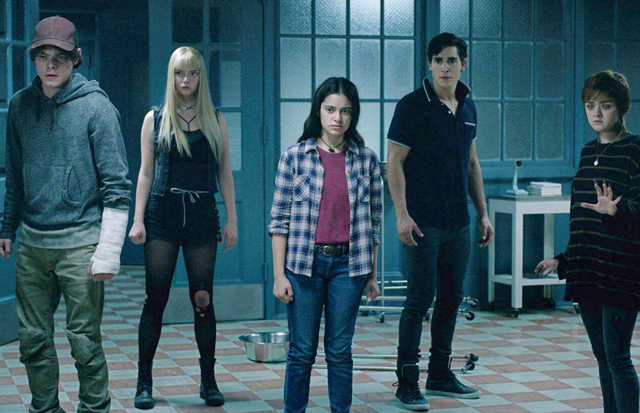 Few movies have had the kind of roller coaster like roll out that The New Mutants has had.  After years of delays, cancellations, and speculation as to if it ever was going to be seen at all, Mutants has finally made it into theaters and on PVOD this weekend.  So, why did it take so long?  A lot of factors have led us here.  The movie is based on a spin-off comic from the X-Men franchise, created by comic writers Chris Claremont and Bob McLeod.  It was green-lit in 2015 by 20th Century Fox studios, with Josh Boone (The Fault in Our Stars) attached to write and direct.  The production was intended to branch off from the main X-Men movie franchise, taking a decidedly darker and more horror like tone, which is in line with the comic itself.  The production wrapped filming in 2017, with an intended release date set for Summer 2018.  And then something happened that I'm sure no one involved with the film probably ever expected.  Fox was suddenly put up for sale, which caused a major disruption in the release calendar for the studio.   And when Disney emerged as the victor in the bidding war for the legendary studio, this made it extra awkward for The New Mutants, because it's very existence conflicts with the ongoing Marvel Cinematic Universe plans.  Fox had been holding onto the rights to their Marvel properties throughout the 2010's and were attempting to compete with Marvel Studios with their own franchise plans with the characters they had.  With Fox and Disney now part of the same company, Fox's haphazard attempt at franchise building now seemed superfluous and pointless.  The X-Men franchise as we knew it was pretty much over, and whatever movies were left in the pipeline were basically just going to be epilogues to a now dead series, waiting for it's inevitable re-imagining under Marvel's guidance.
But, with The New Mutants already complete and ready to launch, some held out hope that it might still be given a chance to stand out on it's own, separate from it's place within Fox's X-Men franchise.  Unfortunately for it, the last X-Men film, Dark Phoenix (2019), crashed and burned at the box office and was blasted by critics.  This came at a point where New Mutants was already pushed back by last minute re-shoots, presumably to film a new ending for the movie.  After Dark Phoenix's problems emerged, Mutants was pushed back again, going from a Summer 2019 to Spring of 2020, a full two years after the movie was originally supposed to be released.  Some were even speculating that Disney may have ended up deciding to dump the movie off on demand or on Disney+, instead of letting it play in theaters.  But, for a while earlier this year, it actually looked like the movie would finally see the light of day.  And then the pandemic happened.  New Mutants, like so many other films this year (big and small), was scuttled off of it's April release date and was at one point not even on the calendar at all.  Without a set release date, many believed that this was indeed the final nail in the coffin for this horribly unlucky film.  But, to everyone's surprise, Disney still committed to a theatrical release of the film.  Who know's why, especially after deciding to put Mulan (2020) on Disney+.  Maybe it was a strange clause left in as part of the Fox merger, but there's no definitive answer.  Despite many pockets of the pandemic still raging on in parts of the country, movie theaters are beginning to slowly re-open with strict social distancing protocols.  And to everyone's surprise, The New Mutants is going to be one of the first movies to mark the return to theaters, with the potential of being the first box office hit of the reopening era.  The only question is, was it worth all the wait and trouble to get here?
The story begins with a young Native American girl named Danielle Moonstar (Blu Hunt) finding her reservation community under attack by a monster of unknown origin.  She looses her father (Adam Beach) in the attack and later is knocked unconscious.  When she wakes up, she finds herself in a gloomy looking hospital, where she meets Dr. Reyes (Alice Braga).  Dr. Reyes informs Dani that she has been brought to this hospital because when she was discovered after the attack, it was shown that she possessed mutant powers, similar to the X-Men.  However, Dani is told that her powers are far too powerful and dangerous at the moment, and that she's been brought to the hospital for safety reasons and also to help her learn how to control it.  At first Dani is skeptical of her new home, but once she begins to interact with the other teenage mutants on the compound, she feels less afraid.  The other "new mutants" include Raine Sinclair (Maisie Williams) who can transform herself into a wolf; Sam Guthrie (Charlie Heaton), who is able to launch his body like a rocket, but hasn't learned how to land; Illyana Rasputin (Anya Taylor-Joy), who can teleport and also summon weapons from her own body; and also Roberto da Costa (Henry Zaga) who can set his whole body on fire.  Each of them has had a traumatic experience involving their powers just like Dani, which has brought them to this facility in the hopes of improving or even "curing" their powers.  However, the forces behind Dr. Reyes' research may have other plans for the new mutants, and it be far more sinister that previously thought.  And pretty soon, the silent tranquility of the compound is broken by the arrival of the same mysterious beast that attacked Dani's reservation; a massive Demon Bear.
So, how is this movie going to fare during a pandemic?  It depends on where it's playing.  It will almost certainly not perform as well as it normally would under normal circumstances, but at the same time, the movie has garnered attention for it's troubled history, which may drive curiosity up for it that it otherwise would've not had.  The movie is playing on screens in theaters in as many as 44 states that have since lifted their shut downs and allowed theaters to reopen.  However, I unfortunately live in a state (California) that is still on lock-down and has yet to allow theater re-openings.  It's still a situation that I can support, because health of the customer must come first and foremost, but also disappointing because I do miss going to a movie theater and enjoying movies the way they were meant to be seen, especially when other places are already making that possible.  Disney has made The New Mutants available on VOD rental services, but I felt that I still needed to watch it on a big screen in order to really judge it properly.  Thankfully, there was one screen in the whole of the Los Angeles metro area that had New Mutants playing on it; at the Mission Tiki Drive-In in Montclair, CA, which I previously spotlighted here.   Drive-In theaters have been a godsend for me during this pandemic, as they have allowed me to still enjoy a big screen experience without having to suffer the health risks.  The choices of films have been slim, but when one I'm interested in comes available at these facilities, I will gladly choose it over video on demand any day.  I will say, watching the movie there was a great choice because there is something magical about watching a movie under the moon and stars.  The only question is, was the movie itself worth it.  Sad to say, not really.  My feelings overall about The New Mutants are a mixed bag, but the worst thing I can say about it is that it's just generic and mediocre.
Overall, I would say that The New Mutants is not the worst thing I have seen from a super hero movie, and definitely no where near the worst that I've seen from the now defunct Fox X-Men franchise.  Dark Phoenix was just an embarrassment for the once proud franchise, and a terrible note to go out on.  The best thing that New Mutants does is that it closes the door on this version of the X-Men series with a less sour finale.  But apart from that, there isn't much else to say that's positive.  It's more competently made than Dark Phoenix, but still unfocused when it comes to tone and character.  For a movie that was trying to put a horror spin on the X-Men universe, it's not a particularly scary movie.  It's clear that something went wrong during the production of the movie, whether it was studio interference or just a lack of vision on the director's part.  Josh Boone emerged as a filmmaker with a surprise hit in the doomed romance movie that was The Fault in Our Stars.  For him to go from that to the pseudo-horror of New Mutants seemed like a bit of a stretch, and it turns out that ended up being the case.  Boone just borrows wholesale from other claustrophobic horror movies and just ends up making it feel cliche as a result.  I've seen many of these same tropes work better in other movies like A Nightmare on Elm Street (1984), IT (2017), and even One Flew Over the Cuckoo's Nest (1975) which this movie also borrows heavily from.  And it becomes very clear that the last minute re-shoots were done in part to dilute the horror elements and make the movie more like a standard Marvel action movie, particularly in it's final act.  You'll be spending most of the time watching this movie thinking about better films of it's genre, and that's never something you want a movie to be doing while you watch it.  That being said, it's blandness in some ways shields it from being anything worse.  Like I said, Dark Phoenix not only failed, it failed on an almost legendarily bad way.  New Mutants doesn't warrant the same kind of notorious reputation.  It's just good enough to be passable and just bad enough to be forgettable.
One of the things that really defines the mixed results of the movie can definitely be found in it's cast.  One thing that I do appreciate about the movie is that it keeps things very simple.  The cast in this movie is actually quite small for a franchise film, and it allows the movie to better use it's time to establish each character without losing them within the shuffle.  The only problem is, the lack of direction on these actors is very apparent.  There is a ton of overacting clashing with under-acting between each performance, and it leads to a fairly uneven ensemble throughout the movie.  I'll say that one of the bright spots of the movie is newcomer Blu Hunt in the role of Dani Moonstar.  She manages to keep the character engaging enough as the protagonist to keep us interested in her story.  I also like the performance of Alice Braga as Dr. Reyes, who manages to fill the antagonistic role well enough without taking it over the top.  The best performance overall I would say comes from Stranger Things' Charlie Heaton, who manages to perfect a believable Kentucky fried accent in his performance as Sam Guthrie, giving you no indication of his real British accent underneath.  The same can't be said about the other Brits in the cast.  I believe that Maisie Williams is attempting to do a Scottish accent as Raine Sinclair, but it slips constantly throughout the film.  And Anya Taylor-Joy's attempt at a Russian accent is just laughable.  And it's a shame, because I've seen these two actresses do so much better in other roles; especially with Maisie Williams whose understated performance here is such a far cry from her beloved work on Game of Thrones.  For the most part, these distracting attempts at different accents take away from the potential character development that these actors might have been able to pull off.  And the movie doesn't do them any favors either with some poorly edited scenes that are meant to build the characters' relationships together.
The movie also is visually rather bland.  I'll give the movie credit for keeping things simple, with a single location used for most of the movie.  But, when it gets to the point where the movie needs to bring out some visual effects, it becomes clear just how neglected this movie was overall.  The visual effects in this movie are pretty bad, and definitely not up to the standard that you'd expect from a movie of this genre.  Every creature that manifests in the movie looks like it jumped out of a video game, and doesn't feel natural at all.  At other points, like when Sam Guthrie attempts to practice his rocket launching powers, the movie literally makes it look like a cartoon; like he's spinning around like Wile E. Coyote on one of his failed contraptions.  The best effects are the ones that are kept either at a minimum or hidden in the shadows.  The Demon Bear works effectively when you see less of it, but once we finally see him in his full monstrous glory, oh boy does it deflate the tension fast.  The only thing that I think that Josh Boone and his team get close to right is the atmosphere of the film.  The movie is shot in a way that does convey an unsettling mood, even if it doesn't entirely make it feel creepy.  There is some creativity in the way that the movie executes the feeling of a repressive atmosphere in which these characters live in, like the blank stone walls of each of their cell rooms, and the ever present cameras that stare down on the characters from above.  Indeed, the movie actually does an effective job in it's first act of not revealing too much right away and allowing the atmosphere to convey to the audience the feeling of oppression and menace into the story.  Unfortunately, the movie doesn't live up to that potential, and the longer it goes on the less you feel the movie's atmosphere working the way it should.
As poorly as the final product has turned out, there's still a part of me that kind of admires what the movie has accomplished.  It reminds me of those times when you see a track runner either pull a muscle or break an ankle halfway through their race, and yet they pull themselves up and hobble their way to the finish line regardless, just so that they could say they finished it.  It's those kinds of moments, adversity in a moment of complete disaster, that carry their own kind of inspiration with them.  The New Mutants was a movie that was probably always going to never live up to expectations and was going to be forgotten like so many other disappointments.  And yet, there is something inspiring in how it managed to defy the odds and still get a theatrical release.  The story about this movie's troubled road to the big screen may far go down as far more legendary than the movie itself.  Despite being caught in the turbulent shuffle of a corporate merger and then once again placed back on the shelf due to a historic pandemic, The New Mutants still managed to make it to the big screen, and that in some way makes it a triumph of perseverance that we can all feel inspired by.  Unfortunately, the movie itself is a mess, and not really warranting of the hype that has surrounded it's release.  But at the same time, it's not an embarrassment either.  For a movie that is just a stray remnant of a now defunct franchise, it does work as a better final bow than Dark Phoenix.  Who knows, in time the movie may find a second life as a stand alone oddity, but I think that the movie is a little uneven to warrant that.  As it stands, I'm happy that the movie managed to escape it's notoriously troubled shelf life and actually make it to the big screen.  A mediocre movie, that surprisingly carved out it's own inspirational journey that's far more intriguing than the movie itself.  Will it be the movie that saves movie-going overall?  I doubt it, since there is still a raging pandemic right now, and this is definitely not a movie to spark repeat viewing.  But, the fact that it's made it to the big screen at all given all the circumstances makes me hopeful that the industry itself is still looking at the theatrical experience as an integral part of the business going forward.  If New Mutants can make it to the finish line, any movie can.
Rating: 6/10