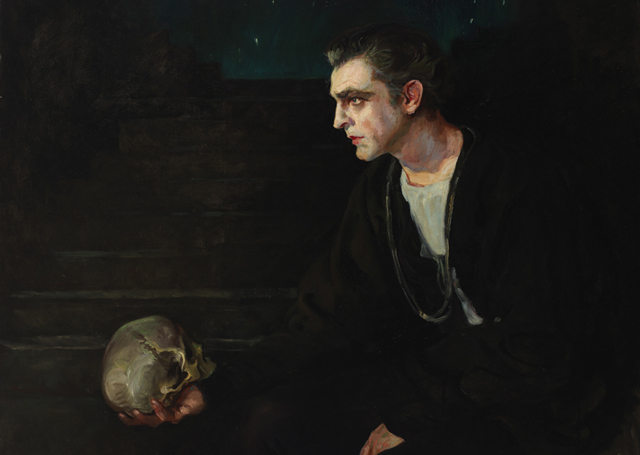 If you look at the great breadth of legendary characters to have come from the writings of William Shakespeare, probably the most famous of them all would be the Danish prince himself; Hamlet.  Written in the latter half of Shakespeare's career and first performed on stage circa 1600, The Tragedy of Hamlet, Prince of Denmark is widely viewed as one of the Bard's seminal works.  Over the many centuries since it was written, it could also be said that it is the most widely staged of Shakespeare's plays, with only Romeo and Juliet being anywhere near the same category.  And the impact that this play has had on the history of theater is immeasurable.  The lines, such as "To be or not to be", "The lady doth protest too much", or "Something is rotten in the state of Denmark," are so omnipresent in our society that anyone who hasn't seen the play itself will still know instantly where it comes from.  Apart from being endlessly quoted, there are elements of it's themes, plot points, and characters that have slipped into many different parts of the culture at large.  How many theater troops out there have a prop skull in their collection?  How many stories of revenge have we seen in movies involving a son going after their uncle for the death or crime committed against their father?  Hamlet is perhaps the reason why Shakespeare has endured throughout the years.  Sure he has many other plays that are still beloved to this day, but there is something about Hamlet that throughout the years has kept it relevant to audiences across the generations.  It probably has to do with the character himself, a young man filled with rage who will go to great lengths to avenge the memory of his father, but in carrying out his plot, he only ends up destroying many more lives as a result, including his own.  It's a universal tragedy that transcends it's time in place, because we ourselves come to identify so much with the tragic hero at the heart of the story, and recognize from it the ways that unchecked anger can also endanger ourselves in the process.  It's a tragedy that resonates, because it's a tragedy that we so often see repeated time and time again.
One thing that has been interesting over the years is seeing how every generation finds a new spin to take on the tragedy.  Hamlet is a surprisingly malleable story to many different interpretations, without losing it's core identity.  I think it's interesting that some people may not realize that they are watching a version of Hamlet right away, but only come to realize it later.  One example of this is Disney's The Lion King (1994).  Often dubbed "Hamlet in Africa", the plot of The Lion King does owe a lot of inspiration to Hamlet.  An exiled prince returns to take his kingdom back from his uncle, who usurped the throne after murdering his brother.  Rings a bell doesn't it, though Disney refrained from doing an exact translation; their movie has a happy ending after all.  More recently, director Robert Eggers put out his Viking epic The Northman (2022), which supposedly is based on the ancient saga that was the original inspiration for Shakespeare's play.  Like so many have done over the years, Shakespeare also took this well known story from ancient texts and provided his own spin on the age old story, reflecting it's events within his own time.  It's just neat to see the story come full circle with a new movie now re-contextualizing the original narrative for today, in a world now that is so familiar with Shakespeare's play.  Still, to this day, the play is a highly regarded piece, and in particular, the role of Hamlet is one that's coveted by some of the most talented actors working today.  Stage productions in the past have included such legends as John Gielgud and Christopher Plummer, and Ian McKellan while more recent versions have been staged with the likes of Jude Law, David Tennant, and Benedict Cumberbatch.  Certainly watching Hamlet is an opportunity not to pass up, but the character has also left his mark on the silver screen as well.  It's interesting to look at how many different actors and directors have taken their own crack at the play and the central role, and see how varied all of them are.  Below are some of the more noteworthy screen portrayals of the Danish prince, including some performances that could be seen as among the finest ever committed to celluloid.  So, let's see how to be or not to be all of these cinematic Hamlets have been over the years.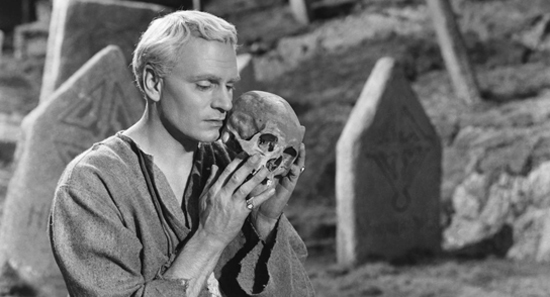 LAURENCE OLIVIER from HAMLET (1948)
Of course, it helps to start out by spotlighting a man whose name in the annals of film history is synonymous with that of Shakespeare.  Laurence Olivier of course became a popular movie star in Hollywood with roles in hit movies like Wuthering Heights (1939) and Rebecca (1940).  But when Europe was plunged into war in the 1940's, Olivier returned home to England to help boost the morale of his fellow countrymen in the best way he knew how; through the work of Shakespeare.  He took the tricks of the trade he learned from Hollywood and made a big screen adaptation of Henry V (1944) that was not only critically praised, even by Shakespeare purists, but was also a great booster of patriotic pride for the war plagued Britains, which helped them to feel more determined in the fight against the Axis powers.  After the war, Olivier now found himself an accomplished film director on top of being a respected performer, and he naturally looked for more plays to adapt to the big screen.  It's only natural that he would choose Hamlet as his next piece.  But what he proved with his adaptation of Hamlet was that he was not afraid of changing his cinematic style either.  Where Henry V was a vibrant, Technicolor wonder, Hamlet was a stark, black and white melodrama, more befitting it's tone.  Still, Olivier still lavished the film with incredible spectacle and he poured all his refined talent into the role too.  Sure, Olivier by that point was a little old for the role (Hamlet is described as being in his early 20's and Olivier was pushing 40 at the time).  But still, Olivier gives it his all, and he was rewarded for it.  Olivier won the only Oscar for Best Actor of his career for playing Hamlet, and the film itself would go on to win Best Picture; the only adaption of Shakespeare to date that has done so.  That in itself is quite the achievement and befitting for someone with a legacy like Laurence Olivier's.  Not only that, but he would set the bar high for all the Hamlet's that would follow after him.  Olivier would go on to adapt many more films based on the works of Shakespeare, but there is no doubt that among the roles that he will be most remembered for, Hamlet will be among the best.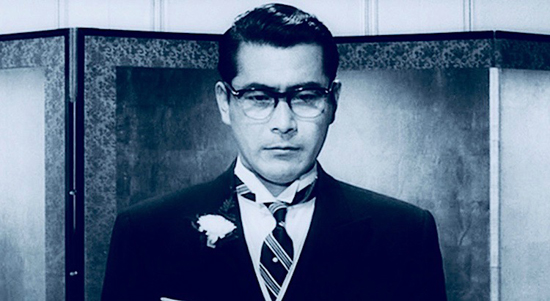 TOSHIRO MIFUNE from THE BAD SLEEP WELL (1960)
Of course, the impact of the works of Shakespeare is not just limited to Western culture.  Honestly some of the most interesting adaptations of the Bard's plays have been from other parts of the world, especially in places where the same themes found in those plays resonate on a whole different level.  One noteworthy international filmmaker who was very fond of the works of Shakespeare was Japanese autuer Akira Kurosawa.  Over the course of his legendary career, he adapted a number of Shakespeare's plays and re-contextualized them into his own nation's cultural history.  His movie Throne of Blood (1957) is an unmistakable re-telling of the Tragedy of Macbeth, and his late career masterpiece Ran (1986) is a definite adaptation of Shakespeare's King Lear, both set against the backdrop of feudal Japan.  Of course, Hamlet was also a source of inspiration for Kurosawa, but unlike the other two, he chose to adapt the well know tragedy to a modern day setting.  Set in contemporary post-war Japan, The Bad Sleep Well takes the well known plot points of Hamlet, but reimagines it into the cutthroat world of corporate politics, with the Hamlet stand-in taking on a corrupt industrialist that was responsible for driving his father to suicide.  Kurosawa's favorite leading man Toshiro Mifune brings his incredible natural intensity to the role, and it's a perfect match for the character.  Hamlet's character is defined by impulse and fury, and Mifune does all of that brilliantly.  Though the movie doesn't use the same text as Hamlet's play (not even in translation), the story itself is still vividly translated into it's new setting and time period.  Kurosawa wasn't the first to reimagine the story for a modern setting, but he demonstrated how well the story can be adapted to pretty much any time and place while still maintaining it's core elements.  With Mifune's intense performance and an excellent vision of how to update the story, The Bad Sleep Well really shows how universal the story of Hamlet is across the world, and it provided a look into how Shakespeare's global appeal would influence so much of the different artforms throughout the decades that followed.
NICHOL WILLIAMSON from HAMLET (1969)
Since the days of Laurence Olivier, the landscape of British cinema changed very dramatically.  As the stately dramas of the past began to fall out of style, a new breed of filmmakers cropped up and began to take the artform in more experimental territory.  This was an era known as the British New Wave, and one of the noteworthy filmmakers to emerge from this field of new talent was Tony Richardson.  In 1963, Richardson rose to prominence with his fourth-wall breaking period comedy Tom Jones (1963), which won him both the Oscars for Best Director and Best Picture.   After a few more Avant Garde films that shook up the traditional standards of British filmmaking, Richardson decided to tackle Shakespeare as well, but in his own way.  Gone was the opulence of Olivier's big screen classic, and instead the filmmaker utilized a style that felt more like versions one would see on the stage.  The sets are sparse, suggesting grandeur, but through minimalist set design.  It feels very reminiscent of a recent Shakespeare adaptation, The Tragedy of Macbeth (2021) from Joel Coen, which likewise stripped it's images down to stark impressionism.  Apart from that, the film feels very much like a traditional staging of the play, albeit in an abridged version.  What does strike the film as odd is that the role of Hamlet is filled by Nichol Williamson, who again feels a bit old for the part.  Now, there has been a history of actors playing Hamlet that were much older than Williamson when he did (he was 33 at the time), but maybe it's the beard that he's wearing that makes him look and feel much older, which only becomes more distracting by the fact that a younger actor is playing his uncle Claudius (a then 30 year old Anthony Hopkins).  Apart from that, his performance is perfectly suitable, and fits well within the vision that Tony Richardson is trying to display in this movie.  This may be a movie version that either is too much of a departure stylistically, or one that actually feels closer to the roots of the play for some audiences.  In any case, it does reinforce how well Hamlet is able to remain relevant across many different generations of storytellers.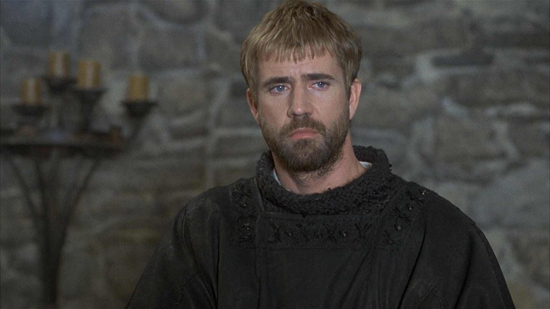 MEL GIBSON from HAMLET (1990)
For a long time, some of the most noteworthy adaptations of Shakespeare's Hamlet have been made outside of the Hollywood system.  But, Hollywood would also tackle the famous play from time to time.  This lavish Warner Brothers production from Italian filmmaker Franco Zeffirelli (who also brought Romeo and Juliet to the big screen in 1968) brings Hamlet back to it's pre-Renaissance roots in a very medieval setting.  It also has a blockbuster cast, including Mel Gibson in the title role.  Regardless of what one thinks of Mel Gibson today, his casting as the Danish prince does make sense.  He was a big movie star at the time and was still youthful looking enough to believably take on the role.  He also had a strong history of giving intense performances in his movies, with this movie in particular seeming to be a warm-up for what he would eventually do in his award winning Braveheart (1995).  At the same time, you can also clearly tell that Mel is a movie star with not a whole lot of experience with Shakespeare.  He plays the role of Hamlet much in the way that he would also play William Wallace; very cinematically.  But, it becomes distracting when the text of the play is also being used, and Gibson's grasp of the iambic pentameter isn't as refined as some of his co-stars like Glenn Close or Ian Holm, who have more stage experience with Shakespeare.  Even still, the performance is serviceable enough, because this isn't a stage set version of Hamlet; it's a lavish Hollywood spectacle, to which his performance is arguably more naturally attuned with.  At the same time, it's not at all surprising that Gibson hasn't revisited Shakespeare since.  Obviously he's got a lot of other issues to deal with, and Shakespeare clearly is not his style.  But, compared to other Hamlets in the past, this is also one of the performances that does stand out as being more naturalistic in comparison, and less stage bound.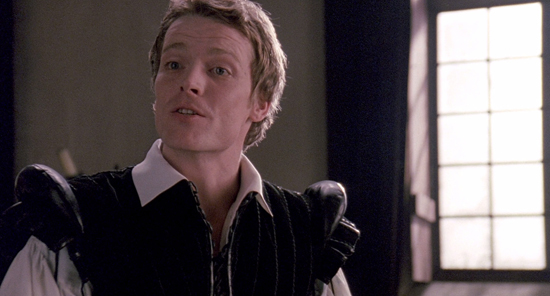 IAIN GLEN from ROSENCRANTZ & GUILDENSTERN ARE DEAD (1990)
Hamlet's characters are so universally well known that you can imagine what the lives they have outside of the roles they play in the story.  That was the particular idea that playwright Tom Stoppard stumbled upon when he wrote his own meta examination of the story of Hamlet.  Instead of writing his play around the most famous characters in the story, he instead focuses on the throw away side characters; in particular Rosencrantz & Guildenstern.  The two characters are just bit players that occasionally are present to be the recipients of Hamlet's rambling soliloquies, and are eventually unceremoniously disposed of off stage, with the titular line "Rosencrantz and Guildenstern are dead" being their one noteworthy addition to the play itself.  Stoppard's farcical play hilariously reimagines how the events of the famous play would appear when seen through the eyes of characters who are not meant to be the center of attention.  In the film, the Rosencrantz and Guildenstern are played by Gary Oldman and Tim Roth respectively, and both off them hilariously portray the central conceit of the play perfectly, as they awkwardly wait for their turns to come in the story.  One of the best examples of this is when they find Hamlet talking to himself alone in a room.  We of course know this as Hamlet's "to be or not to be" soliloquy, but from the point of view of Rosencrantz and Guildenstern, Hamlet looks like a crazy person rambling off to no one.  And that's what actor Iain Glen (most famous recently for his performance as Jorah Mormont on Game of Thrones) perfectly realizes in his performance; that demented insanity that was always beneath the surface with Hamlet that to him seemed deep and introspective but to others would be viewed as lunacy.  Glen also very much looks the part; youthful and full of energy, which makes his underlying insanity also that much more unsettling.  It's a brilliant dissection of the underlying themes of Shakespeare's work, and it gives the character and his tragedy a whole different context.  The movie of this play really captures the idea that the best way to see the absurdity of the world is to look at it through the eyes of those who are purposely pushed to the side.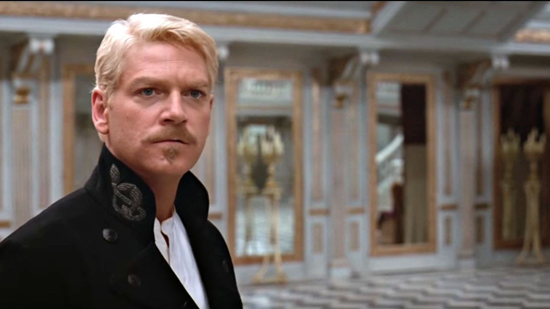 KENNETH BRANAGH from HAMLET (1996)
Perhaps the most comprehensive adaptation of Hamlet ever undertaken for the silver screen, this version comes from someone who many consider to be the successor to Laurence Olivier in movie adaptations of Shakespeare's plays.  Like Olivier, Branagh carried his experience of performing the Bard's works on the stage and married them with a strong expertise of the cinematic arts, and perfectly reimagined these classic works for a modern day audience.  He naturally followed in Olivier's footsteps by making his directorial debut with Henry V (1989), and he followed that up with a colorful adaptation of Shakespeare's comedy Much Ado About Nothing (1993).  However, when it came time to consider taking on Hamlet, as I'm sure most devotees of the Bard do eventually, Branagh was committed to doing something that shockingly had not been done up to that point, which is film the full complete text of Shakespeare's play unabridged.  As a result, we receive the full unedited version of Hamlet, which on film clocks in at a staggering 4 hours in length.  To match that epic length, Branagh also lavished his production on an epic scale, shooting it on 70 mm film with extraordinary set design and costuming, as well as a star studded cast including Oscar winners like Julie Christie and Charlton Heston, legends of the stage like Derek Jacobi and Brian Blessed, and Billy Crystal for some reason.  The movie may be a lot to handle for someone not used to a full adaptation of every line of Shakespeare, but you definitely have to admire the audacity of Branagh's vision.  His style is very operatic and gives the true weight of the play the epic grandeur that it deserves.  He also manages to capture the character quite well, perfectly balancing the manic insanity of his character's outbursts with the harrowing quiet self-reflection during his soliloquies.  He also surprisingly captures the youthful spirit of the character, despite also being a bit older like so many actors have been in the role.  Surely the best way to get the full experience of Hamlet is to watch it performed on stage, but as far as film adaptations go, this is definitely the best that has been done so far, because it's the only one that leaves nothing out.  With this, Branagh more than earns his reputation as this generation's Olivier, and when it comes to Hamlet, he may have even outdone the old master.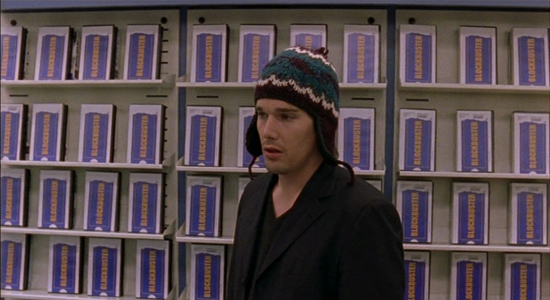 ETHAN HAWKE from HAMLET (2000)
Like Kurosawa many years prior, director Michael Almereyda also say a vision of how to bring the story of Hamlet to the modern day.  But what is interesting here is that he did so without changing a single word of Shakespeare's text.  Perhaps inspired by Baz Luhrmann's modern re-imaging of Romeo+Juliet (1996), this is a version of Hamlet that does retain the same language, but sets it in the world we know today.  And remarkably, it all still works.  Like The Bad Sleep Well, the story fits very well into a social drama of corporate greed and maniacal devotion to family legacy.  It feels very much like the recent HBO series Succession in that way.  Naturally, to make this version of the play work, the actor playing Hamlet has to feel like a contemporary modern man, while at the same time believably capable of handling the rhythm of Shakespeare's words.  Thankfully, Ethan Hawke rose to the challenge, and gives a very strong performance.  It's surprising how well the character of Hamlet fits into the style of a 90's era angsty youth, and Hawke captures that perfectly.  He especially brings out the intensity of the character, while also feeling natural and not too showy in his performance.  Of course, Shakespeare purists might find some of the choices of setting and character a little too strange in this movie.  The movie does feature Hamlet delivering his "To Be or not To Be" soliloquy in a Blockbuster video store, which I'm sure is a far cry from what Shakespeare had intended.  But at the same time, it's a looking at what this story means for our time and place, and the interesting thing about this version of Hamlet is that he's also obsessed with the artform that has kept his narrative alive for centuries; the movies.  This gives that soliloquy a whole different context as a result, as Hamlet weighs what he plans to do against what he has seen happen in the movies themselves.  It's an adaptation that may be a little too revisionist for some, but it is nevertheless a fascinating experiment in seeing how a modern day Hamlet would exist in our world.
No doubt Hamlet will continue to grace the silver screen in many more adaptations, but thus far, his screen presence has been marked not just by some great performances by some legendary stars, but by movie adaptations that try very hard to reimagine the character and his story in new and interesting ways.  Hamlet is very much a challenge for any actor, as you often have to memorize and deliver pages of dialogue without end, and if the actor can pull that off and make it feel natural, it can stand as a genuine achievement.  Most actors relish the chance to play Hamlet because of that challenge.  He is one of the most complex characters ever to come from the mind of William Shakespeare, full of contradiction and self-doubt.  The tragedy of Hamlet really comes from the fact that he becomes his own worst enemy in the end, by letting his emotions get the best of him and for not realizing the own folly of his plan, as noble a cause it may be.  Certainly when it comes to the greatest cinematic adaptations of the play, Olivier and Branagh are at the pinnacle.  Olivier achieved the impressive feat of winning the Oscar for his efforts, and Branagh's version is probably the most complete version of the play that we'll ever see put on the big screen.  But there are plenty of great performances over the years that have marked the character as well.  Even a parody of the character as seen in Rosencrantz and Guildenstern are Dead (1990) is it's own special contribution, as it points out the inherent lunacy of the character and his not very well thought out plan.   There honestly is so many ways to tell this story and still have it work, based on it's universal themes.  That's why you can have the characters played by lions in an animated Disney film, or have it set in a corporate boardroom like the 2000 Ethan Hawke adaptation.  With or without the text of the play, it's a universal cautionary tale about the way people consume themselves with revenge and how that only leads to a cycle of destruction in it's wake.  The ultimate tragedy of Hamlet is that he is too blinded by his ambition to see that he's sowing the seeds of his own destruction and in turn the destruction of his own kingdom as well.  At the same time, there is a nobleness to his character, in that he wishes to punish those who took power through their own ill intentions.  It remains a powerful work that continues to be both strong on the stage as well as on the screen.  And with that I say, "Goodnight sweet prince, and flights of angels sing thee to they rest."