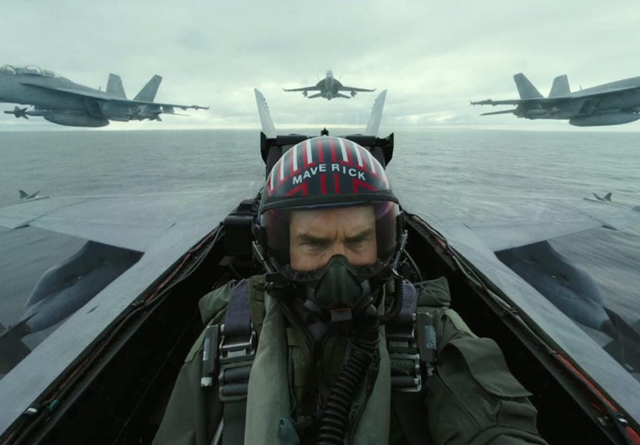 How do you describe the success of a movie like Top Gun (1986).  The Tony Scott directed original is objectively not a very good movie.  The characters are one dimensional; the plot is razor thin and cliché; and the movie is rightfully view as nothing more than a fluff piece of Reagan era propaganda for the Air Force.  So, why nearly 40 years later is this movie a beloved classic for so many.  Despite all of it's many flaws, there is one thing that Top Gun has that gives it appeal to so many; character.  It is a corny movie, but in the best possible way.  There is so much personality put into the story that even if it is poorly written and constructed, it still captures the imagination of it's audience.  And a large part of that goes to the undeniable star factor that was and is Tom Cruise.  Cruise had been around for a while before, becoming a rising star in Hollywood through films like Taps (1981) and Risky Business (1983), but Top Gun is the movie that propelled him to super stardom.   His performance in the original movie is just magnetic in every possible way, and it elevates everything else about the film.  His co-stars, including Tom Skerritt, Kelly McGillis, Anthony Edwards and Val Kilmer also saw their careers boosted from the success of this movie, and the late 80's wouldn't be the same without the Hans Zimmer score and Kenny Loggins infused soundtrack that became omnipresent after the film's premiere.  Since then, the movie has remained one of the key benchmarks of Tom Cruise's stellar film career, and it's a testament to his skills as an actor that he didn't let this one movie role to overshadow everything else that he's made.  Still, Tom Cruise is not above revisiting old roles, even after many years in the game.  The Mission: Impossible series is still going strong after over a quarter of a century, with two more set in the next couple years.  But, even more surprisingly, he's now looking to return to the role that turned him into a star and revisit his story now, 35 years later.  After nearly half a lifetime away, Captain Pete "Maverick" Mitchell is coming back to the big screen.
The journey to get there though was not without it's own complications.  The first trailer for the film premiered all the back in January 2020, aired during that year's Super Bowl.  With an expected June release, Top Gun: Maverick was going to be one of the big tent-poles of the Summer season, and the marquee title of that year for Paramount Pictures.  But, like every blockbuster film of 2020, it had to be pulled off of the calendar because of the Covid-19 pandemic shutdown.  The movie by that point had been too costly to push to streaming, with both a production and marketing budget well above $200 million, so Paramount had to wait a year to plan for a theatrical release that they hoped would be more favorable to them post-pandemic.  Even though theaters did eventually reopen, the following summer still did not have ideal audience numbers to warrant the film's release just yet, so Paramount decided to let the movie sit on the shelf for yet another year, likewise also pushing back the release of the next Mission: Impossible movie with it.  Though it was a very costly measure on Paramount's part, it still might have been the best possible move to make.  Now in 2022, while it still hasn't recovered 100% just yet, the movie theater industry is finally on the rebound and more importantly, the audiences who have been most reluctant to return to the theaters are now starting to finally return.  And what better way to bring older audiences back to the theaters than with a fresh piece of cinematic nostalgia.  Top Gun: Maverick certainly has a lot of weight to carry on it's shoulders.  The original is an iconic film to those who were raised up on it, and the expectations are extremely high.  Not only that, but the world has changed quite a bit since the original movie.  Would audiences today still go for old fashioned Cold War patriotism?  Can the movie overcome the cheeseball elements that have been often ridiculed over the years, through parodies like the Charlie Seen spoof Hot Shots (1991) and a queer reading rant by Quentin Tarantino?  Well, now almost 2 years after when it was supposed to originally been released, we can finally judge for ourselves just well the Top Gun jets still burn.
The movie brings it's iconic characters up to the present day.  Captain Pete "Maverick" Mitchell (Tom Cruise) now flies test missions for new experimental aircraft; often against the wishes of his superior, Rear Admiral Chester "Hammer" Cain (Ed Harris), who ends up grounding him after an unauthorized speed test.  For his subordination, Maverick is reassigned to be an instructor for an elite squad tasked with undertaking a near impossible mission.  Maverick arrives at his old home base in San Diego, where he meets an old flame, Penny Benjamin (Jennifer Connelly), who now runs his old favorite bar.  He reports to his new commander, Admiral Beau "Cyclone" Simpson (Jon Hamm) who wonders why Maverick hasn't risen above the rank of Captain in over 30 years.  Maverick meets with the new pilots who are now under his tutelage, including Lieutenants Natasha "Phoenix" Trace (Monica Barbaro), Jake "Hangman" Seresin (Glen Powell), Robert "Bob" Floyd (Lewis Pullman), Rueben "Payback" Fitch (Jay Ellis), and Mickey "Fanboy" Garcia (Danny Ramirez).  All of them are top of their class pilots, but this is a mission that requires far more off the books training, which is what Maverick is there to teach.  All of the recruits are unaware of Maverick's history, but one in particular does carry some baggage related to Maverick's past; Lt. Bradley "Rooster" Bradshaw (Miles Teller), the son of Maverick's long departed co-pilot and best friend Lt. Nick "Goose" Bradshaw.  Maverick begins putting his students through the paces, pitting them in combat exercises that event the elites are unprepared for.  And sparks of conflict immediately start flying between Maverick and Rooster.  Rooster blames Maverick for holding his career back, as Maverick had made a promise to his mother that he would keep Rooster out of harm's way.  Maverick is torn whether or not to hold onto his old promises, or to let the past go and allow Rooster to determine his own way in life, a choice that an old friend of Maverick's, Admiral Tom "Iceman" Kazansky (Val Kilmer) tries to convince him to do.  With the clock ticking, Maverick must have his team ready to take on a miracle of a mission, and that requires finding common ground and trust with Rooster, who he knows he'll inevitably have to rely upon to save the world.
Regardless of the outcome of the movie in the long run, you've got to admire the fact that Tom Cruise is taking a chance in reviving this title at all after so many years.  The original Top Gun wasn't something that demanded a sequel, and indeed it stood alone for 35 years.  So for Tom Cruise now to revisit it, there had to be a creative pull that demanded a revival.  Cruise is not one to lend his clout to unnecessary sequels.  The only reason why we've gotten so many Mission: Impossible movies is because Tom Cruise pushes the envelope with each new film, justifying each entry as an essential part of that series.  For Top Gun, the stakes are much more grounded than those of Mission: Impossible.  It's essentially a movie about life on an Air Force base, and all the intermingling relationships found amongst crew and company.  For Top Gun: Maverick, Cruise managed to find the angle he needed to justify a sequel after so many years.  Here he asks the question, what happens when Maverick grows older and goes from hot shot to mentor.  He's still the same Maverick, impulsive and often insubordinate, but he's also got the baggage of his years in service to give him perspective on the right and wrong ways of using his skills in a new world order.  And in many ways, reconnecting Maverick with the demons of his past, namely the fate of Goose that still haunts him many years later, as he has to confront working with his son Rooster is a pathway into the story that I think very much appealed to Cruise.  In that sense, the movie does elevate well above the original Top Gun in terms of story, because there is actual exploration into Maverick's character here.  He's not just the star pilot here; he is a character that needs to go through a the arc of redemption in order to feel whole again.  I think a lot of people are going to really be moved by a lot of what Top Gun: Maverick brings to the table.  And it indeed takes a very dated piece of 80's cheese, and makes it feel fresh and surprisingly deep in a lot of ways, improving very much on the story while at the same time not feeling too out of character.
At the same time, it does have the same faults as the original movie; just not to the same embarrassing extant.  Top Gun: Maverick is still pretty thin on story, and you can set your watch to the predictability of the plot points in the film.  At the same time, the movie does actually make up for the short-comings of the story by giving so much more weight to the action scenes themselves.  Cruise, who also works as the film's producer alongside Jerry Bruckheimer who also returns behind the scenes here, wants to push the envelope with every movie he makes now; not just Mission: Impossible.  Top Gun: Maverick is the beneficiary of that raised bar, as this film takes things to a level that the original wouldn't have been able to accomplish with even the best equipment at the time.  The late great Tony Scott managed to pull off the combat scenes of the original movie through well constructed editing.  He would take second unit footage of fighter planes in the air and intercut them with close-ups of his actors in the cock-pits, taken while they were all safely on the ground.  With the editing doing most of the work of creating tense, heart pounding action, you could believe that the actors were really in the air flying those planes.  In Top Gun: Maverick, there was no make-believe going on.  When you see Tom Cruise and his fellow actors in the cock-pits of these aircraft, there is no green screen trickery afoot.  His team found a way to have all the actors film their scenes aboard the planes in the actual sky.  Now that we have cameras small enough to produce IMAX quality picture in such a confined space, Cruise and his team can now put the camera POV inside real fighter planes and put the audience right in the middle of the action like never before.  Certainly, the actors didn't actually fly the planes themselves, but the real pilots are hidden away so well that the effect of seeing the actors really up in the air helps to give this movie a level of authenticity that the original movie never had.  And that in turn helps to make the action sequences work so much more here than before.
It can be argued that the most important creative force now in Tom Cruise movies is Tom Cruise himself.  He is very much a hands-on producer and the reason he is able to take as many risks in his movies is because he has surrounded himself with a team who rise up to the challenge of matching his ambitions.  In his stable of collaborators, he's managed to develop a good working relationship with Christopher McQuarrie, who has directed the last couple Mission: Impossible films (as well as a draft of the screenplay for this film too), as well as director Joseph Kosinski, who previously directed Cruise in the movie Oblivion (2013).  Kosinski sort of directs out of his wheelhouse in Top Gun: Maverick, changing up from the often muted color palette of his past films like Oblivion and Tron Legacy (2010), in favor of the Magic Hour glow in the style of Tony Scott.  Despite the shift, Kosinski's handling of the assignment is still commendable.  Not only does he manage to get remarkable footage out of the real airborne photography, but he also managed to cobble it all together into coherent and well edited action sequences.  Honestly, the real appeal of this movie are the combat sequences, particularly the climatic one at the end, which will probably go down as one of the greatest dog fight scenes that has ever been committed to the film.  I'm sure the likes of Howard Hughes, John Ford, and Tony Scott would look at the air battles in this movie and be blown away themselves at how immersive they are.  More than any reason to revisit the story, this is probably why Tom Cruise wanted to make this movie.  He really wanted Maverick to be in a real airborne plane, and doing the kind of daredevil flying that could only have been hinted at before.  At the same time, the movie is respectful to the work of Tony Scott, and there is even a very nice memorial note at the end of the movie in his honor.  Cruise only pushes the envelope here now because technology has finally caught up to what he envisions this movie to be like, and give audiences the full experience.  More than anything else, this is why the movie must be seen, and seen on the biggest possible screen you can find.  When you see the actors doing barrel roles and knifes edge turns in mid-air, you can almost feel the G-Forces yourself because it's that immersive.  It's certainly enough to make you forget all the shortcomings the movie has in story, when the action is at this high a level.
At the same time, you also can't dismiss the sheer magnetism of Tom Cruise in this movie.  He picks up this character 35 years later and doesn't miss a single beat.  In many ways, given the extra decades of baggage given to this character, I think that Cruise has made Maverick an even better character in this movie now than he did in the original.  Like I said before, the original Top Gun is very light on character development, and Maverick is far less a standout character on the page than he is through Cruise's performance.  Cruise has certainly improved as an actor over the years and his performance here is proof of that too.  It's still a character of not much depth, but Cruise does his best to give some weight to him finally.  This is especially clear in a poignant moment when Maverick reconnects with Iceman in the movie.  Knowing the history of these characters, as well as Val Kilmer's real life battle with cancer that has robbed him of his speech, the scene that they share is far more impactful alone than anything found in the original movie, and it remarkably moving enough to bring a tear to one's eye.  Cruise naturally delivers in that moment, and it's great to see Kilmer not left behind as well, also rising to the challenge.  Miles Teller is also very good in this movie, bringing the right amount of intensity to the role, and doing his best to invoke the memory of Anthony Edward's performance of Goose, without turning it into an impression.  He also does a good job sharing the screen with Cruise, and their moments together are among the best in the movie.  The other new additions to the cast are more of a mixed bag.  I do like what Jennifer Connelly and Jon Hamm bring to their roles, with Hamm doing his best to be the one antagonistic person in the movie while at the same time remaining likable.  The other young pilots are fine, but the fact that they are written in a cliched way is kind of a negative in this movie.  Glen Powell's Hangman for instance should just be called Iceman 2.0, because that's essentially what he's meant to be here in this movie and not much else.  At the same time, none of the performances are embarrassingly bad and character development is not what this movie hinges on anyway.  Still, even if you liked the corny soap opera plot elements of the original, there is still enough in this movie to satisfy, and in many ways, it serves it's cast of characters much better than before.
It is always hard to make a sequel to a movie so many years after the original, especially after a few decades.  It probably helps that Tom Cruise gave this project over to a director who had experience breathing new life into an old property, which Joseph Kosinski managed to do with Tron Legacy a decade ago.  Both Cruise and Kosinski managed to go above and beyond with their Top Gun sequel because this movie is very much an improvement in every way to the original movie.  The combat sequence in the film's climax alone is worth the price of admission, and will probably be one of the greatest things that you will see on a big screen this year, without question.  It's still not a perfect movie.  I could still predict every plot point that was going to happen because it's a movie that still falls back on cliché likes it's predecessor, and the same can be said about the characters in the movie as well.  But, there was certainly a lot more heart put into the making of this movie this time around.  Tony Scott did the best he could with what he had available to him back in the late 80's, and this movie in many ways is an attempt to bring the style of Scott up to the level of filmmaking that we see today, and perhaps fully realize what he wanted to do but couldn't.  It's a movie that is respectful to the past, and more importantly, is respectful to the fans who have kept a special place in their heart for the original movie, as corny as it was.  Those who especially enjoyed the shirtless volleyball scene from the original will be happy to know that it too is given a homage here.  And while the Top Gun brand is certainly not my own cup of tea, I do appreciate filmmaking that pushes the envelope, and Top Gun: Maverick is really a true wonder on that front.  I can't wait to go through the making-of documentaries that I'm sure will be on this movie's home video release, just to see how they were able to pull off this kind of production.  It certainly makes me even more anxious to see the next Mission: Impossible movie, because every movie that Tom Cruise makes seems to be made as a challenge to outdo the last.  For now, whether Cruise revisits Maverick or not, Top Gun: Maverick is an excellent exercise in filmmaking and proof once again that Cruise is a movie star without peer.  Thanks for taking us into the "Danger Zone" once again.
Rating: 8.5/10