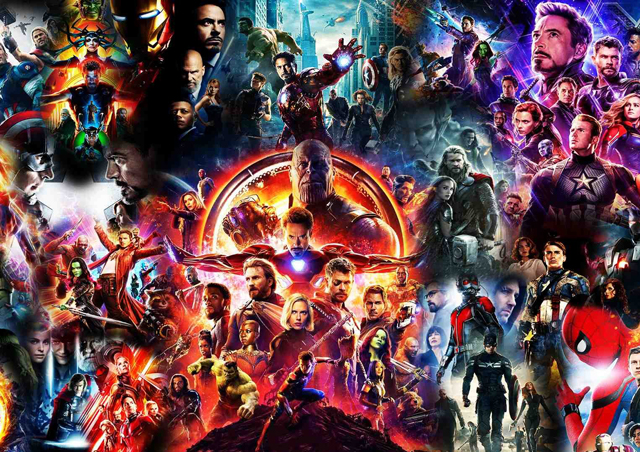 A lot of people are passing their time during this pandemic by catching up on a lot of media that they've missed over the years, just because they didn't have the time.  I too have spent a lot of my extra free time during this pandemic to watching movies and television, but instead of catching up, I have mostly been revisiting.  This whole month of May I went back and marathoned the entire 23 film run of the Marvel Cinematic Universe; starting with Iron Man from 2008 and ending with last year's Spider-Man: Far From Home (2019).  That's the first three phases of MCU, with Avengers: Endgame (2019) marked as a finale to some of the most important plot threads that have been building over the last decade.  I figured it was a good time to revisit all these movies, some of which I haven't seen since they first premiered, since this month would have been the launch of Phase Four for Marvel with the new Black Widow film; until all those plans changed with the shutdown.  With the fate of the movie going experience in flux, Marvel had no choice but to postpone the launch of Black Widow to November, hoping that by then the pandemic will have subsided and theaters will be allowed to operate again.  So, this has led to a Summer without a Marvel movie to launch it into high gear.  The first week of May has for the last decade been the domain of Marvel, as it's the first official week of the Summer movie season, and it's allowed them to be the trend setters for all the other movies to live up to for the rest year; which is quite an enviable position to be in.  Given that vacancy for this year, I felt it was right to look back at what Marvel has given us so far, and in particular, I wanted to spotlight all the best moments that have come from the many different but still linked together movies.  These are all my personal choices, and there were some hard ones to leave out, but after going through all the Marvel movies over the last month, I feel like all these scenes I'm about to list are absolutely the best ones that have made Marvel the powerhouse that they are today.
10.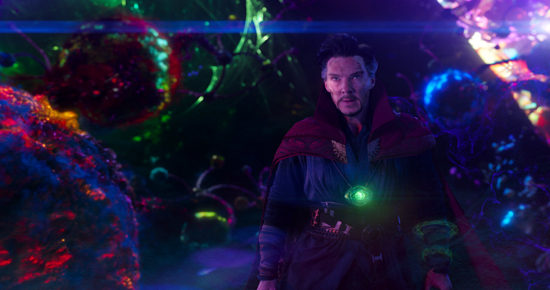 "DORMAMUU, I'VE COME TO BARGAIN."
DOCTOR STRANGE (2016)
One pattern that I noticed while watching all the Marvel movies is the journey that each character takes in their own self discovery.  In particular, the movies become less about how each super hero gains their powers than about why each of them is worthy of having those powers in the first place.  That's what Marvel seems to be the best at when telling their stories; finding the humanity in their heroes.  We see it in moments like skinny, frail Steve Rogers throwing himself on a dummy grenade when all his fellow soldiers ran for cover in the movie Captain America: The First Avenger (2011).  But sometimes those moments of character can be used to punctuate the fulfillment of an arc that has completely transformed a hero over the course of the movie.  Such an arc is found in Doctor Strange, where we see Dr. Steven Strange begin the movie as an arrogant master surgeon who takes delight in humiliating the lesser intelligence of his colleagues.  But over the course of the movie, he loses everything and then has his mind open to the possibility of a world where magic is real.  But it's not until the end, after Strange has mastered many spells, that we see the point when he becomes a true hero.  To stop the coming of the Dark Dimension and it's master, the all-powerful Dormamuu, to our own dimension, he throws himself at the mercy of the dark lord.  However, before doing so, he uses a spell to trap both him and Dormamuu in a never-ending time loop, in which Strange is endlessly killed and reborn to suffer the same fate again.  To break the spell, Dormamuu must agree to Strange's bargain.  It's in that self-sacrifice that we see Doctor Strange finally rise to the level of hero; going from someone acting in his self-interest to someone willing to be trapped in a spell of his own making for eternity so that everyone else can be safe.  There are many moments like this from Marvel, but none stand out as so clever, and distinctively "Strange" as this does.
9.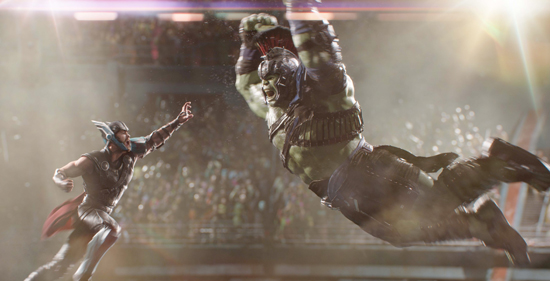 BATTLE OF THE STRONGEST AVENGERS
THOR: RAGNAROK (2017)
It is amazing just how different in tone the third film in the Thor franchise is from it's predecessors.  Kenneth Branagh brought a operatic sense of grandeur to the first film, but Thor: The Dark World (2013) didn't add much else afterwards; though I still think it's a bit underrated.  Thor: Ragnarok is another animal altogether; silly, weird, and unapologetic about it.  Certainly giving the property over to comic filmmaker Taika Waititi helped to reinvent not just the world of Thor, but also the characters as well.  I think Marvel learned through the course of making their movies that Chris Hemsworth had a knack for comedy, and that it was better for the direction of the character to kinda lean into that a bit more in future.  That's exactly what Thor: Ragnarok does, and surprisingly it becomes something you wouldn't have expected a Thor movie to be; a buddy comedy.  That buddy, of course, being the Incredible Hulk.  The movie hits it's zenith with the reunion of these two Avengers, when they are pitted together in a gladiatorial arena.  The sheer delight on Thor's face when he sees his "friend from work" is still one of the best character moments in any Marvel movie, and a great indicator of the different tone that Marvel was setting out for with this franchise.  The ensuing battle is everything from thrilling, brutal, to laugh-out-loud funny.  It also features a hilarious moment when Loki (Tom Hiddleston) reacts to seeing his brother get Hulk Smashed in a hilarious call back to his own smashing from the finale of The Avengers (2012).  Add to this some wonderfully eccentric color commentary from Jeff Goldblum's Grandmaster, and you get one of the most memorable, and comedic, confrontations in any Marvel Movie.
8.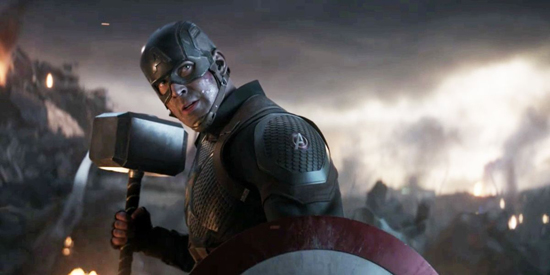 CAPTAIN AMERICA IS WORTHY
AVENGERS: ENDGAME (2019)
One of the best things that Marvel has done over the course of their movies is build up little story threads that pay off in spectacular ways.  Some of these little nuggets of fan service even go on for many years and through several films, before they even get their final punchline.  One of the best journeys toward a payoff in the entire Marvel Cinematic Universe has to be the one involving Thor's Hammer, Mjolnir.  From the moment Odin (Anthony Hopkins) placed his spell on the hammer in the first Thor, making it so that only those with the purest of hearts are worthy to wield it, the rules had been made crystal clear to the audience.  It lead to a Sword in the Stone like arc to Thor's story, where he had to prove his worthiness once again in order to resume his place as the God of Thunder.  The mystique of Mjolnir's power would once again come up in Avengers: Age of Ultron (2015), playfully at first when Thor let's all his Avenger friends take a crack at lifting the hammer at a party, and then more profoundly when the newly created Vision (Paul Bettany) manages to hand the hammer back to Thor without any struggle.  We even witness a death and rebirth of the hammer, first destroyed by Thor's sister Hela (Cate Blanchett) in Ragnarok, and then recaptured in the past during the time heist in Endgame, showing that Thor was still worthy.  But, the truth apex of Mjolnir's journey through all the films came when Captain America (Chris Evans) lifted the hammer himself in battle against Thanos (Josh Brolin).  All that journey through all those films, just to get to that glorious heroic moment.  When I saw this in the theater, the audience went nuts, and that's because it was a reward to all of us who have followed along on that hammer's arc through all the movies.  It's one of the greatest payoffs in cinematic history, and a true testament to just how in command Marvel is at playing the long game with their movies.
7.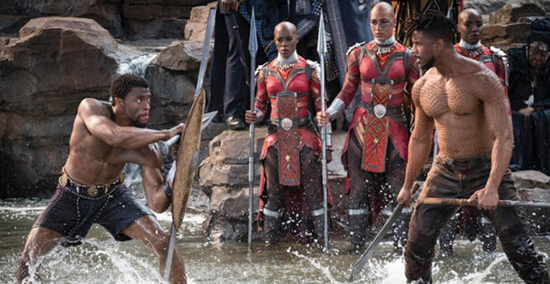 KING T'CHALLA VS. ERIK KILLMONGER
BLACK PANTHER (2018)
There are so many heavy themes throughout the only Marvel movie to date to ever receive a nomination for Best Picture at the Academy Awards.  One of those themes that defines the whole movie is the response that an oppressed people must take when they have the means of making a difference.  In this case, the African nation of Wakanda has prospered with their advance technological skills, but have hidden it away from the world for fear of how it may be misused, or be exploited by outsiders.  All the while, the African continent was plagued by war, unrest and the horrors of the slave trade.  The movie's antagonist, Erik Killmonger (Michael B. Jordan), confronts the Wakandans with this reality, and challenges the Black Panther himself, King T'Challa (Chadwick Boseman), for the throne of the kingdom.  Tackling issues you don't normally see addressed in the super hero genre was definitely something that elevated Black Panther above most other films in the MCU, and the movie most vividly gets it's point across through the conflict between the opposing world views of it's hero and it's villain.  T'Challa wants to open his country to the world through peace and ingenuity, but Killmonger seeks to use the advanced weaponry of Wakanda for bloody revolution.  There are two key fights between these characters in the movie, but the first one carries more of an impact, because it shows us just how brutal Killmonger is as both a fighter and as a visionary.  Killmonger is often cited as Marvel's most compelling villain to date because of the hardship and conviction that lines his character, and his duel with the heroic but still learning T'Challa drives the emotional impact of the movie even further, and leads to one of the most morally divided questions found in all of the MCU; what kinds of ideas of justice define us as either good or bad in this world?
6.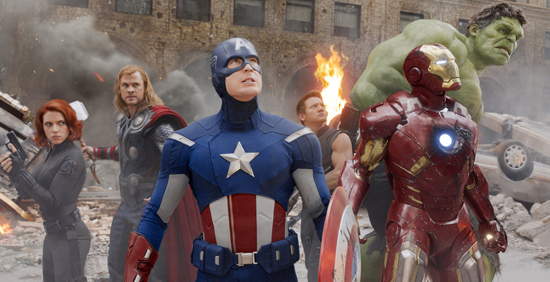 AVENGERS FIRST ASSEMBLED
MARVEL'S THE AVENGERS (2012)
This was the kind of movie that we had all wanted over the years, but were only now seeing finally realized.  A team up of the greatest super heroes, becoming a Super Team.  The Avengers, like their DC counterpart the Justice League, is made up of the elite group of super heroes with the own franchises and on-going stories brought together to face a threat that's bigger than themselves individually.  What is amazing is the fact that at the time, Marvel was aiming to build their Avenger team without their A-list characters.  Spider-Man would have to wait until a Phase Three revival to make his MCU debut, and the X-Men are still waiting for their turn to join the story.  If you were to say 15 years ago that Marvel was going to build this epic Super Hero team up on the backs of characters who at that point hadn't made their big screen debuts, you would have been seen as crazy.  Not only that, but the team was even going to include two barely known comic book characters like Black Widow and Hawkeye.  And yet, Marvel not only succeeded in making us care about this team, but did so with record-breaking success.  It all comes down to the philosophy that producer Kevin Feige and his team of filmmakers bring to each film; if you tell good stories, you'll make people love the characters, no matter who they are.  And that's what they did through the first five films in the MCU, all leading up to that first team up in The Avengers.  By that time, we had fallen in love with Iron Man, Captain America, Thor, Hulk, Black Widow and Hawkeye, and were willing to see them save the world together.  The movie definitely hits it's high point during the climatic Battle of New York, where we get the first of many hero poses of all the characters together.  When the Alan Silvestri theme crescendos and the camera spins a circle around the full team together, Marvel firmly cemented it's place in cinematic history.
5.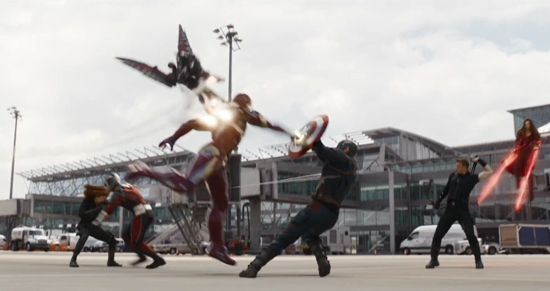 THE AIRPORT BATTLE
CAPTAIN AMERICA: CIVIL WAR (2016)
Going from an iconic moment where the Avengers first came together, we now look at the moment that drove them apart.  Civil War is a very crucial benchmark in the timeline of the MCU, because it took this amazing cohesive team and broke it apart, and in a way that almost seemed like it was avoidable.  Despite the many times the Avengers were able to save the world, they also had to deal with the fact that their actions led to significant collateral damage, and the need to deal with that reality leads to fractures within the team.  The great thing about the movie is that it doesn't treat the different factions, with Captain America on one side and Iron Man on the other, as either 100% right or 100% wrong.  We the audience are supposed to understand both sides of the argument, and it makes the debate a whole lot more complex as a result.  Of course, it does lead to an epic sized confrontation, where both sides are brought to blows, and it is a spectacular one at that.  Not only does the movie do a good job of setting up the stakes between the differences of the already established characters, but it also manages to find time to introduce both Black Panther and Spider-Man (Tom Holland) to the MCU.  All the little character moments that ensue are delightfully interspersed fan service, like Hawkeye (Jeremy Rennar) and Black Widow's (Scarlett Johansson) friendly banter between blows, or Captain America and Spider-Man bragging about their New York roots.  The movie also isn't afraid to bring the fight to a semi-tragic end when War Machine (Don Cheadle) falls from the sky and becomes paralyzed as a result.  This was a pivotal moment for the MCU as a whole, because it was showing us the consequences of the changing dynamics that these characters were facing in this new world that they were helping to shape.  In addition, it's one helluva fight scene that'll put any audience on the edge of their seat.
4.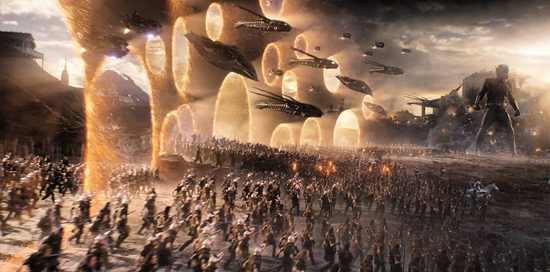 PORTALS
AVENGERS: ENDGAME (2019)
This is where Marvel truly let it's epic wings fly.  In a franchise known for pushing the stakes higher with every new film,  Marvel certainly knew that they needed to go big in this closing chapter to the on-going Infinity Saga that has defined the first three phases of the MCU.  And that they did.  The way this scene plays out is noting short of epic, in every sense of the word.  Captain America, bloody and beaten down, faces down Thanos' massive army all by himself.  That is until he hears Sam Wilson, aka The Falcon (Anthony Mackie) in his earpiece, repeating the first words they ever exchanged in their long friendship; "On your left."  And with that begins a truly uplifting couple of minutes play out where all of the Avengers come together, along with plenty of back-up, through portal rings created by Doctor Strange and his fellow sorcerers.  This is especially poignant as many of the characters that arrive were last seen turning to dust by Thanos in Infinity War  (more on that later).  What's even more incredible is that before this moment, we already knew that all the characters had come back, but with Thanos' arrival, the movie actually makes us forget about it for 10 minutes, just to make that reveal all the more surprising when it happens.  Alan Silvestri's score is especially what makes this scene so memorable, and it's probably one of the best pieces of music he's ever written, which is saying a lot for the veteran composer.  For an Avengers movie that crosses the 3 hour mark, you need a climax that justifies that epic length, and Marvel went full Lord of the Rings here.  Buttoned perfectly with Captain America finally saying the words "Avengers Assemble" and you've got what might be the single most satisfying moment in the entire MCU.  And that's even before the fighting starts.  With this scene, you really see where all of Marvel's hard work at world-building and character development led to, and it feels 100% earned.
3.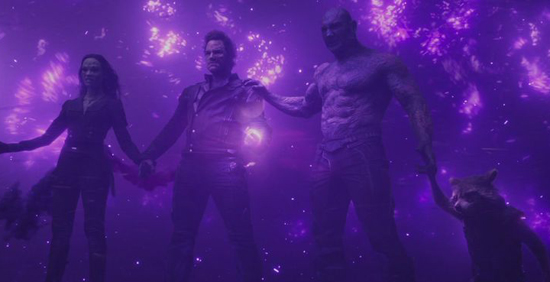 THE DANCE OFF 
GUARDIANS OF THE GALAXY (2014)
If there was ever a movie in the MCU that hit a home run right off the bat, it would be Guardians of the Galaxy.  The James Gunn directed feature was definitely a different animal to what we had seen from Marvel up to that point.  More akin to a Sci-Fi adventure in the vein of Star Wars than a super hero movie, Guardians became an instant hit with fans from all across the spectrum; causal and die-hard comic book alike.  A large part of that has to be because of the cast of characters, who were not the typical types of heroes we were familiar with from comic book movies.  There's Star Lord (Chris Pratt) , a pop culture driven space pirate always on the lookout to steal something valuable; Gamora (Zoe Saldana), the rogue daughter of Thanos; Rocket Raccoon (Bradley Cooper), an easily agitated rodent turned bounty hunter; Groot (Vin DIesel) his plant based best friend; and Drax (Dave Bautista) a ferocious killer who doesn't understand metaphors.  These aren't the kinds of people that you'd expect to be the saviors of a galaxy, and yet they rise to the occasion, and in the only way they possibly can; with Star Lord challenging the fearsome Ronan the Accuser (Lee Pace) to a Dance Off.  Of course, the ulterior motive is to distract Ronan, which does work, and it's something that only the goofy Star Lord could've come up with in the moment.  But what follows is a harrowing moment when Star Lord takes hold of the Infinity Stone of Power, which nearly destroys him.  Only by combining strength with the friends that he's made along the way is he able to contain the stone's power and defeat Ronan.  It's a powerful moment that really cements the bond of this team and makes their story legendary.  Never thought a Dance Off could save a galaxy, but for a Marvel movie, which prides itself on embracing it's goofy side, it just makes perfect sense.
2.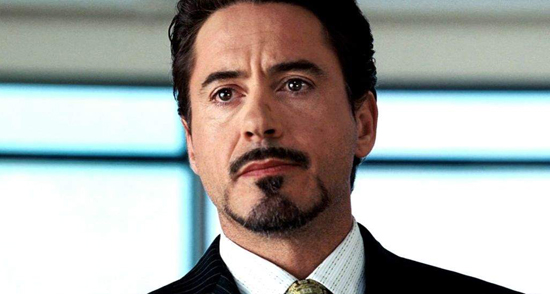 I AM IRON MAN 
IRON MAN (2008)
To understand what set Marvel on it's epic run of success over the last decade, you needn't look further than the movie that started it all, Iron Man.  From the beginning, producer Kevin Feige knew there was a plan to expand the universe past just a singular character, only he didn't quite know what would happen along the way.  For Marvel to have become a success right off the bat, they needed to make a statement right from the beginning.  And that moment comes from a very unlikely place.  What really has defined Marvel over the years is their incredibly apt ability to find the right actors for each role.  Every actor has been perfectly cast in the MCU, but for some of them, it took a bit of convincing to make it all happen.  No one faced an uphill set of expectations than Iron Man himself, Robert Downey Jr.  Downey's career was all but washed up before Iron Man, having fallen from grace due to his drug habits and his time in prison.  But, director Jon Favreau tapped him to be his Tony Stark, because he knew that nobody else could have brought the character to life better than him.  And in doing so, both Downey and Favreau set the bar for what to expect from the rest of the MCU.  The actors playing the roles were not necessarily going to be the biggest names, but instead would be the best fit for who they were playing.  The original Iron Man also sets the tone perfectly with it's final statement; with Tony Stark declaring to the world "I am Iron Man."  With that, the MCU would rewrite the rules of the genre;  no more secret identities, no more aliases.  It's not just a day job for these heroes; it's who they are and they wear their heroism everyday proudly.  It's easy to see that Tony's final words before he defeats Thanos in Endgame are the same that he delivered in his famous coming out speech.  He is Iron Man and that's what being a hero means.  For a Cinematic Universe that wanted to live up to it's mythic status on the page, you couldn't have asked for a better opening statement than the one found in it's first film.
1.
THE SNAP
AVENGERS: INFINITY WAR (2018)
It's strange to think that the most memorable moment from all the movies in the MCU just also happens to be it's darkest.  Marvel's movies for the most part have tended to have a lighter tone compared to most other films in it's genre.  Infinity War is also a movie that contains plenty of moments of levity and uplifting heroism.  But in it's closing minutes, all that goes away and it turns into an all out tragedy.  The mad titan Thanos has spent the whole movie finding the 6 Infinity Stones that he's been searching for throughout all the previous MCU films.  Despite a last ditch effort by the Avengers to stop him, Thanos succeeds in his goal, collecting the last stone by removing it forcefully from Vision's forehead.  Thor does make one heroic last move that buries his axe Stormbreaker into Thanos' chest, mortally wounding him.  But, Thanos knows that Thor's mercy was his biggest mistake, telling him "you should've gone for the head."  And with that, Thanos uses the power of all 6 stones with the snap of his fingers.  The result ends up being one of the most shocking things ever put on film.  Suddenly, half of all life in the universe is wiped out, turning to ash before our eyes.  This includes many of our favorite heroes, like Black Panther and Spider-Man.  The cruel part about it is that the remaining heroes have to watch their friends and loved ones disappear before their eyes, with no way to help them.  Of course, it all would be reversed in Endgame, but this shocking note is what we had to live with for a year in between movies.  Not since The Empire Strikes Back (1980) has a major studio franchise left it's audience with such a shocking cliffhanger.  It is quite simply the boldest cinematic choice made in the entire MCU.  Endgame's triumphant finale wouldn't have felt nearly as poignant had Infinity War not brought our heroes to their lowest point.  Watching this scene play out in the theater for the first time, I could hear genuine tears from the audience during this whole scene, and it was something I'll never forget.  The reaction this movie got is a clear indication that Marvel did their job to perfection, because all of us cared so deeply about these characters, and watching them be taken away really hurt.  That is a sign of exceptional storytelling and what makes Marvel the best at what they do.
So, there you have my choices for the best moment from the Marvel Cinematic Universe thus far.  It was fun re-watching all the movies again.  Most of my opinions on the movies haven't really changed; I still don't like Iron Man 3 (2013) by the way.  It's also neat to see how everything culminated over the years.  Avengers: Endgame really is a perfect finale, because it does bring everything that had come before into context, including the much maligned Thor: The Dark World.  There are also many other little moments that stick out that really define the tone of the cinematic universe, like Thor hanging Mjolnir on a coat rack or, Doctor Strange's assistant Wong listening to Beyonce on an Ipod, or Captain America keeping a checklist of things he needs to catch up on.  In the MCU, these heroes are characters first and icons second.  Marvel Studios set out to make us like these characters first before building these franchises around them and that has been the key to their success.  Also key has been the absolutely spot on casting choices.  Some people have had their careers made by becoming a part of the MCU, while others have had their careers redefined.  Even characters that are brought to life through visual effects like Groot, Rocket, Hulk and Thanos feel perfectly integrated into the world.  It's going to be interesting to see where Marvel goes from here.  Are they going to be able to live up to the high bar set by the Infinity Saga, or could they even surpass it?  Unfortunately, we're going to have to wait a bit longer to find out.  For now, it was a nice stroll down memory lane, and putting together this list really spotlighted all the things that I admire so much about Marvel.  So, hopefully we can make it through this pandemic together and stronger than before, and just remember; WE ARE GROOT.