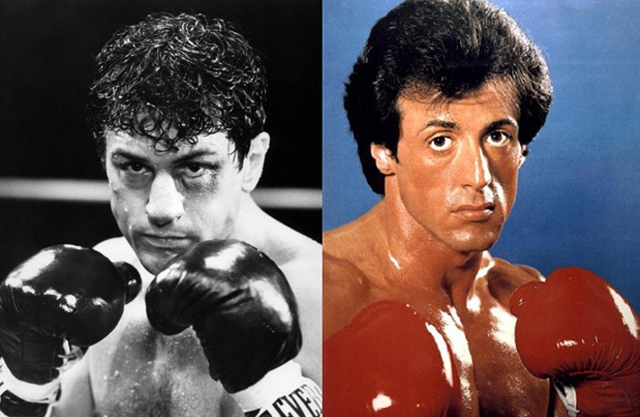 Fall is in full swing and the holidays are upon us. So, let's talk about sports movies for a bit. Cinema's long history has given us a wealth of great sports related films throughout the years. Football, basketball, and especially baseball, the many great American pastimes have provided plenty of uplifting tales of underdog heroism. And the same goes for the many international sports, like soccer, rugby, and even cricket. But if there was one sport in particular that has become something rather poetic for filmmakers and audiences alike, it would be boxing. There is something about the sport of boxing that has lent itself so passionately to the art of cinema. Perhaps it's the grueling nature of the sport that feels so cinematic, especially when captured within the ring itself. Maybe it's the psychological and physical tolls taken on the the individual boxers that provides so much drama. Each boxer depicted in these movies becomes almost mythical in a way, as they're struggles inside the ring become almost like a echoes of the troubles that have plagued them on the outside, and we the audience see that these fights are more than just trading blows. It's probably why boxing movies have won more Oscars than any other sport in film. It goes all the way back to 1931's The Champ, where Wallace Berry won Best Actor for his portrayal of a tragic but lovable heavyweight champion. Since then, every generation seems to have it's own iconic portrayal of the life of a champion boxer, whether it's classics like Gentleman Jim (1942), Somebody Up There Likes Me (1956) and Requiem for a Heavyweight (1962), to modern hits like Million Dollar Baby (2004) and The Fighter (2010). But there are two boxing movies in particular that have particularly risen to become the pinnacle of the genre, and both are unsurprisingly major awards winners; 1976's Rocky and 1980's Raging Bull.
It should be interesting to note the time period in which both movies were first released. The late 70's were a turbulent time in America. Watergate had risen distrust in the United States government to an all time high, and the country was firmly divided. At the time, even the newly elected President, Jimmy Carter, couldn't find a way to mend the broken nation that had been suffering the scars of the Vietnam War and the unthinkable corruption behind Watergate. At the same time, Hollywood was going through it's own period of transition and upheaval. The 1970's was the decade of the director; a period where maverick filmmakers were given creative license that they had otherwise never had under the old studio system. This allowed for bolder, grittier artistic expression, with the directors rewriting the rules of film-making as they went. Films made in this time were decidedly rougher, more documentary like, and audiences were embracing this so-called New Hollywood. Out of this period emerged many filmmakers who would go on to change the industry forever, like Francis Ford Coppola, George Lucas, William Friedkin, Steven Spielberg and Martin Scorsese. But not everything from this era represented a rejection of establishment; there were crowd-pleasers made as well. Enter a less renowned, but not to be forgotten filmmaker named John G. Avildsen, who just happened to stumble upon the right kind of movie at the right time, taking a chance on a script written by a struggling actor named Sylvester Stallone. That movie would be the story of a fictional amateur boxer from Philadelphia named Rocky Balboa who gets his one big shot to prove his worth. That movie would not only surprise everyone by becoming a big hit, but it even became an inspiration for a country to believe in hopeful once again. At the same time, Martin Scorsese was closing out a turbulent decade for himself with a very personal and harsh portrayal of real life boxer Jake LaMotta with his new film Raging Bull. What is interesting when looking at both movies is how they both strongly make their case for being the quintessential boxing movie, but with wildly different tones and stories. Both are undeniably classics in their own right, but which one does the better job of portraying the mythic life struggle of a boxer.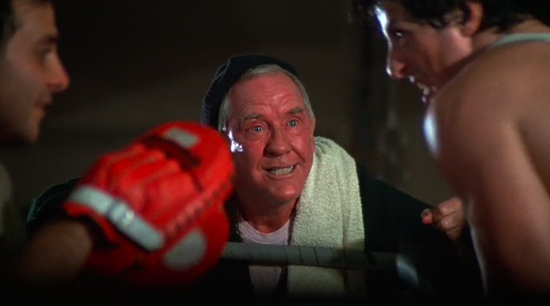 "You're going to eat lightning and you're going to crap thunder!"
It's interesting to look at the boxers themselves. Rocky Balboa, a fictional character who no doubt was inspired by many similar boxers of the period and most likely also by the actor portraying him, is a working class stiff with the determination to make something better of himself. Jake LaMotta, who was a real life professional boxer, starts out at the top of his game and only ends up sliding downward. These are the obvious differences between the movies; one is a feel good triumph while the other is a tragic portrayal of hubris. But, they are both highly celebrated, and that's mainly due to the incredible strength of both characters. Sylvester Stallone became an overnight success story with the release of Rocky, finally achieving that success in Hollywood that had long alluded him. And in many ways, it mirrors Rocky's own story of working hard to prove his worth. For his portrayal of Jake LaMotta, Robert DeNiro took a decidedly different route. DeNiro was already firmly established in Hollywood, having already won a Supporting Actor Oscar for The Godfather Part II (1974) and having already established a great working relationship with director Scorsese in both Mean Streets (1973) and Taxi Driver (1976). But, with Raging Bull, he chose to not just make the boxing scenes feel authentic, but to also make Jake LaMotta look and feel as nasty as his reputation spoke to. DeNiro went through a full body transformation during the making of the movie, putting on nearly 50 lbs. in order to play LaMotta in his overweight post-boxing days. It's interesting that both movies illustrate the rough life of a boxer, as both have demons that they want to excise, with the ring as their escape. But while Rocky manages to pull himself up, LaMotta just continues to drag himself down, succumbing to pride, jealousy, and just his own bad judgment. And yet, even in the closing moments, Scorsese and DeNiro give Jake LaMotta a bit of a bittersweet reexamination, as he literally takes a look at his own reflection and decides to move forward. In the end, that's the hardest match he's ever had to win.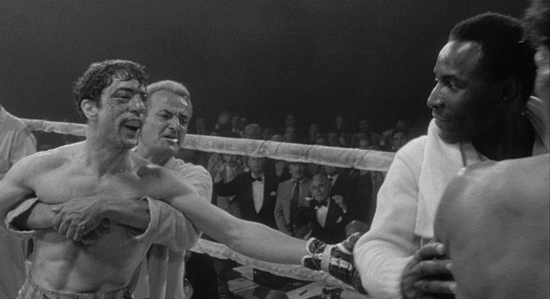 "You didn't get me down Ray."
It's interesting to note how one movie works as a textbook example of the genre, while the other challenges it's conventions and still represents it perfectly. It probably has to do with the characters themselves. Rocky, despite being a little rough around the edges, is quite lovable. Stallone gives him an undeniable charm, and you see that reflected in the magnetic way that he earns the love and respect for all those around him, as he depends on their support to get to the top. The movie has some wonderful tender moments between Rocky and his love interest Adrian (Talia Shire). There's also a great mentor/ trainee relationship that builds between Rocky and his trainer Mickey (played by an unforgettable Burgess Meredith). The great thing about these relationships is that they help to build Rocky up for us the audience. As they grow to like him more, we do too, and that enables us to want to see him succeed by the end. It's also fascinating to watch how his determination clashes against the myopic perception that is given to him by the champion he's about to face, Apollo Creed (Carl Weathers). To him, Rocky is just a step towards another fight, but to Rocky it's so much more. In Raging Bull, the fights only make up the background of his story. Martin Socrsese is far more interested in seeing how the fighter exists outside the ring, and he shows how the fight sadly never leaves the fighter, even after the bell has rung. Jake LaMotta is so wired into the sport that even the slightest provocation is enough to send him into fisticuffs. We see that reflected in his world, as he's constantly arguing with his wife Vicki (Cathy Moriarty) as well as his friend and manager Joey (Joe Pesci), who's prone to violent outbursts himself (as evidenced by that legendary beat down he gives to Frank Vincent's Salvy in the movie). In this way, we see where the characters wildly differ, because we see where one uses the ring to be a monster while the other uses it to become a champion.
There's a lot to be said about the different ways the movies are filmed as well. Rocky is nothing out of the ordinary for it's era. It was shot in the same gritty, documentary style that was typical of the 1970's. And really, that's all you need for this kind of story. Rocky is a movie for mass audiences, but done economically enough to feel authentic, so that's why John G. Avildsen's direction is clean and unobtrusive. He only saves the more emotional, cinematic stuff for the finale, as the final fight between Balboa and Creed is colorful and bright, elevating it's almost mythic stature. Everything else almost feels subdued, as we are almost ease-dropping into the lives of these characters. Martin Scorsese on the other hand, treats the entirety of Raging Bull as a bold cinematic expression. He shot the entire movie in black and white, which was oddly enough a reversal of a trend for cinema in that time. Monochromatic movies had been almost treated as a relic of the past by filmmakers of these maverick days of cinema, so it's interesting to see it used here. In a way, Scorsese sort of revived the black and white movie, which has made sporadic returns throughout the years. It's also the one and only time that he would ever shoot a movie like that, showing just how important it was to telling of this particular story. Scorsese's use of black and white is probably a reflection of how he wanted to portray LaMotta's story; stripped of all flashiness and laid bare for the viewer. The boxing matches in particular even take on this otherworldly appearance, with the smoke filled grays of the environment almost make the scenes glow. There's something conventional about the way that Rocky appears, and that's in a good way. We in a way expect to the final fight in Rocky to look as bright as it does. But it's the stark bleakness of Raging Bull's colorless hue that unsettles us as a viewer and that helps to create a whole other experience that is no less enriching.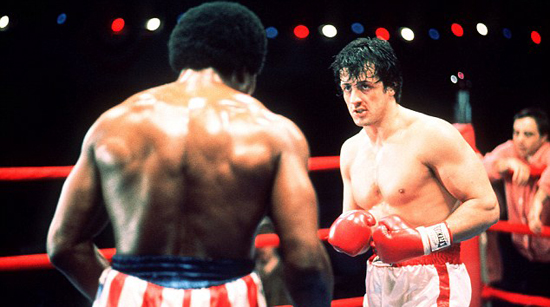 "He doesn't know it's a damn show! He thinks it's a damn fight!"
You will also never find more brilliantly edited movies anywhere. The movie Rocky all but invented the training montage, which has become a staple of both boxing movies and all movies in general. Underscored by Bill Conti's now legendary musical theme, the training montage is almost a movie within itself, conveying so much story in such a short amount of time. It's often imitated, but rarely matched. And the reason it works as well as it does is no doubt because of how well it is edited to the rhythm of Conti's music. By the time Rocky makes his final run up the steps of the Museum of Art and he does that triumphant dance at the top, you feel absolutely uplifted as a viewer, almost like you've trained alongside Rocky yourself. There is almost a lyrical way to the editing of the movie, with the edits and the music almost working together to tell the story and that extends all the way to the final match. Which is very much in contrast with how Raging Bull is edited. Pieced together by the unmatched champion of her profession, Thelma Schoonmaker, Raging Bull treats the fighting matches as an almost wild experience. She mixes in slow motion as well as sped up footage at almost random points, illustrating just how chaotic a boxing match can be, but it's not in the service of showing us the fight in a fully realistic sense. She uses her edits to convey what a boxing match can feel like for the boxers themselves, with each blow almost creating lapses in time for the fighter, which no doubt conveys the brain damage that they go through. The movie otherwise is relatively calm outside those boxing scenes, with Scorsese holding the camera steady for the most part. In those chaotic boxing scenes, we find Scorsese and Schoonmaker finding the real window in the mind of a boxer, which fills us in to how the character behaves for the rest of the movie. In this sense, both movies use their editing to convey the mythical sense of the sport, in ways that only the medium of film can.
But what is most interesting about both films is that they speak to different personal aspects of their creators, and how they both reflect different points of success through their subjects. For Rocky, it is a movie about dreaming; hoping that you don't blow your one shot once you've got it and then riding that opportunity to a better life. That's what was on Sylvester Stallone's mind as he began writing the screenplay for the movie. He was a struggling actor who had tried for years to find his big break in the business. He was not typical leading man, being a little rough around the edges. In Rocky, he imagined a rise to fame that he himself hoped he could have for himself. Ever the avid boxing fan, Stallone saw in this amateur boxer a version of himself, taking on an impossible job and proving everyone wrong. In the end, it's not about winning the fight, but showing that you are more than just a gimmick. Rocky was only supposed to stand up against Apollo Creed for ten rounds, knowing that the fight was never going to be in his favor. But what Rocky proves is that he can not only fulfill his obligation, but he could even give Apollo a worthy challenge as well. So even when Creed is declared the winner, Rocky still feels like a champion, because he proved he was a worthy fighter. Stallone may not have gained any awards for his work, but Rocky gave him a lasting career as an actor, and I'm sure that makes him feel like a champ all these years later. At the same time, Martin Scorsese approached Raging Bull with a different set of eyes. In the late-70's, Scorsese was recovering from a drug addiction, something which he feared would ruin his career forever. Having cleaned up, he wanted to make a movie that almost therapeutically reflected his own struggles, and he found that in the story of Jake LaMotta. I almost think that's why Raging Bull is such a harsh narrative with regards to it's subject, because it was coming at the same time that Scorsese was so hard on himself. For Rocky, we see someone hoping to show his worth, while Raging Bull shows us what happens after that rise to worthiness has crested. Indeed, Scorsese almost became a different director after Raging Bull, and for the better, as it enabled him to continue on for the next forty years with a renewed outlook on life.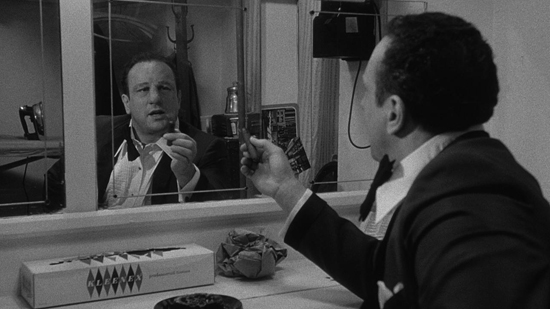 "If you win, you win. If you lose, you still win."
It's hard to say which one comes out on top as the better movie, because they are both masterpieces in their own way. Rocky would go on to spawn a long running franchise, and even has led to a spin-off series of it's own, Creed, which has extended the Rocky legacy even further. Though Stallone's film career has been through it's ups and downs, his portrayal of Rocky Balboa is still something that makes him an iconic star in Hollywood. When accepting his Golden Globe for the movie Creed in 2016, he thanked his "imaginary" friend Rocky Balboa, for as he said, "being the best friend an actor could ever have." The city of Philadelphia still celebrates the star and the character as a symbol of their city; including having a statue of Rocky sitting atop those famous steps. At the same time, Scorsese honors Raging Bull as a pivotal turning point for his career as a filmmaker. Not only did it allow him to excise some of the demons of his own past, but it allowed him to build his artistic senses even further. He was able to continue building that meaningful friendship and collaboration with his leading man Robert DeNiro, which has extended many decades, even extending to today with the release of The Irishman this week on Netflix. DeNiro likewise views Jake LaMotta as an important part of his experience as an actor. He still claims it as his most important role, and he's got a nice Best Actor Oscar to back that up. In the end, how you view the movie in direct competition comes down to personal taste. If this were a boxing match, I'd say that it'd come down to a draw, but for me I honestly would re-watch the more inspirational Rocky more times than the harsher Raging Bull. Bull may be more artistically daring, but Rocky has the better story. Even still, they are true icons of cinema, and without a doubt the best movies made about the sport of boxing to ever grace the silver screen. Whether triumphant or sour, these movies are true champions.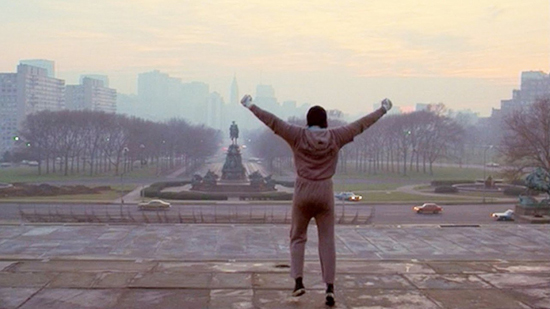 "Yo Adrian!!!"