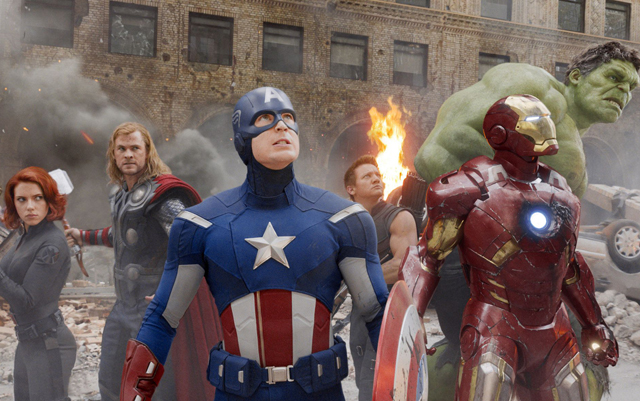 There are a lot things that have helped to define the cinematic landscape of the 2010's, but one of the most important is the many unforgettable characters that have graced the silver screen.  It's been an interesting decade, particularly because much of the characters that have left an impact on audiences have far less to do with the popularity of those who play them.  In decades past, the effect of the movie star and their persona played a major part in creating characters that stood out in their selective films,  Now, though an actors charisma does play a part in helping make characters memorable, it no longer is so closely tied to the personality of the actor themselves.  Now, movie characters carry the power of the brand, and by virtue, can be the thing itself that turns a performer into a movie star.  This has certainly been the case with the Marvel Cinematic Universe, the decade's most predominant cinematic touchstone.  The characters themselves have pre-established fanbases, and those lucky enough to be cast in those parts have in turn experienced significant career boosts.  It's different than years before when characters like the Terminator, or Ethan Hunt, and Jack Sparrow only took the world by storm once a big movie star was able to fill the role.  But even outside of the popularity of characters in big franchises making an impact, another pleasing development over the last decade is the increase of diversity represented on the big screen.  Because many marginalized groups of the past are finally gaining mainstream attention thanks to a more progressive minded audience, we are finally getting characters on the big screen that are able to tell stories that have long been ignored, and it's very much helping to broaden the minds of so many people in both the industry and in the world itself.
For this list, I will be counting down my choices for the best movie characters of the last decade.  I may leave a few of your favorites out, and believe me, it was hard narrowing this down to my standard ten.  These characters had to have premiered on the big screen in their current form within the last decade itself, so that unfortunately left me excluding a hugely influential character like Iron Man off the list despite him having one of the best character arcs of the decade, because he made his premiere in 2008.  This list also excludes villains, since I am saving them for a top ten list of their own later this year.  I am, however, including anti-heroes here among their more pure-hearted fellows, and characters based on real people are also allowed, just as long as their movie falls within the timeline.  Some of these choices are no-brainers, while others are ones you might not have considered, but I wanted to spotlight them and the impact they had on me.  Overall, I want to show just how interesting and diverse this decade in movies has been, and which characters will end up being the ones that I will remember back on the most from these years.  So, let's count them down.
10.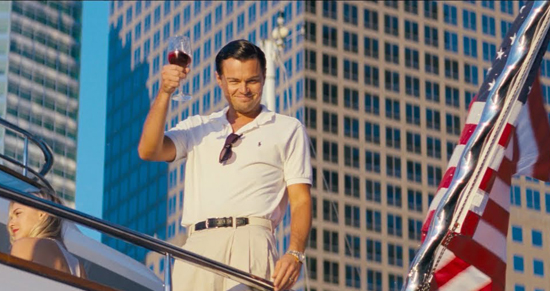 JORDAN BELFORT from THE WOLF OF WALL STREET (2013)
Played by Leonardo DiCaprio
If the 2010's had a defining movie star, it would be Leonardo DiCaprio.  The one-time heartthrob from decades past has matured into one of Hollywood's most reliable big screen stars, winning both critical praise on nearly every film and retaining healthy box office pull.  He didn't make very many movies this year, but the ones he did were all instant hits, including Inception (2010), a pair of Tarantino flicks (2012's Django Unchained and the upcoming Once Upon a Time in Hollywood) a remake of The Great Gatsby (2013) and of course The Revenant (2015) which finally won him a long overdue Oscar.  However, if there was a character that best represented his talents this decade, it would be the zany performance that he delivered as real life disgraced stockbroker Jordan Belfort.  In Martin Scorsese's biting indictment of Wall Street culture, DiCaprio lets loose in a performance unlike anything we've seen from him before.  For one thing, he shows that he indeed can give a comedic performance, holding his own against established comedy actors like Jonah Hill.  The quaalude hangover scene is a sequence of absolutely insane physical comedy that would do the Three Stooges proud, and it's incredible to think that the normally intense DiCaprio is able to act this silly on screen.  Apart from that, his deranged pep talks to his staff also show DiCaprio relishing the freedom that this role allowed him to present.  The real Jordan Belfort was probably no where near as interesting as the character found in this movie, and that what makes this creation of Leo and Marty's so memorable.  The Wolf of Wall Street's Jordan Belfort is more of a symbol than a human being; a representation of unchecked ego and hubris, and that's what ends up making him such a profoundly memorable character.
9.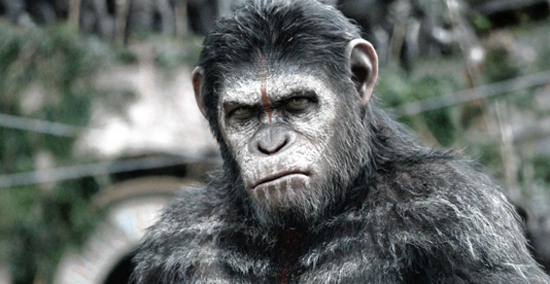 CEASAR from THE PLANET OF THE APES series
Played by Andy Serkis
One of the things that definitely became a big shift within the film industry over the last decade was the advances made in motion capture technology.  Though pioneered in the decade prior, the technology matured even further in the 2010's, taking it ever closer to reaching true photo-real parody.  Some of the most impressive uses recently have been the aging and de-aging of actors used in a few of the Marvel films, as well as the incredible life-like animals found in Disney's remake of The Jungle Book (2016).  But the uses of motion capture are only effective when it's in the service of creating a memorable character, and capturing the passionate performance behind the digital layer.  That's something that was best realized in the surprisingly effective reboot of the Planet of the Apes.  Those movies introduced us to the character of Ceasar, the hyper-intelligent ape who leads a revolt and establishes a new society of mentally enhanced apes in a world where mankind is on the brink of destruction.  These movies, unlike their campier predecessors, take the premise very seriously, and managed to deliver a gripping tale of war and survival in the process.  And the effectiveness of the drama comes from the fact that Ceasar is a such a profoundly interesting character.  Brought to life by Andy Serkis, who has mastered the art of motion capture performance through years of portraying characters like Gollum and King Kong, Ceasar is one of the most expressive and life like digital characters ever put on screen.  And Serkis' performance shines through, giving the character layers of depth; fierce, but compassionate, and totally in command of his identity.  Some people argue that motion capture robs some of the authenticity of an actors performance by hiding it under a digital mask, but Ceasar shows that an actor can really portray any role, just as long as it's good enough to shine through.
8.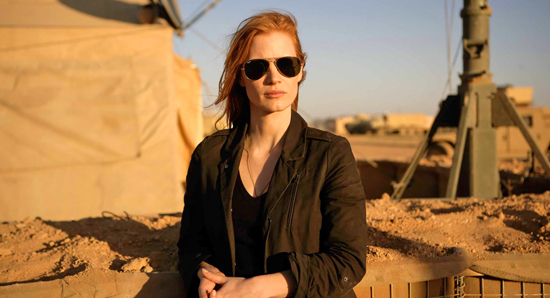 MAYA from ZERO DARK THIRTY (2012)
Played by Jessica Chastain
A somewhat controversial character from the last decade, Maya stands out as a captivating figure in a story that in itself was a decade in the making.  The search for Osama Bin Laden was one of the top on-going dramas in real world politics for almost the entirety of the 2000's, starting with the 9/11 attacks and culminating in the nighttime raid by Seal Team 6 on his compound in Pakistan ten years later.  The finality of that monumental day, with Bin Laden meeting a violent end, made it possible to encapsulate the entire history of that worldwide hunt into it's own narrative, which director Kathryn Bigelow and screenwriter Mark Boal set out to do.  But, to focus this complex story, they needed a character who could embody every frustrating twist and turn of this decade long search, and they found that in the character of Maya.  Created as an amalgam of several different people who worked tirelessly within the CIA during the hunt for Bin Laden, Maya immediately grabs a hold of the audience with her tireless ambition and her candid, sometimes extremely blunt, personality shining through.  Jessica Chastain gives a fiery performance that really showed her ability to take command within a role.  In many ways, Maya was a perfect poster child for working women in the 2010's; working harder than most of their male counterparts, consistently having to reaffirm their often ignored opinions and suggestions until they are ultimately proven right in the end.  I especially knew that I loved her as a character once she introduces herself to the CIA director after discovering the hide out of Bin Laden as "the motherf***er who found the place."  It's that assertive confidence that just immediately endears her to the audience.  Her tactics are extreme, as indicated by the film's controversial depiction of torture, but it was people like her in the end that brought to a close one of the most brutal manhunts in human history.
7.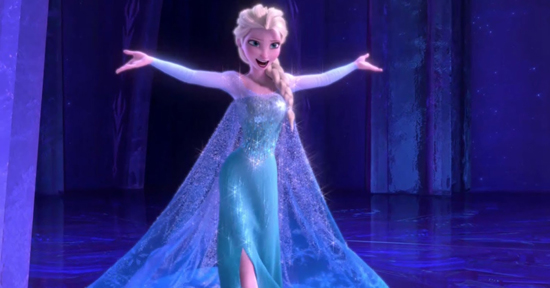 ELSA from FROZEN (2013)
Voiced by Idina Menzel
Animation has never been short on animated characters, and this last decade has been no exception.  Whether it was Toothless from How to Train Your Dragon (2010), Baymax from Big Hero 6 (2014), the many different emotions of Inside Out (2015), Judy Hopps from Zootopia (2016), or Miguel from Coco (2017), we were treated to a wide array of instantly lovable characters from the medium of animation.  But, to stand above the rest, a character's legacy beyond the film also must be accounted for, and for that, you definitely have to spotlight the central character of the biggest animated hit of the decade.  While I was lukewarm on the movie Frozen itself, I will absolutely acknowledge the importance of the character Elsa with regards to the movie's tremendous success.  Elsa, apart from having the movie's signature song "Let it Go" (which was unavoidable when the movie first came out), Is also far and away the most compelling character in the movie, and in general, one of the most profound in all of animation.  The movie did an effective job of depicting the internal struggle she faces every day of her life, hiding her supernatural ice-making powers from the world until she can no longer control it and begins to wreck havoc.  We learn how narrow that ledge is between being a hero and being a menace can be, and that retreating from the world and suppressing one's true self only ends up causing more harm than good.  That's why the movie resonated so strongly with the LGBTQ community, who saw Elsa's struggle with her identity as a reflection of their own coming out experiences and in turn they've embraced Elsa as one of their own; though Disney hasn't hinted at anything with regards to sexuality with her; at least not yet.  Idina Menzel gives her voice a lot of heart, and not to mention some incredible pipes for the songs as well, and "Let it Go" has put Elsa on the animation map for all times, so it makes sense that she would stand out as one of the decades most monumental characters.
6.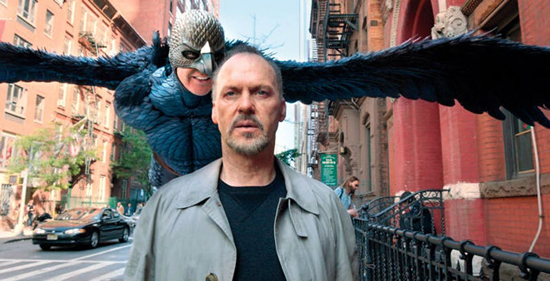 RIGGAN THOMPSON from BIRDMAN or THE UNEXPECTED VIRTUE OF IGNORANCE (2014)
Played by Michael Keaton
One of the themes of the decade has been the growing power of character roles having influence over the personas of the actors that are playing them.  Now imagine that idea as the basis for your entire movie.  That's what we got with Alejandro G. Inarritu's Oscar winning Birdman, which centers around the character of Riggan Thompson, an actor whose whole career has been defined by the one superhero role he played many years before.  Riggan is an interesting character because of the unique struggle he faces, where no amount of hard work and devotion to his art is able to shake off the past that has come to define the man that he is.  He is so haunted by his legacy as the titular Birdman, that his character persona even speaks to him as a voice in his head.  It's a fascinating portrait of the progression of a performers career, where the rise to the top comes with its own drawbacks, and the climb back up after the fall can be even harder than it was before.  Through Riggan, we see a bittersweet tale of what it's like for an actor to fight for control over their own artistic ambitions, and that ultimately that true happiness may never manifest despite the best of intentions.  What's even more fascinating about the character is the way that his story so closely mirrors that of the actor portraying him.  Michael Keaton may not be as negative towards his past career playing a superhero, but you can't help but feel that Keaton brought a lot of his own personal experiences into forming this character, and in turn, delivered his best performance to date.  Riggan embodies so many things that we normally associate with actors; vanity, emotion, and a short fuse, but we also see the side of the performer in detail that few other movies are able to show such as the self-doubt and vulnerability, which Keaton captures so perfectly in all those long unbroken shots.  Plus, we even get to see him fly.
5.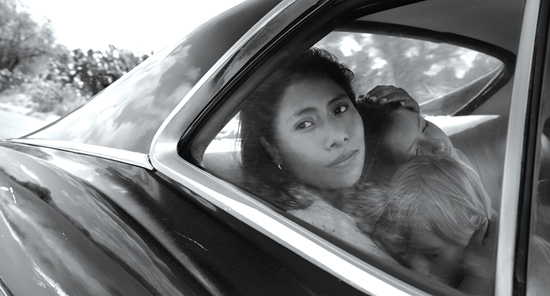 CLEO from ROMA (2018)
Played by Yalitza Aparicio
Some of the best characters to emerge from the 2010's have been the ones who come from marginalized segments of society, whose stories are only now finally reaching mainstream audiences.  Director Alfonso Cuaron drew inspiration from his childhood in making this film, and in particular he wanted to make a movie about the women who helped raise him; his mother and his housekeeper/nanny.  The nanny character in particular became the focal point of this deeply personal film, and by telling her story, Cuaron created one of the decade's most fascinating characters.  Cleo's presence at the heart of Roma not only sheds light on the lives of working class people in Mexican society, but also reveals a lot about the lives of Indigenous Mexicans as well, a segment of society that has almost never been portrayed with such importance before on film.  Alfonso Cuaron has refined his craft so well over the years that he was able to confidently hold the point of camera still within scenes and have them play out in such a true to life way, almost like we the audience are ease-dropping into the lives of the people on screen.  It's amazing to think that Yalitza Aparicio had no prior acting experience before taking the role of Cleo in this film, because she is such a natural in front of the camera.  There's not a false note in her entire performance, and you would almost think that she and the other characters in the movie were almost pulled out of real life.  Cleo also goes through some harrowing moments in the film, including finding herself in the middle of a riot as well as saving two of the children in her care from drowning in turbulent waters.  This was clearly a character that meant a lot to the Alfonso, knowing her connection to the real life person that was in the director's own life, and the power of the film is found in the deep emotional attachment that Cuaron pushes for the audience to have with this simple, kind woman's story.
4.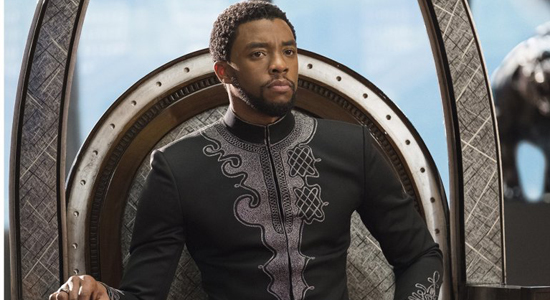 KING T'CHALLA from BLACK PANTHER (2018)
Played by Chadwick Boseman
You certainly can't talk about the best characters of the decade without talking about the ones brought to the big screen by Marvel.  And a whole bunch of them could make an strong argument to make this list; maybe even fill it up completely as well.  Excluding Robert Downey Jr.'s Iron Man, there's Chris Evan's Captain America to consider as well as Chris Hemsworth's Thor, Benedict Cumberbatch's Doctor Strange, Chris Pratt's Star-Lord, and Scarlett Johanssen's Black Widow.  But, to narrow it down to one, I also have to consider how much of an impact the character left behind as well, and no one left a bigger impact in the last decade than King T'Challa himself, the Black Panther.  Introduced first in Captain America: Civil War (2016), T'Challa immediately won over audiences as a welcome addition to the lineup of Marvel Superheros.  But it was with the premiere of his own stand alone film that the character made history.  The movie outperformed everyone's expectations and shattered all sorts of records.  More importantly, it set a new milestone for a movie made by an African American filmmaker and staring a predominately black cast.  With all that, Black Panther broke down so many barriers that had unjustly sidelined people of color from achieving mainstream success in the film industry.  There is still a long way to go yet, but Black Panther helped to kick that door open by proving a movie with such a distinctive black voice could be profitable in Hollywood.  And all the while, Chadwick Boseman brought so much grace and charisma to the role, which has helped to make T'Challa a new favorite for many a Marvel fan.  It's easy enough to make a hero to root for in the super hero movies, but it's another thing entire to make a character that can inspire greatness in others, especially those who have been long forgotten, and that in turn has made him a profoundly important cinematic character from this last decade of film.
3.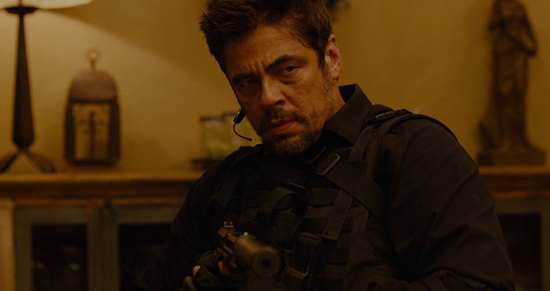 ALEJANDRO GILLICK from SICARIO (2015)
Played by Benicio del Toro
Probably the most morally ambiguous character on this list, Del Toro's Alejandro is also a character that leaves a lasting impression.  What I love about this character in the movie Sicario is the way his true nature slowly unravels throughout the movie.  When we first meet him, he's a mild mannered lawyer tagging along on a DEA mission to battle against the Mexican Drug Cartels.  But, as the film progresses we see more of the ruthlessness that hides beneath the calm exterior.  And in the end, we see that Alejandro has become a killer even more ruthless than the drug lords that he hunts down.  The sequel, Sicario: Day of the Soldado (2018) tempers down some of the intensity of his character to make him a bit more sympathetic, but the development of his character in the original 2015 film is still something to behold.  Benicio del Toro is brilliant in the role, keeping the character mostly in the dark until the opportune moment when we finally see his true nature, while at the same time making his dual nature relatable at the same time.  There's a quiet intensity in his performance that I think few other actors could have pulled off, especially with this much subtlety.  I especially love the tension he brings to that scene at the end of the movie with Emily Blunt's character, where he exudes so much menace without ever breaking his cool demeanor; acting in the same mild-mannered way as he had when she first met him, only now he has a gun pointed at her head.  Alejandro is the very definition of an anti-hero; a person who commits bad deeds of his own in the pursuit of a greater good.  Given the insanity of the drug wars on the border, it's people like him that are really the only ones who achieve any amount of justice in this kind of conflict, but it does create the dilemma of whether we are comfortable with the ways he gets the job done in the end.  In any case, his presence presents to us one very fascinating character study of quiet intensity.
2.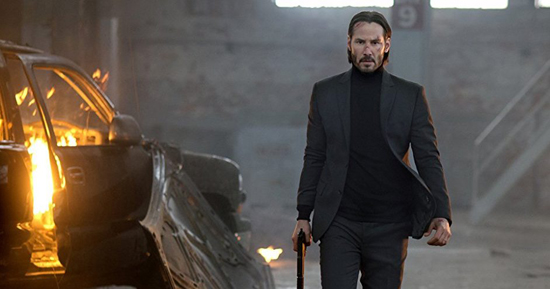 JOHN WICK from the JOHN WICK series
Played by Keanu Reeves
This has been a decade where characters from the comic book pages have sprung off the page and taken over the big screen in a massive way.  But, it's one thing to adapt an already familiar super hero for the cinema; it's another to create a whole new one from scratch, and make him just as popular.  That's what's happened with John Wick.  A passion project for star Keanu Reeves, the original John Wick (2014) took audiences by surprise with it's fresh and creative approach to action film-making and helped to rejuvenate Reeve's career as a movie star.  With two sequels that followed, each one building on the other, the John Wick franchise has built it's own unique mythology and complex world which in many ways have turned the character into more than just a hit-man, but a superhero in his own right.  What especially has endeared John Wick to audiences is the fact that Keanu Reeves, despite being in his mid-50's, does much of his own stunt work, which in itself is breathtaking to watch play out on screen (with very little CGI enhancement, I might add).  What I love best about the character is the fact that he has this notorious history surrounding him, making him almost a celebrity within that world, something that Keanu hilariously tosses off as an annoyance in his character.  John Wick also matches Keanu's own persona better than we've ever seen before on screen; a man of few words, but with a sly sense of humor underneath.  And watching him throw himself into those insanely well choreographed fight scenes is really something to behold on screen.  More than anything else, it's great to see an actor portray a character that they obviously have a lot of fun playing, and that is the key to John Wick's appeal.  He's a superhero of his own making, and the world couldn't have asked for anything better.
1.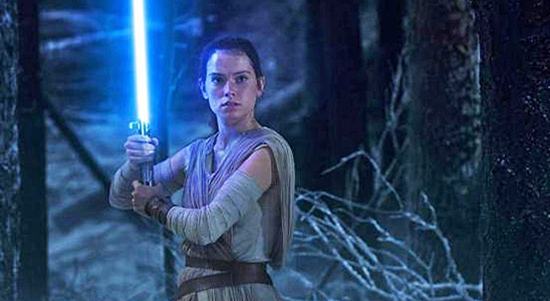 REY from the STAR WARS series
Played by Daisy Ridley
All these characters on this list have enhanced their place within their selective narratives and stood out because of it.  But it's another thing entirely when you change the face of the culture itself.  Star Wars, without a doubt, is the single most influential cultural influencer to have come out of Hollywood within the last 50 years.  Fan culture exist today because of it's impact, for all the positives and negatives that it carries with it.  When Disney rebooted the franchise with The Force Awakens in 2015, they made the bold decision to not center it around any already established character, but to instead introduce a new hero to franchise that would carry it into the future.  And to the surprise of many, this new Jedi hero on which the fate of the galaxy would rest would be a young, misfit girl named Rey.  Though strong female characters have always been present in the Star Wars franchise, going all the way back to Princess Leia, this was the first time that we would see a female lead wielding the legendary lightsaber and holding her own in battle with the Dark Side.  This sadly led to some backlash from bigoted fans who believed that Disney was using Star Wars to push some kind of feminist agenda.  But, what I love about the character Rey is that she breaks down the traditional expectations of a Jedi warrior in the Star Wars mythology.  The powers of the Force call to her, despite the fact that she comes from the middle of nowhere and has no idea where she came from.  Because of her outsider status, she inspires so many that have often been overlooked by the powers that be in the Star Wars community, and as a result she is changing the face of fan culture as we know it.  Despite receiving backlash, fans of Rey as a character have pushed back and held her up as a role model, which in turn is inspiring a whole new generation of young, female fans who have long wanted to wield lightsabers themselves in the same way that the boy have done for many years prior.  Star Wars has proven in this last decade to be just as important to the culture at large as ever, and Rey is a key reason why it looks to have a bright future in the years ahead.
So, there you have my choices for the top ten characters of the 2010's in cinema.  There are plenty other good ones I may have left out, including ones that I'm sure you'll be reminding me of later.  For me, these are the ones that both pleased me the most as well as the ones that I believe had the most profound impact on movies as a whole over the last decade.  Some are genuine heroes that are well worth rooting for, while others are deeply flawed personalities that have fascinating arcs that play out over the course of their narratives.  What I find fascinating are the characters that shed light on different races and nationalities like Cleo from Roma  and  T'Challa from Black Panther.  These were only the most interesting examples of a whole movement towards better representation in all of cinema that has been happening over the course of the last decade.  Of course, characters that break boundaries and change the culture, like Rey from Star Wars are also important, especially when her popularity exposes previously existing prejudices and forces a conversation within the culture itself.  I also found forceful personalities, with an ambiguous moral compass, captivating to watch over the last decade like Alejandro from Sicario and Jordan Belfort from Wolf of Wall Street, just because it was fascinating to see how close to the edge of villainy could they bring themselves to without loosing their appeal.  It will be interesting when I form my list of the top villains and see how they contrast with the ones here.  Overall, this was a decade where character became a more powerful tool in selling a film than star power, and it'll be interesting to see if that is something that continues in the next ten years.  As the story of Riggan Thompson in Birdman showed us, characters sometime take on a life of their own and can even overwhelm the actors who portray them.  Regardless, this was a decade of many strongly defined and memorable characters, and hopefully I've reminded all of you of some very important ones we were introduced to in the 2010's