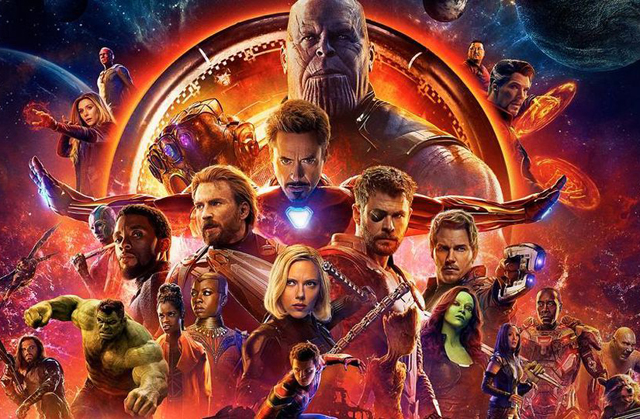 When Marvel touts that their new film is 10 years in the making, they really mean it.  Sure, the actual filming of Avengers: Infinity War may not have started until only a short while ago, but the groundwork to make this movie happen has been what's taken Marvel a decade or so to work out.  Think about the level of forethought it took to see this day come.  Back when the newly formed Marvel Studios was working on the first Iron Man all the way back in 2008, the idea of bringing a massive event story like Infinity War was probably just wishful thinking.  And yet, it was always something they held onto just in case this shared universe thing caught on.  When the first Avengers made it to the big screen, we got our first real taste of what a shared universe movie could look like, and yet there was an even bigger world yet to explore as Marvel began to put into place a plan that would make their wishes come true.  Starting with the second phase of the Marvel Cinematic Universe (MCU), we began to be introduced to the concept of the Infinity Stones, which would be the connecting thread that would bring the many different heroes of Marvel Comics together on the big screen.  Each stone has it's own unique power, which plays a different role in each of the different movies they appear in.  Their introductions have allowed us the audience to generate growing anticipation, knowing that the gathering of all these stones, some with incredibly destructive powers, is leading towards something cataclysmic.  And yet, Marvel has still miraculously found a way to show the blueprints behind their plan without loosing the interests of the fans.  While we know something is coming, we are still enjoying the fact that along the way we are becoming endeared to this world and the characters that Marvel has created.
What amazes me is that Marvel started down this road without even having all their pieces in place to do so.  First of all, they began their grand scheme with their properties still scattered between different studios.  Paramount held the rights to the key group of Captain America, Thor and Iron Man; Universal held onto the Hulk; Sony was still making use of Spider-Man; and Fox remained in control of the X-Men and the Fantastic Four.  There was early cooperation between Paramount and Universal towards collaborating for an eventual Avengers movie, as evidenced by the Tony Stark cameo at the end of The Incredible Hulk (2008), but Fox and Sony were still staying clear, meaning that if the Avengers were to happen soon, it was going to be a much smaller group than Marvel would've liked.  Then a sudden development changed everything.  Disney, which had not even attempted to enter the Super Hero field before, suddenly bought out the entirety of Marvel, including the Studios.  Though this looked to end the march towards a cinematic universe, surprisingly Disney secured the rights away from Paramount and Universal without a struggle, and Avengers opened to record breaking box office in 2012 right on schedule.  Eventually, Disney more than made up their investment as Marvel Studios became the most valuable brand at the box office over the next decade, and the Studio became more confident that they could make their move towards an Infinity War like event.  Eventually Sony relented and allowed Spider-Man to make an appearance in the universe and Fox is about to be brought into the Disney fold with all of it's characters, though sadly too late for this event.  Even as the pieces fell into place, it is amazing that Marvel never lost focus and even managed to improvise as more options were made available to them.  Knowing the end game without even knowing exactly who would show up indicates some major risk-taking on Marvel's part, and now it has finally arrived; the wish-fulfillment of 10 years of unprecedented world building.  But, the question is, did Marvel make Avengers: Infinity War  worthy of 10 years of planning and hype, or was it a whole lot of build-up for nothing?
Infinity War takes it's title and story from comic book events that Marvel published in 1991 and 92.  Though many of the elements of those comics make it into this movie, the film is not a direct adaptation, instead choosing to make this a culmination of everything up to now in the MCU.  The narrative of the film takes place on two different fronts; on Earth, and in the cosmos.  Out in space, Thor (Chris Hemsworth) is sent adrift after his ship is destroyed by Thanos (Josh Brolin), who has come to collect one of the Infinity Stones that is in the possession of Thor's brother Loki (Tom Hiddleston).  Later on, the Guardians of the Galaxy find Thor unconscious and floating in space.  He is revived and seeks to find a way to avenge his people and destroy Thanos for good.  With the help of Rocket (voiced by Bradley Cooper) and Groot (voiced by Vin Diesel), he sets off to the same place where his original hammer was forged in search of a weapon capable of killing the "Mad Titan" once and for all.  On Earth, Iron Man (Robert Downey Jr.) has an encounter with Doctor Strange (Benedict Cumberbatch), who has been warned of the coming of Thanos by another survivor of the attack; Bruce Banner (Mark Ruffalo), aka The Hulk.  But, the warning comes too late, as Thanos' henchmen, The Black Order, have come to collect the remaining stones on Earth, one which Strange has.  They are whisked away on the Order's ship, but not without gaining a valuable ally; Spider-Man (Tom Holland).  On the other side of the world, the other stone bearer Vision (Paul Bettany) is kept protected by what remains of the Avengers, led by Captain America (Chris Evans), Black Widow (Scarlett Johansson), Falcon (Anthony Mackie), and War Machine (Don Cheadle).  After encountering the Order, they take Vision and his companion Scarlet Witch (Elizabeth Olsen) to the one place that can keep him safe the longest; Wakanda, where King T'Challa (Chadwick Boseman), aka Black Panther, is readying his people for a fight.  But the question remains if all the Avengers assembled are capable of stopping someone like Thanos, even as he gathers more and more Stones, granting him God-like power.
You can tell from all I've explained above that this is a pretty loaded movie, and I haven't even gone that far in depth, mainly because if I said any more, it would start getting into spoiler territory.  The biggest danger that Marvel could have faced while making this movie was to overreach themselves.  So many characters and so little time to tell your story.  How could they fit it all into a 2 1/2 hour movie?  The answer is, remarkably well.  I'm happy to say that, for the most part, the movie with all these astronomical expectations put upon it manages to stick the landing.  This is absolutely Marvel firing on all cylinders and it creates what is undeniably one of their most satisfying films yet.  I hesitate to call it their best work just yet; I'm still processing what I just saw.  But it absolutely stands shoulder to shoulder among their best films.  And I think a large part of what makes the film work so well is the capable direction of the Russo Brothers, Joe and Anthony.  The duo started their time at Marvel with the well-received sequel Captain America: The Winter Soldier (2014), and then continued to impress the heads at Marvel and Disney with their first real test at assembling a movie with a larger cast with the incredible Captain America: Civil War (2016).  With those films under their belt, it was clear that they were the best successors to the Avengers franchise that Marvel could find after the departure of Joss Whedon in the directors chair.  To undertake such a massive film, with an army of iconic characters all at their disposal, probably would have been overwhelming for less adept filmmakers.  What made the Russos so ideal for this film was the fact that they are not filmmakers who try too hard, and instead bring a more measured approach to their storytelling.  They are not here to satisfy every comic book fan's fantasy; they are here to service the story that needs to be told.  And with that, they manage to fit in just enough for every character without spoiling the audience with an overload of too many awesome moments.
One of the best parts of the movie is the way it uses the character dynamics of the MCU, both established and untried.  We see the remnants of the Avengers squad come back together in unexpected ways, and witness what long separations have left on the minds of each character.   We also explore more of the mentor relationship that Tony Stark has with Peter Parker, which delves even deeper than what we saw in Spide-Man: Homecoming (2017).  I also liked the dynamics of Doctor Strange and Iron Man having to work together, given their often competing mindsets, which lead to some often hilarious back and forths between the two.  But there are two brand new character interactions that really carry the movie over the edge for me.  One is Thor meeting the Guardians of the Galaxy.  Their moments together, especially when Star Lord (Chris Pratt) tries to alpha male Thor and fails badly, are among the film's funniest and they never fail to entertain.  Even better, Thor actually shows incredible chemistry with Rocket Raccoon as they team up to create Thor's new weapon; one of those friendships that you never thought you'd see develop in the Marvel universe ever, but you'll be glad it exists now.  The other major relationship that drives the film is the one between Gamora (Zoe Saldana) and her adopted father Thanos.  The movie delves much deeper into their relationship than ever before, and we learn much more about what each means to the other.  While the Thor/ Guardians relationship brings the movie it's greatest moments of levity, the Thanos/ Gamora relationship brings the film's more somber moments, and both balance out the story in a very complimentary way.  Sure, some of the cast are given the shorter end of the stick (Black Panther fans shouldn't be looking for too much of a continuation of the Wakandan story just yet), but a great deal of time is given to those who matter in this story, and it's just the right amount spread amongst all.
The movie's biggest triumph does belong to the character of Thanos.  This is a character that has been teased for quite a long time, first seen in profile at the end of The Avengers (2012) and then briefly in person in Guardians of the Galaxy (2014).  We've known of his coming for quite some time, which could have proved underwhelming in the end if Thanos was just your generic super baddie.  Thankfully, all that build-up allowed for Marvel to really hone in and find the character of Thanos, to make him fully rounded and in some shocking ways, a bit relatable.  Thanos is a man driven by obsession and not just blood lust.  In his mind, he is doing the right thing by bringing balance to the universe, by eliminating half it's population one planet at a time.  He's not a villain who stands over his victims and laughs maniacally at their pain.  He is cold, calculated precision and giving the power of the Infinity Stones to a mind like that makes him infinitely more scary.  I was fascinated by how the movie explored his mindset throughout the movie, showing that he is a monster of a different kind than anyone else we've met in the Marvel Universe.  To believably pull this kind of character off, it takes a capable actor to find the subtlety at it's heart, and Marvel found the right actor in Josh Brolin.  Not only does the voice match perfectly with the character (deep and booming), but he even manages to find the little humanity that lies beneath the surface.  I also have to highly praise the animation used to bring Thanos to life.  Utilizing the same motion capture technology used on movies like The Hobbit and the Planet of the Apes series, they managed to include a remarkable amount of Brolin's own on set performance into the final digital character that it almost feels like Thanos is really there in person.  Close-ups in particular really show off the incredible detail put into the model, and I could see Josh the actor even through the character in the tiny mannerisms that are distinctly his own.  Thanos gets his moment to shine, and the movie pulled out all the stops to make his arrival worth it.  By himself, he makes this a not to miss movie experience.
Knowing that this is Marvel's most important movie to date, you can definitely expect that no expenses were spared in it's making.  A reported $1 billion budget was approved by Disney to make this and it's untitled follow-up for next year, which would even out to a record breaking $500 million per movie.  And every penny looks to have made it on screen.  Of course, paying this high price cast is one thing, but the movie also features some remarkable visuals as well.  We revisit the kingdom of Wakanda once again, sharing the same visual wonder that we experienced in Black Panther earlier this year, and it provides the setting for a climatic battle that stands on an epic scale equivalent to the likes of Lord of the Rings.  All of the space set stuff is also visually stunning, showing us worlds that we've yet to see in the Marvel Universe and still uniquely original compared to anything else we've seen in the movies.  There is one planet shown connected with one of the hidden Infinity Stones that presents this surreal quality that stood out from the rest and it left a very haunting effect on the experience.  It can get a bit overwhelming at times as we hop from one setting to another, but the Russos prove that their uncluttered approach is the right one.  They don't try to force feed anything to us; they let each world develop into the story in a believable way that allows us to understand where we are and why we've moved to this place at each particular moment.  My only complaint about this is that the obligatory re-familiarizing that this movie has to undertake in order to set everything up does cause the first half of the movie to drag a slight bit.  All the meaty moments happen later on, and while the opening introductions take their time, it's not enough to make you uneasy while you wait.  When this movie gets going it hits some big moments, and that helps to smooth out those early rough edges by the end of the film.
I would definitely say go out and watch this movie right now, but I feel that most of you are probably already doing that at this moment.  This is going to be another monster hit for a studio that has had nothing but hits for the last decade.  Marvel has set the gold standard for world-building in movies over the last 10 years, and have managed to not only bring all their characters together in one film, but also make that same film coherent and engaging as it's own stand alone story.  No character goes un-wasted, and some get to shine brighter here than they have in any other movie before.  The Russos managed to take this seemingly impossible undertaking , and make it feel effortless by the end, purely by giving the right amount and nothing more.  This is not a movie made for fan service; this is a culmination of everything that Marvel has done in accordance with their ultimate goal.  And I do have to say, it is one of their boldest moves too.  I can't say exactly what transpires, but this movie has one of the most shocking endings that you'll ever find in a movie made by Marvel or anyone else.  It's a drastic move that could only come from a company that has the confidence to see it through and not worry about how the audiences might react.  The audience I saw the movie with were left pretty stunned as the credits began to role, and I'm interested to see how this ending plays out in the rest of the world.  It's gutsy, and I applaud Marvel for holding to their guns.  To say that it is world-changing would be an understatement.  No doubt it's going to make us even more eager to watch the next installment.  Regardless, considering all the factors that this movie's making had to be scrutinized under, I think that the basic fact that it flows together as well as it does is a real triumph on Marvel's part, and perhaps the greatest indicator yet of why they stand unchallenged as the kings of Comic Book movies.
Rating: 9/10