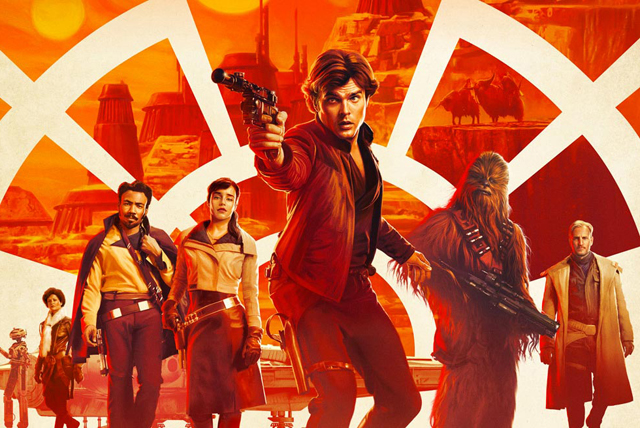 If there was ever a character from the intergalactic pantheon of personalities brought out of the mind of George Lucas that has taken on a whole life of his own beyond the movies, it would be Han Solo.  The rogue smuggler is undeniably one of the series most beloved characters, and that's largely due to the fact that he's one of the more relatable.  He has no special powers, he doesn't come from royalty, he's not destined to be the savior of all good things.  He's a man just caught up in a situation far bigger than himself, and he uses his cunning and charisma to help him get through it all.  This helps to make him not only a standout hero in the beloved series, but also one of the most admired.  Many Star Wars fans look up to Han and use him as a role model.  You'll find him to be a favorite in cosplaying at conventions all around the world, and his lines from the movie are often the ones most widely quoted in everyday life.  He's also been the point for many arguments about the integrity of the franchise, as the infamous "Han shot first" debate will tell you.  But, that same passionate fandom has also made Han Solo one of the more elusive characters in the franchise, as few have been willing to tackle the character further, unless the character gets the full respect he seems to deserve.  That's why you got nary a mention of him in the prequel trilogy, since George Lucas was not willing to open up that segment of his franchise to more scrutiny, and his inclusion in The Force Awakens (2015) had to be dealt in the most delicate of ways, and with the full participation of his original actor, Harrison Ford.  But, with the Star Wars franchise branching out beyond it's main saga into untold stories set within the same universe, the time seems to be right now to finally delve into Han Solo's backstory and give him a long awaited movie that's all his own.
Though the character was the brain child of Star Wars creator George Lucas, Han Solo really didn't become fully defined until the release of The Empire Strikes Back (1980), which was written by a fresh young writer named Lawrence Kasdan.  Kasdan is often credited for finding the soul of the character, turning him into more than just a hot shot pilot with a blaster at his side.  We see in Empire that Han believes in more than just himself, that he willingly will put himself in harms way if it means someone else lives another day and saves the world.  He even shows a romantic side, while at the same time being true to himself ("I love you." "I know.")  That same intuitiveness with regards to the character made Lawrence Kasdan almost a necessity when Disney relaunched the franchise with Force Awakens, as that film centered very heavily on Han Solo's ongoing story, and ultimately his departure.  Working with J.J. Abrams on the script, Kasdan and Harrison Ford finally gave Han Solo the heroic finale that they had long wanted and George Lucas always denied them.  Of the many things that made The Force Awakens a wonderful cinematic experience, Han Solo was certainly one of the highlights and it was great seeing the iconic character back in true form once again.  But, it soon appeared that Lawrence Kasdan wasn't done telling Han's story.  Not long after, it was announced that Kasdan was working on a script for a Han Solo movie.  It's fitting seeing as he already showed us how Han's story ends, the next logical step was to show where his story began.  Unfortunately, the film experienced the most turbulent of developments in this franchise's revival, with original directors Phil Lord and Christopher Miller (The Lego Movie) being fired halfway through, later replaced by Ron Howard.  This led many to believe that this would be the stumbling block for the revitalized Star Wars franchise, and potentially one of the most disastrous blockbusters in recent memory.   Are the doomsayers right, or did the movie make a death-defying escape just like it's namesake hero.
The story takes place in the early years of the newly formed Galactic Empire.  The planet Corellia has become a factory base for all the war machines that the Empire is using to spread their power and influence across the galaxy.  On this industrial planet we meet a young thief named Han (Alden Ehrenreich), who steals a rare and expensive substance named coaxium as a means to help buy his way off the planet.  Along with his girlfriend Qi'ra (Emilia Clarke), they make their way with the coaxium to the nearest space port, but are separated once they are discovered by imperial forces and arrested by Stormtroopers.  Han narrowly manages to escape, but his only means of getting out alive is to enlist in the Imperial army.  Several years of combat later, Han meets a band of mercenaries who intend to run off with military goods that'll help them on their high target looting missions.  Han wants to join them but is denied and labeled a deserter by the army officials.  His sentence is to be eaten alive by the army's trapped "beast."  The beast turns out to be a Wookie named Chewbacca (Joonas Suotomo), who Han manages to bond with because of his understanding of the Wookie dialect.  Having a Wookie by his side gets the mercenaries to change their mind about Han and he joins their crew.  Soon, Han gets to know the team, including Tobias Beckett (Woody Harrelson), Val (Thandie Newton), and Rio Durant (Jon Favreau).  A mission to steal a whole shipment of coaxium fails and leaves Tobias in a precarious situation with his client, crime lord Dryden Vos (Paul Bettany), but Han suggests stealing un-enriched coaxium right from the source on a mining planet called Kessel.  The only problem is that they need a ship fast enough to make the run quickly and underneath the suspicion of the Empire.  A smooth-talking gambler named Lando Calrissian (Donald Glover) has just the ship they need called the Millennium Falcon, and the mission is a go.  But, the question arises whether or not Han is able to trust those around him, and who in the end is really his friend or his enemy.
Like I stated before, Solo: A Star Wars Story comes into theaters under a heavy amount of scrutiny.  Lucasfilm managed to steer a troubled production before with the film Rogue One (2016) and that movie ended up making half a billion domestically alone.  But considering that directors Lord and Miller were shown the door only a year out from the film's scheduled Memorial Day Weekend 2018 release date made many people wonder if the whole Star Wars brand was a high speed train dangerously heading down a track that hadn't been fully laid yet.  That's the baggage that Solo makes it's way to the big screen with and the question is, did Lucasfilm and Disney manage to save this production from disaster and make it a worthwhile addition to the franchise.  Well, the answer is yes, and no.  First of all, I can safely say that this is by no means the movie that is going to ruin Star Wars forever.  On the whole, it works very well as an action film, and the story does feel cohesive and not at all chaotic, even despite the dramatic eleventh hour change in direction.  At the same time, I do have to say that it is the weakest movie that we've seen from the most recent slate of Star Wars films.  It lacks the enchantment of Force Awakens, the grittiness of Rogue One, and the unpredictability of The Last Jedi (2017).  It's the one Star Wars film that feels the most like a product of franchise building.  It's not a terrible product, just one that feels unremarkable compared to the rest.   But then again, it could have been a whole lot worse.  Frankly, I found that the movie worked best in the moments that made you forget you were watching a Star Wars film, and instead just allowed the plot and the characters to exist on their own.  Every time the movie stopped to remind us something about Star Wars lore, or spotlight a legendary moment in the life of it's hero Han Solo, it would rob the movie of some of it's momentum.  Essentially, Solo is a story about the criminal underworld in the same vein as something like the works of director Guy Ritchie, and when it was in that mode, I was engaged.  But when the shifted to talk about the Empire and Rebellion, then it started to lose me.
I give a lot of credit to director Ron Howard for guiding this movie through a rough production and helping to salvage what could have been a disaster.  Lord & Miller are by no means bad directors, but it was apparent that their vision was not going to work in this franchise.  There is two much at stake for Lucasfilm and Disney to steer too far from the formula that has worked so well for the franchise so far, and the duo's more satirical style may have been too much of a risk, especially after the fallout from Rian Johnson's bold decisions in The Last Jedi.  So, that's why Lucasfilm head Kathleen Kennedy had to make the tough decision that she did, and I for one commend her for taking such a dramatic action.  Ron Howard may be seen as too safe a choice by some as a replacement, but the one thing that Howard does bring is a strong sense of professionalism to the whole thing.  His workmanship has resulted in generally good working environments on set, in which he has made both cast and crew happy to be working with him.  Though his output is inconsistent, ranging from great movies (Apollo 13, A Beautiful Mind, Frost/Nixon) to terrible ones (The Grinch, Far and Away, all the DaVinci Code films), he still is a highly respectable filmmaker, and that's the kind of thing you needed to calm a troubled production like this.  In many ways, I think his more restrained vision was better suited for Lawrence Kasdan's straight-forward script (which he co-wrote with his son Jonathan), helping to bring out those things in the script that I found more appealing overall.  I think Lord & Miller might have reminded us too much that we were watching a Star Wars movie.  Howard found the story that can stand well enough on it's own separate from it's place in the franchise.  That being said, Ron Howard's input isn't terribly exciting either, and it's more geared towards fulfilling an obligation of the story rather than surprising it's audience.  But, like I said before, it could have been worse.
One of the movie's saving graces surprisingly is the one thing that had most people worried going into this film, which is the casting of Alden Ehrenreich in the lead role.  When it was announced that Alden was playing the role, both fans and critics took issue.  He looks nothing like Harrison Ford, nor does he sound like him either.  Rumors of Alden having to take acting lessons and working with a dialect coach all throughout production also didn't help and it appeared that many were expecting to blame him very much for this movie's failure.  But, I can assure you that he not only gives a fine performance in the movie, but he manages to carry much of the film quite effectively as well.  Yes, he isn't anywhere the same as Harrison Ford in the role, but I found that refreshing as Alden made the character more of his own, and didn't attempt to emulate Ford's performance too much.  Sure, he plays with the same cocky, devil-may-care attitude, but it's perfectly in tune to what this character would have been like in this point of his life, before the events of the future would shape him further.  If Alden had tried to imitate Harrison Ford too much, I feel like his performance would have suffered, and it would have taken me right out of the movie.  Again, when the movie doesn't remind me too much that I'm watching a part of a larger narrative, I felt more engaged, and Alden's take on Han Solo really helped to make that possible.  He's also supported by a very able cast.  Donald Glover's Lando likewise manages to give his iconic character a worthwhile portrayal; full of the same sly charm that Billy Dee Williams brought to the role, but again still making it his own.  I also liked Paul Bettany's unconventional villain in Dryden Vos.  It's nice to see a Star Wars antagonist that's just a common criminal for once, and not an all powerful Sith lord.  Strangely, another problem with the movie is the exact opposite of the problem I found with Rogue One.  Where that movie had weak lead characters and an incredible supporting cast, this movie has a weak supporting cast around a strong lead.  As much as Han and Lando worked well in the movie (and Chewy too), the remaining new characters all felt a little thinly drawn and uninteresting, despite capable performances from the likes of Woody Harrelson and Emilia Clarke.  I guess when it came to the one that mattered (Han) the movie did do an excellent job, but not much else stands out.
The movie is also a mixed bag in the visuals department.  Chalk this one up to the shift in direction that the movie faced.  You can tell that the movie gave up on delivering the wow factor in it's visual presentation of the world of Star Wars.  Instead, the locales and stylings are much more basic and not intended to draw the audiences attention in the same way other movies in the franchise have.  There are moments that do stand out, like the image of a Star Destroyer passing through a narrow tunnel in a massive dust cloud or the decadent trappings of Dryden Vos' personal space yacht.    But essentially, this is a movie more concerned with giving us a story rather building onto a world.  One thing I do appreciate is that it does bring a sense of the lived in world that made the franchise a stand out in the first place.  What made the original trilogy so memorable was that it took the glossy sheen off of the Science Fiction genre, and presented a grungier view of the intergalactic.  I love the fact that the most legendary space ship ever shown on screen, the Millennium Falcon, is first looked at as a piece of junk, showing that greatness comes not in appearance, but rather in how valuable that ship has been in life-changing situations.  A piece of junk can alter the course of history.  And I won't lie, there is some nostalgic joy in watching Han Solo take command of the Falcon for the first time in this movie.  Apart from the reverence this movie shows in the origins of the legendary Falcon, the remainder of the movie remains fairly low key.  Perhaps the original vision for the movie called for more visual flair, but it was probably the thing that clashed too much with the story and made the whole thing feel too out of character with the franchise.  What we end up with is a compromised vision that serves a purpose, but at the same time feels safe.  It will remain to be seen if Star Wars does try something unusual in the future, but this was clearly not the movie where it was going to happen.
So, what we ended up with is an underwhelming film in the sense of it's place within the most lucrative franchise in movie history, but still an overall decent action thriller.  I for one feel that this was the best we could have gotten out of this film considering all the chaos it went through in it's production.  How different it could have turned out if it had a more streamlined development, we may never quite no.  Lawrence Kasdan's mark on the character of Han Solo is still undeniable, and I love the fact that he has built this unconventional mythology around this character all on his own parallel to the world building that George Lucas was doing with the rest of this galaxy.  While George Lucas was building a mythology, Kasdan was crafting a legend, and the new movie Solo is another chapter in this saga.  I'd say that you can look at Solo, Empire, and Force Awakens as an unofficial trilogy around the legend of Han Solo, showing the key points in his life where he finds his calling, when he discovers his true devotion, and where he chooses to make his final stand.  In the end, I can say that Solo does do the character justice even if it does little else for the universe around him.  I did like Han Solo a great deal in this movie, which is a true testament to the effectiveness of Alden Ehrenreich's performance, and if the true intention of this movie was to show that Han can carry a film all on his own,  then I say that it was a success.  But, Star Wars is at a point where the stakes have been raised and being passable isn't going to cut it for a while.  The movie underwhelms in comparison to it's loftier brethren, and that's partly to blame on the last minute heel turn it had to make.  Solo is probably forever going to represent a cautionary tale for Hollywood about not getting too far ahead of oneself in pursuit of box office glory.  It will remain to be seen if Kathleen Kennedy made the right choice or not to make such a dramatic change late in the game.  For the most part, Ron Howard and company managed to turn out something okay in the end, and it is by no means a disaster, nor the worst thing to ever happen to the Star Wars brand.  For now, Solo may look disappointing, but in time, we may look at it for what it is which is a pretty good action movie with a charming hero at it's center.  I have a good feeling about this.
Rating: 7.5/10