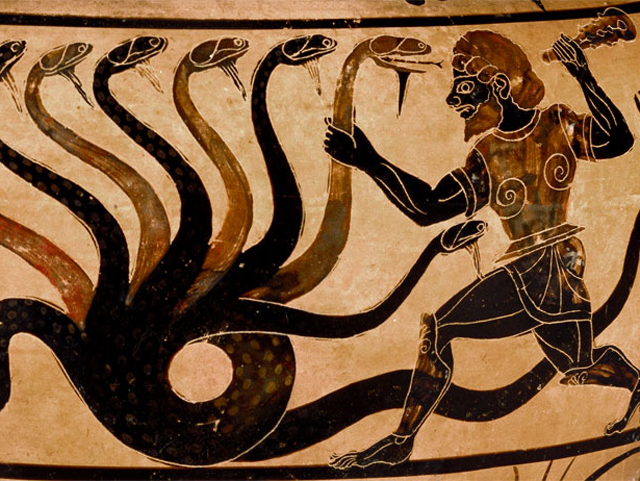 When we think of the legendary heroes of Ancient Greek mythology, the one who probably comes first to mind is Hercules.  Hercules, the demi-god hero famous for completing the 12 labors to earn his way into Olympus and Godhood, may be a creation out of the myths of a long gone civilization, but his presence can still be felt today.  Many of the core elements of his story have become the inspiration for the mythological heroes of today; super heroes.  Hercules mighty strength can easily be seen as a template for many comic book icons like Superman, and his half-god half-mortal identity is found in the back story of a whole lot of other characters, like Aquaman.  Though the comic book heroes today are not quite worshiped like the gods and heroes of Ancient Myths, their purpose in their narratives are nevertheless very similar.  It makes sense that Hercules himself has also made his way into Comic Book pages, most famously as a sometimes friend and sometimes foe of Thor in the Marvel comics.  Even more than two Millenia after Hercules' legend was first born, he is still a relevant character in pop culture.  For the most part, he is the quintessential legend of Greek mythology; the one that all the other legends aspire to.  That's not to say that all the other heroes like Jason, Perseus, Theseus, Achilles, or Odysseus are forgotten.  But when it comes to pop cultures' idea of what constitutes an iconic hero, his similarities with the comic book heroes of today is what helps Hercules to stand out that much more. This has proved true as Hercules has been the character of Greek Mythology that has made the most appearances on the big screen.  It is quite interesting to see how his presence in a variety of movies reveal how little of his key characteristics have changed, but at the same time also how depictions of him change along with the culture.  Below are a few of Hercules most noteworthy big screen appearances, and looking over most of them, you'll definitely see a pattern form.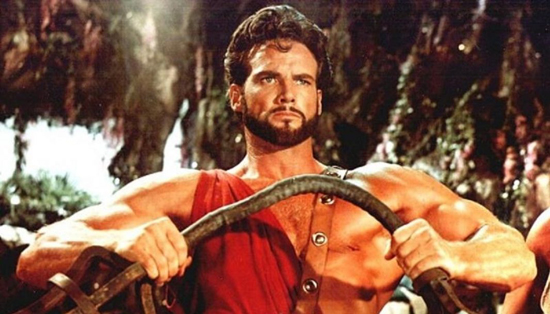 STEVE REEVES in HERCULES (1958)
There weren't a whole lot of cinematic depictions of Hercules in the early days of cinema, and that might be because the type of movie that could be centered around ancient myths had to rise up in an era where those kinds of movies were fashionable.  In the 1950's, the movie industry began to invest in big, widescreen spectacle flicks to help the movie theaters compete with television.  This was the "swords and sandals" era, where the studios were interested in bringing larger than life stories from the ancient past to magnificent technicolor life.  A lot of these Hollywood productions also brought a lot of business to a war torn Europe that was still in recovery, and in particular, a lot of these sword and sandal epics were filmed in Italy.  The legendary Cinecitta Studio was founded during this time, and it was home to both foreign and domestic large scale productions.  After big Hollywood movies like Ben-Hur (1959) and Cleopatra (1963) came through the Rome based Cinecitta, they left behind all of these elaborate sets recreating the locations of antiquity.  What was the studio going to do with all of these sets?  Reuse and recycle them of course in cheaply made B-picture epics.  Quite a lot of lower-tier sword and sandals films were made out of the Italian film industry during this time, and naturally Hercules would be one of the characters ideal for crafting a movie or two around.  American bodybuilder Steve Reeves, with his signature broad shouldered physique, became ideal casting for these movies.  His performance is decidedly limited; it's clear he had the part more for his looks than anything else.  But, the movies were cheaply made enough that they turned an easy profit for the Italian producers, and Reeves would continue playing the part a few more times.  The Italian Hercules films are notoriously cheesy, and are more well know today for being featured on Mystery Science Theater 3000.  But, as far as Hercules on the big screen goes, this was just the beginning.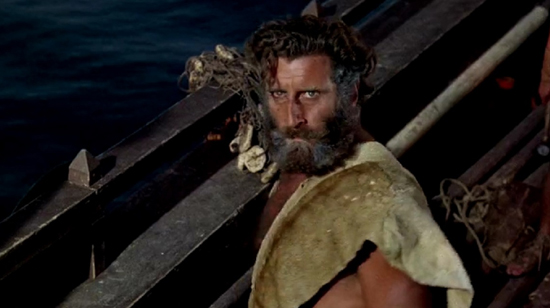 NIGEL GREEN in JASON AND THE ARGONAUTS (1963)
While Italy was making their own series of films centered around Hercules, Hollywood was trying out their own unique spins on legendary Greek myths.  One of the biggest highlights of that era was this adaptation of the Jason and the Argonauts myth, which Hercules did traditionally play a part in.  What this movie is most famous for is it's amazing, ground-breaking visual effects, created by the legendary Ray Harryhausen.  In Jason and the Argonauts, Harryhausen utilized his stop-motion animation expertise to bring to life out of this world creations like flying harpies, a hydra, a giant bronze statue, and most famously an army of skeleton soldiers.  Aside from the effects work, much of it which still holds up very well today, there are some mildly interesting characterizations at play as well.  Perhaps the most interesting character of all in the film is Hercules.  He's not present for most of the movie, but his brief time with the Argonauts is memorable.  What is particularly unique about this portrayal of Hercules is that it's so different from the character we expect.  A far cry from the He-Man version that Steve Reeves played, this version played by South African character actor Nigel Green is more grounded and human.  He's not a character in peak physical condition, but ratter a grizzled veteran who has been worn down over time.  Still, he's incredibly strong and a reliable ally in a fight, but it is interesting to see a version of this character that deemphasizes his godliness.  Here, he's more vulnerable, which offers up a bit more interesting character aspects, as he is pressured by the mission he's undertaking with the Argonauts.  The movie on the whole certainly is remembered more for it's iconic visual effects, but at the same time it gives us heroes worth rooting for, and one of the more relatable versions of Hercules that's ever been put on the silver screen.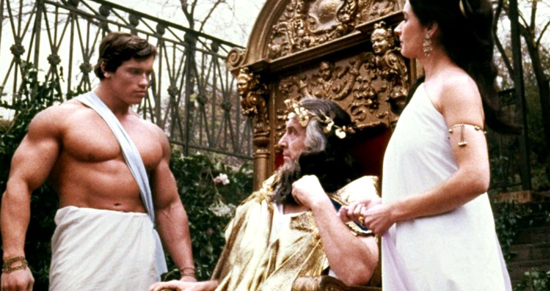 ARNOLD SCHWARZENEGGER in HERCULES IN NEW YORK (1970)
If there is one thing that more often than not helps to get an actor a role as Hercules, it's having an incredibly muscular physique.  That's why so many of these Hercules movies seek out bodybuilders who gained notoriety participating in competitions like Mr. Olympia.  One of the movies that pulled from that pool unexpectedly found someone who in time would become one of the biggest movie stars in the world.  That person was a young Austrian body builder known as Arnold Schwarzenegger, and he made his movie debut playing none other than Hercules himself.  It might surprise many people that Schwarzenegger's first movie role was not in an action film, but rather a comedy.  This very low budget production played around with the idea of Hercules ending up lost in modern day New York City, and mining all of the fish out of water hijinks that would lead to.  The movie is one of the more odd films to ever feature Hercules as a character, and it for the most part does little to portray any of the traits of the character that we know about him from legend.  His character in the film is pretty much limited to buff demi-god has adventure in the modern world.  Schwarzenegger definitely has a presence on screen, but it's not in the way that reflects back well on him.  The movie even dubs over his voice, making him sound very different from the actor we know today.  Apparently his Austrian accent was still so thick at the time that his lines were indecipherable, so the change was made during ADR.  Of course, Schwarzenegger improved over time, which helped him to gain the attention of filmmakers like John Milius and James Cameron, who ultimately would change his career forever.  It's no surprise that Arnold looks back on this film with embarrassment, and there is no blaming him.  For a big screen depiction of the mythological hero, this is certainly one of the least effective and is only noteworthy because of who was playing him.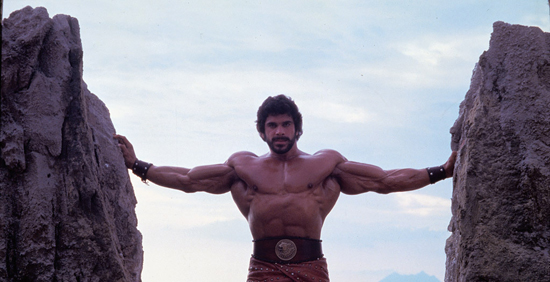 LOU FERRIGNO in HERCULES (1983)
Not long after Schwarzenegger made his screen debut in Hercules in New York, he would also be feature in an acclaimed documentary about the world of body building called Pumping Iron (1977).  Arnold would be featured alongside a few other noteworthy names in the bodybuilding competition circuit, and one of those other body builders featured in the documentary was another aspiring actor named Lou Ferrigno.  Ferrigno, who coincidently beat out Schwarzenegger for the role of the Incredible Hulk in the classic TV series, also got his chance to play the legendary Hercules on the big screen.  This opportunity came with this 1983 film production that felt very much like a throwback to the old Harryhausen effects driven spectaculars of Hollywood's Silver Age.  Ironically, interest in making movies based on legends of Greek mythology again was the result of two unexpected hits, the Harryhausen involved Clash of the Titans (1981) and the Schwarzenegger starring Conan the Barbarian (1982).  So this movie's existence is thanks in part to the legacy of two past Hercules movies.  Ferrigno, like Schwarzenegger, had his voiced dubbed over too, though it was less because of the accent and more because of Lou's hearing disability, which made line readings difficult.  There is little doubt that Ferrigno's impressive physique fits well with the character, and he for the most part does a serviceable job in the role.  Some of the effects used in the film are still impressive today, like when Hercules grows to massive size in order to split the continents of Europe and Africa apart.  Story wise, it's nothing particularly noteworthy.  It doesn't have the rich mythology of Conan the Barbarian nor the delightful campiness of Clash of the Titans.  It's more or less a movie that is following a trend and trying to compete with more iconic movies.  Still, Ferrigno does stand out as the titular hero and some of the effects do recall back to the best parts of the old Harryhausen adventure films.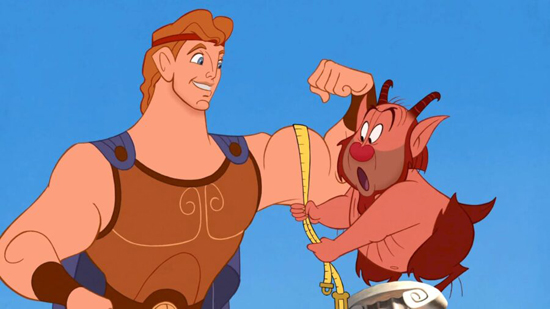 TATE DONOVAN in DISNEY'S HERCULES (1997)
Like a lot of other classic stories, audiences' first introduction to the legend of Hercules at a young age likely came from a Disney movie.  This movie in particular brings the story back to it's mythological roots, but does so with a perspective that makes a commentary on modern day celebrity culture.  It's interesting that the filmmakers behind this version, legendary animation directors Ron Clements and John Musker (Aladdin, The Little Mermaid, Moana), drew a lot of inspiration for their version of Hercules from comic book superheroes like Superman, whose own origins are echoing the legend of Hercules from Greek mythology.  It's everything coming into full circle.  Though not as consistently funny and resonate as past Disney Renaissance films, Hercules does have it's fair share of hilarious spins of the Greek myth.  The film is very well designed with a pastiche of Ancient Greece mixed in with contemporary inspirations, and some of the action set pieces are real stand-outs, particularly one with the Hydra, which featured some ground-breaking computer animation for it's time.  Oddly, the weakest link of the movie is Hercules himself.  The movie never really finds an interesting angle to play with the character, so he just comes off as bland and generic.  This is too bad, because the rest of the film is filled with some of Disney's best characters, such as Hercules'  trainer Philoctetes (voice by Danny DeVito), the love interest Megara (voice by Susan Egan) and the villain Hades (voice by James Woods).  Tate Donovan does bring a nice tenderness to the character, which feels very much inspired by the good natured wholesomeness of Christopher Reeves' Superman.  While the character himself is written a little bland, the vocal performance by Donovan helps to at least make the hero likable.  Unfortunately for Disney, Hercules came at a time of downward fortune for Disney after their Renaissance boom, and Hercules seemed to audiences to be a pale imitation of the the more beloved Aladdin.  Still, it has developed a following over 25 years, and there's even talk of a live action remake.  And as far as portrayals of the legend of Hercules go, this one strangely enough is more in line with the original myth itself, though with a modern day spin of course.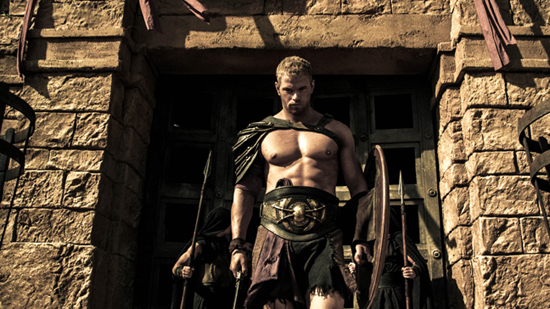 KELLAN LUTZ in THE LEGEND OF HERCULES (2014)
It's a bit surprising, but Hercules was passed over quite a bit during the brief revival of the sword and sandals epic during the early aughts.  Despite movies based on heroes like Achilles (Troy), Alexander the Great (Alexander) and even a remake of Clash of the Titans (2010), Hercules would have to wait until the following decade to be seen on the big screen again, and by that time the revival of these movies had died down considerably.  This film is another example of a movie trying to chase a fad, but ultimately missing the mark completely.  This movie takes us on a journey to Hercules' early days as a warrior just beginning to come into his own.  The movie definitely takes strong inspiration from Ridley Scott's Gladiator (2000), and that's about where the similarities end.  It has the Gladiator look, but none of the captivating story, nor interesting characters.  The casting of Kellan Lutz, who at that time was best know for appearing in the Twilight series, clearly was due to his buff physique, but it is interesting that his body type is different from past big screen Hercules.  His is less of a body builder physique and more of a pro athlete physique; less for show and more for performance.  He's a leaner Hercules, though still very physically imposing.  This is something to note about how the portrayal of Hercules has evolved over the years, as physical appearance standards have shifted over time.  There isn't much else to say about the character in this film.  He's far less mythological in this film because to put it in line with the Gladiator aspects of it's presentation, this version of Hercules has his more human side emphasized.  The film even puts Hercules in arena battles, just like the other film.   Just looking at bits of this film made me think this was definitely an early January release, and sure enough I was right.  It's forgettable for the most part, but it does show an evolving presence that Hercules would end up having on the big screen in the new millennia.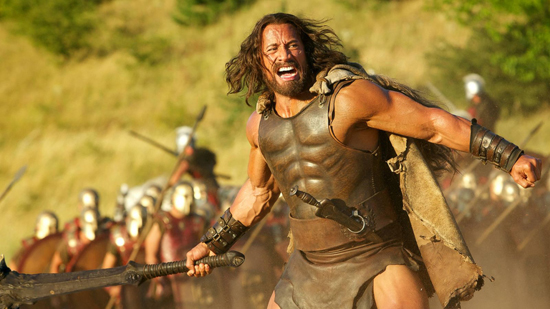 DWAYNE JOHNSON in HERCULES (2014)
Released mere months after The Legend of Hercules, this second live action Hercules leans even more into the super hero elements that the legend has helped to inspire over the years.  This film features a much bigger budget than The Legend of Hercules which helps to make it a bit more visually interesting.  Story wise, it's no worse, but it also feels small and a little cliched.  More than anything, this movie was clearly greenlit to be a star vehicle for actor Dwayne "The Rock" Johnson.  It's interesting that Hercules evolved from casting body builders like Steve Reeves, Arnold Schwarzenegger, and Lou Ferrigno, to casting performers from another field that involves building up a lot of muscle mass; pro-wrestling.  Dwayne Johnson is by far the most successful box office star to come out of the wrestling circuit, and it seems only natural for him to step into the role of Hercules.  As underwritten as the character is, Johnson's natural charisma does help to make his performance here at least a little engaging.  In the battle scenes, he really gets to shine, as he manages to do most of his own stunt work pretty effectively.  But, at the same time, you do feel like you are watching a Dwayne Johnson movie, and not anything that informs you about the myth of Hercules itself.  Like most of the portrayals of Hercules on the big screen, Hercules is treated more like an idea of an ancient hero, and less of an actual true to legend portrayal of the character.  Dwayne Johnson definitely looks good in the part, particularly with that lion's skin draped on his head, but it's more or less a standard action film with the name of Hercules slapped on top of it.  But it's still clear that it's a role that Dwayne Johnson loves to play, and it feels like a role like this inspired him to pursue an actual comic book role like he did with last year's Black Adam (2022) with DC.
Hercules has more or less followed a predictable pattern on the big screen.  He is the prototypical strong man in many mythological stories and the films have more or less been showcases to present actors shirtless with large muscles.  That's not to say that nothing special has ever been done with the character.  Disney's meta commentary on celebrity culture in their animated film helped to bring some interesting perspective on the character and his place within the mythology.  Jason and the Argonauts did the interesting move of showing us a Hercules who was less of a God and more of a human.  And Dwayne Johnson's film definitely leaned more into reflecting the kind of super hero portrayal of the character that in itself has been an inspiration to comic book stories throughout the history of the medium.  What I find interesting is that never once has any film based on the myth of Hercules actually shown the things that he's most well known for; the 12 labors.  The closest any movie has ever gotten to doing that is the animated Disney film, and at most we just see the battle with the Hydra, plus a couple more shown as part of a musical montage.  I guess showing the labors would make for a boring film narrative; and I don't quite know how you would depict something like the cleaning of the Augean stables.  When it comes to the big screen, Hercules has served better as a concept of a mythological hero and the filmmakers then form whatever story they want around that.  You certainly can't overlook Hercules as an important character in the pop culture, given that his legend has endured for over 2,000 years.  And as sporadic as his time on screen has been, there are many filmmakers who like to revisit the myth again and again.  Perhaps it's because his story is so universally known and is easily applied to changing cultural perspectives.  Given how different eras have their own take on the Hercules myth, it seems to reason that there will be quite a few more appearances of the character on the big screen, and it will be interesting to see how the character will find himself fighting on the big screen again and in what fashion.  Like the Disney film proclaimed, Hercules is a legend that is constantly going from "Zero to Hero" through many different and varied adventures.