We all believe that we can predict which movies will be a hit and which ones are destined to fail, usually when we get our first glimpse of the trailer or poster, but every now and then, there will be a film that not only blows away our expectations, but will also change our outlook on the movies overall.  One such movie that had this kind of impact was the 1985 classic Back to the Future.  Directed by Robert Zemekis and produced by Bob Gale, Back to the Future quickly became a benchmark film for the 80's, and redefined what kind of movies could become blockbusters.  Released at a time when Star Wars and Indiana Jones dominated the cinemas, this modestly budgeted film stuck out oddly due to it's success.  On it's own merits, the movie is really just a high concept comedy that plays more on the nostalgia of the 1950's than it does on it's special effects, of which there are actually very little.  And yet, we mention this movie in the same breathe as these other bigger hit films, and that's mainly due to the fact that Back to the Future hit it's bulls-eye with largely the same audience as these movies and continues to hold up nearly 30 years later.  It's very clear to see why.
For many people (myself included), Back to the Future is the kind of movie that inspires us towards visual storytelling.  It's a film that has ambition and confidence well beyond the limits of it's budget.  In essence, it shows us that any story can feel epic in scale when given the right vision behind it.  This movie was a turning point for director Zemekis, whose career up to this point was defined more by comedies like Used Cars (1980) and Romancing the Stone (1983).  Back to the Future opened the door for him to make more ambitious films like Who Framed Roger Rabbit (1988) and the Oscar-winning Forrest Gump (1994), though each one of them does feature the same sense of humor that Zemekis perfected in Future.  But, despite Zemekis' desire to branch out, he was also grounded by the same success from Future, which inevitably led to Universal Studios demanding sequels.  This led to the creation of a Back to the Future trilogy, with the second and third movies being made back to back and released a year apart.  This was both good and bad, because while the two sequels are alright on their own, they are clearly inferior to the first movie, and as a trilogy, the whole thing doesn't hold up.  I think that may have been partly because of Zemekis interests were elsewhere, or the fact that nothing lined up right for the trilogy to work.  Either way, looking over each film, I find that the Back to the Future franchise is one of the more puzzling in movie history.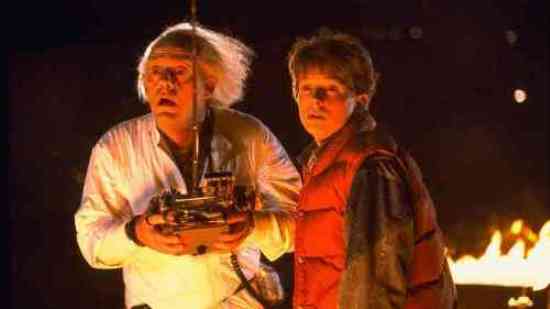 BACK TO THE FUTURE (1985)
The one that started it all.  In the nearly 30 years since this films release, it has become an almost universally beloved classic.  It's iconic in every way; the script, the performances, the production design.  Hell, even the flaws in this movie have become iconic moments for some people.  The premise for the film is highly imaginative, and yet simple enough for anyone to understand.  We follow the adventures of Marty McFly (Michael J. Fox) as he travels back in time from 1985 to 1955 in a time machine invented by Doctor Emmett Brown (Christopher Lloyd).  While in the past, he runs into his father George (Crispin Glover) and mother Lorraine (Lea Thompson), who in this time period are still in high school.  And due to interference by his presence in the past, Marty has disrupted the timeline of his parents falling in love, which means he could be wiped from existence if he doesn't get them back together.  With the help of the younger Doc Brown, Marty tries to find a way to get his parents back together and get back home to his real time, which becomes even more complicated when the high school bully, Biff Tannen (Thomas Wilson) has his eyes on Lorraine as well.
There's so much that works well in this movie, and it's largely due to the confidence behind the filmmaking and the performances.  For one thing, the screenplay is rock solid, and probably one of the best that has ever been written.  Zemekis and Bob Gale both co-wrote the script over a long period of time, and had to cut and rewrite it constantly, but the end result proved to be worth it.  What essentially makes the script work is in how it fully exploits it's concept, particularly through it's sense of humor.  It's an interesting idea that they touch upon, that being the experience of seeing your parents when they were your own age.  And of course, this is played up perfectly in the film when Marty learns that his father was a nerdy peeping tom and his mother was a little slutty and a cheater in school.  The time travel concepts are laid out very effectively in the movie without being too overwhelmingly detailed.  Doc Brown is able to make every scientific notion seem plausible, even when it's bogus (I highly doubt that 1.21 jigawatts is an actual scientific measurement, for example).  It's both the humor that make the movie work so well, and the script is endlessly quotable with lines likes "Lorraine, you are my density" or "You built a time machine, out of a Delorean," and of course, "Where we're going, we don't need roads," just to name a few.
The film is also benefited by some phenomenal performances.  Michael J. Fox seems so perfectly suited for the role of Marty McFly, which makes it all the more unusual that he was not the first person cast in the part.  Originally, actor Eric Stoltz was cast as Marty, but Zemekis felt that he wasn't fitting right in the film after having shot a number of scenes.  So, they waited until Fox was on hiatus from his role on the hit TV series Family Ties and finished the film with him in the movie.  Since then, it has become an iconic part in the actor's career, and he plays it to perfection in the movie.  Christopeher Lloyd is also perfectly cast in the role of Doc Brown, making him delightfully eccentric, without pushing him in too cartoonish a direction.  In many ways, Doc Brown is the character that we remember most from the movie, and that's not a bad thing either.  Lea Thompson and Thomas Wilson also provide memorable performance as Lorraine and Biff, respectively.  But my favorite performance has to be Crispin Glover as George McFly, just because it's such an out there performance in what is otherwise a straightforward movie.  It's befitting for the avant garde actor like him, and it is impressive when he plays Marty's father, despite Crispin being 3 years younger than Michael J. Fox in real life.  Just watch his hilarious mannerisms in the movie, and see how he takes a simple line like "Stories!" and puts a whole different spin on it.  It's things like this which helps to make Back to the Future the masterpiece that it is today.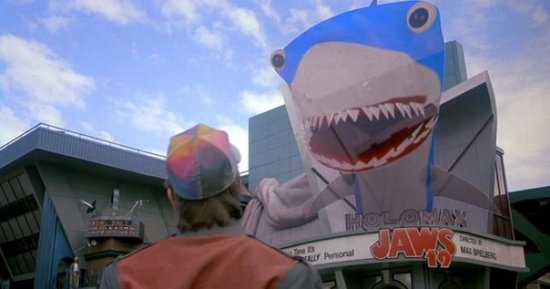 BACK TO THE FUTURE PART II (1989)
Because the first film was such an overwhelming success, and because the ending hinted at continuing the adventures of Marty and Doc, it was probably inevitable that a sequel would be made one day.  After completing Who Framed Roger Rabbit over at Disney, Robert Zemekis and Bob Gale began work on the follow-up to their huge hit.  The surprising development to come out of their writing process was the idea to not just make one sequel, but two back to back.  This was the first time that a studio had ever attempted a project like this, and it showed that Back to the Future Parts 2 and 3 were going to be much more ambitious than the film before them.  Unfortunately, success is a hard thing to replicate, and these sequels are clear examples of this.  The story picks up right where the first one left off, with Marty and Doc headed to the future; the far distant year of 2015.  While there, the time machine is stolen by an elderly Biff Tannen, who uses time travel for his own ends and disrupts the time lines in catastrophic ways.  In order to fix everything, Marty and Doc have to return to the past of 1955 and set things right, even while the events of the first film are taking place in the background.
While there is still a lot to like with this movie, it feels like a letdown when compared to the first film.  Part 2's biggest problem is that it's unfocused, and also restrained by the limitations put on it by the first movie.  Zemekis had a lot to live up to with this one, and after watching this movie and the ones he made around the same time, you can see that his heart really wasn't in it this time.  He doesn't do a horrible job directing by any means, but it's clear that this project was more of an obligation than a story he really wanted to tell.  Also complicating things is the fact that some elements from the first movie had to be dropped, because not everyone was on board.  Crispin Glover refused to do the movie, so George McFly's role was significantly diminished.  Also, the movie looses steam when it takes the story back into the past.  Some people thought the idea of having a new subplot happen in the events of the old film was a clever idea, but for me, it just makes me think of scenes from a better movie, and how much less I care about what's going on in this new story.  I was much more interested in the stuff we've never seen before, like the future setting and the alternate 1985, both of which exploited the time travel aspects of the movie much better.
There is still a lot that I like in the movie though.  Thomas Wilson really picks up the slack and makes Biff Tannen a memorable and effective villain; even more so than he did in the first movie.  What's really impressive about his performance is how many different versions of the character he plays in the movie, spanning 4 different time periods, and one alternate reality.  He also plays the part way over the top in a way that works to the films advantage.  I also like the fact that we are now in 2014 as I'm writing this, and we're no where near matching Zemekis' vision of 2015.  No flying cars, or hover boards, or self-lacing Nike Shoes; which is kind of sad.  Though while a lot of the predictions never panned out, there are some future inventions that the movie actually predicted correctly, like 16:9 flat screen TVs, video conferencing, and facial tracking on cameras.  Also, while the story has many flaws, it does feature one of the best cliffhangers in movie history.  Marty gets stranded in 1955 at the end of the film after an electrical storm sends the time machine away without him, taking Doc Brown with it.  Within a moment, a car drives up behind Marty and he is soon approached by a Western Union messenger (played by SCTV's Joe Flaherty) who has a letter for Marty from Doc dated from 1885.  It's a brilliant bit of writing that really sells the idea of playing around with relative time.  What was just an instant for Marty was an eternity for that one letter, and it's the one moment in the movie that actually lives up to the promise of the first film.  Of course, with a heavy cliffhanger like that, you'd hope there'd be a good follow-up.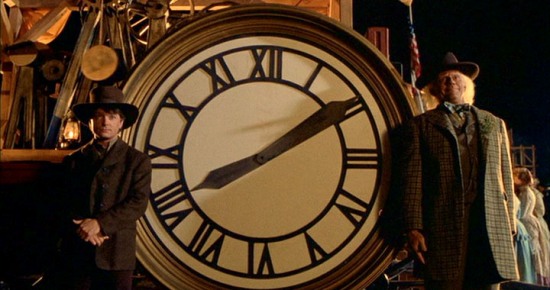 BACK TO THE FUTURE PART III (1990)
The conclusion of the Back to the Future trilogy is a mixed bag like it's predecessor, but still an interesting movie in it's own right.  Continuing from the first movie, we find Marty recouping with 1955's Doc Brown as they try to figure out how to get 1985's Doc back from the past and return them both to their right time and place.  The two of them soon learn that the future Doc is killed by a ruthless cowboy named Mad Dog Tannen (played by Thomas Wilson), and they realize that they have to do more than rescue him.  Marty manages to make it back to 1885 in a Delorean Doc had hidden in an abandoned mine and he discovers that it'll take some coaxing to remove Doc from this time period that he's become accustomed to.  As Marty and Doc devise a plan to return home, they encounter a lonely school teacher named Clara Clayton (Mary Steenburgen), who Doc grows an attraction to.  Eventually, everything leads to the usual race against time and the usual showdown with the villainous Tannen.  And this is mainly where the movie falters.  It's just retreading familiar territory once again, showing that the filmmakers didn't have the same confidence in their concept that they should've had after the first movie.  By the third film, the premise had been stretched out thin and it was clear that the series had exhausted all it's potential.
That's not to say that the movie is bad at all.  I actually enjoy watching this movie, even more so than Part 2.  For one thing, it's actually a competently done Western, even with all the sci-fi stuff included.  Back in the 80's and 90's, Westerns were out of vogue, so this film was very appreciated by anyone who was a fan of the genre at the time.  This film also feels a bit more focused than Part 2, having the story play out in one setting rather than hopping back and forth through different time periods.  The actors also look like they're having more fun this time around, especially Christopher Lloyd, whose Doc Brown is focused on more in this movie.  The love story between Doc and Clara is a contentious point for people who are critical of this movie, and while I do recognize how out of place it does feel, I still find it charming, and Mary Steenburgen is very likable in the film.  I think the movie actually works better as a love letter to Westerns than it does as a sequel to Back to the Future.  That clearly seemed to be how Zemekis approached it, with the beautiful Monument Valley being featured prominently in certain scenes, as well as cameo appearances by famed Western character actors like Harry Carey Jr. and Pat Buttram.  As a capper to a film trilogy, it's fairly anti-climatic, but as a standalone film, it's still worthwhile entertainment.
So, the thing I take away from the trilogy as a whole is that it's hard to make a series work together as one narrative when it was never planned that way.  The first film is a classic in every sense of the word, and probably could have retained that distinction even without the sequels.  Part 2 and 3 have some nice elements to them, but ultimately disappoint as follow-ups.  In the end, did this series really need to be a trilogy?  I can understand the idea of doing a sequel, considering how the first film ended, but what ultimately happened was that the filmmakers chose to play it safe, rather than go all out with the concept.  Word is that Zemekis and Gale wanted to actually take Marty and Doc on an epic tour through history in the sequels, but they were unfortunately tied up by the ending of the first movie where Doc says that they need to go to the future to fix Marty's "kids," which left them with a plot thread that they were obligated to finish.  Not only that, but they also had to take along Marty's girlfriend in the DeLorean, which became problematic when they had to recast the role between films (Elizabeth Shue played the character in Parts 2 and 3).  It shows that even success has a downside, because it almost never gets repeated, at least not in the same way.
But, even with the problems in the trilogy, Back to the Future has become one of Hollywood's most popular franchises.  The first film is still rightfully considered a masterpiece and has become one of the most iconic films of the 80's.  One of the film's many fans, as it turned out, was then current President Ronald Reagan, who loved the film so much that he even quoted from it in one of his State of the Union speeches.  No matter what your politics, to have the President of the United States honor your film like that is praise of the highest order.  The Courthouse Square, a set piece which features prominently in each film, is still found on the Universal Studios back-lot today, and is considered sacred ground to both fans and filmmakers alike who visit there.  Even the sequels have left an impact in the years since, and are still enjoyed by many.  The Nike corporation even made special limited edition shoes recently, based off the futuristic ones in Part 2 to put up for auction to raise money for Michael J. Fox's charity to fight Parkinson's disease.  It just shows that even with it's complicated structure and history, the Back to the Future franchise has a dedicated fan-base that it rightly deserves.  All in all, it's a series made up of one genuine masterpiece and two disappointing but still very entertaining sequels.  It's not perfect, but few other franchises are.