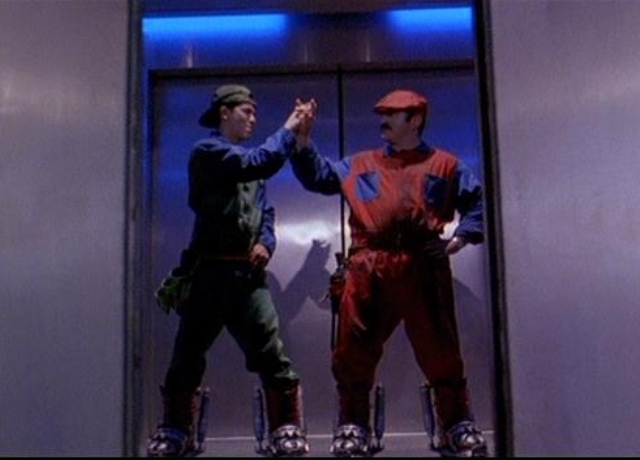 Just as going to the cinemas has become a cherished pastime for many people over many generations, we are now seeing a whole new type of media beginning to take charge and become an even larger part of our everyday lives.  For forty years now, we've seen the rise of video games, from crude blocks of color on the TV to full blown blockbuster releases that even rival what's coming out of Hollywood today.  It's quite a eye-opener when you see the newest Grand Theft Auto title out-grossing every film released in the same year, but that's what's happening in our culture  today.  Of course, Hollywood has taken notice, and really they've been trying to figure out gaming culture since it's very inception.   The only problem is that there is no easy way to translate a video game experience to the big screen.  When we watch a movie, we expect that the story will guide us to a conclusion, but when playing a video game, we're the ones who guide the story.  Sure, there are narrative driven games, but many others are built around the randomness of our own choices, and that's what makes them unique.  Now that game programming has become as sophisticated as it is, video games are starting to eclipse what film-making is capable of.   With this kind of popularity, it's only natural that Hollywood would want to capitalize on it.  The only problem is that by doing so, they lose some of that unique experience that video games gives us.  Not surprisingly, most video game inspired movies have failed over the years and that is due to them either trying too hard to be like the original game, or trying too little, or being so removed from the original concept that it becomes something else entirely.
When looking at all the problems that video game movies have, it helps to see where things went wrong at the very beginning.  In the early years of video gaming, the titles that were coming out were very primitive.  It wasn't until titles like Donkey Kong came into the market that you could see any semblance of narrative.  Naturally in these early years, Hollywood became more interested in the gaming culture than with the games themselves.  Back in those days, nobody thought that 3D graphics and online play would be a reality, so everything was more or less about getting the highest score.   The lack of foresight may have been a reason why Hollywood never jumped headlong into video game culture and as a result, they've seen game development become competitive with their own industry.  The 1980's showcased some examples of this exploitation of the culture as we saw many films feature Arcades as popular hangouts.  One film in fact centered entirely on the Arcade subculture of the 80's; 1989's The Wizard, starring The Wonder Years's Fred Savage.  The Wizard offers a interesting window into how the world perceived video games years ago, but it's also firmly a product of it's time as well, treating a video game contest no differently than any other over-coming the odds narrative back then; the game itself was irrelevant.  However, there was one film at the time that actually did explore the possibilities of the gaming world; Disney's Tron (1982).  The film explored the idea that a video game could be fully interactive world inhabited by simulated people based on our own selves.  In other words, it's depicting something like a MMO (massive multi-player online) game, resembling World of Warcraft, that we all know today.  Though limited by what it was capable of in it's time, Tron has proved to be a very forward thinking film, and naturally something that groundbreaking ended up being a failure at the box-office.
When Hollywood began to take video games seriously is at the point when video games started to have characters and narratives that people gravitated towards.  The early 90's brought us the early beginnings of video game franchises, with the likes of Super Mario Bros. and Sonic the Hedgehog being among the biggest names.  And while Hollywood was smart enough to jump on board and bring some of these popular characters to the big screen, they unfortunately didn't know exactly how to do it.  When you look at the original Super Mario game, you can see how difficult it was to translate.  Basically it's a red-suited man jumping into pipes and breaking blocks with his head; not much to draw from to make a 90-minute film.  When 1993's Super Mario Bros. made it to the big screen, it was instantly slammed by both critics and fans of the game alike.  What ended up happening was that with no clear idea of how to adapt the Mario game accurately, the filmmakers just threw in every weird idea they could think of in the end, making the finished movie an incomprehensible mess.  Instead of the big-headed Goomba minions from the game, we get the large-body, small head Goomba guards who look more creepy than silly.  Not only that, but we also get actor Dennis Hopper looking all sorts of confused while playing King Koopa, as a sort of lizard-human hybrid.  The only thing the movie got right was the casting of Bob Hoskins as Mario, who does indeed look and act the part well.  But, what Super Mario Bros. represented most was a prime example of Hollywood not understanding what a video game was and how to make it work as a film.  This would be systemic of most the 90's video game adaptations, and namely for most if not all adaptations thereafter.
The big problem with video game adaptations today is that it's impossible to make something interactive feel the same in a non-interactive form.  For the most part, a video game translation ends up just feeling like a cut-scene that never ends.  For gamers, the narrative is there to move them from one level to the other, all with the goal of reaching the end and beating the game.  Of course, that doesn't mean that the story is irrelevant.  In fact, most video games have very complex and involving story-lines, particularly those that have come out in the last decade or so.   The reason why video game movie narratives suffer is because of the limited run-time.  Movies are only allowed on average about two hours to tell their entire story, so if you try to take a video game story that takes 10 times that amount to unravel and condense it into a film narrative, you're going to have to lose quite a bit in the process.  As a result, most video game adaptations lack character development and spend way too much time setting up it's world.  A prime example of this would be Final Fantasy: The Spirits Within (2001).  The Final Fantasy series is heralded by both gamers and casual fans for both it's colorful characters and it's complex story-lines.  But the reason why these games are so complex is because they take many hours to complete; sometimes 50 hours or more.  If you take 50-plus hours of development and try to condense that same kind of complexity into a two-hour film, you're going to get something that's crushed tighter than bedrock.  That's the fatal flaw of The Spirits Within, a film that's so concerned with it's world's complexity (and being one of the first movies ever to utilize photo-realistic CG human characters), that it leaves everything else by the wayside, making the whole film feel very hollow, particularly with the characters.  While many of these films try to noblely translate beloved story-lines to the big screen, there's just no possible way to contain it all.
Another problem is the fact that many video game movies try too hard to be just like the titles their trying to adapt.   This usually is evident in some of the film's characterizations.  Video games can sometimes get away with generic and usually archetypal characters, because by playing the game, we are infusing ourselves into the story, so a blank-slate protagonists is usually a good thing.  When it comes to the movies, however, lack of character can pretty much sink a film.  This is especially painful when characters that people love in the games are translated so poorly by under-qualified actors.  The Mortal Kombat films in particular gives us the right look of the characters with no other depth beyond that.  That's the unfortunate result we get from adapting something as simple as a fighting game.  There's little character development to begin with, so if you take that directly to the big screen and do nothing to build upon that, you're going to get very bland characters.   The same can be said for pretty much every other video game movie out there.  Also, another way that a video game adaptation can fail is by trying too hard is in capturing the look of the video game.  This is especially true of more recent video game movies.  With the advances in CGI over the years, simulated reality is becoming ever more convincing, and the lines between video game graphics and cinematic graphics is growing closer and closer.  Because of this, the limitations of film-making again come into play.  A video game lets the visuals unfold organically and lets the player examine it all at their own leisure.   A movie has to cut around and limit what the viewer sees.  That's why video game movies that try to look so much like their predecessors, like 2005's Doom and 2006's Silent Hill suffer, because that interactive element is removed, making the viewer feel less involved.
Not that every video game adaptation has been a complete failure.  There have been exceptions over the years that have managed to make a dent at the box-office, even if it's a minor accomplishment.  Paul W.S. Anderson's Resident Evil series has been going strong for six films now; some of which people say are actually better than the more recent games in the wanning series.  Also succeeding is the Tomb Raider adaptations, both of which star Angelina Jolie as the popular archaeological adventurer, Lara Croft.   What I actually think is interesting about the film Lara Croft: Tomb Raider (2001) is that it represents how to do a video game movie right.  While no masterpiece, the film is nevertheless competently made; finding a way to make Lara Croft work as a character on the big screen in a stand-alone film.  The movie doesn't try to recreate the video game experience (how could it, with those Playstaion 1 graphics?), it merely translates the character's personality into a narrative that can be told cinematically.  It doesn't try to put the cart before the horse like so many other video game movies do, and let's the character be the star rather than the world she lives in.   Naturally, because of this, Lara Croft: Tomb Raider is one of the few films based off of a video that has been profitable.  Of course, it helps that the world it's adapting is not particularly complex.  Sometimes a modest title is the best kind of game to adapt, which is probably why shoot-em-ups are popular adaptations today, like 2007's Hitman  or a racing game turned movie like Need for Speed (2014).
Of course, sometimes the opposite comes true, when a filmmaker or studio takes something that can translate perfectly to the big screen and uses the completely wrong approach.  That was the case with the Disney produced Prince of Persia: The Sands of Time (2010).  Prince of Persia was already a very cinematically infused game before this movie came out, so Disney should've had an easy time making it translate onto film.  Unfortunately with a miscast lead (Jake Gyllenhaal), a un-focused director (Mike Newell), and an out-of-control production budget (est. $200 million), the movie failed on every level and sullied not just the reputation of it's creators, but it also sullied the Prince of Persia brand overall.  No game in the series has been released since, and probably never will, at least until the memory of the movie has gone away and the demand for the game returns.   At the same time, there are also people out there who only adapt video games as a way of exploiting them.  Sometimes it's as harmless as an up-and-comer who wants to showcase what they can do by taking a little known video game title and putting their own spin on it.  And then, you have someone like Uwe Boll, who's whole career has been defined by cheap adaptations of video games like Bloodrayne (2006) and Alone in the Dark (2005).  The only reason he adapts video games, turns out, is because of a tax loophole in his native Germany that let's him make more money off failed adaptations of licenced games.  So, not only is he getting rich off of bad movies, but he's also trashing games that people have loved for many years, making it the worst kind of exploitation.  The wrong approach usually ends up being worse than a confused or bland adaptation, because in the end, it's the original games that suffer and the legacy that they carry.
So, even with all the failure that have come in the past, will there ever be a video game movie that will actually become a huge hit.  I would like to see it happen, but it probably never will, because there are just too many fundamental differences in the way to keep it from ever happening.  For one thing, a movie can never capture the interactive experience that a video game presents.  And with more and more video games growing visually more complex, it's clear that Hollywood filmmaking is starting to face some tough competition.  But, to the industry's credit, they have found a way to embrace video game culture over the years, and make it a part of itself.  Many studios have their own software development departments and it's very common to see tie-in video games released alongside major Hollywood releases.   Even still, Hollywood still hasn't given up on trying to make a big-screen translation of a video game work.  Adaptations of Assassin's Creed, World of Warcraft, and even Angry Birds are in the works, though I highly doubt any of these will feel exactly like the original games.  In reality, I think Hollywood is better off looking at what the games mean to us, rather than take a literal translation approach.  I strongly recommend films like Tron and Wreck-it Ralph (2012), both really fun movies that look at video games as a lived in world rather than as a form of diversion.  Also, I strongly recommend the documentary King of Kong: A Fistful of Quarters (2008) which brilliantly presents the impact video games have on our culture.  One day, Hollywood will figure out the formula and hopefully deliver a great video game adaptation someday.  I can tell you this; I've been waiting my whole life for that Legend of Zelda movie, and that wait is still going strong.