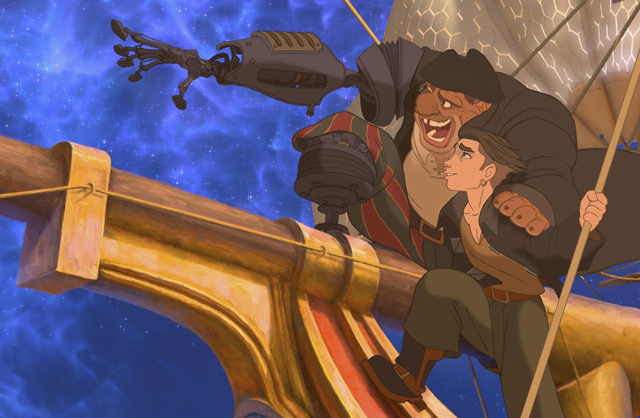 Pirate movies have usually seen their highs and lows in Hollywood.  Popular in their heyday of Hollywood's Golden Age, with stars like Errol Flynn making his mark on the genre, pirates later become outcast as movie budgets for high seas adventures grew higher and higher.  Eventually, pirate movies saw a resurgence in the early 2000's thanks to Disney's Pirates of the Caribbean movies, but even there time has shifted the popularity away from swashbucklers once again.  Even still, you can see a long tradition of pirate movies throughout the history of film, and through them, you can find a whole variety of peculiar stories and characters worthy of cinematic treatment.  There are plenty of famous pirate stories that have been adapted over the years, either from true life or from literature, but if one were to pinpoint the most quintessential pirate's tale from any medium, it would probably be Robert Louis Stevnson's immortal classic, Treasure Island. First published 1883, in an era not too far removed from when pirates were really roaming the seas, Stevenson's novel has gone one to become not just a beloved read to many, but also the basis for much of the pirate lore that we are familiar with today.  In Treasure Island, we see the beginnings of many tropes we associate with pirates, like treasure maps marked with an "X," the Black Spot death mark, peg legs, and even the trope of parrots resting on the shoulders of their pirate masters.  It is, to this day, a widely read book and pretty much the first story that comes to mind when one thinks of pirates.  The tale of young Jim Hawkins and the feared pirate Long John Silver naturally has also found it's way to the big screen as well.  Surprisingly, or not surprisingly to some, the studio that has been associated with this particular tale the most has been the Disney company, which has been responsible for two screen adaptations; three if you count Muppet Treasure Island (1996).
The second of these adaptations is the one that I want to focus on here, because it represents a very interesting thing that you usually see in Hollywood, and that's the practice of re-imagining.  A re-imagined movie is one where it takes an already established and familiar story and re-contextualizes through a different setting or style.  You see this a lot when Hollywood imports a movie idea from the international market and remakes it.  Kurosawa's Seven Samurai (1954) was remade into a Western called The Magnificent Seven (1960) for example, and while the setting and time period are very different, both movies still retained the same general plot.  One common re-imagining you see in Hollywood is taking a familiar story and setting it in an alien world, or out into space, which is exactly what Disney did with their animated feature Treasure Planet (2002). What's interesting about Disney's re-imagined version of the story is how much they ground it in the original tale, while at the same time taking it way outside our world.  It's futuristic, and old-fashioned at the same time. Here we see 18th century aesthetic planted onto interplanetary technology from a far distant future and it leads to some quite amazing visuals.  Here, pirates don't have peg legs but instead become part cyborg, and sailing ships are equipped for venturing through the stars instead of the open seas.  At the same time, the movie runs the risk of having these two styles clashing and causing a distraction from the overall story, but regardlesss of one's feelings towards the look of the film, there's no doubting that it is a bold choice.  Disney certainly gambled with this film, and sadly it didn't click with audiences in the way they hoped.   It's often cited as the movie that killed the traditional animation market, rather unfairly.  Still, it is interesting to see how much of the movie maintain's the essence of Stevenson's classic novel, even with all the sci-fi flourish.  And in many ways, it's what helps to make the movie work as well as it does.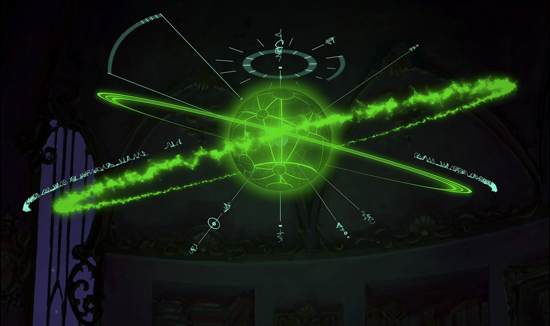 "The were nights when the winds of the Etherium, so inviting in their promise of flight and freedom, made one's spirit soar."
Disney's development of Treasure Planet has an interesting history of it's own.  The film was a dream project for longtime directing partners John Musker and Ron Clements.  Working together since the mid-80's, they are the team responsible for such Disney classics as The Little Mermaid (1989), Aladdin (1992), Hercules (1997), and more recently The Princess and the Frog (2009) and Moana (2016).  But, for most of their partnership, they had always held onto Treasure Planet as their ultimate goal.  They pitched it to the top brass at Disney as far back as before The Little Mermaid, and would return back to it between projects over the course of almost 17 years.  At the turn of the century, with technology advancing to the point where it became more feasible to make a concept like Treasure Island in space a reality, Ron & John were finally given the green-light to work on their long waiting dream.  The reason that this project meant so much to them is because they were both big fans of the original novel and of science fiction in general.  It's probably something that bonded them together as collaborators and what drove their determination to see it through.  Now, they knew that the story appealed to Disney, seeing as how Walt Disney himself had created a live action adaptation back in the 1950's (a studio first by the way).  Their choice of setting it in space, however, was their way of distinguishing it from all other adaptations that have come before, and make it more visually appealing in the animated medium.  Animation can tell a story in ways that are too limited in live action, so why shouldn't they take those kinds of liberties with Treasure Island.  It's clear that Ron Clements and John Musker set out to make the movie with a lot of love and respect for Stevenson's original, and resetting it in space was not an attempt to exploit the story for the purposes of making it more exciting.  No, once you see the movie, you'll notice that it's not the changes to the setting that make the biggest difference; it's often the changes in the characters that leave the biggest impact.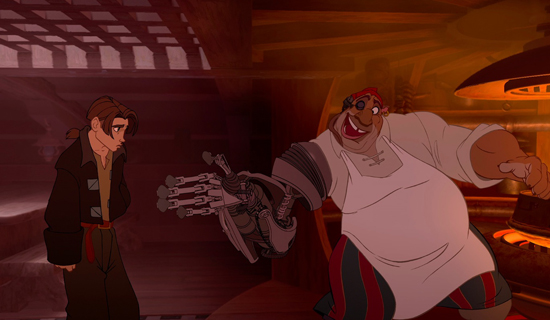 "The Cyborg!! Beware the Cyborg!!!"
There are alterations to many of the main cast that were done mostly out of expedience.  Jim Hawkins companions, Dr. Livesey and John Trelawney are combined together into one character in the film; Dr. Doppler (voiced by David Hyde Pierce), who is re-imagined to have come from an alien race that appears to be canine based.  The savvy commander of the expedition, Captain Smollett, is completely re-imagined here, not only taking on a feline form, but also shifting genders to be female, in the form of Captain Amelia (voiced with authority by Emma Thompson).  Most other characters from the box are either excised or completely altered; the villainous Blind Pew is no where to be seen for instance.  Minimizing the cast benefits the film greatly though because it puts the focus where it needs to be, which is on the relationship that forms between Jim Hawkins and John Silver.  What Ron & John seemed to care about most from the original novel is how this unlikely friendship between the young boy and the fearsome pirate forms and inevitably shapes their destinies.  It plays out much in the same way as in the book, but whereas the novel allows the relationship to form over the course of a serialized recounting over several chapters, the movie has to build that connection in a rather short amount of time.  The way that the movie makes it work is that they establish very early on that Jim is dealing with the aftermath of his abandonment by his father.  Because of this, he has turned cold and distant to others around him.  Silver, spots this while on their voyage and instantly takes an interest in steering him in the right direction.  Now, of course it probably was Silver's way of coaxing the truth about the treasure map out of Jim, but the great surprise within the story is that Silver actually proves to be a better father figure to Jim than either of them ever would've realized. And that was the appeal that prompted the directors to take the story so seriously, seeing the importance of mentor-ship in forming young minds.
It is interesting comparing Jim Hawkins and John Silver to other like minded characters in the Disney family.  John Silver in particular is very unconventional as a Dinsey villain.  Where most Disney antagonists are un-redeemable rogues who get what's coming to them, Silver actually stands out for having a redemptive arc.  In fact, it is often hard to call him a villain at all, despite his often awful deeds.  It's his relationship to Jim that makes him likable to us the audience, because we are witnessing the story from Jim's point of view.  As he begins to warm up to Silver, so do we, and it's that bond that drives the emotional heart of the movie.  It is, in many ways, what makes the film work so well, because the movie makes that relationship between the boy and the pirate work so well.  John Silver is one of literature's most memorable characters, given as he has now become the archetypal pirate for most people, and the version in the film is really something to behold.  Using a combination of both hand drawn animation and CGI, Silver is a beautifully constructed hybrid.  Instead of his signature one leg, Silver is shown to be half man and half cyborg, with computer animated limbs that transform into a variety of tools at his disposal.  His hand drawn parts were done by legendary animator Glen Keane, whose long history at Disney has included animating complex characters like the Beast in Beauty and the Beast (1991) as well as Tarzan in Tarzan (1999), which made him a perfect fit for this character.  While his character animation combined with the CGI parts are impressive on their own, it's the way that he puts emotion in the model that really drives home the brilliance of the character on film.  Matched perfectly with the voice of stage actor Brian Murray who plays Silver, the animation calls for some rather emotional moments and it delivers.  I was particularly struck by the subtlety of the moment when Jim asks Silver how he lost his limbs, to which he replies solemnly, "You lose a few things chasing a dream."  It's a great moment of vocal and animation acting that makes this, in my mind, the best version of Long John Silver we've ever seen on the big screen.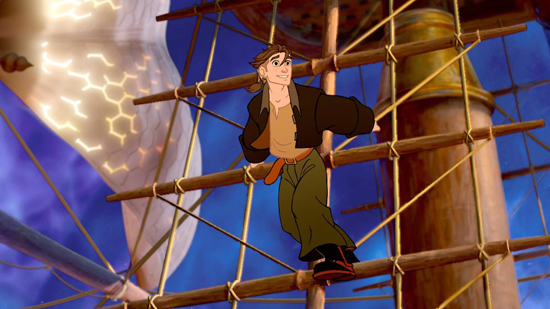 "At least you taught me something, "Stick to it," right?  Well, that's just what I'm gonna do.  I'm going to make sure that you never see one drubloon of 'my' treasure."
The depiction of Jim Hawkins is somewhat different, especially from the book.  He's depicted as a bit older than his literary source, and with far more of a chip on his shoulder.  For Jim Hawkins in the novel, his passion is driven by a desire to have an adventure, which literally comes falling into his lap once Billy Bones gives him the treasure map from his death bed.  In the movie, still reeling from the crushing abandonment by his father, Jim wants to set out on this journey to prove to both his mother and himself that he's not a failure.  The early depiction of Jim at the film's start might put off some literary purists, because he's absolutely modeled after a moody, millennial teenager in those scenes.  We first see him recklessly playing some extreme sports on his solar surfer, which gets him in trouble with the law, and he often punctuates his conversations with modern anachronisms like, "cool," "dude" or "whatever."  But, as the film illustrates, these character flaws are what motivates the transformation that he goes through by film's end.  He's given voice by Joseph Gordon-Levitt in the film, who does a good job of bringing a lot of emotion to the character.  As an actor not too far removed from being a teenager himself at the time of this film's making, Joseph manages to balance the maturing of the character in a believable and balanced way.  We see him grow from being pessimistic and self-involved to one willing to sacrifice his life even for those who have done him wrong.  In the depiction of Jim Hawkins, we see how important the need for a positive role model is in a young person's life, and the great irony from the story is that that positive direction comes from a bloodthirsty pirate.  It's a trope that you still see used today, such as the recent Oscar-winner Moonlight (2016), where a young man finds his positive father figure in his neighborhood's local drug lord.  In Treasure Planet, this part of the story is given it's full attention and helps it to resound all the more.  Stevenson managed to make the unusual relationship something that stood it apart from it's peers, but the animated movie drives it home in a much stronger way.
Apart from the characters, the film makes the most profound changes in the visuals.  The blend of old and new in the film is fascinating to see realized.  According to Ron Clements and John  Musker, they took inspiration from the Brandywine School style of artwork, which emphasized fine detail and a mixture of cool and warm hues within their paintings.  You commonly see paintings of this type associated with literary book covers from the turn of the century, and that's exactly what drew the directors towards adapting it for their film.  In order to make that work with sci-fi elements, Musker and Clements stuck to a 70-30 rule, which meant that their film would incorporate that ratio into every aesthetic element needed.  That's how you get schooners that operate with solar sails, or grotesque aliens that wear 18th century clothing, and celestial skies that fill the place of open seas.  It's a ratio that surprising works out very well.  Over time, you actually forget about the anachronistic disparity between the two styles, and just accept it as the world that it is, which helps to absorb you into the story all the more.  I believe that grounding it in this classical style helps to maintain the Stevenson touch, while at the same time modernizing it in an effective way.  Treasure Planet itself is a beautiful iconic image on it's own, with it's dual ring system that not surprisingly marks an "X" over the planet.  The visual effects themselves follow that same 70-30 rule, as it shows perhaps the most sophisticated blend of CGI and traditional animation that has ever been achieved.  With that, it brings a scale to the story that I don't believe has ever been achieved before.  One of the most striking images is the reveal of the crescent shaped space port.  The incredibly complex shot zooms in from far away, showing what we thought was a moon is actually a intricately detailed port.  Coming in closer, we find that much of the detail resembles what early seafaring ports might have looked like in the 18th century, but with dimensions that defy the laws of physics.  It's that blend that breaths new life in this old story and continues it throughout the film.  Some critics may not have seen the point of this change, and wondered why Disney didn't just remake Treasure Island in a normal way, but after seeing amazing images like that one, who can argue with such a change.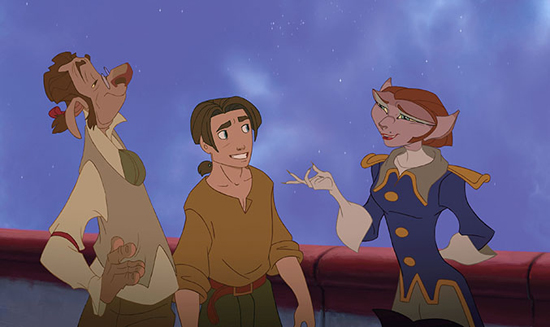 "Doctor, with the greatest possible respect, zip your howling screamer."
Disney's Treasure Planet was a bold departure from the norm in animation, and it was a gamble that in the beginning didn't do them any good.  The film has some devoted fans (myself included) and is growing a cult following.  But, some arguments still arise as to why Disney would bring sci-fi into Treasure Island.  The answer to this is that there is nothing about Robert Louis Stevenson's novel that necessarily says it has to take place in a certain place or time.  In fact, Stevenson remains vague about the story's actual setting, instead focusing on how the plot unfolds and the relationships between the characters.  Disney's interpretation brings a new perspective on the story, while at the same time maintaining the heart of it.  In the end, it is about a young boy who comes of age, finding his way in life through the mentor-ship of an unlikely role model.  In the end, that's what John Musker and Ron Clements wanted to explore, and for the most part, they achieved their goal.  You can tell that the whole film was made with a lot of love, and you don't commit 17 years of your life to an idea just to do a mediocre job at it.  It does offer a great contrast with the original story, of which still serves as much of the backbone of the movie.  The film delves deeper into the personal struggles, but apart from that and the changed setting, it is essentially a faithful adaptation right down the line.  If only this film had come out a year later, with Pirates of the Caribbean revitalizing the genre, then it might have found a more accepting audience.  In the end, it is worthwhile to see both the movie and the novel itself.  Robert Louis Stevenson's classic still holds up as the quintessential pirate's tale, and Disney's animated feature lives up to it's legacy, while at the same time completely transforming it.  It is, in my opinion, Disney's most misunderstood film and my hope is that someday it will be fully appreciated as the masterpiece that it is.  Visually, it stands out as one of Disney's most spectacular achievements and it's story is one that packs an emotional wallop.  Like Silver says of Jim Hawkins in the film, it's got the makings of greatness in it.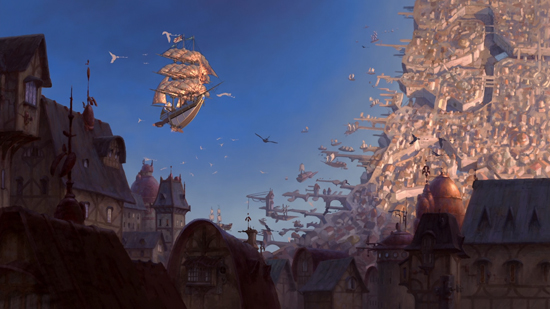 "Look at you! Glowing like a solar fire.  You're something special, Jim.  You're gonna the stars, you are!"