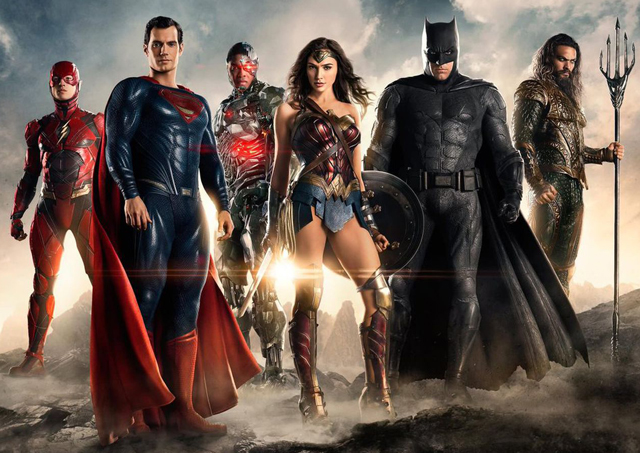 A decade or more ago, movies such as Justice League would have seemed like an impossible dream.  All the hurdles it takes to make one super hero movie a reality; why would anyone want to undertake a movie with a whole team of superheroes?  But, over at Marvel Studios, they not only have found a way to make it work, they've done it multiple time now, with spectacular results.  Spending years of development through standalone franchise for each character, Marvel has managed to work out the formula for making very satisfying films that include all of their best heroes sharing the spotlight together.  And naturally, when one studio has found a gold mine of an idea, the rest all will follow in their footsteps.  The only problem is, Marvel's formula doesn't work for all things.  In the past couple years, we've seen several studios face-plant themselves after spending and wasting millions of dollars to establish their own "cinematic universes."  Universal's "Dark Universe" centered around it's collection of monsters has been dead on arrival from Day 1, while Fox's desperate attempts to keep their Marvel licenses in house has resulted in a jumbled mess.  The only real threat to Marvel's dominance with regards to cinematic universes has been it's long time competitor in the publishing world; DC Comics.  Like Marvel, they have their own collection of iconic superheroes, all deserving of their own long overdue cinematic treatment.  With the overwhelming success of Christopher Nolan's Dark Knight trilogy under their belts, DC parent company Warner Brothers felt confident that they had the means to create a cinematic universe of their own, and they set out to do just that.  But, again, when playing catch up to someone who's clearly in the lead, you run the risk of one or many missteps along the way, and DC has not been immune to that.
They first launched their bold new plan with a revamped telling of the origins of one of their most beloved characters, Superman, in Man of Steel (2013).  Right from the beginning, things were off to a rocky start, as this new Superman film was criticized for souring the character and his story with a needlessly somber and dreary tone, as well as going overkill with some of the violence in the action scenes.  Much of the criticism was laid on director Zack Snyder, who many believed didn't understand the character of Superman, and was just exploiting his story as a means to show off his very flashy style of film-making.  While it did have some fans (I kind of thought it was okay too, as you can read in my review here), Man of Steel was still universally seen as a step backward for DC, and a rocky start for their cinematic universe plans.  Things did not improve with the follow up film, Batman v Superman: Dawn of Justice, which was the first feature intended to show their extended universe.  There was no denying it that time, BvS was an indefensible disaster, and the clearest sign yet that DC's cinematic plans were close to derailing.  Like I discussed in my review here,  Snyder's indulgences as a director were undermining the development of the characters, and it turned what should have been an amazing experience into a chore to sit through.  It seemed that things might have been looking up with their next project, Suicide Squad, given that film's more irreverent and humorous tone, but even that movie ended up being bogged down by terrible editing and incomprehensible story.  But finally, this last summer, we got Wonder Woman, which was a breath of fresh air for DC's films.  Centered around DC's iconic heroine, Wonder Woman was focused and engaging, and it managed to finally be faithful to the essence of the character.  It was also an empowerment tale for women at a time when we really needed it, which made it's success all the more rewarding.  Now, despite the rocky road up to this point, DC is finally letting us see all our favorite heroes together in the long awaited Justice League.  But, has DC finally figured their formula out, or are things still an under-cooked mess.
The film is starts out in the aftermath of the events proceding Batman v. Superman.  Superman (Henry Cavill) is dead and buried, and the world is still mourning his loss.  His allies, Batman (Ben Affleck) and Wonder Woman (Gal Gadot), try to deal with the grief of losing their friend in their own way, while at the same time searching around the globe for other super beings that may be able to help them.  While looking through the notes left behind by the now incarcerated Lex Luthor (Jesse Eisenberg), they have learned the identities of three possible individuals that could join their team.  One is the Atlantean warrior known as Aquaman (Jason Momoa), who spend most of his days either drinking or saving stranded fisherman out in stormy waters.  Another is amateur physicist Barry Allen (Ezra Miller) who has managed to harness the power of super speed through his experiments, helping him to take on the identity of the Flash.  Proving to be elusive, though, is a recluse named Victor Stone (Ray Fisher), who has lost most of his body in a lab experiment and has been miraculously been brought back to life through robotic enhancements, making him the Cyborg.  Batman and Wonder Woman manage to track down and persuade them all to help out, thanks to the assistance of their non-powerful friends and associates, including Alfred the Butler (Jeremy Irons), Lois Lane (Amy Adams), and Commissioner Gordon (J.K. Simmons).  Meanwhile, danger returns to earth as a super-powerful alien being known as Steppenwolf (voiced by Cirian Hinds) returns from his exile, seeking to reclaim three powerful weapons kept guarded on Earth known as the Mother Boxes.  When combined together, the Mother Boxes can transform a planet into the same make-up of Steppenwolf's home planet, which is a hell-scape for the rest of us.  After defeating both the Atlanteans and Amazonians who have safeguarded the boxes for thousands of years, Steppenwolf proves to be quite unstoppable, until the Justice League finally stands in his way.  But, is he too much for them as well, and do they come to the realization that they need just one more element to make their team complete; the still deceased Superman.
In the wake of Wonder Woman's success and Batman v. Superman's failure, you would think that DC has learned a few lessons as they've continued to push forward with their bold cinematic universe.  And in many ways, they have, but there are still several lingering issues.  Zack Snyder, up to now, has been the caretaker of this franchise, and his indulgences have done the series no favors.  Likewise, there has been a distinct lack of identity to the universe as a whole.  Up to this point, it seems that everything you can say about the DC Extended Universe (DCEU) is that they are trailing distantly behind Marvel cinematicly, and all their attempts to catch up make them look like amateurs by comparison.  The problem is that you can see the mechanics behind what DC is doing far more prominently, because up to now, they seemed to have been more driven by the potential for box office riches more than what was right for the characters.  But, again, Wonder Woman finally turned things in the right direction, making us all hope that DC had learned it's lesson and were giving us the movies we deserve rather than the ones that they needed.  But, how does Justice League size up given the pressure that's been put on it.  Well, it's complicated.  I will say that it is light years better than Batman v. Superman, mainly because this movie is not bogged down by an unfocused story.  Justice League actually has a plot-line that makes sense, and the characters are actually portrayed much better here; actually becoming closer to their comic book identities than we've seen before.  But at the same time, the movie still feels hollow when compared to what Marvel has been doing this last decade.  Especially when compared to something like Marvel's first big team-up, The Avengers (2012), Justice League is remarkably small in scope.  It's a movie that is disappointing when considering the legacy behind it and the expectations we all expect of it, and yet it still shows some signs of improvement over the heap of failures that this studio has been responsible for up to now.    I guess your takeaway from the film will depend on your feelings towards DC's cinematic universe up to this point, and for me, my feelings were that I was unimpressed but still entertained all at the same time.
Much of the things that keeps this movie buoyant are the characters themselves.  I have to commend the casting department at Warner Brothers for getting the right people for these iconic roles (at least for the ones that matter).  Ben Affleck is, I think, one of the better Batmans we have seen on the big screen, and up to now has been unfortunately saddled with material that doesn't bring out his full potential in the role.  Still, he makes the most of it, and he's served better here than he was in BvS.  Gal Gadot once again proves that she absolutely owns the role of Wonder Woman here, and she is easily one of the film's greatest elements.  I give the writers and the director credit for not making her a token girl in this team as well.  She is an equal partner in the Justice League, given just as much respect as a member of this elite squad as anyone else.  She also has great chemistry with Ben Affleck in their few scenes together, showing a welcome comradry between heroes that has been sorely missing thus far in the DCEU.   The best new edition to the pantheon of heroes is Jason Momoa's Aquaman, a thrill-seeking macho man who brings an extra bit of lighthearted fun to the mix.  Ezra Miller's Flash is at times a little obnoxious with his constant "funny" quips, but he's serviceable enough as the character and brings plenty of personality to the role.  Ray Fisher's Cyborg is unfortunately the one disappointing addition to the cast.  The character in the comics is a lot more carefree and engaging, but this Cyborg is brooding and emotionally distant.  Still, the cast is solid throughout, and they more than anything, improve upon the material given to them.  The movie is still awkwardly written, but the one thing it does get right is the sense of teamwork between all the characters.  The movie doesn't exploit their suspicions towards each other and have them but heads for no reason, like past films have done.  Instead, the Justice League comes together seeing the bigger threat in front of them, and use their best qualities to not only win the day, but also to gain each other's trust, and that is something so refreshing to see in a super hero movie from DC.  If there is something to praise this movie for, it's for getting the theme of teamwork through adversity right.
Everything else about the movie is a mixed bag.  One thing that you'll notice while watching the movie is a noticeable hodgepodge of tones and styles of storytelling thrown together.  The film went through a late, eleventh hour re-construction, which saw the departure of Zack Snyder from the directing chair, and replaced with Joss Whedon, the man who brought the Avengers together over at Marvel.  Snyder still gets sole directing credit, but the Whedon additions are still very evident, and in some cases welcome.  The  movie contains far more humorous and light-hearted scenes than anything that we saw in BvS.  That is refreshing, but the movie still suffers from Zack Snyder's annoyingly self-indulgent directing.  There are several scenes that still showcase his penchant for explosive and loud mayhem on screen, as well as his pretentious use of slow-mo to accentuate the action.  But, there is one thing that Snyder's direction does service to the movie and that's a sense of scale, which in a way is kind of undermined by Whedon's more restrained style.  Snyder has a more operatic mind while Whedon has a more televised serial mind, and those two style don't mix together well.  Still, I thought that Whedon's additions brought more value to the film than anything it took away.  Something that Whedon clearly brought over with him from Marvel was the sense of knowing how to make the characters more relatable, and that's accomplished through some very welcome moments of the heroes socializing and bonding through their shared experience.  If that's the direction that DC is headed, than it's a welcome one.  Apart from that, I will say that Snyder's direction here is not as infuriatingly in your face as it was before.  The only problem is that by holding back a little, the movie unfortunately feels smaller, which is not the feeling you want to have while watching the Justice League movie you been waiting a whole lifetime for.  That's the unfortunate result of an all too late course correction for the studio.
Where the movie suffers the most though is in the visual effects department.  This movie has, without a doubt, some of the worst CGI I have ever seen in a movie with this sizable a budget.  It's almost like the movie ran out of time and money and just had to make due with what they had, which is a sad statement for DC's organizational skills.  I understand the shake-up at the top, with Zack Snyder withdrawing suddenly and Joss Whedon coming in at the last minute, but given the build-up for several years that we've had for this movie, Warner Bros. and DC should have not had to cut corners here.  There are elements like Aquaman's swimming under water and Batman's wall crawling, tank-like vessel that look like they've come out of a video came, and feel very out of place in this live action film.  And then, we come to the film's weakest point of all; the villain Steppenwolf.  We've seen bland antagonists before in both the DC and Marvel cinematic universes, but Steppenwolf may be the weakest of all.  This character leaves the minimalist of impressions on the audience, and is a complete waste of actor Cirian Hinds' talent.  The talented Irish actor could have done something with the role, but he is relegated to just a vocal performance as the character is needlessly portrayed entirely through CGI.  And it's some of the weakest, characterless animation that I've ever seen.  The animation is Jar Jar Binks level bad, which is unacceptable now in 2017.  Considering that only a few weeks prior we saw stellar work done on the character of the Hulk in Thor: Ragnarok, where so much detail was put into his personality and texture, and it just shows how much further ahead Marvel is by comparison.  Even with her brief screen time, Cate Blanchett left more of an impression as the villain Hela in the same film than Steppenwolf leaves here in Justice League.  It's with a remarkably pathetic villain and the shoddy visual effects, (not to mention Zack Snyder's typical washed out color palette) that we see the places that DC definitely needs to improve upon if they ever hope to be competitive in the future.
On the whole, especially compared to where they were a year ago, things are looking up for DC Comics on the big screen.  The best thing I can saw about Justice League is that it does a passable job of bringing the legendary super hero team together on screen for the first time.  But, after the huge leap forward that was Wonder Woman, this movie feels like a step backwards for DC.  But not a big one.  It manages to avoid some of the worst pitfalls that sank it's predecessors, and offers a lot of welcome changes that hopefully take fruit over there.  The things that hold the movie back are mostly holdovers from the Zack Snyder era of the DCEU, which seems to finally be coming to an end.  He never was a great fit for this, and the cinematic universe will be better served under new guidance, whether it be with Joss Whedon or someone else.  The unfortunate thing is that the whole shake-up that the cinematic universe has suffered in the last year has unfortunately diminished the much anticipated team-up that we were all waiting for with Justice League.  The Justice League is iconic in the world of comic literature, and is even credited as the inspiration for Marvel's Avengers.  The fact that the first incarnation of the Justice League on the big screen is not one the greatest cinematic experiences of all time and just ends up being barely passable is itself a very disappointing result.  But, my hope is that DC takes this lesson and continues to improve the League in the years ahead, helping it to live up to it's full potential.  Wonder Woman certainly showed that good things can still come from this, and Justice League is still entertaining enough to rise above the rest.  It's not a home run, and barely a base hit, but any comic book fan (especially those who love DC comics) will be entertained by this.  The best thing I can say is that it's great to see the heroes of DC finally assembled together and working as a team.  One hopes that the same kind of teamwork continues to make the DCEU competitive with Marvel again, because friendly competition will only make both universes that much better.
Rating: 7/10